For our July 2020 Giveaway Contest we are going to give 1 lucky winner the Fiskars StaySharp Max Reel Mower. (Kitty not included :))
See why I think this is the best reel mower, especially for bermuda.
How Do You Enter?
Simple. Just subscribe to something you'll want anyway. We are starting our Crabgrass Lawn Busters newsletter that will offer care tips for all types of lawns. We will also be featuring many lawn experts that aim to give you the best advice to make your lawns the best they can be.
Enter today by subscribing below and good luck. We will be doing the drawing on Aug 1 2020 and sending an email who gets picked. You will have 5 days to claim before we pick someone else.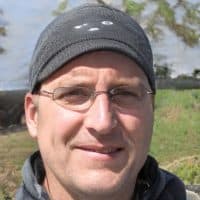 Hi, Alex Kuritz. here. Growing up I remember that my family had one of the best lawns in the neighborhood. Richly green and lush. I did a lot as I grew up in terms of caring and tending for not only my family's lawn but also my neighbors. I can say I have years of experience, and I am here to share it with you.
Please leave your comments below as I try to respond to everyone that has questions.