Cleaning out dirt, moss, and other debris from cracks in deck can be a daunting task! But the DECKtool makes this task a whole lot easier, and without kneeling or bending over. The Decktool makes it very easy to clear debris out of cracks in a deck after it has been blown off. It greatly reduces aggravation and bending over.  It helps make the deck look its best,  reduces the chance for wood rot, and is great for paint and stain prep.   And Nobody Has One! 
Made in the USA, the DECKtool is functional, durable, easy to use, and helps get rid of the compacted material from the grooves, so you don't have to worry about deck bed rotting. 
Key Features of the DECKtool
Made in the USA
Heat treated stainless steel blade
Lightweight at just 1 pound
Measures four feet in length
Lacquered pine handle
Design and Construction
The DECKtool boasts a sleek design, and robust construction, yet is extremely lightweight at just 1 lbs. It measures four feet in length, and is fitted with a lacquered pine handle, which makes the DECKtool a joy to use across longer periods.
The lacquered pine handle is waterproof, and offers great longevity, so you can rest assured the DECKtool will last several years to come with proper care. The top of the DECKtool is equipped with a special alloy heat treated stainless steel blade, which is secured to the tool's handle using screws. 
This allows you to get rid of even the most stubborn debris from in between the deck grooves without any hiccups. The stainless steel blade of the DECKtool is corrosion and rust, and water resistant, allowing you to use the tool in any weather conditions without causing damage.
Additionally, the high strength blade of the DECKtool is billed as being thinner than a dime, so you can clear out debris from tight spaces in your deck. But that's not all, the DECKtool blade features sharp points from top to bottom, which collectively make it very easy and effective at clearing all types of debris accumulated between the deck boards.
How to Use the DECKtool?
Before using the DECKtool, you should prepare your deck by moving everything off it including pot plants and/or furniture. With a bristle broom, brush the whole surface of the deck to get rid of any loose dirt and debris. If you have a large size deck, you may want to use a pressure washer or blower to remove the loose dirt and debris.
Cleaning the spaces between deck boards is not a tedious task with the DECKtool. To get started, simple grab the tool and place its blade all the way in the deck groove containing the debris you'd like to remove. Next, pull the tool with the debris towards yourself, and onto the deck.
Final Thoughts
The DECKtool is a must-have tool in your lawn care arsenal, and is an easy and effective way of removing stubborn dirt and debris from in between the deck boards. Made in the USA, the DECKtool showcases a solid, yet lightweight construction, and is topped with a highly durable special alloy heat treated stainless steel blade.
The DECKtool is a great choice for anyone looking to remove dirt from deck grooves without kneeling or putting in a whole lot of effort. Further, it also works well for those suffering from back issues, thanks to its long almost four feet lacquered pine handle. 
It is available at:  https://thedecktool.com/   for $19.95 with Free Shipping.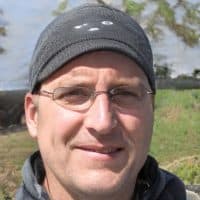 Hi, Alex Kuritz here. Growing up I remember that my family had one of the best lawns in the neighborhood. Richly green and lush. I did a lot as I grew up in terms of caring and tending for not only my family's lawn but also my neighbors. I can say I have years of experience, and I am here to share it with you.