Many of us have taken the last year to fully renovate our homes. Outdoor spaces are becoming more popular due to these unprecedented times. Patios, pools, and gardens are great ways to enjoy the outdoors. Decorating your space with stone is a perfect way to make your outdoor space even nicer as we enter spring and summer of 2021!
Buying decorative landscape stone is fairly easy and can be done from the comfort of your own home! In this article, you will find our tips and tricks to buying gravel and stone online. 
How To Determine How Much Stone You Need
Assessing your outdoor space is the first step into buying stone online. Before you can buy your stone, it is important to know where you are putting the product. Many of us use decorative gravel in gardens, around patios, as a walkway, and even on your driveway. 
It is extremely important you measure out your landscape in square feet to know how much product you are going to need to order for your space. There are many gravel online calculators that can assist you in measuring out your land such as this one.
To measure the square footage of your space simply measure the length and width of the space and multiply them together. Many online suppliers will tell you how much each bag of stone covers and that will help you determine how much you will need. 
Create a Design
After assessing how much product you need you can then determine the overall style you are looking for. There are thousands of styles to choose from when deciding what stone to pick for your home or business.
Many people choose a stone that best fits their environment. For those who live on the coast, they may choose a white or blue stone to compliment the colors of the sea. Whereas someone who lives in the desert may choose a tan/brown or red-colored stone. 
No matter where you live there is a decorative stone for you! Many homes down south opt for more neutral brown toned stone such as Tennessee River Rock! It is a classic look that provides that southern charm on any property type.
Heading more north, many northerners enjoy a gray or white colored stone for their properties such as a New England River Rock.
Our west coast friends love modern looks and may opt for a dark gray or black stone such as a Mexican Beach Pebble. 
There are many online tools that can help spark your inspiration if you are feeling lost. Websites such as Pinterest can really help to inspire a design concept for your home! Some simple keyword searches will make all the difference when looking for ideas! Try searching the following to get you started!
"(state) gravel designs"
"Outdoor patio designs (state)"
"Outdoor stone garden"
"Gravel (area you are covering)" for example "Gravel Driveway" "Gravel Backyard" "Gravel Patio"
Determining What Stone to Use
Now that you have a general idea of style, it is now time to choose the type of stone you need for your property. If you chose a color pallet from your design research, picking the stone for you is easy! You can simply search online "(color) outdoor gravel". This will bring up many different choices for you to choose from.
Another way you can look for stone varieties is by looking at local shops for assistance. Many local retailers have online catalogs for you to look at to help you determine the variety of stone you are looking for! There are marble stones, river rock, slate, and more for you to pick from!
After choosing a color pallet you then need to determine what size you need for your project. Gravel comes in many different sizes and each size offers different benefits. Crushed stone or pea stone, which is typically a 3/8th", is perfect for driveways and walkways.
A ½" or 1" stone is the most popular size for gardens, patios, and walkways.
A larger stone, such as a 4-10", is great for erosion and irrigation. The large stones look great next to walkways or in gardens! 
Sites To Buy Gravel & Stones Online For Home Delivery 
Congratulations! You have finally decided it is time to order your stone. Many people do not realize how many online retailers provide bagged stone for you to purchase! Below you can find our list of online retailers to buy your stone from!
Ordering stone from home depot allows you to get more stone for your dollar! They offer many varieties of stone that you are able to ship directly to your home!
Lowes is another great option to get stone! They also offer many kinds of stone in many different sizes. Off their website you are able to get 5- or 10-pound bags, and even are able to order in bulk up to 2200lbs!
If you are looking for a premium decorative stone Wayfair is the place to go! They offer a more decorative styled stone that can give you that modern look you may not find elsewhere!
Similar to Wayfair, overstock offers premium decorative stone as well, but for a lower price point! You are able to find this stone in many sizing options as well as in weights up to 2000lbs.
Tractor Supply is a great place to order in bulk. If you have a large space you need to cover, this is your spot to order.
You are also able to order stone alone through a local business! Many companies took the pandemic and created ways to deliver you product from the comfort of your own home! If you know of a local landscape supply store, try calling them and see if you are able to order exactly what you want without having to go into the store directly!
How To Prep the Area for Gravel or Stone  
Now that you have ordered your stone it is time to prepare to put the stone in! There are a few things you may need to do before laying out your stone.
Our first recommendation is to purchase landscaping paper. Landscaping paper is a great product to put on the ground underneath your stone. This product helps to maintain weed growth and helps with irrigation. Before installing your landscape paper, be sure to remove any weeds or unwanted material from the site. Be sure your area is evened out as well. To install, you simply cut the paper to the size of your space and steak it into the ground. I like to use the Hoople Barrier Fabric shown below.
HOOPLE Premium Garden Weed Barrier Landscape Fabric Durable &...
Premium Weed Barrier Fabric: Measures 3 Feet x 180 Feet. Thick and durable fabric can be used for a long time. Saving your time on buying normal fabric and reinstall it. Keeping your garden and flower beds free of weeds for a long period of time.
Easy to install a roll of extra thick sunlight minimizing weed barrier fabric for yard landscapes, flower beds and garden. It's very easy to roll out, place down and start planting.
Environmentally friendly, chemical- free, weed barrier roll that doesn't harm the ecosystem of your yard. Allowing your plants to thrive.
Affiliate links and images pulled from the Amazon Product Advertising API on: 2023-06-04
How To Install Gravel or Stone Properly
After you have prepared for your stone you are now able to install it! We recommend laying out anywhere from ½" – 2" deep of stone to ensure the area is fully covered. Simply pour the stone over the area you would like to cover and evenly spread it. We recommend you go section by section for best results.
Now that you have installed your stone it is now time to maintain and enjoy your newly decorated space. We cannot hide from the elements of where we live, but it can be fairly easy to keep your stone in great condition if you simply take care of it.
Make sure you remove debris and elements from your stone every season to help keep its coloring! You should also keep an eye out for weeds and overgrown shrubs. The landscape paper should help maintain this for you, but it is always something to look out for.
Like anything, over time your stone will shuffle and will need a fresh coat. Make sure you keep some extra gravel nearby in case you need to even out or repair any areas.
Buying things online is the new way to get products, and ordering decorative stone online is easy! The possibilities are endless when using decorative gravel and stone around your home or business. 
This is a guest post by:
Ashley Sewell of DeFeo Materials, Inc.
Please visit them at DiscountRiverRock.com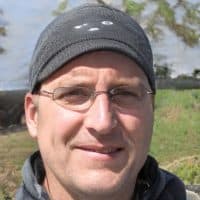 Hi, Alex Kuritz here. Growing up I remember that my family had one of the best lawns in the neighborhood. Richly green and lush. I did a lot as I grew up in terms of caring and tending for not only my family's lawn but also my neighbors. I can say I have years of experience, and I am here to share it with you.