In addition to having a green and lush lawn, DIY weather monitoring at home is another fun hobby plus it will make you the weather go-to person in your neighborhood or local area.  Davis Weather Systems and Tempest are big players in weather-related gadgets and monitoring systems.
Listed below are the best at-home weather station and pole-mounting accessories reviews that we have done so far. If you would like to contribute to these reviews to help others, then please leave a comment at the bottom of the page.
These best weather stations bring this same unmatched accuracy and functionality into your home, and some models even provide information on nearby areas. Choosing a home weather station however can be a daunting task, given the myriad options available. But after checking out and comparing several models in this segment, we've narrowed down on 5 great options that you can count on to render accurate weather data.
Affiliate Disclaimer: My content may contain links to products I use. As an Amazon Associate and participant in various other affiliate programs, I earn a small commission at no extra cost to you from qualifying purchases.
Tempest Weather Station Review – (This is what I use)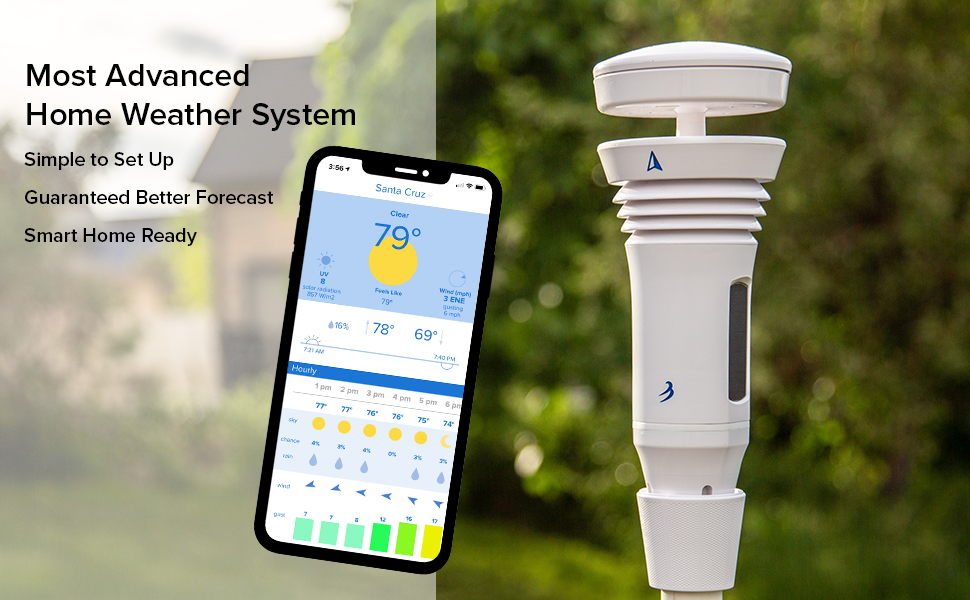 Learn more about the new Tempest Weather Station.
Use Promo code: CGLAWN10 to save 10%
The Tempest Weather Station has been the easiest weather station to setup that I have tested so far. It was literally, take it out of the box, pair it with my smartphone, and was getting instant data on the weather in my backyard. I'm going to be mounting the unit to a PVC pole and stuck it in the ground for immediate use. I'll later secure it to my fence or perhaps on the eve of the roof.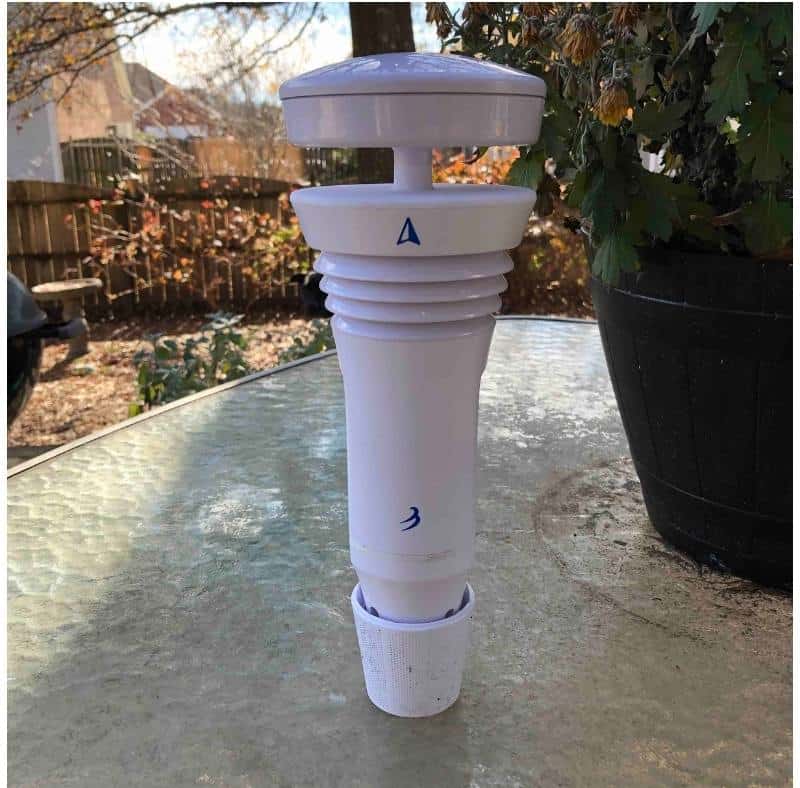 The Tempest app is easy enough to use and give you instant feedback on your temperature, rainfall, humidity, lightning strikes, wind speed, and more. Read about the importance of monitoring soil moisture temperature.
Here is what the Tempest Weather app looks like with the device readings. You can also track the history and it also displays the local area forecast.
I would highly recommend checking this one out if you are just starting with at-home weather monitoring or are seasoned and are looking for something new to play with. 🙂
You Can Get The Tempest Weather Station Here
Use Promo code: CGLAWN10 to save 10%
Davis Instruments Weather Station Mounting Pole Kit, 37.5″L Review
Features
Description: Davis Instruments Weather Station Mounting Pole Kit, 37.5″L
Number Of Items: 1
Country of origin – United States
Davis 7717 Mounting Pole Kit Review
Features
One pole is 19.5″ long
Second pole is 21″ long
Outside diameter of both poles is 1.31″
Total length of both poles is 37.5″
Includes connector and mounting hardware
Davis Instruments 6250 Vantage Vue Wireless Weather Station Review
Davis Instruments is billed as a pioneer in instrumentation devices, and the 6250 Vantage Vue weather station is yet another hit addition to the company's portfolio of products. This self-contained weather monitoring system comes with almost everything you need to get started right out of the box including an LCD console, integrated sensor suite, and mounting hardware.
The LCD console is appointed with an easy-to-read 4.375-inch display and features a glow-in-the-dark keypad to use in low-lit conditions. This intuitive console displays moon phases, weather forecast icons, sunrise/sunset times, weather trend graphs, alarms, and much more. The keypad is fitted with domed buttons, which are easy to sense and press. Have you heard about moon gardeners?
The 6250 Vantage Vue weather station offers an impressive wireless transmission range of 100 yards between the integrated sensor suite and console, and updates relatively quickly every 2.5 seconds, which is 10x faster than the competition. Adding to this, the 6250 Vantage Vue home weather station boasts excellent reporting capabilities including humidity, indoor and outdoor temperature, wind speed and direction, barometric pressure, dew points and rainfall.
The upgraded 6250 Vantage Vue weather station showcases top-notch accuracy, and durability, and can record wind speeds as low as 2 mph or as high as 150 mph. Powered by solar energy, the 6250 Vantage Vue weather station is an ideal choice for homes, marinas and vacation homes, schools and universities, and is even used by fire fighting and emergency response units.
It features a radiation shield that protects it from solar radiation and other sources of reflected and radiated heat. Furthermore, the 6250 Vantage Vue weather station updates the rain rate and rain totals every 20 seconds, and comes with a self-emptying tipping spoon that measures rain with a 0.01-inch resolution.
The Davis Instruments 6250 Vantage Vue weather station features a robust build, is corrosion-resistant, and is equipped with a bubble level for proper installation and accurate data collection. With the 6250 Vantage Vue weather station, you can set up to 22 distinct alarms to alert you of certain dangerous situations such as freezing temperatures and floods.
Pros:
100 yards wireless transmission between ISS and console
Easy to read backlit display with glow in the dark keypad
Reports indoor/outdoor temperature, barometric pressure, and more
4.375-inch LCD display
Comes with integrated sensor suite (ISS), LCD console, and mounting hardware
Cons:
Mounting pole not included
Ambient Weather WS-2902B WiFi Smart Weather Station Review
The Ambient Weather WS-2902B slots in at the #3 position on this list of best home weather stations for several great reasons, starting with the ability to monitor temperature, humidity, wind speed and direction, UV and solar radiation, and humidity.
The device once connected with WiFi can transmit this data wirelessly to the internet. The weather station console of the Ambient Weather WS-2902B weather station features two levels of wireless connectivity namely where it connects to your router and to the console.
Adding to this, this feature-rich weather station can also calculate wind chills, dew points, heat index and barometric pressure, and allows you to view historical data and real time conditions and get alerts on your tablet, phone, laptop or desktop.
The console is appointed with a 6.75 inch LCD display and features 10 different weather sensors. Adding to this, the Ambient Weather WS-2902B weather station can be connected with AmbientWeather.net to send and view data.
The Ambient Weather dashboard is mobile and user friendly and can be customized easily according to your needs. This platform is also compatible with Home Assistant, Amazon Alexa, Weather Underground, PWSWeather and much more.
The information displayed in the dashboard is highly detailed complete with text reports, graphs, gauges, and dials for every parameter. Users can even send text or email alerts for low and high conditions for any parameter they choose.
The console of the Ambient Weather WS-2902B station can be configured to receive wind updates every 16 seconds and is embedded with a line of sight wireless sensor that can transmit data up to 330 feet. The Ambient Weather WS-2902B weather station can also be connected with other optional devices such as temperature probes and air quality sensors.
Pros:
Wireless transmission of data
LCD display
Intuitive dashboard
Console features 10 different weather sensors
Can monitor humidity, wind speed and direction, and much more
Cons:
Weather Underground setup can be a bit tricky
Davis Instruments 6152 Vantage Pro2 Wireless Weather Station Review
The 6152 Vantage Pro2 is yet another hit from the Davis hangar and is one of the advanced models in the company's lineup. It is designed to measure everything a novice would need, but its top-notch durability and customizable features make it an appealing proposition for professional users.
The 6152 Vantage Pro2 is factory-fitted with a backlit console that displays a wide range of weather information right in the comfort of your home including outdoor and indoor temperature and humidity. It is also equipped with an onsite sensor suite that works on rendering the measurements. The package includes a solar panel, wireless transmitter, basic radiation shield, rain collector, wind speed and direction sensors, and a wireless transmitter.
The 6152 Vantage Pro2 boasts a rugged design, and works seamlessly in inclement weather conditions. It comes with detachable sensors and wings, and can measure wind speeds up to 200 MPH, making it a great choice for those living in stormy areas. With regards to temperatures, this weather station model from Davis can measure temperatures between -40°F and 150°F, and relative humidity between 0% and 100%.
The radiation shield included in the box prevents false readings caused by solar radiation, and you can even buy an optional fan-aspirated shield for precise measurements. Furthermore, the rain collector in the package is engineered to measure the amount of water in 0.01-inch increments, and empties itself when full.
The Davis 6152 Vantage Pro2 can be ordered with additional sensors to gauge other types of weather data including leaf wetness, solar radiation, soil moisture, and UV index. This weather station device can display historical data, and even analyzes previous weather conditions, so you can keep tabs on the weather in real time, and around the clock.
The forecast feature of the 6152 Vantage Pro2 weather station just as the name suggests gives you a rough idea of the weather you can expect over a 48-hour period. It is powered by a solar panel, which stores energy to power the device during the night. If that's not enough, the 6152 Vantage Pro2 device also comes with a lithium battery, which serves as a backup power source in case the solar panel fails.
The readings rendered by the 6152 Vantage Pro2 are updated every 2.5 seconds, so you are well aware of the weather outside at any time of day. These readings can also be sent to the console wirelessly, from where you can share the results online. If you're looking for a home weather station that offers unmatched flexibility and accuracy, you really can't go wrong with the 6152 Vantage Pro2.
Pros:
Backlit console
Alarms
Displays historical data
Updates every 2.5 seconds
Optional sensors available
Cons:
Lacks camera functionality
Mounting pole not included
Home Weather Station Buying Guide
There are several factors to consider when on the shopping trail for the best home weather station to ensure you buy the right one for your needs.
The fact is your lawn can't escape the weather, but you can definitely prepare for it before stepping out of your home. And knowing what the weather's like outside in this technology-driven era is easier than ever with anyone of the weather apps installed on your mobile device.
The big question however is are these weather apps reliable, and the short answer is apparently not as indicated by several leading publications. But if you'd like to discern the weather around accurately and around the clock, a home weather station is what you should buy!
Home weather stations are basically small devices that are equipped with the right tools and sensors to give you an accurate glimpse of the climate around you, and the environment you may be in. This range of devices was once used by meteorological departments looking to gather weather data. But using a weather station around your home is not only good for your weather awareness but will also help you with monitoring the amount of water that gets put down on your lawns.
What Are The Different Types Of Home Weather Stations
– home weather stations can be ordered in several different shapes and sizes, and with a long list of features. These include:
wireless devices
desktop devices
…where the difference in most cases between the devices is in terms of installation and connectivity.
Home weather stations and portable weather stations are the two most common types of devices in this segment. To explain the difference, home weather stations are typically equipped with multiple sensors, so you can expect highly accurate data collection and forecasting. Adding to this, home weather stations come with advance features such as the ability to compare graphs, and view historical data, so you can make uniform decisions before stepping outside.
Portable weather stations as you might've guessed feature lightweight and compact footprints, making them easy to carry wherever you go. They offer limited functionality when compared to home weather stations, so you will probably get access only to basic info including humidity and temperature readings.
What To Look For When Researching A Home Weather Station
Data interpretation
Regarded as one of the most important features of home weather stations, data interpretation centric features are more advanced than what you'd see on portable weather devices. It works by storing atmospheric conditions over a certain period, and then provides you with access to this information should you need it in the future. Some of the best home weather stations come with software to help you interpret this information, and quickly track changes.
Highs and lows measurements
For the most part, you only need to know what the weather's like currently outside. But having access to at least a month's worth of historical data can provide you with more accurate forecasts. The best home weather station models display high and low measurements both graphically and numerically, and in an easy to read format. This makes the respective device easy to use for both beginners and seasoned users.
Type of connection
Wired and wireless home weather stations each have their pros and cons. For example, wireless devices are more convenient to use as they allow you to transmit data wirelessly across devices, but on the downside can be unreliable at times owing to the loss of wireless signals. Wired devices generally are more reliable when it comes to gathering and transmitting data, but may be more challenging to install, given the many wires and cables involved in the process.
Power source
Home weather stations are typically powered by your home electrical outlet, or solar panels. Then there are devices that offer dual charging options i.e. work with solar energy, and via electric power as a backup power option.
Installation Type
If you're just getting your feet wet with home weather stations, then you may find the installation process a bit confusing. This however doesn't mean that you need an engineering degree to setup the device, but you can in most cases install them properly by following the manufacturers detailed guidelines included in the box.
Display and sensors
Both are important components of a weather station, and play a pivotal role with regards to usability and reliability. A large display allows you to see things more clearly, and makes things such as graphs easier to read and understand. Furthermore, larger displays are more customizable, and come with several function keys to configure the right settings for your needs.
With regards to sensors, some high-end home weather stations can come with 10+ sensors, but great chances are that you aren't going to need all of them. But if you're passionate about meteorology and the likes, then buying a home weather station with more sensors makes sense.
Alarms and accuracy
Most if not all of the leading home weather devices come with some sort of weather alert system, which notifies you through alarms on specific weather patterns. Alarms quickly alert you of any changes in weather patterns such as atmospheric pressure, humidity, temperature and even solar radiation levels.
Home Weather Station FAQ's
Q: How does a home weather station work?
Answer: Home weather stations come fitted with several sensors, which are responsible for gauging weather information. Each sensor is designed to collect a specific piece of information such as a thermometer for temperature data, etc.
Q: How Accurate Are home weather stations?
Answer: Well, this depends on the model you buy, and if the device is installed properly. You should also buy from a reputed brand, especially if you're serious about weather readings.
Q: Where is it best to mount a home weather station?
Answer: When it comes to installing or mounting a home weather station, it is recommended that you follow manufacturer instructions. In most cases, home weather stations should be mounted at a height or 4 – 6 feet above the ground, but this can vary across manufacturers.
Hi, Alex Kuritz here. Growing up I remember that my family had one of the best lawns in the neighborhood. Richly green and lush. I did a lot as I grew up in terms of caring and tending for not only my family's lawn but also my neighbors. I can say I have years of experience, and I am here to share it with you.