So I picked up the starter box from Get Sunday this summer so I could try out this new done-for-you lawn care in-a-box. I'm always in favor of making lawn work easier and if all I need to do is attach a few bags of fertilizer to my hose each season and spray it on to have a weed-free and green lawn then I'll be a happy camper.
At first glance, this seems like a product for those that don't really care about all the lingo that goes into lawn care, weed control, etc. They just want it to look good and don't want to pay too much for it. So in this review of the Sunday Lawn Starter, I'll go over who Sunday is ideal for and the types of yards that will benefit from this kit.
Here is the initial Sunday Starter Kit I received:
Affiliate Disclaimer: My content may contain links to products I use. As an Amazon Associate and participant in various other affiliate programs, I earn a small commission at no extra cost to you from qualifying purchases.
Just Spray It On
My neighbor's lawn wasn't at its best and he tried almost everything on the market until I got this box from Sunday to review. It truly turned his world upside-down and brought life to his lawn, which was full of crabgrass. Learn more about crabgrass weed and other methods of control.
We felt drawn to write this review so that we can inform others about how fantastic this lawn subscription is!
What Is Sunday Lawn Care?
Sunday Lawn Care is a subscription program that offers lawn fertilizers.
Their product is both pet and child-safe. A natural fertilization solution is provided which is catered specifically to the needs of your soil and lawn.
Sunday Lawn Care Before & After Examples
Here are some great examples from Sunday Smart Lawn Care users showing the greening effect that Sunday can do for you.
The filter on the camera may be making it darker than it is but still captures the difference of how Sunday can give you a deeper green and a healthier look.
How Does Sunday Lawn Care Work?
In a week or so after subscribing to Sunday Smart Lawn Care and performing the necessary soil test, you'll receive a customized lawn care subscription box. This provides your initial application at the beginning of the season. Read about the importance of a soil test.
What's In The Box?
Included in this is a fertilizer and a hose spray connector, which we advise you to keep for future applications.
The hose spray connector screws on tightly and features an on-off valve as well. All you need to do is turn on your water for it to begin to spray. While the water sprays, the solution mixes with it and is distributed in a fan pattern.
How Do You Apply Sunday Lawn Care to Your Grass?
Check the weather in your region before application. The recommendation is to:
Water the grass a day before spreading the nutrients
Ensure there's a dry day after application
If there's rain in the forecast in the coming two or three days, then hold off on applying Sunday.
Healthy grass that is well hydrated will absorb essential nutrients better, and a dry day after will give them the right amount of time to absorb those nutrients.
Spread the nutrients evenly across your green grass lawn, and wait for them to dry before getting back on it.
Here are the basic steps to follow:
Step 1: Insert the straw into the sprayer
Step 2: Screw the sprayer onto the Sunday pouch
Step 3: Attach the hose to the sprayer
Step 4: Turn on the valve on the sprayer
Step 5: Keep moving while you apply the product evenly onto your grass. Cover your full lawn with one light application
Make sure to thoroughly cover your entire lawn until the bag is empty which is around 15-20 minutes to empty.
Watch this video on the right way to apply Sunday Lawn Care:
When Should I Apply My Lawn Care Products?
Apply Sunday Lawn Care-friendly nutrients first thing in the morning when the temperature is 50–85ºF or as an alternative in the evening.
Further, do not mow your beautiful grass for at least two days after applying the nutrient packs, and when you do mow, leave the clippings on top of your grass.
Before sprinkling Sunday nutrient pouches, make sure you remove any weeds including broadleaf weeds, present with commercially available weed control products or an organic weed killer, and reseed bare spots.
You can apply Sunday Lawn Care products 2 to 4 times per year depending on several factors like the type of grass, locations, and the instructions provided in your Sunday Lawn plan. Additionally, Sunday Lawn Care products should only be used during the growing season.
How Long Does Sunday Lawn Care Take To Work?
The time it takes for Sunday Lawn Care to work and turn your lawn into a healthy, rich color depends on the current health of your yard, and what you'd like it to look like.
If you're wondering how long it will take your grass to green up after using Sunday with the recommended watering and application process, then you can expect good results in roughly a week or two.
How Does Sunday Smart Lawn Plan Subscription Work? Detailed Guide
How Do I Get Started?
To get started with Sunday Lawn Care, first, go to the official website and click on "Get Started" at the top right-hand corner.
1. Perform a Free Lawn Analysis
By giving Sunday Lawn Care your physical address, they are already able to determine an initial regional soil analysis. Along with this, they use Google Maps to capture the size of your lawn.
Enter your mailing address to start your soil analysis, after which the company will send you your first box that includes custom instructions and a free soil test kit.
Here is how Sunday mapped my yard to determine how much product I will be needing in my subscription:
2. Perform a Soil Test
To use the soil test kit, you will have to dig up 3 samples from 3 different areas of your lawn and send them back to the company. When the soil results are ready, Sunday will email you the results for free, set up a personalized account page, and update your plan.
3. Get a Personalized Plan
After the first box, the shipments of nutrients work on autopilot, where they are sent to you when your lawn needs them. You will be notified when new shipments are on the way, and each box contains custom instructions.
4. Optional Add-Ons
You always have the option to add add-on products through your account page such as spot treatment weed control, patch treatments, and pet spots.
The Different Sunday Lawn Care Plans
Sunday Lawn Care offers 3 plans to choose from namely:
Basic Care,
Keep & Protect
Grow & Renew.
Basic Care – The Basic Care plan is available for most regions in the United States and comes with what you need for year-round lawn care like 12 seasonal, sprayable pouches of micronutrients tailored to your lawn's need.
Keep & Protect – The Keep & Protect plan comes with the 12 macronutrients in the Basic Care subscription, a reusable gallon sprayer, weed concentrate, and a soil test kit.
Grow & Renew – The Grow & Renew plan builds on the Keep & Protect plan and also provides you with three bags of seed.
Since nutrients packets are the main component in all the Sunday lawn care plans, it's a good idea to know exactly what they are.
As mentioned earlier, the nutrient packets are selected based on your lawn's needs, but all consist of organic ingredients such as seaweed extract, recycled grocery produce, or humic acid.
Some examples of nutrient packets are lawn kickstart, iron booster, heat helper, lawn strong and mighty green.
Keep reading for more details on Sunday Lawn Care nutrients.
The Sunday Soil Test
The Sunday subscription also includes a soil test kit. In this kit, you will find:
a collection spoon,
a bag,
a prepaid collection box.
They recommend that you collect soil samples from 3 different areas of your lawn.
On the bag, they have a prominent line as well as a zip-lock style seal. This is to indicate how much soil should be put in the bag. Fill it to the line and then seal it. After this, all you need to do is put the bag in the prepaid box and place it in the mail.
You can expect to receive your results 3 weeks after sending off your soil sample. An email will be sent to you and you should be redirected to the official Sunday Lawn Care website where your results can be viewed.
Regional soil makeup that is based on your location, rainfall, average temperatures, and seasonal growth patterns for grass can all be seen in the Lawn Data section. However, the real fun comes in when you see the results of your soil test. This is where you can compare how your soil differs from that of your regional averages as well as what specific requirements your grass has.
You're presented with a simple overview with letter grading of key aspects. These key aspects of your soil include soil salt, fertility, and nutrients. Added to this, you receive a breakdown of all the aspects of your soil that are lacking.
The Soil Plan feature provides the details of what Sunday Lawn Care plans to focus on in the future lawn solution subscriptions to balance these deficiencies.
How Much Does Sunday Lawn Care Cost?
The price of Sunday Lawn Care varies across plans, but is:
Between $228 annually for the Basic Care shipment/plan
Roughly $330 for the Care and Renew subscription
There are several add-ons you can add to each subscription plan such as Weed Warrior and Mosquito Deleto, but take note that these add-ons can't be purchased alone.
Is The Cost Of Sunday Worthwhile?
A question we are asked most is if this product works on all types of yards. Yes, it's cheaper to go out to a nursery and buy and mix the solution yourself. And having professional lawn services like Turn Keeper, Fairway Lawns, etc. will cost you hundreds of dollars a month.
However, one thing that Sunday Lawn Care has that you don't is a line of experts that match the specific needs of your lawn and soil to the solution that is ultimately sent to you. Added to this, you're also receiving a blend of natural lawn care ingredients.
There's a variety of all-in-one mixes that are available on the market. Nonetheless, this isn't the answer if you wish to see your lawn grow in optimal conditions. There are a vast amount of factors that aid in making your grass lush.
Does it have enough iron? Did you know that iron is an important component for any turfgrass?
Is there too much nitrogen in this particular fertilizer?
Are there too much or too few nutrients in the grass such as calcium, sulfur, and magnesium?
Is my lawn receiving enough of the 'big N-P-K ?' (Nitrogen, Phosphorous, Potassium)
Knowing the process and being able to do the calculations is a great skill. Nevertheless, as much as you want a thriving lawn, you also have a life.
That is what's so appealing about Sunday Lawn Care. A customized lawn fertilizer being delivered to your doorstep at scheduled intervals sounds almost too good to be true!
But, it's real and its name is Sunday Lawn Care.
Pros and Cons of Sunday Lawn Care
Pros:
Cons:
Why Should You Choose Sunday Lawn Care?
Well, after using the Sunday Lawn Care kit including a couple of add-ons for my lawn, I can see why this product is a big hit among lawn owners. For any lawn owner, the most daunting task is walking into a garden center or home improvement store to find the right products for your lawn.
There are literally hundreds of isles stacked with fertilizer, different types of grass seed, pesticides, and much more, making it overwhelming to get the right product(s) for your lawn.
Sunday Lawn Care via a few modern analysis techniques determines the right products including custom nutrients and pest control products for your lawn, and best of all, ships the best plan options right to your doorstep, making it a fool-proof solution to tackle your lawn's issues.
And best of all, Sunday Lawn Care is transparent about its list of ingredients (more on that below) and contains all-organic ingredients. Plus, Sunday Lawn Care works in any climate, given that the company creates a bespoke treatment plan and a recipe for your lawn.
What Ingredients are Included in Sunday Lawn Care Products?
Sunday Lawn care bills its ingredient list as "rich", deep, dark black, because they claim to pack as many nutrients into each pack as humanly possible.
Soy Protein
Soy protein is a rich, natural source of nitrogen, which breaks down slowly, providing the lawn with nutrients for a longer period of time.
Iron
Iron is an essential micronutrient and helps your grass develop a lush green color.
Seaweed
Another powerful plant nutrient, the seaweed used in Sunday Lawn Care is sourced from the coast of Maine and does several things for your lawn such as stimulating beneficial hormones and encouraging root growth.
Molasses
Molasses is an easy way to feed the soil microbes and contains readily available sugar that provides carbohydrates, vitamins, and a spectrum of other minerals such as calcium and iron.
Other ingredients in Sunday Lawn Care include potassium acetate, phosphorus, salicylic acid, surfactant, potassium, and micronutrients.
Ingredients NEVER used in Sunday Lawn Care include: 2,4-D, GLYPHOSATE, BIFENTHRIN, MCPP, PENDIMETHALIN, IMIDACLOPRID, TRIFLURALIN
You can find more information on all Sunday Lawn Care ingredients and product safety indications on their website.
What Are the Different Nutrient Packets in Sunday Lawn Care?
Each Sunday Lawn Care plan is different, so what you receive after the company analyzes your lawn, may not be the same as your neighbor's Sunday Lawn Care package. Sunday Lawn Care offers an array of different packs such as: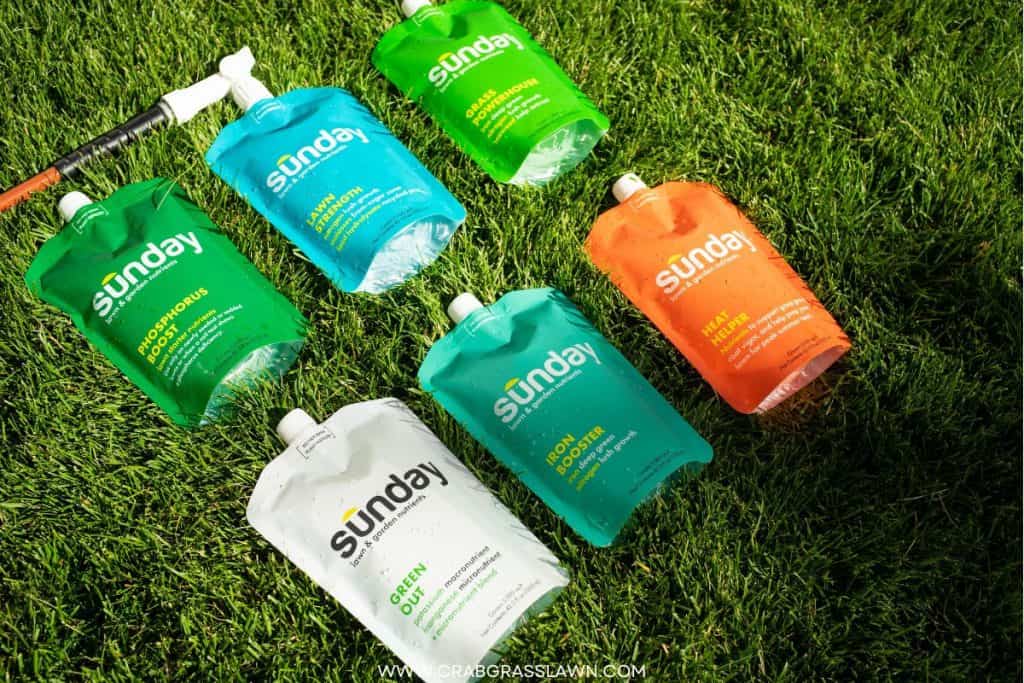 Fall Fortify – The Sunday Fall Fortify nutrient pack contains the essential nutrients required to fortify your lawn, repair summer stress, and prepare your grass for the winter months. This formulation contains nitrogen, iron, and calcium ingredients, with no toxic ingredients.
Green Machine – This nutrient pack by Sunday Lawn Care offers twofold benefits, boosts active plant and root growth, and fortifies soil. Green machine contains powerful ingredients such as nitrogen, iron and potassium, and seaweed for plant resiliency.
Iron Booster – The Iron Booster Sunday Lawn Care nutrient pack is infused with iron and nitrogen, which collectively provide your grass with what it needs to be healthy and green
Heat Defense – This is one of the best organic treatments that contain nutrients that support grass growth, and root vigor, and help prep your lawn for the peak summer heat.
Grass Powerhouse – What's the first thing that comes to mind when you hear the term "Grass Powerhouse"?
A Sunday Lawn Care natural fertilizer formula that's powered by ingredients such as iron, nitrogen, seaweed, and no toxic pesticides to enhance stress resilience, and encourage lush growth in your lawn.
Grass Powerhouse contains mystery-free ingredients that offer multifaceted benefits such as using nitrogen for the growth of newly planted grass seed packs, iron for greening, seaweed for resilience, and potassium for hydration management.
Lawn Strong – Lawn Stong is aptly named for its blend of soy protein and molasses to support healthy soil.
Water Focus – If you have low rainfall in your area, Sunday Lawn Care Water Focus is what you should ideally apply to your lawn. Water Focus is an all-rounder, as it contains slow-release nitrogen to release burn, a surfactant for water retention, molasses to help soil microbes, and potassium for resilience.
Lawn Kickstart – If you're not a fan of using pesticides, Lawn Kickstart is a great option for infusing your lawn with nitrogen for growth, potassium for hydration management, and seaweed for resilience.
Does Sunday Lawn Care Include Pest Control?
A Sunday Lawn Care subscription doesn't come with any pest control products, but Sunday Lawn Care does offer a wide range of pest control products that you can purchase separately.
Ant Adios, which as the name suggest helps you bid adieu to pesky ants and several other crawling insects. Spinosad is the active ingredient in Ant Adios and is a biopesticide that is non-toxic to pets and is OMRI-listed for organic gardens and lawns.
Fire Ant Fighter is another product offered by Sunday Lawn Care that also contains the active ingredient spinosad, which cripples the nervous system of several insect pests.
Mosquito Deleto is another aptly named product that kills blood-sucking mosquitos. This plant-powered formula is loaded with oil extracts including cedar oil and lemongrass oil to delete, mosquitos, fleas, and ticks.
Nix Ticks may sound like a video game, but is in essence a robust pest control product that's geared towards eradicating ticks, mosquitoes, and fleas.
Bug Doom is powered by patented technology and is formulated to control both indoor and outdoor pests.
Is Sunday Lawn Care Safe and Eco-Friendly?
One of the main selling points of Sunday Lawn Care is that the product is 100 percent environmentally safe and friendly. The company's products prevent you from dousing your lawn in toxic chemicals and instead contain non-toxic ingredients like seaweed, molasses, and food waste.
Is Sunday Lawn Care Safe for Plants?
Sunday Lawn Care products are safe to use for all types of turfgrass, but the company doesn't recommend using their nutrient pouches on garden plants. However, Sunday Lawn Care has recently launched a few garden products such as an all-purpose plant food mix, flower and bloom plant food mix, and veggie + tomato plant food mix.
Is Sunday Lawn Care Safe for Pets?
Sunday Lawn Care products are designed with both humans and pets in mind. The nutrients used in Sunday Lawn Care products help build a strong, resilient lawn, but the company advises that the nutrients must dry first before letting your pets play on the grass.
What Other Options Can I Add On to My Sunday Lawn Care Subscription?
Well, the list of options you can add to your Sunday Lawn Care subscription is literally endless, starting with weed control packs, all-purpose fertilizers, heat stress treatments lawn mowers, and string trimmers.
Sunday Weed Warrior – Weed Control & Killer Spray Review
The Weed Warrior product from Sunday is an organic herbicidal soap that comes in a spray bottle that you simply spray directly onto weeds on your lawn.
The product works by "penetrating the waxy cuticle of plants, causing the plant to dehydrate and die." This is a non-selective killer so it will kill whatever you spray it on including all grass types, algae, and moss including all weed types. So be careful with it. 🙂
Pet Patch Lawn Treatment for Spots
The Pet Patch Lawn Treatment for spots is one of Sunday Lawn Care's bestselling products and is formulated with seaweed, humic acid, and iron to get rid of contaminants and revive damaged grass.
Pet urine spots on lawns are inevitable, and Pet Patch treatment is designed to clear them and build a lush green lawn.
Dandelion Doom
Dandelion Doom is truly a powerful herbicide and fungicide that kills weeds down to their roots. Onc concentrate bottle of Dandelion Doom can treat up to 224 square feet and is safe to use on all types of lawns.
Bare Repair
Bare spots can appear even in the most well-cared-for lawns, but regardless of whether it's thin spots or completely bare patches, Sunday Lawn Care Bare Repair is here to help.
Bare Repair consists of the bare essentials to encourage healthy growth and prevent weeds in your lawn. Adding to this, Bare Repair is available in two formulas Sun + Shade Lawn Repair and Bermudagrass Repair, making it easier to buy the right product for your turf.
Sunday Lawn Care Seeds Review
If you're looking to replenish and grow a stronger, more resilient lawn that requires less upkeep, investing in the right grass seed blend is a smart choice.
Sunday offers myriad different grass seed blends including Fescue Rescue (heat-tolerant cool-season grass), Luck Lawn (mix of tall fescue, fine fescue, and micro clover), Shade Select (blend of fine fescue and hard fescue), and Bermuda Time (a hand-selected blend of Bermudagrass seed).
Where To Buy Sunday Lawn Care?
You can only buy a Sunday Lawn Care subscription via the official website because the company first needs to analyze your lawn to send you the right pouches.
Some other Sunday Lawn Care products such as Pet Patch and Weed Warrior can be purchased at certain big box stores like Walmart.
Sunday Lawn Care Alternatives
Even though Sunday Lawn Care is a fairly unique DIY lawn care service, there are a few alternatives/competitors in this space, albeit a little expensive Sunday Lawn Care to explore.
Rachio Thrive is a new kid on the block and provides a comprehensive system that addresses your turf's specific needs. Its first product Lawn Champion contains the right mix of microalgae and nutrients and gives your lawn exactly the food it requires.
Another great alternative is the Scotts Annual Program, which is designed to provide your lawn with nutrition throughout the year.
Why Should You Choose Sunday Lawn Care?
Their innovative solution to the problem of applying harmful chemicals to our grass endlessly is proving to positively impact the growth of our lawn. The natural ingredients that are used to correct the imbalances of your soil are something that sets them apart from any other fertilizer.
---
FAQs
Q: Does Sunday Take Care of Weeds?
A: Sunday Lawn Care offers two products that help take care of weeds, namely Weed Warrior and Dandelion Doom. Weed Warrior is a non-selective herbicide that kills weeds like chickweed, moss, dandelions, and more. Dandelion Doom kills broadleaf weeds via a more specialized approach. 
Q: Is Sunday Fertilizer Organic?
A: Sunday Lawn Care fertilizer like the Core Seagreen Dry fertilizer contains organic ingredients including urea, polymer-coated sulfur-coated urea, potassium sulfate, corn gluten, kelp meal, gypsum, iron sucrate, and features a 24-0-4 NPK (30% slow-release Nitrogen). 
Q: How Do I Cancel Sunday Lawn? 
A: You can cancel Sunday Lawn Care at any time by sending an email to contact support@getsunday.com on or before your renewal date. Although you can cancel your services at any time, you will still have access to all the services until the end of your billing period. 
Q: What if I Don't Like My Sunday Lawn Care Subscription?
A: If you don't like your Sunday Lawn Care subscription, you can cancel by sending an email to contact support@getsunday.com on or before your renewal date. 
Q: What Is Sunday Lawn Care's Shipping Policy?
A: You can read Sunday Lawn Care's shipping policy here, but here's what is says briefly.
"Unless otherwise indicated at the time of your purchase, shipping and handling fees are included with your order. Shipping dates and/or arrival times are only estimates. For loss/damage claims, you must notify Sunday within 30 days of the date of your purchase if you believe all or part of your order is missing or damaged."
Q: What Is Sunday Lawn Care's Return Policy?
A: The Sunday Lawn Care guarantee ensures that you receive a replacement when you need it. If you didn't get the results you expected and would like to return Sunday products, get in touch with a Sunday rep.
Q: Where Else Can I Find Sunday Lawn Care Products?
A: You can buy certain Sunday Lawn Care products at big box stores like Walmart and online Amazon.com.
---
Final Thoughts – Our Recommendation
We are extremely happy with how the lawn is looking. It is convenient and easy to apply. Everything we need to take care of our lawn is delivered straight to our doorstep.
My neighbor can take care of his lawn in a matter of 30 minutes each season. It's that quick and simple! Moreover, he has so much relief being able to let the kids and pets run free around the lawn and not having to worry about all the harmful chemicals they are surrounded by because there are none.
Something that is really impressive is that all their ingredients are natural. That is the main reason why they are sticking with Sunday Lawn Care and only them for the foreseeable future.
---
Sunday Lawn Care Promo Codes
Use Promo code CGLAWN20 to take $20 off your Sunday Lawn Care Smart Plan total.
---
How Do I Contact Sunday Lawn Care? Company Information
Company Name: Sunday Lawn Care
Company Type: Lawn Care Company
CEO: Coulter Lewis
Year Founded: 2018
State Availability: All States, With Its Headquarters in Boulder, Colorado
Phone (calls and SMS): 415.903.6932
Email: support@getsunday.com
Website: Getsunday.com
Hi, Alex Kuritz here. Growing up I remember that my family had one of the best lawns in the neighborhood. Richly green and lush. I did a lot as I grew up in terms of caring and tending for not only my family's lawn but also my neighbors. I can say I have years of experience, and I am here to share it with you.