It is very easy to think that lawn diseases are the ones causing your grass to turn yellow. In some cases, that is true but in others, improper lawn care practices lead to yellowing.
There are a couple of reasons why your lawn is turning yellow in small patches. The most common cause of yellowing tips is frost burn, but dog pee, over-fertilization and overwatering can also lead to such signs.
Let's look at these in detail.
But if you want a simple solution to treating most yellowing spots in lawns, consider signing up for a Sunday Lawn Care plan that is made specifically for your grass type and lawn.
DIY Lawn Care, Simplified!
Crabgrass Lawn has partnered with Sunday to get your lawn exactly what it needs to thrive. Use the code "CGLAWN20" to get $20 off.
What Causes Grass to Turn Yellow?
Any grass type can turn yellow – be it St. Augustine grass, Bermuda grass, Buffalo grass, Kentucky Bluegrass or any other variety. It is the lawn care activities that may be leading to the discoloration of grass blades.
Overwatering
Overwatering causes your grass to have poor root development. Too much water leads to a limited supply of oxygen in the soil due to waterlogging. Your grass will have shallow roots and will suffer from poor uptake of nutrients, oxygen and even water itself, causing the lawn to start turning yellow.
Overwatering your lawn will also cause fungal diseases and insect infestation due to reduced resistance.
So, can overwatering cause yellow grass? Yes, absolutely. Just remember, feeding your grass with adequate nitrogen and enough water helps the lawn resist disease attacks.
If you suffocate the roots with water, you won't be able to feed your lawn properly and you'll start seeing signs such as thinning and discolored leaf blades.
Overfertilization
Too much fertilizer can easily burn your lawn. This is especially true for synthetic fertilizers. You may see your grass turning yellow after applying fertilizer to indicate that you applied too much.
Excess nitrogen salts in synthetic fertilizers usually burn the leaves of your turfgrass. Sometimes, this is called leaf scorch.
The signs of overfertilization include:
Yellowing of leaf blades at the base.
Browning of grass blades at the top.
Slow growth of grass.
Fertilizer crust on the soil surface.
Lawn Diseases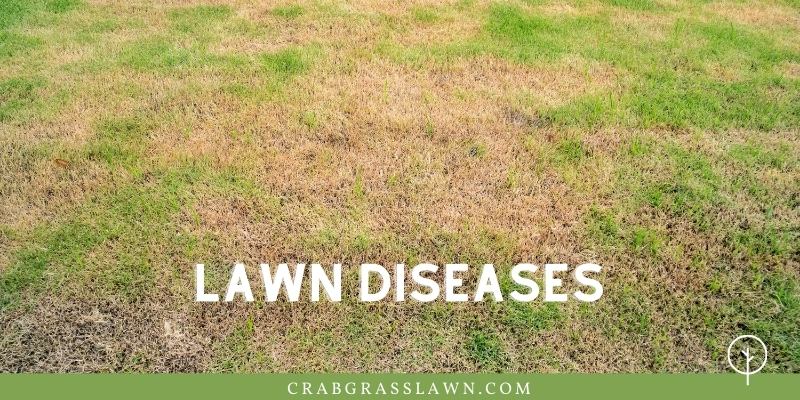 Some lawn diseases manifest as yellow to brown patches. Lawn fungus, dollar spot, and other diseases start to show signs of yellowing leaves or undergrowth.
Frost burn during winter and excessive rain can often be followed by yellowing leaf blades but the grass may not die from it. Treatment, however, may be necessary to stop the grass discoloring even further.
Nutrient deficiency
A lawn with yellowing spots and strips may be suffering from nutrient deficiency. If there are areas in your lawn where you miss to apply fertilizer, you'll notice a faint yellow or fluorescent discoloration on the leaf blades while the rest of the grass shows signs of deep greening and thicker, faster growth.
According to the University of Massachusetts Turf Extension, one of the signs of nutrient deficiency caused by improper fertilization is "Brown streaks lined with extra green growth can occur in areas of application overlap. Yellow nutrient deficient streaks may occur in missed areas."
Dog Urine Spots
Dog urine naturally contains high nitrogen compounds. If you have dogs that pee in your lawn, you may start to see yellow spots all over the yard.
How to Turn Yellow Grass Green Fast
As soon as you notice yellow spots and streaks on grass blades, you should start mitigation measures.
Here's how to make your grass green again:
Reseed urine spots
Sometimes, dog urine spots do not grow back especially when you take too much time before applying a dog urine neutralizer.
To prevent your grass from turning yellow and dying after a dog pees on it, you might want to follow the pet in the yard and apply a neutralizer immediately after he pees.
Alternatively, you can get rid of the yellowing and dying spots in your lawn by simply reseeding or re-sodding your lawn if the damage has already been done.
Sunday Lawn Plans come with a pet neutralizer and Green Powerhouse product that you simply spray on your lawn when you have yellowing issues. Consider signing up to Sunday Lawn Care to treat your yellowing issues for good.
Adjust your watering routine
Only water your lawn when needed. If there's a lot of rain when you notice your grass turning yellow, you may want to stop watering for some time before resuming.
Only water your lawn when the two inches of topsoil is dry.
Ensure your water according to the maintenance program of your particular grass.
Most lawns benefit when you water them 2-3 times a week. If this causes yellow spots, reduce the frequency to 1 or 2 times only.
Try reducing the amount of water when irrigating your lawn to the recommended level for your grass type.
Different grass types require different watering routines. St Augustine grass turning yellow could be a sign of fungal infection and water-logging.
To prevent this, talk to a lawn care expert in your area to advise you on the proper care routine for St. Augustine grass in order to get rid of the yellow spots on your lawn by changing the watering routine.
Fertilize your lawn when needed
When your grass is turning yellow after fertilizing, it means you applied too much fertilizer. You can fix this by slowing down your applications. Alternatively, you may want to use a good slow-release fertilizer, preferably an organic one. It will not burn your lawn or cause yellow spots.
Do a soil test to determine what nutrient is deficient and buy a fertilizer with the right NPK amounts.
Apply fertilizer according to the specification on the label.
Feed your lawn with the right amounts to help nutrient-deficient yellowing grass turn green again.
I always prefer using organic fertilizers with high nitrogen content. They hardly burn your lawn even if you miss the instructions on the label.
Treat lawn diseases
Lawn diseases slow the growth of your lawn and can produce symptoms on the blades such as spotting and wilting. To turn yellow grass green faster, treat any fungal infections or other diseases as soon as you see symptoms.
Most lawn diseases are fungal infections and are caused by dampness. Therefore, ensure you always stock a fungicide such as DiseaseX to treat grey spot, brown patch, and any other similar diseases.
Also, you may need to treat your lawn just after winter to kill any fungus that may have developed during the frost days. This will help turn your grass green fast.
Mow with sharper blades
When it is spring or autumn, does your grass turn yellow after mowing? Then there's a problem with your lawn mower's blades – they're blunt.
Blunt blades hack the grass blades, leaving them open and prone to disease. The crowns of your grass will then start to turn yellow.
Shop for new mower blades at Amazon
There are two ways to fix this and help your grass grow greener again. First, sharpen your mower blades. You really want to get a clean cut that appears as though you just snip on the grass blades. Second, mow at a height slightly lower than your last mow to allow new greener shoots to come up. You may even want to consider using a reel mower that does a cleaner cut compared to gas-powered mowers.
References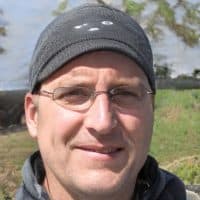 Hi, Alex Kuritz here. Growing up I remember that my family had one of the best lawns in the neighborhood. Richly green and lush. I did a lot as I grew up in terms of caring and tending for not only my family's lawn but also my neighbors. I can say I have years of experience, and I am here to share it with you.