Lawn weeds are those uninvited guests that compete with your yard for water, nutrients, and light, as well as foster diseases and pests. Regardless of whether you have green fingers i.e. the ability to make anything grow when healthy plants thrive in your garden, these pesky invaders thrive alongside them. Using a weed spray and sprayer will make getting rid of the unwanted weeds much easier on you. Keep reading for my recommended sprayers to use around the house and what spray/solution to use for the type of weeds that you have.
This post is divided into 3 parts:
Best Sprayers to use
Best Weed Killer Spray Products
Identify Weeds and FAQ's
First, What Type Of Weed Do You Have?
According to the Weed Science Society of America, there are three main types of weed:
Invasive weed – weeds that plant themselves and spread in natural ecosystems are considered invasive weeds. Because they don't have any natural enemies to combat their growth, invasive weeds are considered as a great threat to native plants and ecosystems and are also classified as noxious weeds. These are easy to kill with the right herbicide.
Noxious weed – this type of weed is designated noxious by local, state or federal agencies as being a hazard to agriculture, public health, wildlife or property.
Once designated, these agencies are permitted to take the necessary actions to contain or destroy the weed or limit its spread. Field Bindweed is a great example of noxious weed, and you can access the full list here. These are more tricky to kill with store-bought liquid herbicides.
Weed – these plants are undesirable for several reasons, most notably because they create health problems for both humans and animals, and cause ecological damage or economic losses. Examples of weed are giant foxtail, lambsquarters, and crabgrass. These are easy to kill with store-bought liquid herbicides. Now onto the recommendations…
Top 5 Sprayers for Liquid Weed Killers
1. Smith Contractor Sprayer for Weed Killers, Herbicides, and Insecticides
The Smith Contractor weed, herbicide and insecticide sprayer is an ideal choice for lawns, but can also be used for commercial cleaning tasks, and with harsh chemicals. It is made from high quality material, and features a commercial grade shutoff complete with a comfortable grip, making it a joy to use across longer periods.
Further, this feature rich two-gallon capacity herbicide sprayer is fitted with a nickel-plated brass poppet for enhanced strength and precision, and an in-line filtration system. Furthermore, the 21-inch poly wand of the sprayer is embedded with Viton gaskets, which provide unmatched chemical resistance, and can be easily replaced without any tools.
The Smith Contractor sprayer is equipped with a pressure relief valve, which is designed to release the pressure before releasing the pump to avoid the herbicide from spraying all over you. The teardrop shaped Smith Contractor sprayer comes with a dedicated slot to store the wand tip to protect it against harsh elements.
The package includes five nozzles for great versatility including a poly and brass nozzle for a solid stream to a fine mist, high volume fan nozzle for a wide spray, and a foaming nozzle for better weed killing results. The Smith Contractor weed sprayer is backed by a one-year warranty against any manufacturer defects.
Pros:
5 types of nozzles
2-gallon capacity
In-line filtration system
Commercial grade shutoff with a comfortable grip
21" poly wand with Viton gaskets
Pressure relief valve
Cons:
Limited to 1 color option
2. ITISLL Garden Pump Sprayer
The ITISLL garden weed sprayer can be ordered in a choice of two great color combinations — white and red and white and black, and three different sizes — 1 gallon, 1.5 gallon, and 2 gallon variants.
Further, this multifaceted sprayer can be used for an array of different tasks including home cleaning, pet bathing, washing cars, but is not suitable for corrosive or acidic applications.
The ITISLL sprayer is equipped with a high quality brass nozzle, which can be adjusted from direct injection to fine mist spray. At the end of the 19-inch brass spray wand is a long 50-inch hose to spray easily across longer distances, and hard to reach places.
It is fitted with an ergonomic handle mated with a locking trigger that collectively allows you to spray for a long period, and without experiencing fatigue. The trigger can be locked, so that you can continuously spray herbicide for longer periods.
Another neat feature of the ITISLL sprayer is its onsite adjustable shoulder strap, which enhances its overall comfort quotient during use. It is crafted from premium quality PE material, and allows you to see the amount of herbicide remaining through the transparent container.
Apart from its high quality construction, the ITISLL herbicide sprayer also comes with a safety valve, which releases pressure automatically when it exceeds 2.5 – 3 Bar. Other key features of the ITISLL weed herbicide sprayer include anti-clogging filters, wear resistant rings, and a 1-year manufacturer warranty.
Pros:
2 colors and 3 sizes available
Adjustable brass nozzle and 50-inch hose
Ergonomic handle and adjustable shoulder strap
Lockable trigger and pressure release system
1-year manufacturer warranty
Cons:
Cannot be used for corrosive or acidic solutions
3. CLICIC Lawn and Garden Portable Sprayer
The CLICIC lawn and garden sprayer is available in a choice of three different size variants including 1.3 gallon and 2 gallon, each topped with a funnel opening for easy no mess filling. The nozzle of the CLICIC herbicide sprayer boasts a curved design, and is non-corrosive, leak proof, and fitted with premium quality O-rings.
Adding to this, it showcases a solid construction, and is equipped with comfortable grips, making it easy to use, and without causing strain on your hands. It comes with an ergonomic pump handle for enhanced comfort, and a sleek hose and spray to spray herbicides in restrained spaces.
The CLICIC herbicide sprayer comes factory fitted with a pressure release protection valve system, which automatically releases excess pressure to prevent risk of container burst. The package also includes a shoulder strap to help you spray without carrying the sprayer, and a shut off locking valve for continuous operation.
To operate the locking mechanism, you simply have to press and push the lock switch forward. The bowl of the CLICIC herbicide sprayer measures a wide five inches to prevent overflow, whereas its nozzle is adjustable between shower spray and water column spray.
Pros:
Wide bowl design
Lockable handle for continuous operation
Adjustable nozzle
Can spray up to 16 feet
Pressure release protection valve
Cons:
Quality of shoulder strap could be improved
4. YT25E Battery Sprayer
The YT25E Battery Sprayer boasts a lightweight footprint at just 6.5 lbs, and is powered by a 12-volt lithium ion battery. When fully charged, the battery delivers a 36-hour constant spraying experience, making it easy and effortless to spread herbicide across your lawn.
It is fitted with industry leading Viton seals, which are stronger, durable, and offer better service life compared to conventional rubber seals. The YT25E Battery Sprayer can spray up to 33 feet horizontally, and 23 feet vertically depending on the content being sprayed.
The package includes a wide range of high grade nozzles, giving you the flexibility to spray according to your lawn needs. Each nozzle included with the YT25E Battery Sprayer is tested to deliver peak performance, and allows you to spray efficiently and effectively, whether it's steam, mist or fan.
The YT25E Battery Sprayer comes with a brass wand, and an adjustable brass nozzle, and delivers a powerful and continuous 30 PSI pressure to reach farther and wider. It comes with a shoulder strap, which reduces the strain on your hands when carrying around a full sprayer.
Pros:
Lightweight at 6.5 lbs
Viton seals
Variety of high grade nozzles
Adjustable brass nozzle
Shoulder strap
36-hour battery life
Cons:
Extra battery not included
5. Chapin 61900 Tree and Turf Pro Backpack Sprayer
The Chapin 61900 herbicide sprayer is equipped with a long 20-inch stainless steel wand, and a 48-inch reinforced clear PVC hose. It features an adjustable high quality brass nozzle, and can spray at the rate of .4 – .5 gallons per minute.
When sprayed, the herbicide can reach up to 23 feet horizontally, and 25 feet vertically, making it a great choice for large size lawns. It features a massive 4-gallon tank capacity, and a 4-inch mouth opening, making it easy to fill the container. Further, it is integrated with a three-stage filtration system, which prevents clogging of the sprayer.
The Chapin 61900 sprayer comes with a translucent poly tank, so you know exactly when to refill it. The shutoff assembly included with this sprayer is fitted with a gauge, allowing you to check the pressure in real time. Further, it comes with a CF valve for consistent flow when spraying.
The filter basket located in the interior of the Chapin 61900 sprayer prevents dirt and debris from accumulating, and is easy to assemble and clean. It comes with comfort-padded shoulder straps, so you can spray herbicide to kill weeds without breaking a sweat.
Pros:
20-inch wand and 48-inch PVC hose
5-inch wide mouth opening
Adjustable brass nozzle
Shut off system with pressure gauge
4-gallon capacity
Cons:
Does not come with wheels to move it around
Top 5 Weed Killer Sprays to use in a Sprayer
Tenacity Herbicide – Best Spray For Homeowners & Commercial
Tenacity is regarded as one of the leading herbicides in its segment, and is a supreme warrior against over forty-five broadleaf weed and grass species including Chickweed, Clover, Dandelion, Crabgrass, Yellow Nutsedge, Yellow Foxtail, and Nimblewill.
Tenacity is billed as a systemic herbicide, meaning it is absorbed and transported through the weed plant's vascular system, killing the entire plant. Furthermore, it is designed to be used in cool grass lawns, and newly seeded or established turf.
Naturally derived from a naturally occurring compound produced by the Bottlebrush plant, Tenacity is regarded as a "Reduced Risk" product by the EPA (United States Environmental Protection Agency), and can be applied before or after seeding of tolerant turf grasses to prohibit weeds from germinating.
Brought to by Syngenta — a leading agricultural company, the active ingredient in Tenacity — Mesotrione is known for preventing Crabgrass seed germination, and kills broadleaf weeds up to six weeks after application.
Tenacity Application Rates
Tenacity can be applied with a herbicide sprayer and should be allowed at least six hours of drying time before any rain or irrigation occurs. It is also highly recommended that you use a spot treatment for dense areas to avoid causing damage to your lawn.
Tenacity may cause temporary whitening around the weed areas of the lawn, which typically returns back to normal color within three to four weeks. However, it is best to use Tenacity with a surfactant to prevent spraying the herbicide in the same area twice.
How to Mix Tenacity with Surfactant?
Lawn experts recommend using tenacity with a surfactant to improve weed control and allow the herbicide to stick better with the surface of the weeds. Mix half a teaspoon of Tenacity with around 10 teaspoons of surfactant with one gallon of water (1000 square feet coverage), and increase accordingly depending on the size of the area.
Next, add a small amount of marking blue dye to the Tenacity and surfactant mixture to see exactly where you've sprayed the herbicide. When applied to the turf, the dye will disappear within 24 – 48 hours, and does not affect your lawn grass. Lastly, spray the mixture evenly across the lawn, and repeat the application in 10 – 15 days.
Pros:
Tackles over 45 different weeds
Serves as a pre-emergent and post-emergent weed killer
Destroys tough weeds to the roots
Won't kill your lawn grass
Fast acting herbicide
Cons:
May change lawn grass color temporarily if applied excessively
Ortho Weed B Gon Plus Crabgrass Control – Best Spray For Smaller Yards
If you desire a beautiful, lush lawn, you are going to need more than just water and fertilizer. Ortho Weed B Gon Plus is an all-rounder in the herbicide segment, because it is formulated to kill over 200 types of lawn weeds. It can be ordered in an array of sizes and formulations including with added crabgrass prevention.
Ortho Weed B Gon Plus is also available in ready-to-use, concentrate or hose-end spray bottles, which are easy to apply or as concentrates need to be mixed with water before they can be sprayed.
Its active ingredients are 2.13% quinclorac, 6.42% 2, 4-D, 0.60% dicamba, and Ortho claims that it only kills the weeds, and not the lawn. Furthermore, Ortho Weed B Gon Plus kills weeds at the root level, and is backed by a full refund if it does not deliver the desired results.
How to Use Ortho Weed B Gon Plus?
The ready-to-use formulas of Ortho Weed B Gon Plus are geared towards specific types or small patches of lawn weeds. To apply the ready-to-use Ortho product, you simply have to adjust the onsite trigger or spray nozzle for a wide or narrow spray, and spray at the center of the weeds.
The Ortho Weed B Gon Plus hose-end spray bottles attach directly to your garden hose, where the water once turned on mixes with the weed killer formula inside the bottle to be applied at the proper strength.
Mixing Ortho Weed B Gon Plus concentrate takes a little more effort, and is suitable for sprayers that come with a minimum one-gallon reservoir. To create the mixture, add approximately 2.5 ounces of concentrate to a gallon of water, and mix well. Then adjust the spray nozzle, and spray lightly over the weed affected area.
How Long Does Ortho Weed-B-Gon Plus Take to Work?
This depends on the type of weed, and the level of infestation. Ortho says that the Weed-B-Gon herbicide works almost immediately, when used properly. The best time to spray Ortho Weed B Gon Plus is when the weeds are actively growing, and in daytime temperatures above 45 degrees Fahrenheit, and below 90 degrees Fahrenheit.
The effectiveness of the Ortho Weed B Gon Plus is not affected by rain or watering for up to an hour after application, and it is not recommended that you apply it more than twice a year.
With regards to coverage area, 32 ounces of Ortho Weed B Gon Plus concentrate is good for approximately 5000 square feet, whereas 40 ounces for roughly 6250 square feet of lawn real estate. Ortho Weed B Gon Plus is not to be used on fruit trees, wines, berries, and ornamental plants.
Pros:
Kills over 200 weeds
Does not harm the lawn – guaranteed
Starts working immediately
Cons:
May not completely eliminate pesky weeds, but does keep them under control
Green Gobbler Vinegar Weed & Grass Killer — Natural and Organic Weed & Grass Killer
Based in Copiague, New York, Green Gobbler is an esteemed manufacturer of a wide range of home care products, and the Vinegar Weed & Grass Killer is yet another hit addition to the company's massive product portfolio.
It is formulated to eliminate any type of weed, and does it rather quickly, sometimes in a span of just a few hours. Green Gobbler can kill several different types of weeds including clover weeds, dandelions, crab grass, white clover, moss, and much more.
One of the noteworthy features of Green Gobbler is it is safe to use anywhere including residential, commercial, industrial, and agricultural applications. Adding to this, it does not contain any toxic chemicals, and is made from corn.
The Green Gobbler Vinegar Weed & Grass Killer is OMRI listed (Organic Materials Review Institute), meaning it adheres to strict organic standards. It contains absolutely no cancer-causing chemicals, and Glyphosate, which some experts say is harmful to the environment.
How to Use Green Gobbler Organic Weed Killer?
Even though Green Gobbler can eradicate many types of weed, it is a non-selective herbicide, so you should refrain from spraying it on healthy grass, and desired plants. Using the Green Gobbler weed killer is easy, where you fill a weed sprayer with the Green Gobbler organic herbicide or simply attach the included trigger sprayer, and spray evenly.
Once you've finish spraying over the affected area only, it is important that you completely drain the leftover liquid, and rinse the sprayer after each use. For best results with Green Gobbler, it is best to use it on a calm, sunny day at temperatures above 65 degrees Fahrenheit, and avoid spraying before or during rainfall, and most importantly on healthy grass or desired plants.
Pros:
Kills all types of broadleaf weeds
Trigger sprayer included
Certified by OMRI
Free of harmful chemicals
Much stronger than table vinegar
Cons:
Cannot be sprayed on healthy grass areas affected by weeds
Monterey Remuda Full Strength Herbicide
The Monterey Remuda is a non-selective herbicide that miraculously kills crabgrass, and many types of broadleaf weeds such as thistle, clover and poison ivy. It is a high strength herbicide, and contains a potent 41 percent glyphosate concentrate with surfactant.
Further, the Remuda high strength herbicide is a great choice when looking to control or get rid of active weeds, and can be used around trees, flowerbeds, and shrubs. Since it is already mixed with a surfactant, all you need to do is add water, and spray over the weed infested areas.
The Monterey Remuda high strength herbicide can be used easily with a sprayer, and is deemed safe for kids and pets only when it is dry. When sprayed properly, the herbicide moves through the weed plant starting from point of contact through the root system, gradually killing the entire plant.
It displays visible effects within three to four days on most weeds, and works better when paired with a mark it blue dye to prevent application in the same areas. Since glyphosate is a non-selective herbicide, you should refrain from spraying it over desirable plants.
It is also not a residual, and has no soil activity, so newly germinated weeds will need another treatment. Application rates for Remuda high strength are 2 tbsp per gallon of water for young and annual weeds, 5 tbsp per gallon of water for general weed control, and 26 tbsp per gallon of water for perennials, trees, bushes, and hard to kill weeds.
Pros:
Contains 41% glyphosate
Controls many broadleaf weeds
Already mixed with surfactant
Kills weed at root level
Cons:
May not work as effectively on Nutgrass and Malva (cheese weed)
Southern Ag Lawn Weed Killer
Southern Ag Lawn is a unique, patented formula that can be used to kill a variety of broadleaf weeds in your lawn. It can be used on nine different turf types including St. Augustine, and works especially well on young and tender weeds.
It contains several active ingredients including 5.30% mecoprop, 3.05% 2, 4-D, 1.29% dicamba, and can be applied easily with conventional and hose end sprayers.
Recommended formulation is one to one and a half ounces of herbicide per gallon of water for up to 400 square feet of southern grasses, and one and a half ounces to one gallon of water for 400 square feet of northern grasses.
The Southern Ag Lawn weed killer is pet safe when used according to the instructions on the label. Southern Ag says that mixing the herbicide with a great surfactant will provide increased performance and quicker results.
Pros:
Can be used on 9 turf types
Formulated to many broadleaf weeds
Covers up to 12,000 square feet
Cons:
Lawn Weed Herbicide Spray Buying Guide
Local garden centers and home improvement stores stock a wide assortment of spray-on herbicides, making it a bit tricky to choose the right one for your lawn. To make the right choice, you will have to get "up close and personal" with the weeds growing in your lawn, and answer a few important questions.
What type of weeds are growing in your lawn?
First most important thing is to select a herbicide that is formulated to kill the specific weeds growing in your lawn. So, start by examining the unwanted pests to determine the type of weed such as whether they are annual weeds like crabgrass, seasonal weeds, or if they are harder to control weeds such as dandelions and nutsedge.
5 trusted websites that can help you identify weeds:
1. Connecticut Agricultural Experiment Station
2. National Gardening Association
3. Rutgers New Jersey Agricultural Experiment Station
4. Virginia Tech Weed Identification Guide
5. Weed Science Society of America
Is your goal to prevent weeds from growing or eliminate those already growing?
Before getting into whether you'd like to prevent or eliminate weeds, you should educate yourself on the different types of herbicides.
Post-Emergent Herbicides – these herbicides are some of the most popular substances used for weed control, and basically designed to prevent weeds that are already up and growing. When sprayed on weed plants, they work by penetrating throughout the plant system, right down to the roots, and killing them.
But it is worth mentioning that most post-emergent herbicides are "nonselective", meaning that they can harm both the weeds, and the desirable plants in your lawn, hence should be used with caution.
Post-emergent herbicides are a great choice for use over patios, driveways, walkways, but you wouldn't want to use a hose-end sprayer and broadcast a nonselective herbicide over a lawn filled with prized flowers or across a vegetable garden. You can however try using a precise spray to target only the unwanted weeds in these precious areas.
Pre-emergence Herbicides – just like the name would suggest, pre-emergence herbicides when sprayed prevent weeds from emerging in your lawn. The chemicals in pre-emergence herbicides do not necessarily affect germination, but rather stop the growth of new root cells in baby weed plants.
These pre-emergence herbicide chemicals do not affect established plants, as they already have a developed, healthy and hearty root system. Pre-emergence herbicides require water to activate them, and direct the chemicals down to the root system of newly sprouted weeds.
Pre-emergence herbicides can help control and eliminate several different types of weeds of your lawn, especially crabgrass. If you encounter weeds in specific areas of your lawn every year, then spraying a pre-emergence herbicide can prevent future occurrences.
How much liquid herbicide will you need?
This completely depends on how big or small the area is, but generally a ready-to-use herbicide that does not have to diluted with water works best for smaller areas. If you are looking to control weeds spread across a broader area, then you may want to consider a more concentrated product.
What is a surfactant, and how does it work?
Surfactants are regarded one of the most versatile products in the chemical industry. The word "surfactant" is derived from the words "surface active agent", and is used in a wide range of applications ranging from agriculture to household detergents.
When it comes to herbicides, surfactants serve as a wetting agent to increase the penetration, and overall effectiveness of almost any herbicide. Some herbicides come fully loaded to include a surfactant, whereas others may require you to add surfactant to increase their activity.
What is the best time to apply spray weed killers?
Given that not all herbicides are formulated alike, they need to be applied at different times of day for optimal effectiveness. The best time to apply systemic lawn herbicides for broadleaf weeds is within certain temperature ranges, but are not that effective when temperatures are too low.
Refrain from applying weed killers around midday or early afternoon in the summer, as the herbicides may quickly dry out the leaves, resulting in less herbicide absorption. Pre-emergence herbicides can however be applied at any time of the day, given that they work at the soil level to prevent the weeds from growing.
Safe use practices for liquid weed killers
Weed plants are part of nature but can prove to a disaster for many lawns. When used properly and safely, herbicides can be an effective weed control solution. Contrarily, a careless approach to weed control can lead to damage to desirable plants and may be harmful to you and others.
1. Always read the label – just like any other chemical-based products you may use, it is important that you read the label on the herbicide container, and understand the instructions before use. Some labels may be daunting to read, given their length, or fine print, but you should still view the entire label, whether on the container or online on the manufacturer website.
2. Use protective equipment – even if you are using an organic herbicide, it is good practice to use protective equipment such as gloves and safety glasses.
4. Understand "signal words" – these words are required by the Environmental Protection Agency (EPA) to warn users about the levels of toxicity of herbicide. For example, the word "caution" indicates that the herbicide is slightly toxic or relatively non-toxic, hence may cause acute illness if inhaled, swallowed or exposed to the skin.
Herbicides with signal words "danger" or "poison" should be handled with extreme caution, as they can cause severe damage or death in worse cases. And some herbicides may contain more than one signal word, which indicates that it may affect the body in different ways such as when exposed to skin, and if inhaled or swallowed.
Common Lawn and Garden Weeds That are Suseptable to Weed Sprays
They say "prevention is better than cure", and the best way to get rid of weeds is to prevent them from growing in the first place. But if you are already embroiled in a weed battle, then you should learn about the common lawn and garden weeds, so that you can get rid of them effectively.
1. Field Bindweed (Convolvulus Arvensis)
Field bindweed is considered as one of the most daunting weeds to deal with, as it is difficult to control. A single bindweed plant can span more than 10 feet in a growing season, and can be rotted for many years in the soil.
Even though bindweed plants flowers are somewhat attractive, they can pose a big problem when they spread ruthlessly, generally in the late spring, and throughout the summer.
Bindweed is a common weed across the U.S., but rarely seen in the Southeastern U.S., New Mexico, and Texas. Just like most other noxious weeds, the best control for bindweed is prevention or early intervention. If bindweed has wound its way into your lawn, the best way to eradicate it is with a glyphosate weedkiller such as one of our recommended weed killers.
Spectracide Weed & Grass Killer can be sprayed on driveways, walkways, and around trees and shrubs, and other areas in your yard. This fast action weed killer shows visible results in less than three hours, and comes with a money back guarantee.
2. Common Chickweed (Stellaria Media)
Common Chickweed (Stellaria Media) serves as a breeding ground for insects, pests and plant viruses, and can produce more than 800 seeds. Chickweed doesn't grow more than two inches, and can be easily identified by its small size, and five white petals.
It tends to grow in moist, cool areas, and in a wide range of soils, particularly in neutral pH soils with high nitrogen. Chickweed is easy to control, as long as you get rid of the weed when the plant is small, and before it flowers.
Once you pull the chickweed directly from the soil, you should aerate the soil using an aerator or shovel. You can also eradicate chickweed with a herbicide such as Bonide Weed Killer or Ortho Weed B Gon Chickweed, Clover & Oxalis Killer.
3. Quackgrass (Elymus Repens)
Also known as Couchgrass, Quackgrass is a troublesome perennial grass that thrives in relatively cool, moist climates. Couchgrass is claimed to be one of the three most serious weeds, because it infests more than 35 crops in over 65 countries.
Quackgrass can be killed with a non-selective herbicide that contains the active ingredient Glyphosate. However, it is important to note that even though Glyphosate kills Quackgrass, it can also kill desirable grasses. So, it is best to use an organic weed killer such as vinegar to kill Quackgrass.
Household vinegar however won't kill Couchgrass, so you will have to step it up a few notches with an industrial-strength vinegar concentrate such as Natural Armor Home & Garden Vinegar to get the job done right.
4. Canada Thistle (Cirsium Arvense)
Stemming from Europe and Asia, Canada Whistle is regarded as a "tough weed that just won't quit", because this creeping-root perennial, designated noxious weed in over 43 states is difficult to control. It can be easily identified by its broad, spear-like leaves, extensive rootstock, and ridged and hairy sterns.
Canada Thistle can flourish in a wide range of moisture conditions, and typically crops up during springtime. It can be effectively treated with certain herbicides such as Triclopyr 4 EC applied over a course of one to two years depending on the level of thistle infestation.
Triclopyr 4 EC is easily absorbed by Canada Thistle's extensive and deep root system, making it easy to treat. You can also mix Triclopyr 4 EC with glyphosate for quick and effective treatment against almost any target weed.
5. Crabgrass (Digitaria SPP.)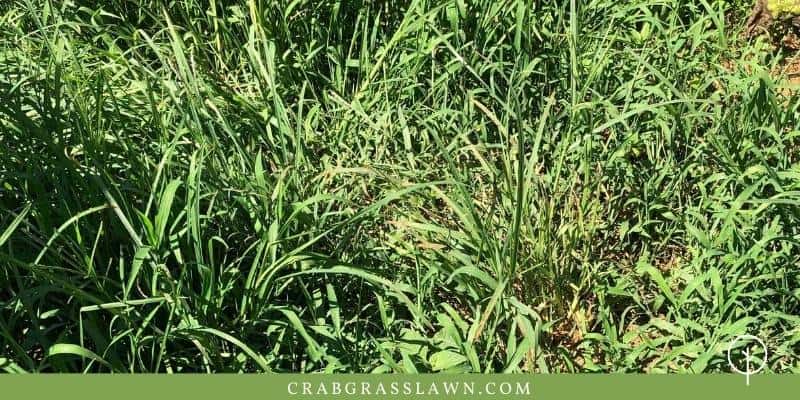 Also known as Finger-Grass and Fonio, Crabgrass weed is often considered lawn pests, and is aptly named for its ability to grow low to the ground with stems protruding from the center, resembling crab legs. This opportunistic annual weed is fairly easy to manage by mowing your lawn regularly, as long as it has not set seed yet.
Crabgrass does die at the end of each growing season, but on the downside its seeds can remain viable for at least three years in the soil. If you only have a few Crabgrass plants in your lawn, you can simply pull them out by hand using a digging knife or hand trowel.
But if it has taken over your lawn, you should treat it with a strong product such as BioAdvanced Weed & Feed Crabgrass Killer. It is designed to kill crabgrass as well as other grassy weeds, as well as strengthen your lawn by fortifying it with the right nutrients.
Final Thoughts:
Not all unwanted plants are weeds, but there are certain weeds that can become invasive and problematic in your lawn. While you can use any of the herbicides mentioned on this list for effective and efficient weed control, there are other things you can do to speed up the process, and bid adieu to weeds permanently.
You can start by adding mulch over the weeds to block the sunlight to the area to prevent them from germinating. Another great weed control option is to manually pull them out including their roots. And if you are feeling hungry, you can even eat some weeds when they are young and tender such as purslane, amaranth, and lamb's quarters.
Hi, Alex K. here. Growing up I remember that my family had one of the best lawns in the neighborhood. Richly green and lush. I did a lot as I grew up in terms of caring and tending for not only my families lawn but also my neighbors. I can say I have years of experience, and I am here to share it with you.
Please leave your comments below as I try to respond to everyone that has questions.