Fertilizing your grass and garden can be the most effective way to help your lawn bloom without much effort. When using a recommended fertilizer for St. Augustine grass, Bermuda grass, or other, you can expect to see stronger and thicker grass, along with the color, without you needing to do much at all.
If you're an experienced gardener or even a beginner, you probably know how tedious fertilizing can be. You don't walk around your lawn with a heavy bag, inconsistently spreading all the fertilizer hand by hand. And you don't like to use the overpriced lawn care services that come out every few months.
Thankfully, some creative souls created fertilizer spreaders that are an easy and effective way to use and spread fertilizer on your lawn that anyone can use. There are several styles of fertilizer spreaders all based on the size and area that you need to cover, which I'll describe below.
In a rush? These are the ones we recommend. But keep reading if you want more info on each.
CLICK on any option below to see Ratings and Reviews on Amazon
BEST DROP SPREADER
Scotts 76565 Turf Builder Classic Drop Spreader, Single Pack
BEST CHEST MOUNTED
SOLO Inc. Solo 421 20-Pound Capacity Portable Chest-mount...
BEST CART SPREADER
Scotts Elite Spreader
Affiliate links and images pulled from the Amazon Product Advertising API on: 2023-10-02
What is the Best Type of Fertilizer Spreader?
The two main types of spreaders are: drop and broadcast. There are pros and cons for each type. While drop spreaders disperse the fertilizer more evenly, applying it will take longer as it is a slower process typically. Broadcast on the other hand will get the fertilizer spreaded at a much faster rate with perhaps not evenly unless you have a trained eye.
| | | |
| --- | --- | --- |
| Spreader type | Drop | Broadcast |
| Lawn Size | Under 5000 Sq. ft | Over 5000 Sq ft to 20,000 Sq. ft |
| Application Coverage | (Controlled) Even | (Somewhat controlled) More Spray |
| Application Speed | Slow | Faster |
| Hopper Size | Typically smaller | Small to Large Options Avail. |
So choosing which type is best for your needs would be based on the overall size of your yard and if you want more precise control of applying the fertilizer. I typically will use my drop spreader on smaller front yards I work on. This way I know the application is even and another benefit of the drop spreader is that there is no excess products laying all over the driveway and sidewalks. Plus wind isn't a consideration since drop spreaders do exactly that, drop the product where you want it.
Recommended Drop Spreaders
1. Scotts 76565 Turf Builder Classic Drop Spreader
The Scotts Turf Builder Drop Spreader is my go-to for smaller yards. Adding fertilizer is easy and the hopper is big enough usually for one or two fills. If you have a yard under 5000 sq ft then I'm sure you'll like this one.
Affiliate links and images pulled from the Amazon Product Advertising API on: 2023-10-02
---
2. Agri-Fab 45-0288 175-Pound Max Tow Behind Drop Spreader
For more commercial applications I like my Agri-Fab Tow Behind Drop Spreader. Holds up to 175-lbs of product (around 17 gallons) and works great being towed by my John Deer. The universial mount will work on any tractor you have. Great for dropping product on larger yards, like 1 acre and higher.
Deal
Affiliate links and images pulled from the Amazon Product Advertising API on: 2023-10-02
---
Recommended Broadcast Spreaders
Okay, now there are a few ways you can disperse the fertilizer with a broadcast, and because of this, people have found innovative ways to do this. Most commonly, there are three broadcast spreader options. These are:
Cart-style
Handheld
Chest-mounted
Best Cart-Style Spreaders
Another option you may want to consider is the cart-style spreaders. As the name suggests, a cart-style spreader is one that you can push around. Usually, you fill up a tank with your fertilizer and move the spreader around, where even and accurate dispersion will occur per wheel turn. These are the most common spreaders for more extensive or longer lawns.
1. Scotts Elite Spreader Review – Most Popular With Home Owners – Best cart-style, large-coverage spreader
Another great spreader from a great brand, the Scotts Elite spreader, is an innovative spreader that's been designed for the bigger gardens or even farms in mind. Realistically, the Scotts Elite spreader isn't just for garden fertilizers. You could add anything such as lawn-seed, ice salt, and indeed fertilizer.
The Scotts Elite spreader is built from a robust sturdy frame that is not only powder-coated for a smoother look but also to protect against hash-weathers, as it's also improved against rusting. Something else to note is that the bin itself is made from hardened plastic to further protect against harsh environments. The full plastic tires are nice and should last the lifetime of the unit.
Something that we love with the Elite spreader is its large capacity (up to 20k square ft of product), allowing you to cover bigger gardens and even farms within a matter of minutes. The dual rotor tech that is on this spreader is quite impressive. This is the first dual-rotor spreader I have tried and am impressed with the 6 ft radius it generates and is super accurate in the release of the product. I don't need to second guess myself if the product is being distributed evenly or not.
The Scotts Elite spreader comes fully adjusted and assembled so you can crack on with the critical spreading without needing to spend hours trying to get it to work correctly.
All things considered, the Scotts Elite spreader is one of the best spreaders for large-use, as this is quite big, it's unlikely to fit into a small garden and be used as effectively as you would a larger garden.
Deal
Scotts Elite Spreader
Dual rotor technology provides unbeatable accuracy and a 6ft spread pattern for time savings. This is our most accurate spreader ever
Holds up to 20,000 sq. ft. of Scotts lawn product, including grass seed, fertilizer, salt and ice melt
Never-flat tires to conquer any terrain
Affiliate links and images pulled from the Amazon Product Advertising API on: 2023-10-03
---
2. Earthway ProGrade Large Spreader – Most Durable
If you need one that will last you years if not decades, then look no further than the Earthway ProGrade. This spreader holds up to 15 gal of product and up to 80lbs. The 13′ tires gives it a smooth ride and will not cause ruts. This thing is a beast.
---
Best Hand-Held Fertilizer Spreaders
The last option is a small, hand-held fertilizer spreader. These are another relatively common method for spreading fertilizer, but they are usually relatively small. Hand-held fertilizers are small systems that often turn a lever, and it will disperse the small pellets, which can be quite tiring but can be used for more accuracy when spreading.
1. Scott's Whirl Handy Spreader – My Recommended
The Scott's Whirl Handy Spreader is one of the best value for money fertilizer spreaders on this list and for a good reason. Another Scott's product in this list, the handy spreader, is a super-efficient, lightweight, and overall excellent value spreader.
If you have a compact lawn or a smaller area to fertilize, then the EverGreen handy spreader may be ideal for you. The compact size of the lawn spreader makes it perfect for fertilizing smaller lawns. The EverGreen Handy Spreader has five separate settings allowing you to control how much fertilizer is being spat out at any time.
This is a two-handed spreader, one for turning the crank to spit the fertilizer out and one to hold the system. Thankfully, Scott has thought about this and what it might mean for arm fatigue, and because of this, Scotts has integrated a wrist/arm support when holding, which is an excellent addition to your health.
This fertilizer spreader is by far one of the cheapest on this list, and possibly on the market, but Scott's have really thought about the quality of the product. Although a little flimsy and cheap-feeling, this fertilizer spreader is worth it if you are not wanting to spend a whole lot and wanting to increase your grass's strength.
Overall, if you're looking for an okay-quality, cost-effective fertilizer spreader that does the job it needs to do, then the Whirl Handy Spreader should fit right into your gardening arsenal without issue.
Deal
Affiliate links and images pulled from the Amazon Product Advertising API on: 2023-10-03
---
2. Tipu 2L Hand-Held Fertilizer Spreader Review – Best Value
The Tipu 2L hand-held fertilizer is a very small yet significant spreader that you can use in your garden. The 2-liter handheld spreader, although relatively small, is very easy to use and has a number of settings on the lid in order for you to spread the right amount of fertilizer, whether you're using it on your lawn, driveway, or allotment.
The design features a hardened plastic, and look and feel premium compared to the competition. The Tipu's lid is designed as a small scoop to effortlessly spread the right amount of fertilizer.
As with most fertilizers, this one is not set to only accept a certain type of pellet. You could use the Tipu for de-icer or ice salts, planting/spreading seeds, pest control, and anything else you can spread that would fit through the holes.
Although relatively cheap, the build is straightforward and fairly robust, and we have no complaints as it does the job described on the tin.
Overall, if you're looking for a small, handheld, and very inexpensive solution to spreading pellets (not just fertilizers), then the Tipu may be ideal for you and your garden.
Deal
TIPU Hand Spreader Shaker, Handheld Spreader for Grass Seed,...
Efficient Use - No more over spray and wasted Grass Seed/Fertilizer/Ice Melt/De-Icer/ during any season. Effortlessly spread salt on driveways & walkways.
Versatility- 3 Adjustable Openings for spreading any material you need. No need to charge anything or replace batteries.
Easy to Use- Twist open the lid, fill the garden Spreader, screw the lid back on, and spread as Much as You Like.
Affiliate links and images pulled from the Amazon Product Advertising API on: 2023-10-03
---
Best Chest-Mounted Fertilizer Spreaders
In short, a chest-mounted fertilizer spreader is a fertilizer spreader that attaches to your chest. Usually, chest-mounted systems have small adjustable straps to make the unit more comfortable and can be altered should it be too heavy or tight.
SOLO 421 Chest-Mounted Fertilizer Spreader Review – My Recommended
The Solo 421 chest-mounted fertilizer spreader is one of the best, all-rounded fertilizer spreader. As you can tell from the title, the Solo 421 is a chest-mounted fertilizer spreader that attaches easily to anyone with the adjustable straps.
Something else to note is the number of fertilizer pellets you can carry at any one time. The Solo 421 has a 20-lbs plastic container with a screw-lid on the top that you can store your pellets in. The screw-lid is something we don't see all the time in fertilizer spreaders and can not only help with the distribution but can also protect you as the operator to prevent the pellets from jumping up and hitting you.
The Solo 421 has a very efficient yet effective distribution method that requires you as the operator to wind a crank to distribute the pellets while walking around the zone you wish to fertilize. The crank has a small plastic handle and doesn't get in the way of anything else on the system or your chest.
Once cranked, a small distribution spinner will pull down pellets and spread them in front of you accordingly. There are also side-barriers that protect your hand from the pellets' speed, which, again, is a very neat feature we don't see all the time.
The only downside that we get from the Solo 421 is that the system doesn't have any warranty. However, as the mechanics are all high-quality, and Solo being a reputable brand in the garden industry, we feel there is little chance of your system breaking once it's working.
Overall, the Solo 421 is one of the best chest-mounted and overall fertilizer spreaders on the market from its reasonable price point and many features. The only downside is that this is not for big gardens, but for every day, small gardens that you may have at home. We would recommend this for any beginner, or if you've got a small-medium sized garden.
Deal
Affiliate links and images pulled from the Amazon Product Advertising API on: 2023-10-03
---
Buyer Guide – What to look for in a Fertilizer Spreader
Holding Capacity
When you look for a fertilizer spreader, you should always consider how much your spread can hold. Obviously, this depends on how big your lawn or garden you're trying to fertilize is, but it is a significant selling point for many.
For small, house-sized gardens, a capacity of 5-10 lbs should be more than enough to spread over your lawn, however, if you have a slightly bigger lawn such as a farm, you may want to opt for a higher capacity such as 80-100 lbs, but these are mainly for industrial use.
Design and Robustness
When looking for a fertilizer spreader, you always need to buy once, use forever. If a fertilizer spreader has a very low price tag, you may want to consider the build quality. You do not want a flimsy and weak build; otherwise, it will cause more problems than it will solve, and you may even need to rebuy.
You should also note the size. Depending on how much room you have, usually, fertilizer spreaders are better kept inside, and if you have no room for it, make sure you have stainless steel and or treated plastic if you want to keep it outside.
Precision when Spreading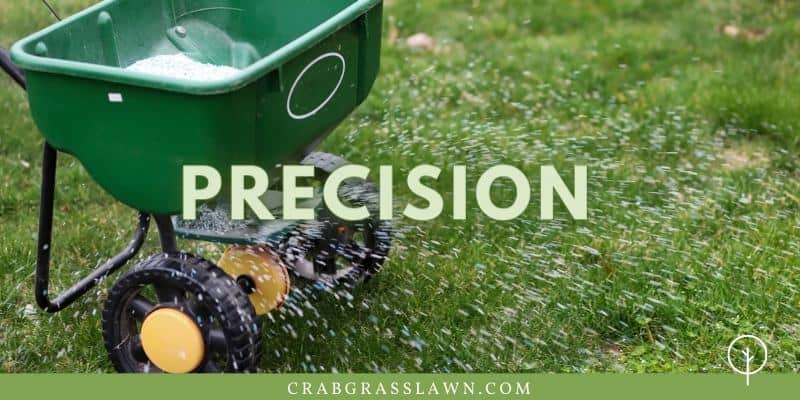 The whole reason you're buying a fertilizer spreader is to help you spread and fix any inconsistencies when applying fertilizer by hand. Although you may want a cheap spreader, spending a little more upfront can save time and money as the spreader should hopefully spread it out evenly.
If you don't buy a spreader to precisely target your grass evenly, you may end up with underdeveloped grass, inconsistency, and patches. It's essential to make sure that you consider your accuracy, consistency, and precision when looking for a fertilizer spreader.
Value
A common decision for many of us is the value of the device. Fertilizer spreaders are usually relatively inexpensive for the time you'll save, and the benefits of using one will bring to you and your garden.
When looking at fertilizer spreaders, you may see some very cheap options that will look ok but may have imperfections, failings, and other poor qualities that you don't want when using a fertilizer spreader.
If you can afford it, it's always better to spend a little more upfront on a more beneficial or premium looking fertilizer spreader to ensure that it doesn't bring up any problems down the line.
Final Thoughts
No matter how you plan on using your fertilizer spreader, there are proven benefits to using one. Whether you're trying to improve your lawn's strength, or color, or even just to fix small patches in your garden, we hope that one of the systems on this list will accommodate your list.
If you're looking for affordable or inexpensive systems, you may opt for either the Tipu or Scott's Handy Spreader that will get the job done in a more efficient and effective manner.
If you've got a slightly bigger lawn or area that needs fertilizing, then you may opt for the Scott's EverGreen Drop spreader. If you are looking for an all-around best fertilizer spreader than our first option, the Solo 421 may be the option you want to look at.
Regardless, remember to follow our buyer's guide to ensure that you get the best quality, more efficient, and most effective fertilizer spreader to make your grass grow healthier and more colorful for years to come.
---
Related Articles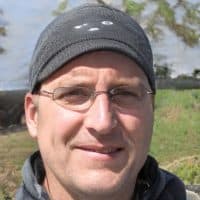 Hi, Alex Kuritz here. Growing up I remember that my family had one of the best lawns in the neighborhood. Richly green and lush. I did a lot as I grew up in terms of caring and tending for not only my family's lawn but also my neighbors. I can say I have years of experience, and I am here to share it with you.