Grubs are usually not the only infestation in the lawn, so the best grub killer should control other undesired pests as well. An organic insecticide is a great option but always look for the right active ingredient for the best results.
Of all the liquid and granular insecticides I've tried over the years, some of the best grub worm treatments have bifenthrin, carbaryl or imidacloprid as the active ingredient.
That said, here are the top-rated grub control insecticides:
Affiliate links and images pulled from the Amazon Product Advertising API on: 2023-06-04
7 Best Grub Killers for Lawns
Brown patches of drying grass are a sign of grub infestation. If not treated, grub worms can destroy a lawn and come back the next season. To stop the damage, you'll need the best grub killer. This will not just kill the existing grubs but control them for the entire season.
Here are the top 7 grub killers I've used to get rid of grub worms:
1. The Andersons Organic Grub Control
Kills and prevents grub worms.
Nourishes turfgrass roots.
Kills more than just grubs.
Surface and sub-surface insecticide.
The Andersons Organic Grub Control is one of the best lawn grub killers because it not only controls pests but also nourishes turfgrass for better growth of roots and foliage.
It also works as a surface and sub-surface treatment for white grubworms. But what are the active ingredients?
Anderson's Duocide has carbaryl and bifenthrin which are indicated as broad-spectrum insecticides. This means it will help you control more than just grubs in your lawn.
It kills chich bugs, sod webworms, European crane fly, grub worms, and many other feeding insects that damage turf. You can apply it as a preventative and curative treatment as soon as you see the signs of grub damage in your lawn.
Affiliate links and images pulled from the Amazon Product Advertising API on: 2023-06-04
---
2. Scotts GrubEx1 Season Long Grub Killer
Provides season-long control of grubs.
Prevents Japanese beetles before they lay eggs in your lawn.
Does not kill nematodes, earthworms, and soil bacteria.
Kills grubs by contact and ingestion
GrubEx is made using the active ingredient called chlorantraniliprole. This is a highly effective systemic insecticide that kills the target pests by both contact and ingestion.
This mode of action makes it highly effective in controlling and treating grub infestations in lawns.
What white grubworm larvae does GrubEx1 kill?
GrubEx1 will kill the grub larvae of following insects and prevent them from growing into adults and continue the cycle of reproducing: Japanese beetles, European chafers, Black turfgrass ataenius, Aphodius spp., Southern masked chafers, Green June beetles, May/June beetles, Asiatic garden beetles, Northern masked chafers, Oriental beetles, Caterpillars (including Armyworms, Cutworms, Sod webworms), Billbug grubs and crane fly larvae (including European Crane Flies). It will also suppress chinch bugs.
Being one of the best grub killers and preventers on the market today, it is important to understand how it works to get the best results in just one application.
Grub control by prevention starts early in the spring through mid-summer. That is when the treatment will be most effective because the grubs hatch in fall and go dormant in winter. They start damaging turfgrass when it starts to warm up again in the spring.
The right time to apply GrubEx is early spring to early summer for the best results.
Affiliate links and images pulled from the Amazon Product Advertising API on: 2023-06-04
---
3. BioAdvanced 700745S 24 Hour Grub Killer Plus
Has Trichlorfon (Dylox) – a fast-acting insecticide ingredient.
Kills grubs within 24 hours.
Has no residual effect – degrades fast.
Kills many other lawn insects including ants and cutworms.
When you want to kill grubs instantly, this product is a great choice due to its fast-acting nature. Nothing kills grubs faster than products with Dylox – the active ingredient in Bioadvanced Bayer Advanced 700745S 24 Hour Grub Killer Plus.
As soon as you see any signs of grubs in your lawn, apply this grub killer and you'll be able to kill grubs fast and stop the damage instantly.
This is a curative so only kills on contact when properly watered in right after application. We watered for 30 minutes to soak this in where the grubs were. The main ingredient is dylox and the photo below shows how effective it was after just 24 hours. So satisfying to get them out of the lawn.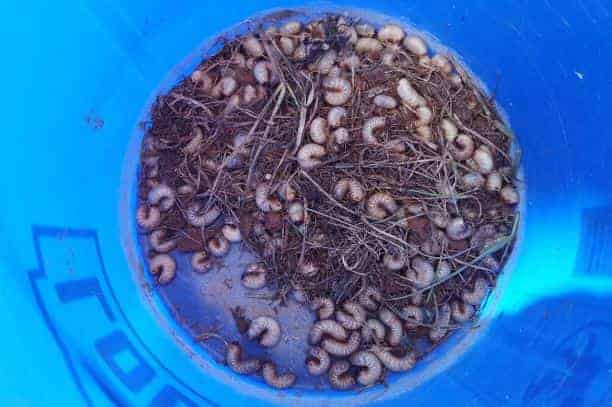 It is hard to get a product that works exactly as advertised, but when I tried this grub killer, I saw really quick results.
Within 24 hours, I found a lot of dead grubs when I lifted the grass in areas of infestation. By extension, mole activity reduced significantly in the following couple of days since their food had just been eliminated.
Deal
BioAdvanced, Granules, 700745S 24 Hour Grub Killer Plus,...
24-HOUR GRUB KILLER: Delivers overnight results by killing grubs in 24 hours
PLUS INSECT KILLER: Also kills Ants, Ticks, Billbugs, Chinch Bugs, Crickets, Cutworms, Earwigs, Grasshoppers, and more
PREVENTS LAWN DAMAGE: Use at the first sign of grubs to stop further lawn damage
Affiliate links and images pulled from the Amazon Product Advertising API on: 2023-06-04
---
4. Gardener's Supply Company Milky Spore
Introduces a grub-killing disease.
Long term grub control (15 to 20 years)
Does not kill important lawn soil organisms.
Safe for pets and humans.
With a 10 oz box, you can cover as much as 2500 sq. Ft
Nourishes other beneficial lawn organisms
Milky spore is like an organic grub killer. Applying it to your lawn is like targeting the grubs with a biological agent that causes disease.
The bacteria in milky spore affect only Japanese beetles at different stages of life and will not harm other important microorganisms in your lawn.
If you don't like this particular product, an alternative milky spore alternative is the St. Gabriel Organics 80080-P Milky Spore Grub Control Mix Pest Controller, which will provide you with over 15 years of grub control in your lawn.
The only thing I did not like with Milky spore grub control is that it is not very effective in small areas of infestation. It is a perfect grub killer in lawns that have a large number of grubs.
The more the grubs, the faster the disease will spread and kill the rest of the population. It won't be effective if there are too few grubs to help spread the disease over to other grubs especially those lodged deeper in the soil.
St. Gabriel Organics Gardener's Supply Company Milky Spore 40 Oz
Milky Spore Powder is a One Time application using only one teaspoonful every 4 feet in a checker board pattern on your lawn, or use the Lawn and Garden Dispenser.
Our products make it easy for you and your pets to live a greener and healthier lifestyle. For us thinking 'Green' and making a difference is a way of life.
The Milky Spore is not harmful to people, animals, beneficial insects or the environment; safe to use around water ways.
Affiliate links and images pulled from the Amazon Product Advertising API on: 2023-06-04
Please also read some cons of using Milky Spore for grub control
---
5. Merit 0.5 Granular Systemic Insect Control
Has Imidacloprid – highly effective in killing grubs and other pets.
Provides long-term grub treatment.
Kills grubs at any stage of development.
Use on turfgrass, golf-courses, and landscape plants.
Merit contains 0.5% Imidacloprid – one of the best insecticides for killing grubs. Apart from treating grub infestations, Merit broad-spectrum pesticide will also help you control other lawn pests including mole crickets, chinch bugs, aphids, billbugs, and many more.
Due to its long residual activity, Merit 0.5 Granular systemic insect control will kill bugs and provide outstanding long-term preventive and curative control.
Since Imidacloprid is a systemic insecticide that works as a neurotoxin, I consider it the best grub killer on lawns where other desired insects such as bees are not present.
If used as such, it can lead to a great decline of bees in the area. So, if you have some flowers to attract bees, I wouldn't recommend applying Merit on your lawn.
Deal
Affiliate links and images pulled from the Amazon Product Advertising API on: 2023-06-04
---
6. Bonide (BND60360) – Insect and Grub Control
1 application controls grubs for up to 3 months.
Fast-acting – kill grubs within 24 hours.
Kills more than just grubs.
Controls a wide variety of lawn pests.
Treats for pets below and above your lawn.
Bonide (BND60360) Insect and Grub Control pesticide is another great broad-spectrum grub killer. It helps control infestations including ants, ticks, fleas, grubs, sod webworms, European crane fly, billbugs, and chinch bugs.
Most of the insecticides on this list of the best grub killers work only when watered down. While Bonide's solution needs watering too, it also controls a lot of other undesirable insects above the ground.
For instance, I tried it on fire ants in my lawn and within a couple of hours, they were all dead.
However, like all broad-spectrum insecticides, it might kill some of the important insects such as bees around your yard. So, be careful where you use it.
Bonide (BND60360) - Insect and Grub Control, Outdoor...
INSECT KILLER - This pest control is great for use on species of ant, cricket, chinch bug, billbug, cutworm, earwig, flea, roach, grub, sod webworm, tick and other listed species of bug.
PROTECT YOUR LAWN AND HOME - Insect and Grub Control is designed for fast acting, long lasting control from invading species. Use outdoors, on lawns and around the foundation of the house. Not for indoor use.
TOP TO BOTTOM PROTECTION - Product offers complete insect control for the soil and surface of your yard. It will kill insects both above and below the surface of your lawn.
Affiliate links and images pulled from the Amazon Product Advertising API on: 2023-06-04
---
7. Bayer Season Long Grub Control 700720S
Creates a protective zone in the lawn.
Prevents grub damage before it starts.
Nourishes roots for faster and thicker growth of turf.
Also kills other lawn-damaging insects.
An alternative product for season-long control of grubs and healthy root development is Bayer Season Long Grub Control 700710S. It has a patented formula that not only kills grubs but also helps turfgrass grow faster and healthier.
---
Grub Control Product Buyer Guide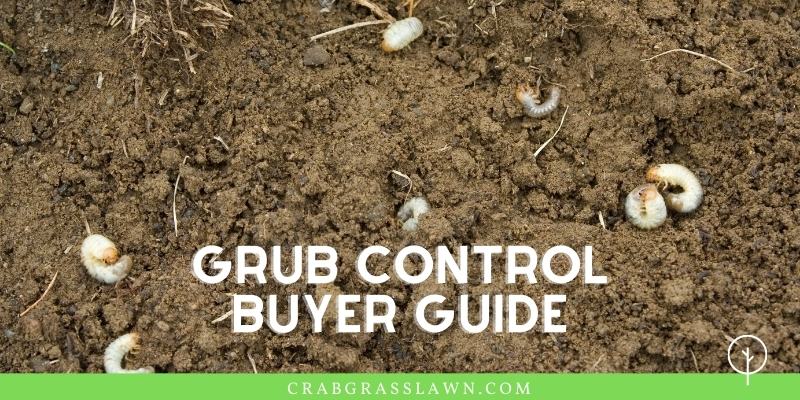 The obvious thing to look for when choosing a great grub treatment for your lawn is the active ingredient. But that's not all.
User ratings and reviews help you know what to expect. I've broken down some of the most important features to consider when buying the best grub control.
What Is The Active ingredient In Grub Control Products?
Not all grub killers are made the same. The varying active ingredients may perform differently. Some are the most effective while others are highly effective. How long the treatment lasts is also important.
Some of the common active ingredients found in effective grub killers include:
Trichlorfon
Dylox
Imidacloprid
These are known to kill grubs and may provide other benefits such as killing pests such as fleas, ticks, cockroaches, silverfish, and white grub worms.
You may find some products that are indicated to get rid of lawn grubs by killing and also preventing them.
A great choice would be a treatment that controls grubs and Japanese beetles at least a complete season.
Do Grub Control Products Also Kill Bugs?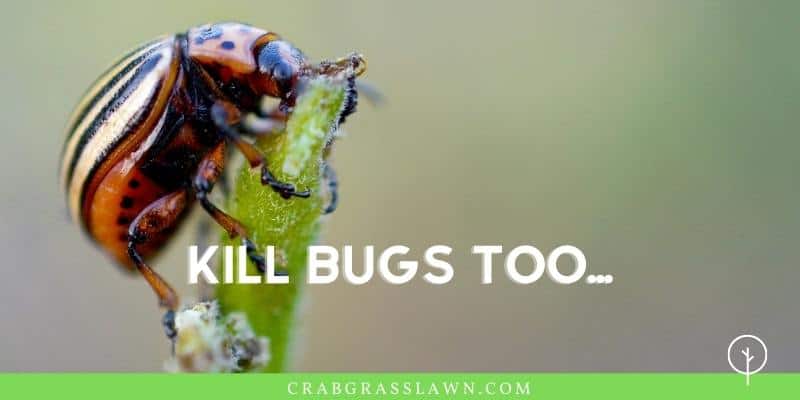 While you may be seeing grub damage now, you may start seeing ant hills in your lawn. The best grub killer product in most cases is one that offers treatment benefits that extend beyond just grubs.
Some brands have products that control grubs and kill hundreds of other insects that may possibly infest your lawn.
For instance, the Ortho Bug B Gon Insect Killer for Lawns kills over 100 insects including ants, mole crickets, chinch bubs, lawn spiders, cutworms, sod webworms, and even fleas.
If your grub problem extends beyond just white grubworms, you'll get maximum value for your buck if you choose a grub killer that is general pest control for lawns.
Granular vs Liquid Grub Killer
It is usually a question of preference, but some homeowners prefer liquid grub spray over granular insecticide.
Some formulations of trichlorfon and/or carbaryl come as liquid concentrates that you can spray on your lawn to treat grub infestation. They are just as effective as granular treatments that are applied using a spreader.
Liquid grub killers come as 2 distinct types:
Concentrates
Ready-to-use sprays.
Compared to granular grub control, liquid sprays are riskier because they can drift due to wind and harm children, pets, and you as well. Some of the best granular grub killers indicate that it is safe for kids to re-enter the lawn after watering following their application.
Most granular grub treatments have a long term effect in controlling the pests. In addition, their active ingredients are usually absorbed into an inert ingredient such as clay or corn cob.
Pro tip: For effective grub control in your lawn, ensure you water down any granular insecticide immediately after application. It needs to go down into the soil where the grubs are to get rid of them. Also, check out my guide on when to apply grub control.
Grub killer vs grub preventer
Before you go shopping for a solution, it is important to examine your lawn first to be sure you have grubs.
Keep in mind that most healthy lawns can withstand a few grubs feeding on the roots without showing any symptoms.
If your lawn has been having grubs for the last couple of seasons, you may want to consider getting a grub preventer and killer – a two in one. GrubEx is a great product for treating grub infestation in lawns.
Affiliate links and images pulled from the Amazon Product Advertising API on: 2023-06-04
You really want to get a product that not only kills white grubworms but also destroys the adult beetles before they lay eggs that'll hatch into new grubs and destroy grass as soon as winter is over.
You can alternatively look at solutions such as using dawn dish soap to kill grubs.
---
References
---
Related Posts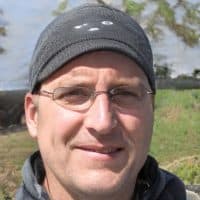 Hi, Alex Kuritz here. Growing up I remember that my family had one of the best lawns in the neighborhood. Richly green and lush. I did a lot as I grew up in terms of caring and tending for not only my family's lawn but also my neighbors. I can say I have years of experience, and I am here to share it with you.