Both aerating and dethatching are important practices when it comes to proper lawn care. It helps with root penetration and easy flow of air, water, and nutrients in the core for better root growth. So, should you aerate or dethatch?
If your soil is healthy with enough microbial activity, you may only need to dethatch once a season and probably aerate once or twice a year depending on the type of soil you have.
If you're growing grass in sandy soil, you'll need to aerate just once per season, but if it is clay soil, twice a season may be the best option for you.
Should I aerate or dethatch first?
It is best to dethatch first before aerating your lawn. This way, you'll remove the excess debris and promote healthy root development. Aerating is best done when there's the problem of compaction. Both dethatching and aerating your lawn will improve air, nutrient, and water penetration into the root zone of your grass.
Thatch is the main problem these two processes address. It occurs when your turf accumulates too much dead organic matter than can be broken down.
It starts as a shallow layer of debris that makes your lawn feel spongy. If your lawn does not have enough microbial activity to break down the organic matter, thatch buildup occurs.
Soon enough, your lawn will start suffering from thinning and slow growth due to poor water, air, and nutrient penetration through the thick core of thatch.
However, if the amount of thatch is low you can just remove it using a dethatching tool or a power rake.
Dethatcher vs Aerator
A dethatcher vs aerator, which one does a great job? The two tools may have closely related functions, but in general, they almost go hand-in-hand. Here are a few differences to help you decide which one to use:
| | |
| --- | --- |
| Dethatcher | Aerator |
| A dethatcher works by removing the top-most layer of dead grass to allow the soil to breathe. | A lawn aerator works by creating small holes into the soil to relieve soil compaction. |
| Dethatching loosens topsoil in preparation for overseeding. | You do not necessarily need to aerate before overseeding. |
| A dethatcher works well when you have a lot of dead grass on top of the soil, making the lawn feel spongy. | An aerator is best used when the core has a thick layer of thatch, usually more than 0.5 inches. |
RECOMMENDED DETHATCHER
Sun Joe AJ801E 12-Amp 13-Inch Electric Dethatcher and Scarifier...
RECOMMENDED AERATOR
Goplus Rolling Lawn Aerator, 18-Inch Garden Yard Rotary Push Tine...
Affiliate links and images pulled from the Amazon Product Advertising API on: 2023-06-04
Use both to maintain a perfect lawn year round, year after year. Both should last you many, many years.
You can decide to dethatch and aerate at the same time especially if it is in the spring and you have lawn debris and compaction problems. It will help with establishing a better lawn for the season ahead.
Some lawn machines come as a dethatcher and aerator combo, and can really come in handy for doing the two tasks at the same time.
How much thatch is too much?
About half an inch of thatch on your turf is beneficial because it contains microorganisms that break down organic matter into nutrients for your grass.
However, when it is more than 0.5 inches, the core becomes too tough for water to penetrate and your turf will easily develop what is called shallow root syndrome.
This is when you'll notice roots starting to coil up and growing closer to the surface where there's easy access to water instead of growing deeper into the soil.
A lawn with a thick layer of thatch becomes less tolerant to drought, prone to turf diseases, and will grow thin easily due to inadequate supply of nutrients for healthy growth.
Here are more problems with thick thatch:
Poor fertilizer penetration into the soil which means poor feeding of grass.
Pesticides such as grub control may not penetrate deep enough to be effective in getting rid of the pests.
Grass fungus becomes common due to the accumulation of harmful fungi feeding on the debris.
The major reason for the slow decomposition of dead grass and debris on your lawn is usually too much use of chemicals for lawn care such as chemical weed killers or synthetic fertilizers.
Lawn Aeration
Aeration is the process of creating small holes in the lawn while pulling thatch plugs out of the soil. It helps solve soil compaction and allows the lawn to breathe better.
Aeration is done using a lawn aerator – a machine with special tines that plug the soil to relieve compaction. Aeration tines should be sharp and go deep enough to pull out the thatch plugs out of the core.
If you're used to leveling your yard using a lawn roller, you can easily create a soil compaction problem. I would recommend that you aerate the lawn almost immediately after running the roller over the yard.
My Recommended Aerator
You can hand push this aerator around pretty easily, even on clay soil (water first to make it easier). Typically this unit is around $50 and worth it so that you can aerate whenever you need to.
Goplus Rolling Lawn Aerator, 18-Inch Garden Yard Rotary Push Tine...
【Bring New Life to Lawn】With the length of 1.2-inch tine spikes, this rolling lawn aerator will be able to roll deeper into the ground. As a result, the soil will get loose, making it easy for water, oxygen, and nutrients to diffuse into the soil pores. As time passes by, the grass and plants will grow more rapidly and splendidly.
【Labor-saving & Lightweight Tool】The length of the handle is about 40.5 inches, which allows you to operate the push aerator without bending down. Also, the width of the spike is 18 inches to increase the range of soil turning. Thanks to its light-weight design and compact size, it is easy to push around even on rough terrain.
【High-security & Space-saving Design】This lawn roller includes a 3-piece steel tubular handle sections, which should be connected with a snap-fastener to ensure safety while in use. Also, these sections are very convenient to disassemble, making it easy to store away when not in use.
Affiliate links and images pulled from the Amazon Product Advertising API on: 2023-06-04
For larger yards or for easier coring
Check out the Step N' Tilt
Step 'N Tilt Core Lawn Aerator Version 3 (with Container)
ASSEMBLY IS REQUIRED. Step 'N Tilt lawn aerator is fast and easy to use. Simply step and tilt. This patented lawn aerator (U.S. Patent No. 8,714,275, 11,147,202 and other patents pending) makes core aeration easy and enjoyable for do-it-yourselfers (DIYers) and professional landscapers. New and improved clog-resistant tines. Case-hardened for extra durability. The tines may be sharpened or replaced when worn.
For use in areas with grass only; tines will clog if used in bare soil. All core lawn aerators require that the soil be VERY moist. This Step 'N Tilt is no exception. Please aerate one day after at least one inch of rain or irrigation. If you have a sprinkler system, each sprinkler zone will need to run for 60-90 minutes. In other words, the soil must be very moist. Question: Why must I wait one day? Answer: Because it takes time for water to be absorbed into the soil, particularly clay soil.
Designed for operators between 4-feet and 6-feet 5-inches tall. Recommended minimum operator weight to use one set and two sets of tines are 80lbs and 150lbs, respectively. Recommended for aerating small yards or areas not accessible by motorized lawn aerators. It can be used to aerate large yards but will require significantly longer time and effort than a motorized lawn aerator.
Affiliate links and images pulled from the Amazon Product Advertising API on: 2023-06-04
When and how often to aerate your lawn
This depends on your type of soil. If your lawn is growing on sandy soil, you'll only need to aerate it once a year during springtime. If you have clay soil, you can aerate your lawn 2-3 times per year.
Aerate during fall to give the thatch plugs enough time to decompose over the winter period, leaving behind all the nutrients for better growth come spring.
You can also aerate the ground just before your lawn soil temperature reaches 55 F in the spring. This will make it easier to put down a good weed pre-emergent to help control weeds such as crabgrass in your lawn.
Liquid aeration is also available for lighter aeration work.
Lawn Dethatching
Thatch is a layer of living and dead grass shoots, roots, and stems that forms between the green grass blades and the soil surface. It is actually beneficial to your lawn, but when it becomes too much, it becomes a major barrier between the atmosphere and the soil in your lawn.
A thick layer of thatch (more than 0.5-inch) prevents penetration of lawn food, especially liquid fertilizers, and even air from reaching the roots of your grass.
To fix this, you need to dethatch in preparation for overseeding or even aerating your lawn.
Dethatching to remove excess debris or dead grass helps your lawn in a few ways:
It allows proper contact between fertilizer and the soil for proper lawn feeding.
Dethatching makes sure new grass seed gets in contact with the soil when overseeding the lawn.
It allows for better oxygen transfer, making your lawn breathe better for the healthy growth of grass.
Makes the grass appear deeply green. Too much dead grass will quickly start to appear as though brown patches are forming in your lawn.
My Recommended Dethatcher
I really like the Sun Joe Electric Lawn Dethatcher, super easy to use on small to medium yards.
Deal
Affiliate links and images pulled from the Amazon Product Advertising API on: 2023-06-04
Anything over .3 of an acre I would recommend a pull behind dethatcher. Such as the Brinly Toe Behind.
Brinly DT-48BH Tow Behind Dethatcher, 48-Inch
Maximum Thatch Removal: For larger mowers and lawns, a 48" working width and 2 rows of 12 independently flexing spring steel tines comb through a lawn, lifting thatch up and out of the lawn where it can be mowed or mulched to promote a healthier root system.
Ideal for Large Yards: Wide 48" working width is perfect for larger mowers or bigger greenspaces - covering more ground for quicker results.
Long-Lasting Construction: All steel construction, tines are made of durable spring steel; in the unlikely event of a breakage, a safety rod is included to catch the tine and prevent contact with mower blades. No flat rubber-tread transport wheels for durability.
Affiliate links and images pulled from the Amazon Product Advertising API on: 2023-06-04
A very important part of dethatching or power raking your lawn is cleaning up the debris. When aerating, you leave the thatch plugs on your lawn while you will need to remove the debris of dead grass from your lawn when dethatching.
Is it better to dethatch or aerate?
Dethatching and aerating seem to do the same thing, but there's time for each. So should you dethatch or aerate? Core aerating not only breaks up thatch buildup but also relieves compacted soil.
Dethatching mostly loosens the top layer of soil and also removes the layer of debris (dead grass) from the soil. Dethatching can really help when overseeding your lawn.
Dethatch or aerate before overseeding?
Both aerating and dethatching are recommended before overseeding because they improve grass-to-soil contact for proper germination. In most cases, you'll only need to dethatch to remove the debris that is covering the soil and preventing grass seed from germinating properly.
However, if you have compacted soil in your lawn, you may want to aerate the core to allow deeper penetration of water into the soil. Deeply and well-watered soil promotes healthy and deeper root development of the new grass seed.
After overseeding, topdress the area with about 1 yard of compost per 1000 square feet to increase the rate of grass seed germination in your lawn.
Does a Dethatcher aerate?
Most dethatchers are simple tools such as lawn rake. Depending on the type, you can use it to dethatch your lawn if it is not heavily compacted.
However, using a mechanical aerator often produces better results compared to a dethatcher or a rake.
Is Dethatching or Aerating Better?
Many readers ask if dethatching or aerating better and my answer is that there are two completely different processes, each with its advantages and disadvantages.
To explain briefly, your lawn needs aeration if it fails to thrive due to soil compaction and dethatch your lawn if it has accumulated excess thatch.
Adding to this, if you have hard or clay soil, you should aerate twice a year because these types of soil are more susceptible to compaction. But you should aerate every two years and a little more frequently if your grass looks unhealthy and isn't growing well for all other types of soil.
Best Dethatcher and Aerator Combo
Shopping for the best dethatcher and aerator combo can be overwhelming owing to the plethora of options available. However, I've narrowed the list down to 3 excellent models.
1. Sun Joe AJ801E 12-Amp 13-Inch Electric Dethatcher and Scarifier
Slotting in at the #1 position on this list of best dethatcher and aerator combos is the Sun Joe electric model for several great reasons starting with its powerful 12 amp motor.
Adding to this, the Sun Joe AJ801E electric dethatcher and aerator combo carves a 13-inch wide path so you get more done in less time.
The Sun Joe combo offers twofold benefits – works as a dethatcher and aerator and is fitted with high-quality steel tines for maximum thatch pickup. It even comes with a collection bag to pick up and dispose of the thatch.
Pros:
Powerful 12-amp motor
13-inch wide path
High-quality steel tines
Thatch collection bag
5-position depth control
Cons:
Limited to 1 color option
Deal
Affiliate links and images pulled from the Amazon Product Advertising API on: 2023-06-04
2. Rock & Rocker 16-Inch 15 Amp Electric Dethatcher Scarifier
The Rock & Rocker is yet another electric dethatcher and aerator combo that comes loaded with great features but without the high-end price tag.
For starters, it boasts a wide 16-inch cutting path, which allows you to remove more thatch without spending long precious hours performing the task.
Further, the Rock & Rocker electric dethatcher and aerator does a great job at removing the thick layer of dead plants and excess thatch from your lawn.
It is powered by a robust 15-amp brushed pure copper motor so you can rest assured it will serve you well for many years to come.
Adding to its long list of features is a depth adjustment control lever, which allows you to choose from 5 raking heights, starting from -0.47" (12mm below the soil) to 0.39" (10mm above the soil).
The Rock & Rocker dethatcher and aerator combo comes with a 48.4QT/55L large capacity collection bag and a detachable grass box to easily collect and dispose of the lawn debris.
Pros:
15-amp motor
48.4QT/55L large capacity collection bag
5 raking height adjustments
16-inch cutting path
Tool-free quick-lock knob, folding soft-grip handle
Cons:
Doesn't come with a comfort padded handle
Rock&Rocker 16-Inch 15 Amp Electric Dethatcher Scarifier,...
Rock&Rocker Electric Dethatcher Scarifier is in full stock and usually delivery within 3 days
[16IN LARGE WORKING WIDTH] Rock&Rocker electric dethatcher scarifier with 16" wide path in one single pass, very efficient, the widest working size of its kind in the market, and ideal for home garden lawns
[2 IN 1 FUNCTION] Dethatcher removes the thick layer of dead plants, scarifier stops thatch growth. Regular lawn care lets the lawn breathe better, for healthier turf growth. Get your lawn in the top green
Affiliate links and images pulled from the Amazon Product Advertising API on: 2023-06-04
3. Kapoo Lawn Dethatcher and Aerator
The Kapoo lawn dethatcher and aerator combo is equipped with an 11-amp motor so you can expect nothing less than efficient cutting. It comes with a sharp 12-inch blade and a large 8-gallon capacity bag.
Additionally, the Kapoo lawn dethatcher and aerator features a central adjustment system and 4 different working depths to choose from.
In terms of safety, the Kapoo lawn dethatcher and aerator doesn't disappoint with a double safety switch to ensure a safe start during each time you power on the tool.
The Kapoo lawn dethatcher and aerator is a maintenance-free tool that tips the scales at just a little over 23 lbs, making it a joy to use for young and old and everyone in between.
Pros:
Powerful 11-amp motor
8 gallon large collection bag
Double safety switch
4 working heights
Maintenance-free and lightweight
Cons:
The quality of the wheels could be improved
Lawn Dethatcher & Scarifier, 12 Inch Working Width, 11 Amp...
Powerful: 11 amp motor and 12 inch blade which improved large-size metal steel to ensure efficient cutting; 8 gallon large-capacity grass collection box, 95% grass harvest rate.
4 Wrok Heights: The lawn dethatcher is equipped with a central height adjustment system, with 4 working depth (-0.35"/-0.24"/-0.12"/0.12"), which can adapt to lawns of different heights.
Safety System: Double safety switch ensures safe start. the lever handle is easy to grasp and manipulate.
Affiliate links and images pulled from the Amazon Product Advertising API on: 2023-06-04
Dethatcher and Aerator Rental
If you don't want to buy a dethatcher and or aerator, you can rent a dethatcher and aerator combo at your local home improvement store or gardening center.
You can even visit sites such as RentaYard.com to rent farm equipment and have it delivered to your home.
---
FAQs
Do I Really Need a Dethatcher?
The answer depends on where you have excess thatch in your lawn. But you typically don't need to dethatch your lawn every year but every 5 years or should suffice only if your lawn needs it.
It's a good idea to check your lawn every year and keep tabs on the amount of thatch accumulated. If the thatch layer is greater than 3/4 inch, then your lawn should be dethatched.
Can You Aerate Your Lawn Too Much?
Yes, it's easy to go overboard with aeration, and doing so can do more harm than good for your turf. If you over-aerate your lawn, it will result in uneven soil and in worse cases will stress out your turf.
But on a brighter note, it's really tough to over-aerate your lawn because your goal is to remove just the excess layer of thatch.
Can You Dethatch and Aerate at the Same Time?
Since they are two different processes, it's possible to dethatch and aerate your lawn but one has to be done before the other. It is recommended that you dethatch your lawn first and then aerate it because doing so provides better aeration results.
Another reason you shouldn't dethatch and aerate at the same time is that since they are two different processes, they require their own setup and preparation to be effective.
How Often Should You Aerate Your Lawn
The answer depends on the type of soil you have in your lawn. If you have clay soil, you should aerate twice a year, and every two years for all other types of soil. You may need to aerate more frequently if you have an unhealthy lawn.
---
Final Thoughts
Dethatching and aeration are two different processes that require the use of two different tools. You don't have to dethatch or aerate your turf often but just when the need arises.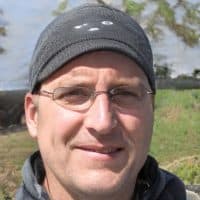 Hi, Alex Kuritz here. Growing up I remember that my family had one of the best lawns in the neighborhood. Richly green and lush. I did a lot as I grew up in terms of caring and tending for not only my family's lawn but also my neighbors. I can say I have years of experience, and I am here to share it with you.