Why would you need a lawn roller? To keep the turf level and smooth, which gives the advantage of easy mowing, watering control, and a beautiful look. But do you have to invest in one of these tools? What lawn roller alternatives can you use?
You can definitely make your own homemade lawn roller as explained below if you don't want to buy one. But first things first:
Is a lawn roller necessary?
It is spring, and I imagine the soil in your yard is lumpy because of the frost that occurred in the previous months. This is why you think a lawn roller is necessary.
Well, unless you're maintaining a golf course, I wouldn't recommend a lawn roller. It just isn't necessary. But why do lawn care experts discourage using such heavy machinery to level-up the lawn?
A lawn roller interferes with the air and water percentages of your soil. Healthy soil contains about 25% air and another 25% water. These compositions are loosely held to form the perfect soil aggregation for the healthy development of roots.
In short, here's why a lawn roller may not be necessary for your lawn:
Using heavy rollers on the ground leads to soil compaction.
Compacted soil causes slow root development and slower turfgrass growth.
Best Lawn Rollers
Brinly PRC-241BH 270 lb. Combination Push/Tow Poly Lawn Roller,...
NEW Easy-Turn Plug: Brinly Rollers now feature a new drum plug design, making filling and emptying your roller quicker and easier than ever
Push/Pull Combination: Convenient push or tow-behind design provides versatility for rolling tight areas or larger open spaces. Perfect tool for erasing lawn damage from moles and frost, or packing down loose dirt, seed, or sod.
28 Gallon Capacity: Sturdy roller holds up to 28 gallons (270 lbs.) of water or sand and is both light enough to push through the yard and rugged enough to withstand towing behind a tractor.
Affiliate links and images pulled from the Amazon Product Advertising API on: 2023-10-02
When can you roll your lawn?
Every homeowner worries about fixing frost heave damage. However, as the rains come, you might notice those ridges going away on their own.
There are times when you may need to flatten a bumpy lawn. For example, a golf course or a cricket pitch may be rolled to attain a smooth, level surface for playing. This is when a lawn roller may be needed.
If you're installing new sod, you may use a light roller to make sure the pieces come into close contact with soil for the roots to grow and take hold. If this is why you need to buy a lawn roller or use alternative equipment, ensure that you use a light one.
Homemade lawn roller alternatives
Since you might not need to buy any top rated lawn roller to get the job done, you can make a low-budget roller to flatten those areas in your yard that have been affected by frost heave damage.
Here are two DIY alternatives you can try:
55 gallon drum lawn roller
A 55 gallon drum is probably heavy, weighing over 700 lbs. However, it can make a good lawn roller alternative if you manipulate the weight by reducing or increasing the amount of water in it.
I would recommend keeping it a little heavy if you're trying to level-up a mini golf-course lawn.
You can use such a roller on your lawn just before seeding or even after, but make sure you're ready to aerate your lawn to ensure grass grows in a healthy way soon after germination.
Cardboard drum
Most would argue a cardboard drum is better than options like grease drums. The reason for this is that a cardboard drum does not have ridges on it, so it can level the yard properly.
Another advantage of this homemade lawn-roller equipment is that it is lightweight and as such won't lead to soil compaction.
Here's how to make a homemade lawn roller alternative using a cardboard drum:
Take a sizeable cardboard drum and peel off the branding paper.
Drill 1.5-inch diameter holes on both ends of the drum
Insert a metallic pipe through the two holes, making sure it sticks out 6 inches from both ends.
Install handles on both ends, such as a trailer tongue handle.
If you want to increase the weight of the roller, add some material inside the drum.
Old water heater
Water heater tanks are great with adequate weight. However, most of them are metallic and can prove to be a lot of metalwork to make an alternative lawn roller out of.
You can turn them into this type of equipment if you are good with cutting and drilling metals. See resources below for reference to a great guide.
Pro tip:Keep in mind that it is better to use a lighter lawn roller over your lawn as opposed to a heavier one. Just do several passes to get the desired effect on the uneven parts of your lawn. A heavier roller will only cause soil compaction.
Alternative ways to flatten a bumpy lawn
For the average homeowner, you actually might not need to repair your lawn by passing a heavy roller over it. The few ridges of uneven ground can go away on their own when it rains.
However, a few alternative tricks can get job done. Here's how flatten a bumpy lawn for easy mowing:
Dig out some soil under the high spots
Simply wait till late spring and mark out the high spots in your lawn. Dig up some of the soil underneath these areas, and remove the excess soil causing the high spots.
Return the grass as you would sod, and you'll notice the lawn is flat again. If the grass does not fill up the spots properly, remember to add some sprigs or grass seed in order to fill-up the bare spots.
Fill-up the low spots with soil
For the low spots, you will also need to cut up area with a shovel. Get some good quality soil with organic matter and fill up the low spots.
Once you level up the area, replace the grass you had cut up to achieve a level turf once again.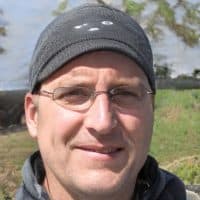 Hi, Alex Kuritz here. Growing up I remember that my family had one of the best lawns in the neighborhood. Richly green and lush. I did a lot as I grew up in terms of caring and tending for not only my family's lawn but also my neighbors. I can say I have years of experience, and I am here to share it with you.