If you have a big lawn, you'll need a very powerful self-propelled lawn mower. For a small lawn, even budget push lawn mower will do the job just fine. With a budget of about $300, what can you find? What is the best lawn mower under $300 today?
Top 7 Lawn Mowers under $300
Affiliate links and images pulled from the Amazon Product Advertising API on: 2023-10-03
When choosing a cheap lawn mower below $300, you want to consider one that gives you the most value at a low cost. So, I consider features like bagging and mulching, self-propelling, how easy it is to start and maintain, and adjustable cutting heights.
Here are the top 7 lawn mowers you can shop on a low budget:
---
BEST CORDLESS, BATTERY-OPERATED MOWER
1. Greenworks 16-Inch 40V Cordless Lawn Mower, 4.0 AH Battery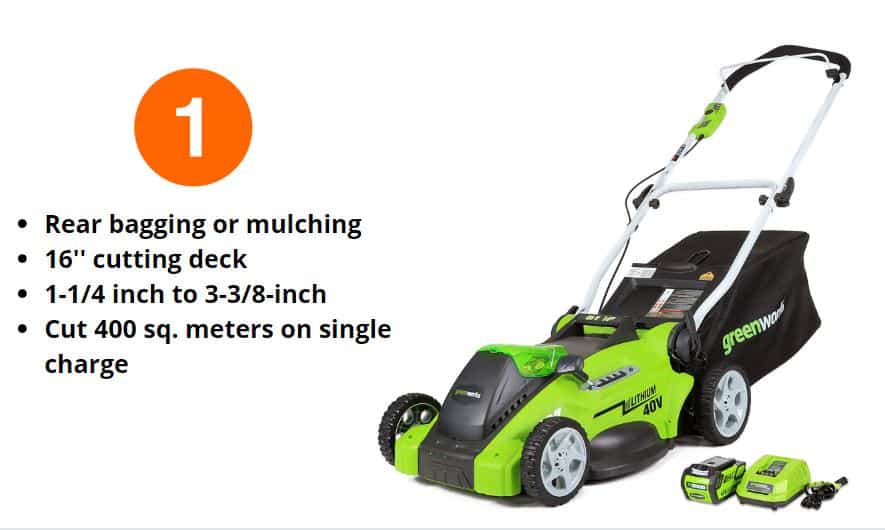 Battery-powered and quiet.
Cordless
Push-to-start feature
16-inch and 17-inch wide cutting deck options
Bagging and mulching included.
Lightweight lithium batteries.
This budget mower comes with a G-MAX 40V 4Ah Li-Ion battery that packs enough power to let you clear up about 478 square yards on a single charge.
It also has a one-headed, single-lever height adjustment system that makes it easy for you to choose from the five cutting height adjustments available.
[expand title="More Details"]
This mower is battery-powered- allowing you to mow quietly without causing disturbance to those that are indoors.
It's a low-maintenance mower compared to gasoline-powered ones. The mower uses a lithium-ion battery that's more powerful than lead-acid batteries. Lithium-ion batteries are also lighter, making this mower easier to push around the lawn compared to the one that's powered by a lead-acid battery.
Enhanced maneuverability- the mower has six-inch front wheels and seven-inch rear wheels.
Easy to use- no pulling cords here! All one has to do to start this cordless lawn mower is to push a start button.
Easier storage- the handles of this mower fold easily, making it more compact for faster/easier storage and increased portability.
2-in-1 capabilities (rear-bagging and mulching)- The product packaging includes a grass catcher and a mulching plug allows you multiple lawn management options- as you can either bag your cut grass or use it as mulch.
All-in-one powering solution- if you have any other Greenworks landscaping tools that require 40v battery power, you can use this same battery pack to power them too.
The Greenworks Environmentally friendly – as it's battery-powered, this mower doesn't emit any harmful gases into the atmosphere; thereby allowing you to reduce your carbon footprint.
What I didn't like on this mower: Although the battery is lightweight, it still adds weight to the mower, making it heavier and harder to push for some.
The 16- inch cutting deck is great for small-medium size lawns- but for larger yards, this might not cut it in terms of maneuverability.
[/expand]
---
BEST GAS POWERED, SELF-PROPELLED MOWER
2. Lawn-Boy 17732 21-inch 3-in-1 Self Propelled Lawn Mower
Great traction control on hills.
21-inch wide cutting deck.
Great cutting quality – does not hack grass.
Powerful 149cc engine yet fuel-efficient.
The Lawn-Boy 17732 self-propelled mower is a 3-in-1 mower that allows you to choose between bagging, mulching, and discharging the grass clippings.
Having used it on hills, it has the best traction control even when mowing a slightly wet lawn. The cutting adjustments are also great – 1.25 to 3.75 inches, though you might not want to use it if you're trying to grow a thicker Bermudagrass lawn that needs very low cutting heights.
[expand title="More Details"]
This mower is easy to maneuver because it is self-propelled. It just eliminates the need to push it to cut grass. I found this to be a good feature, especially if you're working on tricky terrains such as an inclined landscape.
Time-saving- by saving you energy, this self-propelled mower allows users to work on larger areas in a shorter time.
Better performance and fuel efficiency- the mower is powered by a Kohler 149cc/ 6.5 ft.-lbs. Gross Torque/ OHV Engine which has economical fuel consumption. This engine is also powerful enough to handle various lawn maintenance tasks like bagging, mulching, and clipping different types of grass.
Environmentally friendly- with its economical fuel consumption, this gas mower allows users to reduce their carbon footprint- and is listed as CARB Compliant for the state of California.
Features a rear-wheel-drive system for increased grip and control when working on inclined terrains.
High-quality cuts – this mower uses the tri-cut cutting system which will leave you with a beautiful high-quality cut.
Larger bag capacity – included in the packaging for this mower is a grass clipping bag that's large enough to collect all your clippings in one swoop before having to be emptied.
What I didn't like: Less control in corner areas – with this self-propelled mower, you'll have to try to adapt to the drive of the wheels when working in corners. This is unlike a conventional push mower- which accords you more speed control in such areas.
Unlike electric start mowers which can simply be started with the push of a button, this gas mower requires you to start its gas engine by pulling a cord, which is definitely something I don't like on a mower in this age.
[/expand]
---
BEST ELECTRIC MOWER UNDER $300
3. GreenWorks 20-Inch 12 Amp Corded Electric Lawn Mower 25022
Wide cutting deck for fewer passes when mowing.
Push-to-start button.
7 height adjustments (1.5 – 3.75 inches)
Easy to store with foldable handles.
3-in-1 – mulch, side discharge, and rear bagging.
This mower has a wide 20-inch cutting deck, meaning you'll make fewer passes across regular-sized lawns.
This is my favorite part – The Greenworks 25022 comes with seven height adjustment levels- allowing you to cut your grass to a height that suits your specific landscaping tastes. This is specifically good if you want to mow low and help your lawn spread faster.
[expand title="More Details"]
I like these types of machines because it is easy to start with the touch of a button since it is an electric mower with a push-start button.
Unlike battery and gas-powered mowers, there are no drained batteries that need recharging or defective carburetors or air filters that need replacing.
The mower is also easy to maneuver around the yard even if it is not very flat. With 7-inch front and 10-inch rear wheels, this mower allows for easier maneuvering even in uneven terrain.
3-in-1 mower- this landscaping machine facilitates rear-bagging and side discharge. A third option- mulching- is also available if you want to put your grass clippings to good use.
Compact storage- this lawn mower comes with foldable handles so that you can store it without taking up too much space.
Durable deck- the cutting deck is made out of steel for durability, so you won't have to go through the hassle of replacing it, at least for a few years.
The mower comes with two 50-foot cords- enabling users to cover larger lawn areas.
On the downside
Safety risk- with corded electric mowers, there's always the risk of running over and cutting the cord possibly exposing yourself to electric shock.
Corded mowers are great for smaller lawns, but for larger yards, you'll likely find it bothersome to drag the electric cord around the entire time you're mowing.
[/expand]
---
4. American Lawn Mower 1204-14 14-Inch Push Reel Lawn Mower
Clean cutting blades (they don't hack grass)
Lowest cutting height option (0.5 inches)
17-inch cutting deck great for push mowers.
Most budget friendly for small yards.
This is a 14-inch push reel mower that's a great fit for the best mowers under $300, but only if you have a small yard. The machine comes with four-blade options (4-blade steel ball-bearing reel); allowing you to set the type of cut depending on your turfgrass species.
Let's dig deeper and see the good experiences and the disadvantages of this low-budget lawn mower.
Pros:
The T-shaped handle is ergonomically designed for a comfortable grip.
The polymer wheels offer maximum traction.
The cutting blades feature high-quality alloy steel construction to maintain its sharpness for longer. You'll- therefore- still get a clean, scissor-like cut from this mower two years down the line.
Eco-friendly- this push lawn mower doesn't require any gas and leaves you with no carbon footprint. What's more- you don't have to think about safety considerations- as is the case with corded lawn mowers.
Forget the start-up hassles- since you as the user provides the propulsion for this mower. All you need to do to get it started is to push.
With its smooth-spinning cutting blades and 8.5 inch composite wheels- this mower rolls easily- allowing you to maneuver easily through your yard as you mow.
Includes a height-adjust feature that allows you to easily set a cutting height anywhere between 1-1.75 inches.
Low-maintenance mower- with the American Lawn Mower 1204, there are no dirty filters to be replaced, drained batteries to be recharged, or defective spark plugs.
No noise- unlike gas mowers, this self-propelled mower has no noisy motor roaring as you work.
Cons:
With a 14-inch cutting width, this lawn mower is not the best for use on large lawns as you'll have to go around the yard more times to cover the whole area.
With this push lawn mower, you'll need to use your own energy to propel it. You're- therefore- likely to tire up quicker when using it.
---
Looking for more power and enhanced performance from your mower? Grab the WORX WG779 Lawn Mower- which comes with dual 20V power share batteries- enabling users to mow larger yards on a single charge. The mower also comes with battery power level signals to let you know whether you need to need to recharge.
Pros
Ergonomically designed handlebar- the form-padded handle allows for a firm grip that allows you to mow tirelessly.
Features a single-lever height adjustment system that allows you to choose from three cutting height alternatives.
Features WORX's advanced intellicut technology for extra torque- allowing you to extend your battery life.
Shared battery pack- if you have any other Worx gardening tools, you can still use the power module that comes with this mower to power them up. This allows you to save up on money as you don't have to buy a new battery pack for every WORX landscaping tool you've got.
2-in-1 feature- you can choose to bag (a great option if you're going for a clean look during summer) or mulch your grass cuttings (a good option during fall as the mulch provides the grass with much-needed nitrogen). The mower also has rear-discharge capabilities.
Lightweight and compact design- weighing in at just 35.3 pounds, this mower allows for enhanced maneuverability and easier storage.
Being a battery-powered mower- it requires less maintenance compared to gas mowers- as you won't have to deal with issues like dirty air filters/ clogged engines. What's more, battery-powered mowers have minimal environmental impact, as opposed to gas types which significantly increase your carbon footprint.
Cons:
The 13-inch cutting width might not be the most suitable option if you're looking to work on a large lawn area, as it necessitates more passes.
If you're working on a larger area, having to stop to recharge the battery interrupts your workflow. This is usually quite frustrating for some.
---
6. Yard Machines 132cc 20-Inch Push Gas Lawn Mower
Get to mow your lawn on a budget with this push lawn mower from Yard Machines. The mower comes with a side discharge chute that ejects grass clippings back onto your lawn. What's more, it has an easy grip loop handle that allows you to operate it with extra ease.
Pros:
With its manual height adjustment system, this mower allows you to set your ideal cutting size from amongst three options.
Both the front and rear wheels are seven inches in size enabling users to easily maneuver through their lawns.
This mower is powered by a 132cc gas engine- according you just about enough speed and power to comfortably mow through a regular-sized lawn.
The Yard Machines Push Mower comes in a compact 20-inch frame that accords users more functionality in tight spaces while also allowing for easier storage.
The OHV engine allows for increased torque and economical/ efficient fuel consumption, allowing you to get the most out of your mowing machine.
The mower comes with a one-year limited warranty.
Cons:
High maintenance- gas mowers typically require lots of maintenance compared to other mower types. From unclogging engines to cleaning dirty air filters, there's lots of things that you'll need to ensure are in check.
This mower has no rear-bagging capabilities. You'll- therefore- have to go through the extra hassle of raking off your grass clippings if you don't want to leave them on your lawn as mulch.
Gas-powered mowers leave you with a higher carbon footprint- as the gasoline fuel burns to release harmful gases into the atmosphere as you mow.
Being as it's a push mower, you're likely to suffer from fatigue much quicker when using this mower- in comparison to a walk-along mower.
---
7. Husqvarna LC121P, 21 in. 163cc Briggs & Stratton Lawn Mower
Invest in this affordable Husqvarna LC121P lawn mower for maximum mowing versatility. The mower comes with a nine-position height adjustment lever- the most for any mower listed on this guide. This allows you to set your height accordingly depending on what lawn plants you're looking to cut down- from grass to plant overgrowth.
Pros:
Extra grip comfort- the mower comes with comfort grip handles attached to the main handle, which gives users a more snug handling experience.
Includes a 21-inch blade that enables you to cover more lawn area with each pass. You- therefore- spend less time doing lawn work.
The mower comes with a 163cc Briggs & Stratton motor, which is great for mowing in versatile terrains and grass conditions. This engine size is powerful enough to support quality mowing even for tall and wet turfgrass.
The 11-inch rear wheels allow for easy maneuvering on flat lawns. The wheels also have sealed ball-bearings to enhance the ease with which you can maneuver through your lawn.
The Husqvarna LC121P comes with foldable handles for compact storage. This feature is especially useful if you've got limited storage space.
3-in-1 capability- allows you to either bag, mulch, or side discharge the cut grass.
Cons:
Being a gas-powered mower- this machine makes more noise than other types of mowers which might be intrusive to house inhabitants if you're a commercial landscaper. What's more, gas mowers are not eco-friendly, as they emit harmful gases into the atmosphere.
This walk-behind mower may be tiresome to use in comparison to a ride-along mower if you're planning to work on larger lawn areas.
---
Buying Guide – Great Features in a 300-dollar mower
When choosing a lawn mower under 300-dollars, the following are some of the factors we'd recommend that you take into account:
Engine type
for walk-behind mowers, they may have traditional side-valve engines or overhead valve engines. The latter type are more costly but offer better performance in terms of fuel consumption and carbon footprint.
Is it easy to maintain?
Gas mowers require the most maintenance with the possibility of defects occurring to various engine parts. Cordless mowers- on the other hand- require the least maintenance.
Safety
Cordless and gas mowers are typically safer than electric mowers. With the latter, you always run the risk of cutting the cord and exposing yourself to electrical hazards.
Bagging and mulching capabilities
Different mowers accord you different functionalities depending on what you want to do with the grass you've cut. If you want to use it as mulch, we recommend going for a mower with a mulch plug feature.
If you prefer a spruced-up lawn with no grass clippings left behind after mowing, you might want to invest in a mower with a sizable rear-bag to collect all your clippings.
Ease of starting
For some mowers, you have to pull a mechanical lever to engage the cutting deck, which isn't always the simplest thing to do. Alternatively, most electric mowers come with easy-to-start push buttons.
Versatility
While some mowers come with height-adjustment levers with up to nine positions, others only have up to three height options.
---
Related Posts
What are the Best Lawn Sweepers? Reviews & Buyer's Guide
What are the Best Self-Propelled Lawn Mowers? 8 Top Choices & Buyer's Guide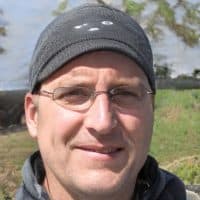 Hi, Alex Kuritz here. Growing up I remember that my family had one of the best lawns in the neighborhood. Richly green and lush. I did a lot as I grew up in terms of caring and tending for not only my family's lawn but also my neighbors. I can say I have years of experience, and I am here to share it with you.