I've owned several lawnmowers over the years-lightweight models that are a joy to push around and bulky, heavy machines that required a fair bit of muscle power to get the job done.
Mowing a lawn is already a strenuous, time-consuming task, and the last thing you want is a machine that you can barely lug around. So the big question is how much does a lawnmower weigh?
Just like cars, lawnmowers are equipped with several different components such as a blade, engine, and a full fuel tank. How much a lawnmower weighs depends on the type of lawnmower, where riding lawnmowers weigh more than battery-operated machines and gasoline-powered machines.
Does the Weight of a Lawn Mower Matter?
The short answer is yes, the weight of a push lawn mower does matter for several reasons. Lightweight lawnmowers such as a few models from the Cub Cadet and John Deere hangar are easy to use and maneuver through your yard and around gardens.
Here are 3 noteworthy reasons why you should consider the weight of a lawnmower before making a purchase.
1. Transporting Your Mower
If you're moving to a new house or cutting grass at a different location, getting a heavy riding mower in the back of your truck can be a daunting task.
Further, heavier riding mowers are generally bulkier than lightweight models, so you may have to pay an extra cost to rent a sizable van or pickup truck if you don't have one.
2. Storing Your Mower
If you have a dedicated space in your garage or shed to store your mower in its standard upright position, then you can wheel the mower into the area. But if you're going to store your lawnmower vertically, you will have to put in a little elbow grease to get it into the right position and place.
3. Stability and Manoeuvrability
A lawnmower from the featherweight category including models that come with an electric motor or high-powered motors is easier to maneuver and is more stable when mowing uneven, hilly, or slopy terrain.
While you should always aim to buy one of the many well-built, heavy-duty mowers to give you the control and power you need during the mowing season, the product weight shouldn't impede your ability to turn and navigate obstacles easily especially when mowing around garden terrain.
How Much Does a Lawnmower Weigh?
The question of how much does a lawnmower weigh can be tricky to answer, given that there are several different types of mowers to choose from such as battery-operated mowers, self-propelled models, and zero-turn mowers.
How Much Does an Electric Mower Weigh?
Most, if not all, electric lawnmowers are lighter than their gasoline or battery-powered counterparts. This means they're easier to whip around tight corners and maneuver through your yard.
What makes electric models lighter than gas lawnmowers is the lack of fuel tanks and other moving parts. However, just because electric lawnmowers are lighter compared to other types of lawnmowers, doesn't mean these mowing yard machines are right for you.
I'd recommend buying an electric lawnmower if you're cutting small to fairly medium yards or yards that are no more than half an acre owing to shorter run times.
Electric mowers use a cord that plugs into an electrical outlet, which you have to haul around, and can be a hindrance in your work.
Greenworks Electric Mower – Best Lightweight Electric Lawnmower
Greenworks 10 Amp 16-inch Corded Mower, 25142
Greenworks, 10 Amp 16-Inch 2 in 1, Rear Bag or Mulch Electric Lawn Mower, Converts Easily from Rear Bag to Mulch, Model 25142.Deck material: Hardened Plastic
10 Amp electric motor delivers enough power to cut through touch grass. Assembled product weight: 48.0 Pounds
Durable 16-Inch cutting deck gets the job done quicker and more efficiently
Affiliate links and images pulled from the Amazon Product Advertising API on: 2023-10-02
The GreenWorks electric mower tips the scales at just 37 lbs, yet comes with an impressive set of features. It offers both bagging and mulching capabilities and is fitted with a 10 amp robust motor, which lets you cut tough grass without any hiccups.
Furthermore, the Greenworks electric mower allows you to choose from 5 adjustable heights and arrives with 7-inch wheels at the rear and 6-inch wheels at the front.
It's a great option for a small normal yard and is easy to carry with its onsite handle. Another impressive feature of the Greenworks lightweight electric lawnmower is its durable 16-inch poly deck size., which allows you to cut more grass with each pass. For the best lightweight electric lawnmower under $150, the Greenworks mower is truly hard to beat.
---
Go check out my GreenWorks Electric mower review for more details
---
How Much Does a Gas Lawnmower Weigh?
Gas lawnmowers have a capacity of a gallon of gasoline or more, and this weight of fuel adds makes them heavier than electric as well as battery-powered machines. In terms of numbers, a gas lawn mower can weigh anywhere between 80 and 90 pounds but offers more power and some models even come with a large 20-inch deck.
If you have a medium to large size yard, gas mowers are a great lawn care option, but they're noisier than electric models, which is something to remember if you decide to cut grass in the wee hours of the morning.
Yard Machines Gas Mower – Best Lightweight Push Lawnmower
No products found.
For a barebones gas mower, the Yard Machines machine is an ideal choice for small to medium size yards. It's equipped with a powerful 132cc reliable gas engine and features a wide 20-inch size deck.
Adding to this, the Yard Machines gas mower weighs just 47 lbs, making it one of the lightest gas lawnmowers in this segment.
The Yard Machines mower comes with 7-inch front and rear wheels and is backed by a 1-year manufacturer warranty.
How Much Does a Cordless Mower Weigh?
Cordless push mowers are also lighter than traditional gas mowers and weigh approximately 40 lbs to 100 lbs.
The batteries of these cordless push lawn mowers are fairly light and are tucked away neatly in the machine, so they don't add to the lawn mower weight.
A cordless lawnmower doesn't come with an oversized deck and larger wheels, making it easy to maneuver around small to medium size lawns.
Worx Cordless Mower – Best Cordless Lightweight Mower
Deal
Worx WG743 40V Power Share 4.0Ah 17" Cordless Lawn Mower...
[TORQUE ON DEMAND] Patented Intellicut technology adds power when the grass gets thicker, then allows you to dial it back down to conserve battery
[7 CUTTING HEIGHTS] The single-lever adjustment lets you pick the right height to accommodate different seasons and different preferences
[SAME BATTERY, EXPANDABLE POWER] Worx Power Share is compatible with all Worx 20v and 40v tools, outdoor power and lifestyle products
Affiliate links and images pulled from the Amazon Product Advertising API on: 2023-10-02
The Worx cordless mower weighs less than 40 lbs and comes with everything you need to start mowing and maintain a nice garden and lawn including a battery and charger.
It features patented Intellicut technology, and a single-level height adjustment lever, which allows you to choose from 6 different cutting heights.
The Worx cordless lawnmower offers a cut-to-edge design, which makes it easy to achieve crisp near fences and garden terrain.
It comes with both a low battery indicator and a full bag indicator, so there's no guesswork when it comes to charging or emptying the bag of the machine.
To top things off, the Worx cordless lawn mower is fitted with a collapsible handle for easy storage and can mow up to 1/8 acres per charge.
---
For another great option, check out my GreenWorks Cordless mower review
---
What is the Weight of a Riding Lawnmower?
The weight of a riding lawnmower is similar to that of a tractor or heavier lawnmower type, and for several reasons. Compared to smaller electric and gas mowers, a riding lawn mower weighs more compared to a regular push lawn mower owing to its much larger wheels, which add considerably to the overall weight of the machine.
However, just like lawn tractors, riding lawn mowers such as the John Deere riding mower are powerful machines and can help you get the task of cutting grass done in no time.
In terms of numbers, an average lawn mower weighs (riding lawn mower) between 300 lbs to 600+ lbs such as some John Deere models, which is the same as some heavy-duty lawn tractor models.
As per their size and features, this is the correct weight for a riding lawn mower, because all you have to do is get in the seat and maneuver the machine through your yard.
Riding lawn mowers and zero-turn mowers don't offer the same portability as smaller household mowers, but if you're looking for top-notch performance, they are truly hard to beat.
What is the Weight of a Zero Turn Mower?
With bigger mowers like riding lawn mowers and zero turn mowers, wheel weights and a large capacity gas tank add up to the equation, but there are other components too such as larger cutting decks that add more weight.
A top-of-the-line zero-turn mower typically weighs between 700 lbs to 1500+ lbs, but again you don't have to haul them across your lawn.
If interested in a zero-turn mower, check out my review of the EGO Z6 zero-turn mower.
Final Thoughts
When on the shopping trail for the best lawnmower, lawn mower's weight is only an important factor to consider if you're going to be transporting the mower, if storage is an issue or if you suffer from certain ailments that prevent you from pushing a fairly average weight mower forward in your yard.
When it comes to lawn mower weights, a gas-powered mower is heavier due to its fuel tank and multiple components than electric and battery-powered mowers, but on the flipside offers better performance than the two types. Reel mowers are the lightest types of push mowers but feature a barebones design with little or no features.
Riding lawn mowers and zero-turn mowers are much more expensive than electric, gas and cordless mowers, but if you have the money to splurge and have a sprawling yard, you really can't go wrong with your investment.
If you're shopping for a new mower, you might wanna check out the guides below to help you in your decision: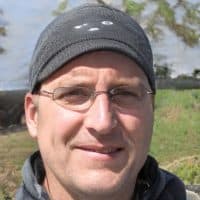 Hi, Alex Kuritz here. Growing up I remember that my family had one of the best lawns in the neighborhood. Richly green and lush. I did a lot as I grew up in terms of caring and tending for not only my family's lawn but also my neighbors. I can say I have years of experience, and I am here to share it with you.