Lawn mowers come in various shapes, sizes, and designs. Hence, you are probably in the market for one that will work best for your yard and needs. First, let's go over the different types of lawn mowers that you can choose from.
What Are The Different Types of Lawn Mowers
There are various types of lawnmowers available on the market, and some of the popular types of lawnmowers are listed below:
Riding Lawn Mowers
Riding lawn mowers are undoubtedly the most popular type of lawn mower among homeowners having big yards. People can comfortably sit on top of the mower and drive around the lawn effortlessly. Some riding lawn mowers come with a lap bar to navigate instead of a steering wheel.
Riding lawn mowers make lawn mowing easy and quick. But because they are huge in size, you may need some considerable amount of space left in your garage to store them. And riding lawn mowers are the most expensive of the lot.
Riding lawn mowers could range anywhere between $1000-$3000.
Push Lawn Mowers
If you are looking for a cheaper version of a lawn mower, the push lawn mower is the best choice. But remember, push lawn mowers require a lot of manual effort from you. While the riding mowers are powered by an engine, the push lawn mowers require a lot of muscle energy to push the mower around the yard. And when mowing tall and thick grass, it requires much more effort and momentum to get the best results.
Push mowers can be hard to use during the summer as it will drain all your energy in quick time.
Push mowers cost anywhere between $100-$400.
Self-Propelled Lawn Mowers
These lawn mowers come with a similar design and look of a push mower but use a powerful engine to provide power to the wheels. Hence, it requires less power from your side to navigate around the yard.
All you need to do is guide them around the lawn, and it will take care of pushing itself around and cutting the grass as well.
Self-propelled lawn mowers are priced between $300-$800 and prove to be very helpful when you have a sloped yard or having a large area to cover.
Some are under $300 which I have reviewed here.
Electric Lawn Mowers
These type of lawn mowers are electric-powered models and one can choose between a corded or a cordless model. Electric lawn mowers are generally less powerful than the gas-powered ones, but they require lesser effort to start.
While you need to give some considerable energy to pull a cord to start a gas-powered lawn mower, just a tap of a button is enough to start an electric version. There are electric versions available for both push mowers and riding mowers.
Zero Turn Radius Lawn Mowers
Zero Turn Radius (ZTR) lawn mowers make navigating around the yard very simple. These lawn mowers come with caster wheels in the front that can pivot at very sharp angles. Hence, it requires less time to turn around and makes it much easier to navigate around rocks, flower beds, and fountains.
Zero Turn lawn mowers cost around $2000 and above. The EGO Z6 for example is battery powered and may cost around $5k.
Reel Lawn Mowers
Reel lawn mowers are the cheapest form of lawnmowers one can find in the market. People having a small lawn can go for these reel types. It doesn't have a motor and requires effort on your end to generate the momentum to spin the blade to cut the grass.
I love my reel mower to use on Bermuda grass as instead of chopping the blades, a reel mower snips the ends of the blade giving a cleaner cut to help prevent disease.
I've done a more in-depth review on reel mowers for Bermuda grass here.
Reel lawn mowers cost less than $100 up to $250.
Robotic Lawn Mowers
The latest style of lawn mowers to be released recently is the robotic lawn mowers. It doesn't need any kind of effort from your side to mow your lawn. Yes, just start the mower and it takes care of the mowing process all by itself.
All you need to do is set a perimeter wire around the yard and a robotic lawn mower will take care of the rest. The robotic mowers can be controlled from your smartphone and these are a lot quieter than the gas-powered lawn mowers.
But still, if your terrain is uneven, hilly with a lot of slopes, these robotic mowers find it hard to navigate around. Hence, these are the best option for homeowners with a flat and clean lawn.
Robotic lawn mowers are priced between $600-$2000.
How To Choose The Right Mower For Your Needs
A beautiful lush-green lawn with beautiful stripes not only enhances the outlook of your house but also increases the value of your home to a great extent. People who own houses having a lawn, need to find some time to maintain to keep it in the best of shape.
While many use lawn mowing service companies for cutting and pruning their lawns, by buying a lawn mower of your own, you can cut down the costs in a big way. Maintaining the yard can be a tough task, but a lawnmower can make it look much more comfortable than you might think.
The market is filled with a lot of brands, buying the best lawn mower can be a little bit confusing. Before you arrive at a final decision, you need to consider a lot of factors including the size, terrain, type of mower, and budget.
In this article, we provide the ultimate lawn mower buying guide along with the factors to consider before making the purchase. The guide also includes a list of the top lawn mowers in the market along with the frequently asked question about lawn mowers.
Things to consider while buying a Lawn Mower
Lawn mowers come in various designs and intended uses. Hence, people need to understand their requirements clearly before buying the best lawn mower for their lawn. Here are some factors that they need to consider before buying one.
Lawn Size
The first thing that you need to consider before purchasing the best lawn mower for your home is to check the size of your lawn. Experts suggest that push lawn mowers are the best choice for people having a yard less than half an acre.
People having a large yard may find it challenging to use the push lawn mower, as it will take a lot of time and energy to mow it. Even a self-propelled mower can tire you in a big way during the summer.
Therefore, it is recommended to go for a riding mower for people having larger sized yards. All you need to do is sit on and move around the lawn.
Terrain
Next important thing to consider is the terrain of your yard. Take a closer look at your lawn and see if it is flat or there are any difficulties in navigations, including hills and other kinds of obstacles.
Homeowners having a small, flat yard can go for push lawn mowers. But if the terrain is hilly with lots of obstacles, using push mowers can be a gruesome task.
A self-propelled mower can be the best choice if there is any difficulty in moving around with hills. With a self-propelled mower, you don't need to spend a lot of energy pushing the mower as it uses an engine to give power to the wheels.
Homeowners having lawns with decorative items, flower beds, rocks, and fountains, need to go for the zero-turn radius lawn mowers as it helps them to navigate around easily.
Power Supply
When it comes to powering your lawn mower, either gas or electricity can be used. Each powering method comes with its own pros and cons. When compared to electric powered mowers, gas mowers generate more power. Gas mowers can last for a long time and can last the entire time, till you complete mowing your entire lawn.
But it also depends on the size of your lawn as well as the capacity of the mower. Another factor to consider about gas mowers is that it may require a lot of maintenance when compared with electric powered mowers. Some gas mowers require a manual start, using a pull cord. But this could prove to be difficult for seniors or otherwise limited in hand mobility.
Cordless electric mowers are very easy to handle. The main disadvantage of a cordless electric mower is that it cannot last for a long time on a single charge. Corded versions can be run for a long time as long as you power, but the cord trailing behind can be a bit annoying.
Deck Size
Deck size is nothing but the blade width on your lawn mower. A lawn mower with a bigger deck means, it comes with wider blades.
The deck size of a lawn mower generally ranges from 20-70 degrees or more. The reason people prefer bigger decks is because they can easily cut a large area of grass on each round. It means that the cutting time gets considerably reduced.
Bigger deck lawn mowers work excellent only for flatter lawns and lawns that come with a uniform shape. Yards having decorative items like flower beds, rocks, and boulders, make it harder for the bigger deck mowers.
In such cases, smaller deck lawn mowers can be used as they can navigate around obstacles easily.
Grass Clippings
Nowadays, lawn mowers offer various functionalities and cut the grass in your lawn in several different ways. Homeowners usually prefer to leave the grass clippings in their lawn as they will disintegrate and can even act as a fertilizer for the lawn.
But remember, if the grass is thick, it may not decompose easily and need to be collected and removed from the yard. Lawn mowers are available with a bagger that helps in collecting the grass clippings as they go.
Attachments
Another factor to be considered by people looking to buy a riding lawn mower is the type of attachments needed. There are various attachments available which include, dump carts and ATV carts for hauling, baggers, sweepers, and debris loaders for cleaning, aerators, dethatchers, lawn rollers, and sprayers for lawn care, etc.
My Top 10 Lawn Mowers to Buy in 2021
The market is filled with hundreds of lawnmowers but choosing the best lawn mower can be a difficult task. Hence, after lots of extensive testing and research, we present to you the best 10 lawnmowers that are worth the money to buy in 2021.
1. GreenWorks 25142 Corded Lawn Mower Review
Greenworks 10 Amp 16-inch Corded Mower, 25142
Greenworks, 10 Amp 16-Inch 2 in 1, Rear Bag or Mulch Electric Lawn Mower, Converts Easily from Rear Bag to Mulch, Model 25142.Deck material: Hardened Plastic
10 Amp electric motor delivers enough power to cut through touch grass. Assembled product weight: 48.0 Pounds
Durable 16-Inch cutting deck gets the job done quicker and more efficiently
Affiliate links and images pulled from the Amazon Product Advertising API on: 2023-10-02
If you are looking for the best electric lawn mower, then look nowhere than the Greenworks 25142 as it is one of the best-selling electric versions in the market. It is a corded design and delivers outstanding performance. It is unarguably a fierce competitor for its gas-rivals. The Greenworks 25142 Corded Lawnmower is powered by a 10-amp motor that makes lawn mowing incredibly easy.
The Greenworks 25142 comes equipped with a 16-inch stamped steel deck and offers incredible balance along with great maneuverability and cutting power. The lawn mower is easy to use and since it is not very huge, it occupies lesser space in the garage, when compared to other riding mowers. Just a tap of the button, powers on the lawn mower. The 25142 corded lawn mower from Greenworks is extremely an efficient electric powered lawn mower.
What we like
Stamped steel 16inch cutting deck
Extremely lightweight
Easy to use
Rear discharge feature
Excellent mulching capabilities
Powerful 10-amp motor
One-handed height adjustment feature
What we do not like
Small grass collection bag
Smaller cutting path
---
2. Husqvarna YTH Series Tractor Mower
No products found.
People interested in buying the best riding mowers can take a look at the Husqvarna YTH Tractor mower. It comes with a sturdy and rugged design and delivers maximum performance and offers excellent results. The lawn mower is compact and hence moving around the yard more comfortable. Since it comes at a decent size and weight, it is easy to store in your garage next to your ATVs and other vehicles.
Powered by an 18.5 hp engine, the corded lawn mower generates excellent power and offers a smooth ride across the yard. The steel deck comes with a robust 13-gauge steel deck that is 14 inches wide. The deck offers excellent durability with wide and large cutting paths. The lawn mower can handle all types of grass. Offering extraordinary power, durability, and reliability the Husqvarna YTH finds 2nd place in our list of the top 10 lawn mowers to buy in 2021.
What we like
Powerful 18.5 hp engine
Easy to use
Excellent handing
Great manuverability
Highly durable design
Simple height cutting adjustment feature
Various accessories available
What we do not like
Small fuel tank
Not built for larger lawns
---
3. Sun Joe MJ401E Mow Joe 14″ 12 Amp Electric Lawn Mower
The Sun Joe MJ401E Lawn mower is another impressive electric-powered lawn mower. It is extremely compact and weight only around 29lbs. The Sun Joe MJ401E Lawn mower is considered to be one of the best lightweight electric lawn mowers in the market.
Deal
Affiliate links and images pulled from the Amazon Product Advertising API on: 2023-10-02
The Sun Joe MJ401E is best for homeowners having smaller lawns. Its rugged design and all-terrain wheels make it easier to maneuver in smaller spaces.
Powered using a 12-amp motor, the Sun Joe MJ401E helps for a wider cut path and lessens the time of mowing around to a great extent. This lawnmower is popular among homeowners because there is little or no maintenance required.
The corded and button-start lawn mower also features 3-height positions that can be manually adjusted.
It allows cut grass of all sizes and shapes easily to the required height levels. This lawnmower also comes attached with a 10.6-gallon bag at the rear to collect grass clippings.
What we like
Powerful 12-amp motor
Lightweight and easy to use
Produces less noise
Maintenance-free
3 cutting height adjustments provided
What we do not like
Small grass bag
Plastic build
---
4. Great States 415-16 16″ Reel Mower
Great States 415-16 16-Inch Reel Mower Standard Full Feature Lawn...
Manual mechanical mower with a quick, adjustable cutting height of 1"-2.5" for a clean and even
Lightweight lawn mower has 16" cutting width, 5-blade ball bearing reel, and 10" composite wheels for optimal maneuverability
Push blade mower with high-quality heat-treated alloy steel blades that stay sharp longer
Affiliate links and images pulled from the Amazon Product Advertising API on: 2023-10-03
If you are looking for the best lawn mower at a lower price, then the best choice would be to buy a reel mower. And Great States 415-16 does a terrific job in cutting grass and to help in maintaining your lawn.
Since it is doesn't come with an engine included, all the effort needs to come from your side to push the mower around. The more momentum you provide to the lawnmower will make it cut the grass quickly and effectively.
And since there is no engine, hence, there is no kind of emission of noise from the lawnmowers.
The Great States 415-16 16inch lawn mower is extraordinarily lightweight and easy to move around. It also comes equipped with a tempered and strong alloy steel reel. The strong bed knife makes trimming the grass quite a breeze.
The handles of the lawn mower are powder coated to ensure greater durability and ensure that it doesn't rust when not in use. The lightweight and compact design make the Great States 415-16 an excellent choice for people looking to avoid the annoying feeling of cords and batteries. It is also quite easy to store as it comes with a compact design
What we like
No need for gas, electric source or batteries
No Noise
Extremely lightweight design
Powder coated handles
3 Adjustable cutting height features
Heat treated blades
What we do not like
---
5. Black Decker MTC220 Lawn Mower
Affiliate links and images pulled from the Amazon Product Advertising API on: 2023-10-03
Black Decker MTC220 Lawn mower features in our list of the best lawn mowers to buy in 2021 because of its lightweight and versatile design. There is no other model like this in the market for small yards.
People looking for a cordless electric-powered lawn mower can check out the Black Decker MTC 220. It is an all-in-one lawn mower that also offers a trimmer and edger along with 3 landscaping features.
Powered using a durable 20V Lithium-ion battery, the MTC220 is an ideal choice for homeowners having small yards up to 1200 Sq. Ft. It is also an excellent option for lawns having hard-to-access areas and lot of obstacles.
The 12-inch cutting deck is sturdy and offers 2 adjustable cutting heights. The transmission system is gear driven allowing to maintain a constant speed at all time and even thick patches of grass are mowed down easily.
With just the push of a pedal, homeowners can easily attach/detach the trimmers and edgers. The MTC 220 is a versatile mower for people looking to manage smaller lawns.
What we like
Lightweight design only weighs 14.4 lbs
Versatile machine that offers mowing, trimming and even edging features
Easy to handle
Easy to store
Easily operate for 40 minutes with a single charge
What we do not like
Difficult to work with thick and lush lawn
Narrow deck
---
6. Husqvarna 7021P 961330030 Lawn Mower
No products found.
The Husqvarna 7021P is another trending gas-powered lawn mowers on the market. It comes with a compact design and extremely powerful to cut all types of grass. It is an ideal lawn mower to operate in tight spaces. It offers nine cutting height adjustments and comes with sturdy 12-inch all-terrain wheels.
Powered by a strong Honda GCV engine, the 7021P can work in lawns of all sizes. The highly durable steel deck is perfectly capable to ensuring 21-inch wide cutting paths with a considerable amount of speed and efficiency.
It also comes packed with 3 disposal systems that help for collecting, mulching, and side-discharging. The versatile Honda 7021P is the perfect choice for people looking for a lawn mower to operate in lawns of all sizes and can stand the test of time.
What we like
Impressive design
Equipped with a powerful 160cc Honda GCV engine
Capable to operate in all kind of lawns
Strong 21-inch cutting deck
9-position cutting height adjustment
Smooth operation
What we do not like
No single lever height adjustment
Grass catcher is not attached firmly
---
7. GreenWorks 25322 Cordless Lawn Mower
Greenworks 40V 16" Cordless (Push) Lawn Mower (75+ Compatible...
CORDLESS LAWN MOWER – Get more done, faster, with Greenworks electric lawn mowers. This 40v push lawn mower provides the power you need with up to 45 minutes of runtime on a fully charged 4.0Ah battery. The battery completely charges in 120 minutes.Brushless motor : No
LIGHTWEIGHT, EASY TO USE – A lightweight 16" cutting deck allows for easy maneuvering through small to medium yards (up to ½ acre) more efficiently. Easy push button start and lighter weight make it a great choice for your lawn.
VERSATILE – Battery powered lawn mower has a single lever 5-position height adjustment with a cutting height range from 1-1/4" to 3-3/8" for the best cut in all environments. The 2-in-1 feature offers versatile use with mulching and rear bagging options.
Affiliate links and images pulled from the Amazon Product Advertising API on: 2023-10-03
The Greenworks 25322 Cordless Lawnmower features in our list of the top 10 lawn mowers to buy in 2021 is because it is a versatile machine and offers 5-position height adjustments.
It is a powerful lawn mower that can cut large swathes of grass during every round. The Greenworks 25322 is a battery-operated model that comes with a unique 2-in-1 collection feature that is capable of either rear-bagging the grass clippings or mulching.
The front wheels are 6 inches, and its rear wheels are 6 inches in size that offers quick and easy maneuverability even on harder terrains.
Powered by high-quality B-Max 40V Lithium-Ion batteries, it can easily be swapped for use in other tools when the lawn mower is not in use. The Greenworks 25322 lawn mower is the perfect choice for homeowners looking for a cordless model that offers the excellent cutting ability.
What we like
Powered using 40V B-Max Li-ion rechargeable batteries
Operate for around 120 minutes with a full charge
5-different cutting height adjustments
16 inch cutting deck
2-in-1 collection feature
Ideal for small and medium-sized yards
What we do not like
Not ideal for cutting thick, overgrown grass
Battery issues
---
8. Worx WG779 14-Inch 24-Volt Cordless Lawn Mower
Worx WG779 40V Power Share 4.0Ah 14" Cordless Lawn Mower...
[6 HEIGHT ADJUSTMENTS] A single lever lets you set the height you want to cut your lawn, depending on the season, or just your preference.Max Cut Area/Charge 5,000 FT².No load speed : 3300 / 3700/min
[INTELLICUT] feature provides torque on demand for tougher conditions
[SAME BATTERY, EXPANDABLE POWER] Worx Power Share is compatible with all Worx 20v and 40v tools, outdoor power and lifestyle products
Affiliate links and images pulled from the Amazon Product Advertising API on: 2023-10-03
The Worx WG779 14-inch Cordless lawn mower is another exciting battery-operated model on the market today. Unlike your conventional gas lawn mowers, the WG779 is a much quieter option. Powered by a 24V rechargeable battery, the lawn mower is perfectly capable of cutting grass up to 10,000 square feet of a yard with a full charge.
The strong and powerful 14-inch yard is highly capable of handling all kind of yards and makes it quite easy to get into harder to reach spaces. It sports a lightweight design and makes cutting grass quite a breeze.
This lawn mower boasts 3 different collection systems to collect, mulch and side-discharge the grass clippings.
Equipped with Intellicut technology, the Worx WG779 is can automatically adjust its power based on the grass thickness. It also comes with other useful features including easy button start, cutting height adjustments using a single lever and collapsible handles to store it easily.
The Worx WG779 is another lawn mower that makes it an ideal choice for people looking for maintenance-free lawn mowers.
What we like
Emission-free
No noise
Unique Intellicut technology
3 different cutting height adjustments
Lightweight weighs only around 33lbs
What we do not like
Narrow deck
Not made to cut tougher grass
---
9. EGO Power+ Cordless Lawn Mower
Affiliate links and images pulled from the Amazon Product Advertising API on: 2023-10-02
The EGO Power+ 56V cordless lawn mower is included in our list of the best lawn mowers to buy because of its impressive performance.
It can almost match the performance of a gas-powered lawn mower, but unlike a gas mower, it comes with no noise, fumes, and maintenance as well.
The Ego Power+ is a weather resistant lawn mower and can be used in all kinds of weather conditions. It comes with a 20-inch deck that enables it to cut large swathes of grass in a single pass.
Hence, the lawn mowing time is reduced to a considerable extent. The versatile design ensures you to choose between various lawn mowing features including collecting, mulching, and side-discharging.
The cordless lawn mower also comes equipped with LED lights that allow you to mow even at low-light conditions. Equipped with a powerful 600W magnetic motor along with 3 battery options to choose from.
What we like
Incredible performance
Weather-resistant design
LED headlights
3 battery options
No noise, fumes, and maintenance
3-in-1 feature to collect, mulch and side-discharge
What we do not like
No battery power indicator
Not great mulching capabilities
---
10. Honda HRX217HYA Lawn Mower
Affiliate links and images pulled from the Amazon Product Advertising API on: 2023-10-03
The last but not the least lawn mower in our list is the Honda HRX217VKA, a gas-powered push self-propelled lawn mower. Remember that Honda uses two different model numbers for this mower in HRX217VKA and HRX217K4VKA, but the model number refers to the same lawn mower.
One of the major highlights of the Honda HRX217VKA is that it comes equipped with a powerful 190CC engine that generates enough power to mow at a decent pace. The rear-wheel-drive lawn mower makes it quite easier to even used the mower in hilly and inclined lawns.
The unique Versamow feature allows the homeowners to configure the lawn mower to bag and mulch the desired amount of grass based on the lawn conditions. It also comes with an excellent feature that automatically shreds the leaves, making it unnecessary to go for a leaf blower.
Honda is one of the best lawn mower brands in the market and many experts have given higher ratings for this lawn mower. It is also rated among one of the best self-propelled lawn mowers in the market because of the excellent cutting quality it offers and requires lesser maintenance.
What we like
Highly durable
2-blade cutting feature
Powerful 190cc engine
Automatically shreds leaves
Rear-wheel drive
5-year warranty
What we do not like
Cutting Height Adjustment to be done in all 4 wheels
Noise and emissions
---
Frequently Asked Questions (FAQ)
Can you clean electric lawn mowers?
Yes, electric lawn mowers can be cleaned like any other lawn mowers, but care should be taken not to allow the water entering the motor. General maintenance work includes removing the grass attached to the bladed and sharpening them regularly to keep the blades in the best shape.
Is an electric mower suitable for cutting long grass?
Definitely, you can use electric-powered lawn mowers to cut long grasses effectively. Most of the lawn mowers come with cutting height adjustments that allows you to cut grass in all sizes.
What is a zero-turn radius mower?

A zero-turn radius lawn mower is one that needs no turning radius to turn the lawn mower in a different direction. In other words, it can quickly turn on its own footprint.
What is an Automatic Choke Recovery System (ACRS)?
When lawn mowers are stored for a long time, it makes it difficult to start the engine. The ACRS is a system that allows the homeowner to move on and off the system and use a pull chord to start the engine.
Can you mow backwards in a riding lawn mower?
Yes, the riding mowers come equipped with reverse gears and hence you can ride backward. But once you reverse the mower, the blades automatically stopped from cutting. But if you need to mow in reverse gear, there is an over-ride feature that enables the blades to function.
---
Conclusion
If you are looking to buy the best lawn mower on the market and start searching on the internet, you can see a lot of choices popping up. But remember, it is important that you have a good understanding of your needs based on various factors described in this article such as lawn shape and size etc.
Once you have that clarity, by going through this 'lawn mower buying guide', you would have all the choices explained. And remember, a well-maintained front and back yards reflect so much on the home value as well as the homeowner.
---
You may also like…
What are the Best Self-Propelled Lawn Mowers? 8 Top Choices & Buyer's Guide
What are the Best Lawn Sweepers? Reviews & Buyer's Guide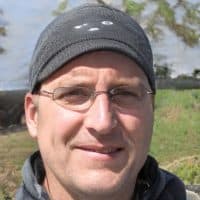 Hi, Alex Kuritz here. Growing up I remember that my family had one of the best lawns in the neighborhood. Richly green and lush. I did a lot as I grew up in terms of caring and tending for not only my family's lawn but also my neighbors. I can say I have years of experience, and I am here to share it with you.