It's the dream of many homeowners to have their yard looking like the Yankee stadium. The stripes and variation in color do stand out from the crowd – something many lawn owners aspire to achieve in their entire yard.
Lawn stripes don't just considerably improve the curb appeal of your property, but can even boost your lawn health, as long as you learn the nitty-gritty of the technique first. Here are a few key benefits of lawn stripes.
The good news is that it's not just the curators of big sporting ovals or larger yards who can create crisp and stunning stripes on a lawn, you can give it a shot too.
Although it may look like there's a lot of work involved, creating a striped appearance is relatively easy with a lawn striping kit attachment for decks of mowers like Exmark, Cub Cadet, John Deere, and many more.
Affiliate Disclaimer: My content may contain links to products I use. As an Amazon Associate and participant in various other affiliate programs, I earn a small commission at no extra cost to you from qualifying purchases.
How Does Lawn Striping Work? Lawn Striping Basics
Lawn striping refers to checkerboards, stripes, or any other patterns spread across a sprawling healthy lawn. These stripes are created by bending the grass in different positions with your lawn mower blades.
You may have unknowingly created a basic striped lawn without any lawn mower accessories attached to your regular push mower or tractor mower generally when you push the tool in one direction and back up on an adjacent, parallel path.
Lawn stripes are a matter of optics. Grass blades and leaves have a waxy side called a cuticle that they use to retain and direct water to their roots. This waxy side reflects light differently than its paler opposite side, which is why grass that is bent away from you appears brighter than the grass that is bent in your direction
Did you know cool-season grasses such as fescue, bluegrass, and rye work better for striping than warm-season grasses like Bermuda and zoysia grass, and here's why! 
Key Things to Know About Lawn Striping
1. You can stripe your lawn with a simple add-on to your mower
To achieve the alternative light-dark effect, weight is applied to bend the grass, for which you'll need a lawn roller. A lawn roller is a cylindrical-shaped, heavy metal or plastic garden tool that attaches to the rear of your lawn mower such as the Agri-Fab roller.
Agri-Fab 18-Inch x 36-Inch Poly Tow Lawn Roller 45-0268,Black
Durable 18" diameter, 36" wide, no rust, internally reinforced, poly roller drum
400 lbs weight with water to help flatten uneven grass and level new soil in 36" wide swaths
Less than 50 lbs without water for easy storage and transport and roller drain/fill plug empties easily and fills with a regular garden hose
Affiliate links and images pulled from the Amazon Product Advertising API on: 2023-12-09
The Agri-Fab roller measures 18 inches in diameter and 36 inches wide and weighs a whopping 400 lbs.
Whether you own a John Deere Ztrak, EXmark Lazer Z, or any other garden tractor or push mower, you can achieve baseball diamond striping on your yard with the Agri-Fab roller. Simply attach the Agri-Fab roller to your mower and move in a north/south or east/west direction. Apart from lawn striping, a lawn roller can considerably improve the health of your lawn.
2. Lawn striping is appealing
The number of patterns you can stripe your lawn is endless, starting from stripes, and checkerboards to diagonally.
For a basic stripe pattern, start by mowing a border around your lawn perimeter, and then mow the full length of the entire lawn in one direction and a straight line parallel to the lawn edge from any side of the lawn.
3. Lawn stripes encourage healthy grass growth
Mowing your lawn in a single direction usually creates holes or low-growth spots that lead to a mottled or uneven lawn. However, mowing your lawn in two directions when striping a lawn prevents lawn deformities, and results in an even lawn that's free from any low spots.
4. For best results, don't cut the grass too short
Lawn striping is only effective if you can bend the grass blades, so the taller the grass, the more intense the striping effect. Maintain a grass height between 2.5 and 4 inches, because grass that's cut shorter than that won't bend well and, therefore won't reflect light well to create the stripes. 
5. Lawn stripes aren't a good choice for all types of grass varieties
As I mentioned earlier, cool-season grasses are a better choice for lawn striping, owing to their long, flexible blades that bend easily under the pressure of the lawn striping kit.
Warm-season grass like Bermuda grass and St. Augustine grass contrarily feature shorter blades, more rigid blades that don't bend well and, hence don't hold their stripes well. 
Can You Make Stripes in Lawn Without a Striping Kit or Roller?
The short answer is yes – you can make stripes on your lawn without a striping kit or roller, but the process can be daunting and requires a lot of effort. There are no DIY lawn striping kits available but all you need is your mower.
The method of striping without a striping kit works best if you have a riding lawnmower. However, you can also use a push mower for this striping method, but it's just more time-consuming and will require a fair amount of elbow grease, especially if you have a large yard to mow.
Here are the steps to create stripes in your lawn without a striping kit:
Plan your stripes – Before getting started, it's recommended that you have a plan in mind on the direction you want the stripes, whether straight stripes, diagonal or a checkerboard pattern.
Check your grass height beforehand – After you've figured that out, make sure your grass is tall enough because short grass is tough to bend down. You also want to ensure that you're working with sharp mower blades because dull blades will stress the grass, and produce inconsistencies with your lines.
Set the cutting deck to the appropriate height.
Cut around the perimeter of your yard.
Mow your yard from east to west in straight lines.
Make a 180° turn from the side of your yard.
Mow your yard from west to east.
You may not achieve the desired results on the first attempt but don't be discouraged because getting dramatic stripes on your lawn does take practice. 
Why Use a Lawn Roller or Striping Kit?
While you can create stripes on your lawn with your lawn mower, the results are going to be pale striping and not the intense effect you're looking for such as with a striping kit attached to a mower deck.
To get the blades of grass to bend, you either need a lawn roller or a lawn striping kit. But using just a lawnmower is a great way to get your feet wet with lawn striping and to practice making different patterns on your lawn. Remember the first stripe will dictate all the rest, so if it's wobbly, your best bet is to start over. 
Check out this video demonstrating the difference between Striping Kit vs NO Striping Kit:
---
4 Best Lawn Striping Kits and Rollers
1. Lawn Stryper – Lawn Striping Systems
The Lawn Stryper can be ordered in a choice of two exciting colors – green and black and comes with everything you need to create eye-catching stripes on your lawn including a roller and attachment brackets.
You can use it to create a myriad of different patterns in your yard like straight, wavey, checkerboard, circles, and much more.
Adding to this, the Lawn Stryper fits most residential 20-inch to 22-inch walk-behind mowers, self-propelled mowers, and push mowers, and can be used to mow and stripe your lawn at the same time. 
But that's not all, the Lawn Stryper is compatible with most grass-bagging systems and comes with a how-to pattern guide. 
The Lawn Stryper is easy to assemble and use and does require 16 lbs to 20 lbs of dry sand (not included). It is backed by a 1-year warranty against any manufacturer defects. 
Lawn Stryper- Generation 3 Lawn Striping System/Stripe Your Lawn...
ONLY WORKS WITH EGO battery powered 20''-22'' residential walk-behind lawn mowers.
PROFESSIONAL RESULTS AND BEAUTIFUL CURB APPEAL: Simple-to-install mower accessory system that allows lawn enthusiasts to get professional ballpark-like striping results. Create straight, wave, circle, checkerboard or any other pattern. Highlight your landscape and be the envy of the neighborhood.
EASY TO USE AND MAINTAIN: Easily attaches to your walk-behind lawn mower allowing one to mow and stripe at the same time. Works with and without most bagging systems. Roller/Cover can be removed within seconds while the bracketing system remains in place.
Affiliate links and images pulled from the Amazon Product Advertising API on: 2023-12-09
---
2. MTD Genuine Parts Lawn Striping Kit
The MTD Genuine Parts lawn striping kit is designed to fit Cub Cadet Ultima series zero turn mowers with a 50″, 54″ and 60″ deck. It also fits Troy-Bilt Mustang Z Series Zero Turn Mowers with 50″, 54″ and 60″ fabricated decks, and can mow and stripe at the same time.
The MTD Genuine Parts striping kit is easy to install, measures 26.38 x 4.75 x 5.63 inches, and tips the scales at just 5.64 lbs. 
Deal
Affiliate links and images pulled from the Amazon Product Advertising API on: 2023-12-09
---
3. Ohio Steel Lawn Roller
The Ohio Steel lawn roller has an 1150 lbs capacity and is manufactured in the United States. It measures 65 x 27.5 x 24.5 inches, weighs 225 lbs, and can be used to make pro-grade stripes on your lawn. 
Ohio Steel 60T Pro Steel (Filled with Water), 24 x 60
We recommend adding Ethylene Glycol Anti-Freeze with the water
If the roller is filled with water only, it must be drained whenever the temperature drops below 32 degrees F
This product is manufactured in United States
Affiliate links and images pulled from the Amazon Product Advertising API on: 2023-12-09
---
4. Toro Lawn Striping System
The Toro lawn striping system is one of the best striping systems in its segment and is easy to assemble with just a Phillips screwdriver. It can be used with or without a bagger attachment and allows you to add professional-looking, ball-park quality stripes, and patterns to your lawn. It can be attached to most residential walk-behind mowers and can mow and stripe at the same time.
Toro Lawn Striping System
Assembled dimension: 13 in. w x 16.50 in. d x 24 in. h
Use with or without bagger attachment
Roller easily removes for storage or areas where striping is not desired
Affiliate links and images pulled from the Amazon Product Advertising API on: 2023-12-09
---
Tips to Make Stripes Your Lawn for a Big League Look
1. The first job before striping a lawn is to remove any debris from the yard. These could be leaves, broken twigs, stones, pine cones, or anything else that could damage your mower. 
2. To create stripes, your lawn must be in excellent condition with a thick, dense sward. If your lawn isn't in the best shape and health, perform regular lawn maintenance tasks such as dethatching and aerating to improve its health.
Aeration allows moisture and air to penetrate the soil below the grass to build a stronger root system. After aerating the soil, top dress your soil with a sandy top dressing mix to improve drainage and fix any low spots.
3. A stripy lawn should also be free from weeds, so apply a post-emergent at the right time if necessary. If there are bare spots on your lawn, adding stripes will make the turf look odd so consider overseeding your lawn.
4. Before getting started with the striping process, sharpen your mower blades. There are several signs that you need to sharpen mower blades including uneven grass height after cutting, dents or nicks in the mower blades, brown, frayed grass edges, and/or grass blades that look torn instead of sliced. 
Once you've determined that you have dull blades, remove the blades from the mower and clean them thoroughly. Before doing so, put on work gloves and protective eyewear, if it's a gas mower, drain the gas tank to avoid any fuel spills, turn the mower to its side, and remove the blades. 
You can sharpen a lawnmower blade by hand using metal files or abrasives or with a machine like a blade sharpener, bench grinder, or angle grinder.
5. Refrain from striping wet grass during mowing season because it will look matted. Additionally, change your mowing pattern every two weeks as it is good for your turf health.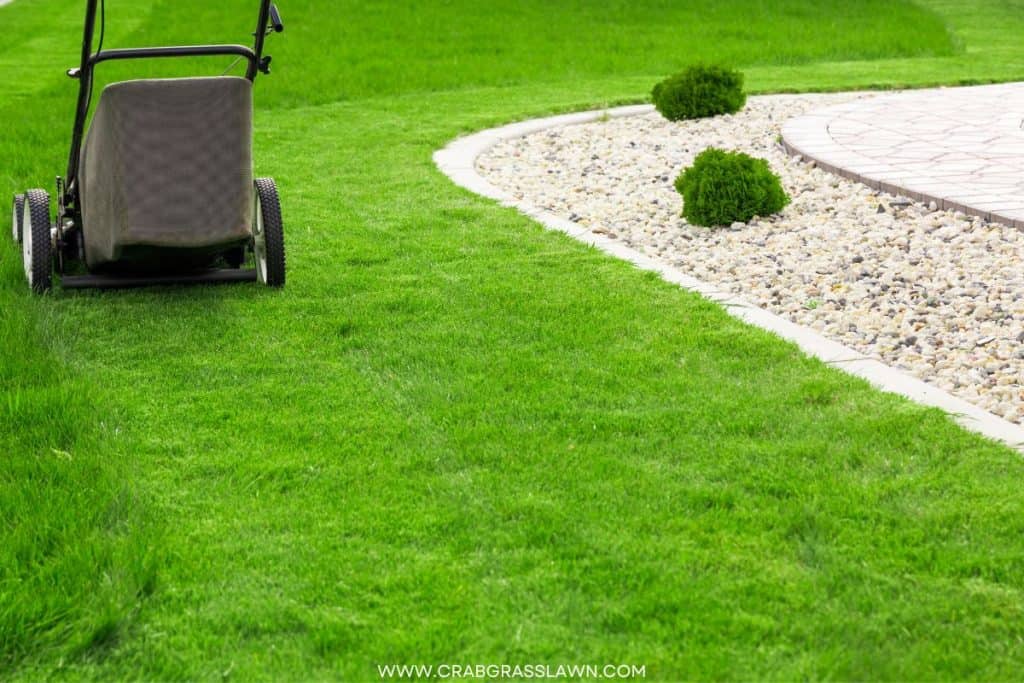 Final Thoughts
Getting back to the big question – buying a lawn striping kit for a mower – is it worth it – the answer is a resounding yes. Even though you can create stripes on your lawn with just your lawnmower, they will be pale, light, and often even hardly noticeable. 
Lawn mower striping kits and rollers can be big-ticket purchases, but I have listed some of the best products available in the market to ease your buying decision.
Before making a purchase, check if the lawn mower striping kit is compatible with your mower., Most, if not all of the lawnmower striping kits mentioned on this list allow you to mow and stripe at the same time and are compatible with riding and push-behind mowers.
Hi, Alex Kuritz here. Growing up I remember that my family had one of the best lawns in the neighborhood. Richly green and lush. I did a lot as I grew up in terms of caring and tending for not only my family's lawn but also my neighbors. I can say I have years of experience, and I am here to share it with you.