Have you noticed those neat patterns at Yankee Stadium? Well, in fact, those crisp designs are almost everywhere from major league baseball fields to your local little league lot.
And surprisingly, you can create those same intricate mowing patterns on your lawn. Also referred to as lawn striping, there are myriad different mowing patterns to explore including checkerboard, spirals, diamonds, and stars.
Benefits of Lawn Mowing Patterns
Apart from the visual appeal of clean lines on your lawn and creating darker lawn stripes, there are a plethora of other benefits of lawn mowing patterns.
Mowing your lawn in different patterns offers twofold benefits:
PRO TIP

When mowing your lawn, it's important to cut at the right grass height, which depending on the grass type could range between 2.5 inches to 4 inches.

But the mistake many homeowners make is applying the same pattern as the earlier mowing session, resulting in a grass that permanently lies flat and compact grass that reduces airflow and encourages disease.
It's worth mentioning that lawns mowed in the exact same pattern every time are less healthy than those that are mowed differently, and here's why!
Mowing your cool-season grass or warm-season grass the traditional way, which is mowing in a single direction creates grooves, track marks, holes, or low-growth spots that often lead to a mottled and uneven turf.
Uneven lawns typically have taller grass blades that slouch over shorter grass blades, blocking their access to the sun until they eventually die.
Factors Affecting Lawn Mowing Patterns
There are plenty of factors that affect lawn mowing patterns, starting with appearance. The appearance of a specific mowing pattern depends on the angle you're looking at it.
For example:
If the bending angle is away from you, the grass blades will appear lighter owing to the larger blade surface reflecting the light.
On the flip side, the blades of grass that are bent towards you will look darker because of the smaller blade surface reflecting the light.
Adding to that, the sun's exposure also affects the intensity of the pattern at varying times of the day. Because shorter grass blades bend less, they reflect less light than longer grass blades, therefore the mowing pattern will be less visible.
How Grass Type Affects Lawn Mowing Patterns
Lawn patterns and mowing stripes aren't suitable for all grass species, given that some types of grass (warm-season grasses) are rigid and bend less than others (cooler grass).
If you do manage to create lawn striping patterns on warm-season grasses like Bermuda and St. Augustine, the grass blades are more likely to spring back, so don't expect the striped pattern to last long.
Spreading Grass Clippings Can Create Pattern Irregularities
I recommend bagging your grass clippings during the process of creating stunning lawn mowing patterns.
A large accumulation of cut grass can:
Take away from the visual effect of the stripes
Suffocate and kill the grass.
7 Common Lawn Mowing Patterns
1. Stripe Pattern
The stripe pattern is perhaps the most common and simplest grass pattern. It is also the quickest aesthetically pleasing lawn pattern that you can create by simply mowing in straight rows.
Mow around the perimeter of your lawn
Turn around making parallel lines
2. Curves Pattern
Curves or waves make beautiful lawn mowing patterns and are a variation of stripe mowing patterns.
Create the first wave and use it as a guide to creating the other curves in your lawn
Make a 180-degree turn once you get to the edge and mow in the opposite direction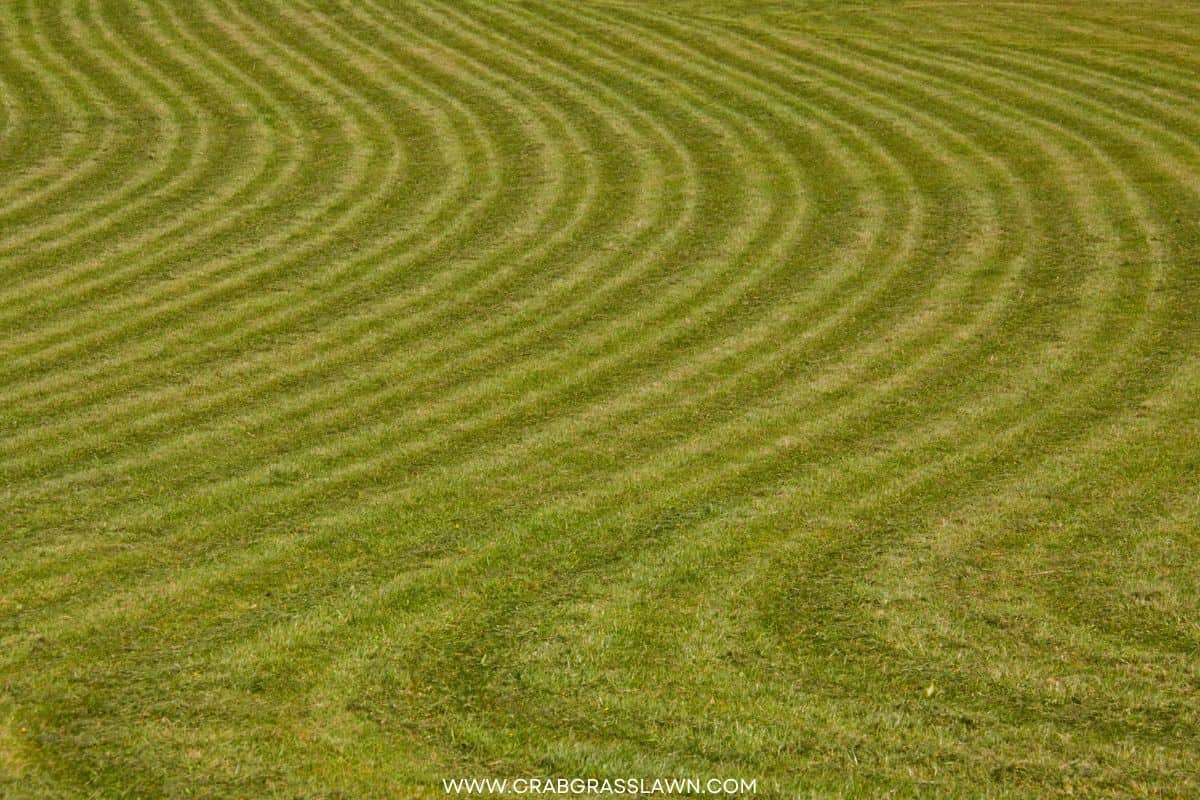 3. Varying Lines
Creating varying lines is one of the few complex patterns that require a fair amount of skill.
First, mow two rows next to each other in the same direction
Next mow a third row in the opposite direction
After creating these three rows, follow the same sequence to create the remaining varying lines in your lawn
4. Circular Pattern
There are two ways of making a circle pattern in your lawn – from the outside or the inside. If you don't have any focal point to use as a guide, starting from the outside is your best bet. But if you have a focal point, you can start from the inside and work your way to the edge of your lawn.
5. Checkerboard Lawn Pattern
If you want a baseball park look, a basic checkerboard lawn pattern should do the trick. The intensity of checkerboard stripes depends on the way grass blades bend in both directions and the reflection of the light.
Mow the grass in one direction
Once you get to the end of the row, turn around and mow the lawn at a 90-degree angle to the first mowed row
Continue this process until you've mowed the entire lawn
6. Diamond pattern or Crisscross Pattern
Achieving a diamond pattern or crisscross pattern can be a bit of a complex task but is possible if you pay attention. When making checkerboard stripes, you mow the lawn twice at a 90-degree angle, but in the diamond pattern, the second mowing should be done diagonally and at a 45-degree angle.
7. Concentric Circles
Concentric circles are basically circles but only in a spiral pattern
What are the Best Lawn Mowing Patterns
The Best Lawn Mowing Pattern – My Personal Favorite
I'm lucky to have a sprawling lawn, therefore circles are the most easiest and efficient pattern for me when mowing my lawn. After you mow the edges, continue making passes in a circular pattern until to reach the middle of your yard.
What Is the Most Efficient Pattern to Mow a Lawn?
Concentric circles are perhaps the most efficient pattern to mow on a lawn, especially for lawns with irregular shapes. Creating neat concentric circles is all about the turns.
What Is the Fastest Pattern to Mow a Lawn?
Mowing in rows is the fastest pattern for a lawn. However, it may not be the fastest pattern if you have a massive yard to mow
What Is the Coolest Lawn Mowing Pattern?
A mix of circles and lines is the coolest lawn-mowing pattern I've come across. If you have features such as trees and shrubs in the middle of your lawn, make circles around them and then finish the design with straight lines.
Best Lawn Mowing Pattern for Beginners
The circle pattern is the best lawn mowing pattern for beginners as you simply have to make passes in a circular pattern until you reach the middle of your yard.
Best Lawn Mowing Pattern for Small and Large Lawns
Adding stripes to both small and large lawns is relatively simple and can be done with a lawn mower mated with a rear roller, which is a tool that's typically found on rotary lawnmowers.
Best Lawn Mowing Pattern for Cool-Season Grasses
Cool-season grass showcase lawn mowing patterns quite well, therefore you can apply any type of lawn mowing pattern. You can even let your imagination run wild by mixing and matching different lawn-mowing patterns.
How to Mow Patterns Step by Step
While it's pretty easy to make mowing patterns on your lawn, it is good to know a few tips to amplify those patterns and make your yard the envy of the neighborhood.
1. Mow Your Grass Taller
Mowing your grass taller than the regular height creates darker lawn stripes and also gives the grass blades more flexibility to bend. Shorter grass blades will pop back up so making patterns will be a waste of your efforts.
If you mow your grass at a height between 2 inches to 2.5 inches, step up the height a few notches to 3 inches to 3.5 inches.
2. Use Lawn Features as a Guide
For simple lawn stripes, you don't ideally need to use any hardscape features such as garden beds or trees as a guide. But these landscape features come in handy when making complex mowing patterns such as concentric circles.
Professional Lawn Mowing Techniques
How Do You Mow and Get Stripes?
If you'd like to mow and get stripes to make your turf look like ballpark grass, follow this step-by-step guide.
To get the best lawn stripes, you'll either need a striping kit for your mower or a lawn roller.
When making stripes, make sure you mow in a straight line, which you can easily do by looking at least 10 feet in front of you while you mow instead of the ground right in front of the mower.
Turn the mower around when you reach the end of a row and mow in the opposite direction.
To add some pizzazz, you should use a lawn roller – easy to buy one online or make one yourself! Run the lawn roller over the stripes in the same direction you mowed – the difference will be pretty dramatic.
Affiliate links and images pulled from the Amazon Product Advertising API on: 2023-10-02
How Do You Mow a Checkerboard Pattern?
To mow a checkerboard pattern on your lawn:
Mow the grass from north to south or in any other direction
Come back in a parallel direction let's say from south to north
Turn your mower around each time you get to the end of a row
Repeat the previous step until you've mowed the entire lawn
How Do You Mow a Zig Zag Pattern?
To create a zig-zag pattern:
First, create a diagonal or checkerboard pattern
After which make a light stripe towards the center of the checkerboard area.
Move across the intersecting dark stripes towards the next light stripes at an angle of 90 degrees to the right.
Repeat the process until you cover the entire area.
How Do You Mow a Diamond Pattern?
You can mow a diamond pattern in a few easy steps:
Start by creating the longest diagonal center stripe.
Next, make a pass at the back next to it.
Go around the edge of your yard and cut another stripe in the same direction. You will now have one light stripe and two dark stripes next to it.
Continue mowing in this pattern until you reach the edge of your lawn, and continue alternating the stripes one out and two back.
Lastly, clean out the edges and smooth out any turn areas.
Lawn Mowing Patterns Tips and Tricks
Creating mowing patterns on your lawn is easy once you get the hang of it. But here are some tips and tricks to remember if you are getting your feet wet.
Best Tools for Lawn Mowing Patterns
1. Agri-Fab Lawn Roller
The Agri-Fab lawn roller is lightweight when empty and has a capacity of roughly 350 lbs pounds when filled with water. This lawn roller can be used to intensify the stripes on your lawn and measures 18 inches in diameter and 24 inches wide.
The Agri-Fab push lawn roller is made from sturdy polyethylene and can be used as a standalone tool or as a tow-behind lawn roller.
Affiliate links and images pulled from the Amazon Product Advertising API on: 2023-10-02
Here are some lawn roller alternatives you can use.
---
2. Lawn Stryper- Generation 3
The Lawn Stryper – Generation 3 is only compatible with Ego battery-powered 20″ to 22″ residential walk-behind lawn mowers. It is simple to install and provides ballpark-like striping results.
It properly bends the grass after you mow, and can be used with or without most bagging systems. The Generation 3 Lawn Stryper comes with a grooved roller for consistent stripes and a pattern guide.
Lawn Stryper- Generation 3 Lawn Striping System/Stripe Your Lawn...
ONLY WORKS WITH EGO battery powered 20''-22'' residential walk-behind lawn mowers.
PROFESSIONAL RESULTS AND BEAUTIFUL CURB APPEAL: Simple-to-install mower accessory system that allows lawn enthusiasts to get professional ballpark-like striping results. Create straight, wave, circle, checkerboard or any other pattern. Highlight your landscape and be the envy of the neighborhood.
EASY TO USE AND MAINTAIN: Easily attaches to your walk-behind lawn mower allowing one to mow and stripe at the same time. Works with and without most bagging systems. Roller/Cover can be removed within seconds while the bracketing system remains in place.
Affiliate links and images pulled from the Amazon Product Advertising API on: 2023-10-01
---
FAQs
Q. Should You Change the Pattern When Cutting Grass?
A. It's a good idea to change the mowing pattern when cutting grass to allow the blades to grow straighter and healthier.  
Q. What Is the General Rule of Thumb for Cutting the Lawn?
A. A good rule of thumb for cutting the lawn is never to cut more than the top thirds of the grass blades. Doing so may stress the grass and cause unsightly browning.
Q. What Is the Best Setting to Cut Grass?
A. The best setting for most grass types is a height between 3.25 and 4 inches. 
---
Here's an informative video on how to mow your lawn with patterns:
Final Thoughts
Creating lawn mowing patterns encourages a healthy lawn and improves the curb appeal of your property. There are plenty of different lawn mowing patterns you can create, but basic stripes are the easiest to start out with.
You can use any lawnmower to make lawn mowing patterns, but a lawn roller or a lawn striping kit can improve the intensity of the stripes.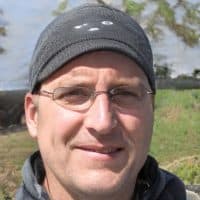 Hi, Alex Kuritz here. Growing up I remember that my family had one of the best lawns in the neighborhood. Richly green and lush. I did a lot as I grew up in terms of caring and tending for not only my family's lawn but also my neighbors. I can say I have years of experience, and I am here to share it with you.