Tall grass growth in lawns doesn't just affect the overall appearance of your home, but grows seeds and reseeds itself and encourages all types of plant life to set up shop.
Allowing your grass to grow tall due to non-maintenance and neglect creates clumps and patchy areas in your yard.
In worse cases, very tall grass can provide the right conditions for weeds to germinate. What's even worse is that tall grass isn't easy to cut even with the best lawn mowers, and not as easy as pushing your lawn mower across the lawn.
But it's not impossible to cut tall grass either and I've listed 5 easy steps to make this task of cutting overgrown grass a whole lot easier including with tools such as a sickle.
Further down in this article, I've also highlighted how to use a lawnmower properly to cut tall grass without causing damage to the tool, and tips on preventing grass from growing out of control and maintaining a healthy lawn.
But what if you don't have a lawnmower? Read on to find out 5 creative ways to cut tall grass without a lawnmower.
Affiliate Disclaimer: My content may contain links to products I use. As an Amazon Associate and participant in various other affiliate programs, I earn a small commission at no extra cost to you from qualifying purchases.
Why Cutting Tall Grass Can Be a Challenge?
Cutting tall grass can be a challenge because mowers aren't designed to cut tall rough grass. Doing so can damage the mower engine and needless to say will require extra effort in pushing a mower across overgrown grass.
Tall grass mowing can be regarded as cutting grass more than half its length. The general rule of thumb is to never cut grass more than one-third of its height.
If you do, it can be detrimental to grass sward health and can promote the onset of pests, weeds, and moss.
But things happen such as when a homeowner goes on a vacation for more than two weeks and comes back and makes the mistake of mowing the lawn the same height as before.
This leads to lawn stress and the grass will take longer to recover. The right way to deal with overgrown grass is to take a look at the grass and cut no more than 1/3 of the top.
Depending on how tall the grass has grown:
Trim the top of the grass with a weed whacker or scythe,
Let the grass heal for a few days, and then
Cut the grass with a mower.
Once you've got the grass under control, apply a pre-emergent and fertilizer to ensure your lawn is in good health. Adding to this, maintain a lawn care schedule that includes mowing, and applying fertilizer and herbicides at the right time. Know the differences between pre-emergent and post-emergent herbicides.
Tips for Cutting Tall Grass
With a Lawn Mower
Start by cutting the top of the grass with a weed whacker or scythe
Water the grass and let it recover in roughly a week
Cut one-third of the grass again and wait for a few more days
You can perform the final cut with a lawnmower
Without a Lawn Mower
There are several tools available to cut tall grass without a mower
Use a string trimmer, shears, or scythe to remove the top one-third of the grass
Water the grass and let it recover for a few days
Once the grass is dry, repeat the process but cut only one-third of the grass each time
How to Tackle an Overgrown Lawn?
There are a few things to do before cutting tall grass, and it's important to follow these basic steps to prevent injury to yourself and damage to the tools including the common hand tools you'll be using.
1. Sharpen Mower Blades and Sickle Blade
I can't stress this enough but mowing with dull lawnmower blades whether with a gas-powered, electric lawnmower, push mower or a robotic lawnmower can make the turf more susceptible to disease. 
First, check if your mower blades need to be sharpened by looking for:
Dents and nicks in the blades
Brown, frayed grass edges
Grass blades appear torn instead of sliced
Uneven grass height after cutting
How to Sharpen Lawnmower Blades: Step-by-Step
Remove the blade from the mower and set it aside
Put on safety gloves, safety glasses, and ear protection
Clamp the mower blade on a worktable and check whether it's best to sharpen the blade or replace it
Sharpen the lawnmower blade with a 10-inch file or grindstone by starting from the top side of the cutting edge
Turn the blade over and repeat the process
2. Wear Protective Clothing
You're probably used to dressing casually when mowing your lawn. While this type of attire is extremely comfortable, you should wear a long-sleeve shirt, and eye and ear protection to protect yourself from objects that may be thrown from the lawnmower.
3. Remove Rocks and Debris from the Lawn
Although it may be hard to see rocks and debris through tall grass, it's a good idea to dig a bit deeper and remove any rocks, branches, and debris. If not removed, these hard objects can fly at you and/or may cause damage to your mower.
4. Keep Children and Pets Away
Children and pets can be distracting when mowing your lawn. Further, mowing your lawn can also cause injury to children and pets so make sure they stay indoors.
5. Take a Break
Cutting overgrown grass in the early spring or late spring is a daunting task that requires considerable effort. Take a breather if you're feeling exhausted because you don't want to overwork yourself.
Best Tools for Cutting Tall Grass
You will need a few tools to cut tall grass even if you have a mower: I've listed them below.
Deal
BLACK+DECKER String Trimmer with Auto Feed, Electric, 6.5-Amp,...
Automatic Feed Spool (AFS) technology of the edger/trimmer eliminates bumping for hassle-free line feeding that helps you work without interruptions
The 6.5 amp motor and POWERDRIVE Transmission of the grass cutter provide maximum performance when trimming through the toughest weeds, grass, and overgrowth
2-in-1 trimmer/edger with wheeled edge guide - just rotate to convert from lawn trimmer to wheeled edger
Affiliate links and images pulled from the Amazon Product Advertising API on: 2023-12-09
The Black + Decker string trimmer features Automatic Feed Spool technology that provides hassle-free line feeding with no bumping.
In terms of power, the Black + Decker string trimmer doesn't disappoint with its 6.5 amp motor coupled with a POWERDRIVE transmission.
Lawnmower – You probably already own a powered lawnmower so I'm not going to tell you to buy a new one to cut tall grass. Just make sure the blades are sharp to achieve a clean and crisp cut.
However, cutting tall grass can clog a powered lawnmower, so it's best to use a reel mower, string trimmer, or scythe first to trim tall grass.
A reel mower works differently than other types of mowers. The blades of reel mowers spin vertically and perform a scissoring action when cutting grass.
The American Lawn Mower reel mower can handle grass as high as 3/4 inches. It features 5 tempered alloy steel blades and offers a wide 18-inch cutting width.
Deal
American Lawn Mower 1815-18 18-Inch 5-Blade Reel Mower & SK-01...
Bundle includes (1) 1815-18 18-inch reel lawn mower and (1) SK-1 reel mower sharpening kit
Reel mower: 5-Blade reel with a cutting width of 18" and durable 10" polymer wheels for maximum maneuverability
Mechanical lawn mower with an adjustable blade height of 0.5"-2.5" with scissor action cut
Affiliate links and images pulled from the Amazon Product Advertising API on: 2023-12-09
Sickle – A sickle like the Zenport model is designed for heavy-duty cutting and comes with a 9″ razor-sharp blade.
Shears – The HEMOPLT shears are perhaps the best shears available to cut tall grass owing to its ultra-sharp blades and ergonomic design.
Rake – you will need a rake to clean up the grass clippings. I usually leave grass clippings on the lawn because they are a good source of nutrients.
How to Cut Tall Grass With a Lawnmower – Step by Step?
Even though you may be eager to cut tall grass in a single pass, it's not the right approach because you can cause damage to your lawnmower and perhaps not achieve an even cut.
The best time to cut tall grass is when it's dry. Moisture and morning dew put pressure on the stalk of wet grass and tend to bend it, which makes a straight cut challenging. Refer to this lawn care calendar for maintaining a lush, green lawn.
But since you've let your lawn grow excessively tall, the grass clippings may be in thick clumps and matted down.
Step 1: Load the weed eater with a strong 0.080 or 0.95 trimmer line and start cutting a fraction (one-third) of the tall grass. Alternatively, you can also use a scythe or shears to remove the top layer of grass.
Don't put the trimmer, scythe, or trimmer back just yet because you will have to cut the tall grass again a couple of days after.
Step 2: Water your lawn, and leave it for a week, after which trim the grass to less than 6 inches.
Step 3: After the second cut, use your lawnmower but be sure not to take off too much. Just aim for one-third every time you cut to avoid stressing out the grass. You may have to set the lawnmower to its highest setting to achieve this.
Step 4: Don't be surprised if your lawn looks awful after the second cut, which in most cases is only when your lawn is extremely overgrown.
Step 5: Now that you've cleaned out the worse bits of the overgrown lawn, reseed any bare patches with new grass seed, and apply fertilizer if you think it's necessary.
Wait for the lawn to reach a height one-third higher than the standard mowing height before regular mowing.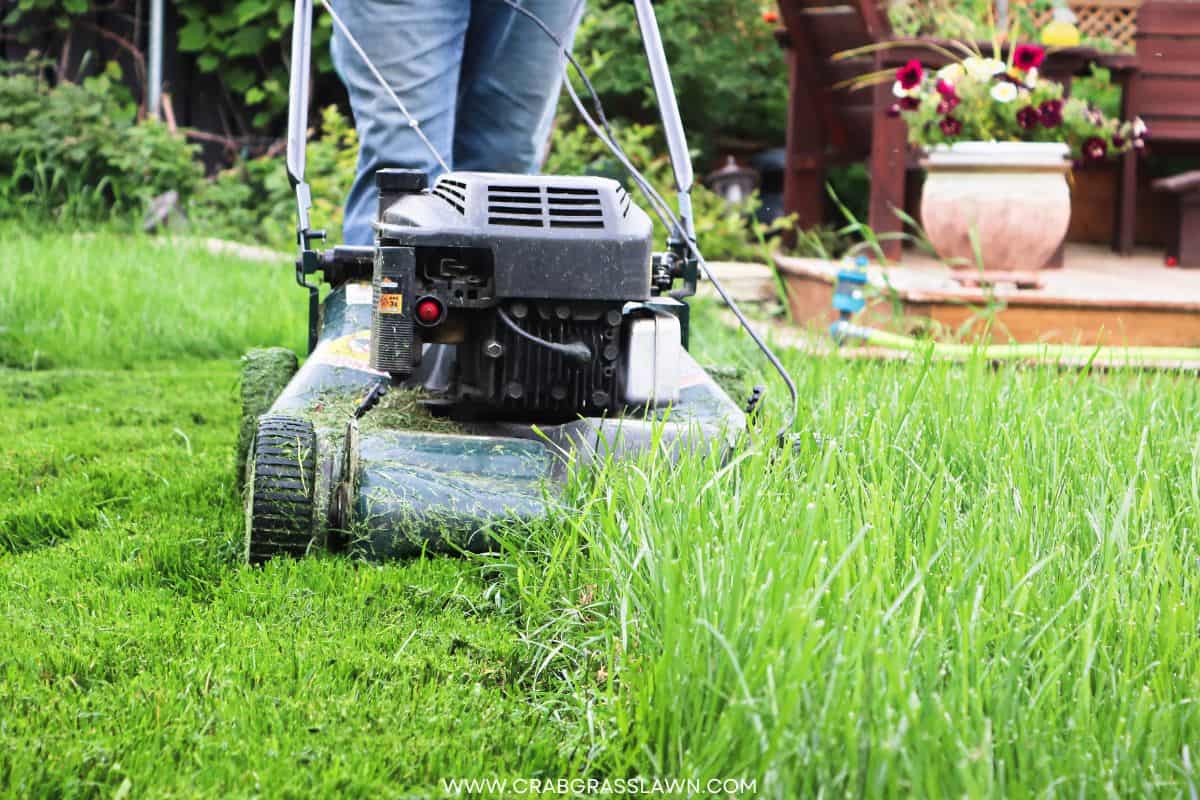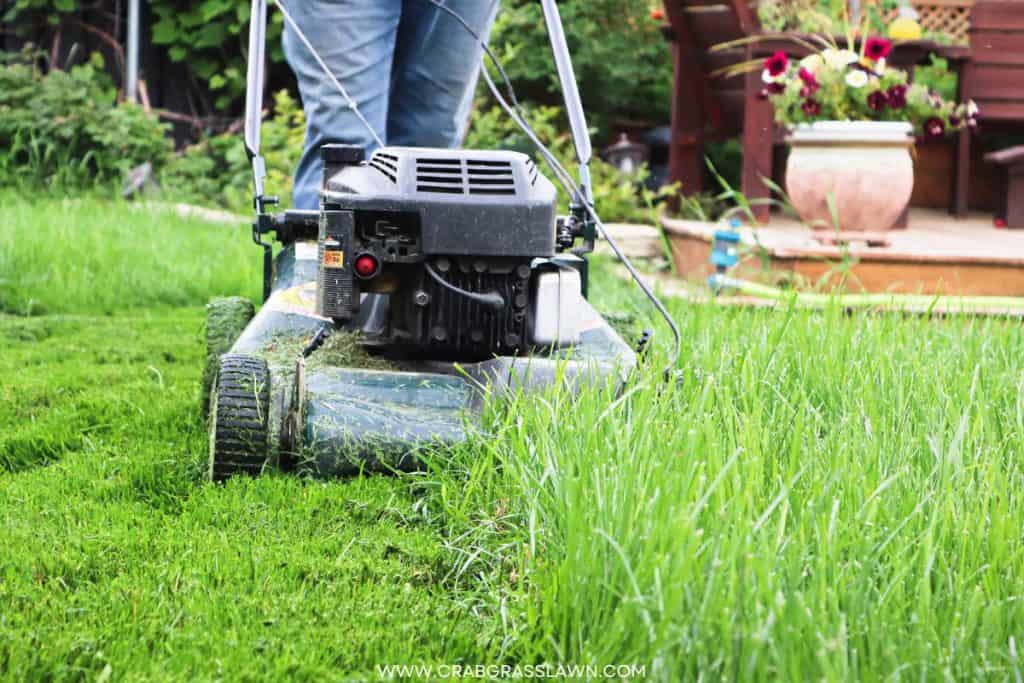 How to Cut Grass with a Riding Mower – Step by Step?
Do not cut tall grass with a riding mower when it's wet
Clear the area of rocks and debris
Use a string trimmer or shears to cut the grass to a safe height
Adjust the blade height of the riding mower
Avoid cutting your entire lawn in one go – give your riding mower and yourself a break
How to Cut Tall Grass with a Reel Mower – Step by Step?
A reel mower is an eco-friendly way of cutting tall grass, and the best part is that you don't have to worry about damaging the mower engine because there isn't one!
Before cutting tall grass with a reel mower, it's a good idea to understand how a reel mower works. Reel mower manufacturers have given their products a facelift, and today's this range of mowers comes with sharper blades and a few other bells and whistles.
One of the noteworthy differences between a reel mower and gas and electric mowers is that the former is fitted with blades that spin in a vertical plane and the latter comes with a rotary blade with a relatively sharp edge.
Therefore, the blade of a reel mower "snips" the tall grass just like scissors. Adding to this, reel mowers are equipped with adjustable wheels, which allow you to adjust the cutting height.
On the downside, reel mowers aren't built to handle grass taller than 4 inches and taller blades of grass can get caught up in the blades.
To cut grass taller than 4 inches with a reel mower:
Use a string trimmer to cut the grass to a more manageable height
Make sure the blades of the reel mower are sharp and set the blades to the highest height setting
Clear any debris from the lawn
Walk a full pass with the reel mower down until the end of your lawn and return on the same path
Water your lawn and apply fertilizer and herbicides if needed
How to Cut Tall Grass Without a Lawnmower?
Now let's say your lawnmower stops working or you'd like to avoid the risk of damaging the tool by cutting tall grass.
Well, the good news is that there are several creative ways of cutting tall grass without a mower. However, you will have to break a sweat if you're cutting grass without a mower.
How to Cut Long Grass by Hand?
You can't cut extremely long grass by hand but will need a tool for the job such as a scythe, shears, or sickle.
Check out this video on how to cut grass by hand by Spencer Lawn Care:
How to Cut Tall Grass with a Scythe
If you want to veer away from using a lawnmower or string trimmer, you can opt for a scythe or cut tall grass by hand.
Many of us aren't familiar with using a scythe, and others have no clue what a scythe looks like. To explain briefly, a scythe is a tool that can be used for mowing grass or harvesting crops and consists of a blade and shaft.
The blade of a scythe is literally paper thin at the cutting edge, making it easy to cut tall grass without any hiccups.
Cutting tall grass with a scythe is somewhat of an art and a skill that takes time, patience, and practice. Get a firm grip on the scythe, rotate your body at the waist and swing the tool forward to cut the grass blades.
How to Cut Tall Grass with Shears
Shears are available in different sizes but you'll need the biggest size available to cut tall grass. They are similar in design to giant scissors and can be held with both hands.
You can use shears while standing but you'll need to bend a bit to cut tall grass. I suggest placing knee pads on the ground and kneeling on them to cut tall grass. In this way, you won't put a strain on your back and feet.
How to Cut Tall Grass with a Sickle
A sickle is a smaller version of a scythe and you can use this tool in a similar manner as a scythe to cut tall grass. Make sure the grass is dry before using a sickle to cut grass with a single pass.
How to Cut Tall Grass with a Hedge Trimmer
A hedge trimmer is in a similar vein to a string trimmer but works a bit differently. This gardening tool is typically used to cut down large swaths of bushes and shrubbery and is quite effective at cutting tall grass.
Achieving an even cut with a hedge trimmer does require some level of skill, but you can simply swing the tool widely if you're not too concerned about the quality of the cut.
You have to be careful when using a hedge trimmer because there are several horror stories of people slicing through extension cords or worse.
The Black + Decker is a great hedge trimmer for cutting long grass and features a 24″ dual-action blade. It also comes with a high-performance battery and an ergonomic non-slip handle
How to Cut Tall Grass with Goats
Believe it or not, there are many people who don't mow their lawns but seek help from a friendly farm animal instead.
However, you won't see much of this in city areas but is common in rural areas, particularly in farms. Goats obviously won't provide an even cut but can help eliminate tall grass without any effort from you.
How to Cut Tall Grass with a Weed Eater or Strimmer?
Another pitfall of using a lawnmower to cut tall grass is the machine's large size. And cutting tall grass with a lawn mower means that you'll have to empty the bag often, for which a string trimmer proves handy.
Electric string trimmers are handy and powerful tools that are also easy to store. They may not provide you with a perfect even cut but can help you get as close to the grass height you desire.
Before using a string trimmer, ensure the grass is completely dry, and avoid cutting grass if it has rained recently. Get a good grip on the trimmer and start cutting the top of the grass in side-to-side motion and make your way down.
Cutting grass with a string trimmer does take longer than a lawnmower, and your grass clippings will be all over the place instead of in a lawnmower collection bag.
Cutting grass with a string trimmer does require a bit of practice and it's mostly all about hand-eye coordination to get it right.
Scour the area to see if there's anything that needs clearing.
Wear hand and eye protection and check if the trimmer line is in good working order.
Fire up the trimmer and hold it correctly, which will also make it more comfortable to use.
Go around the top edges first and then the entire border of the lawn.
Remember, you can't cut grass quickly with a string trimmer if you want the grass to look presentable afterward.
Walk up and down your lawn with the string trimmer until you've cut the entire lawn, and clean up the grass clippings.
Lastly, use a lawnmower to get an even cut.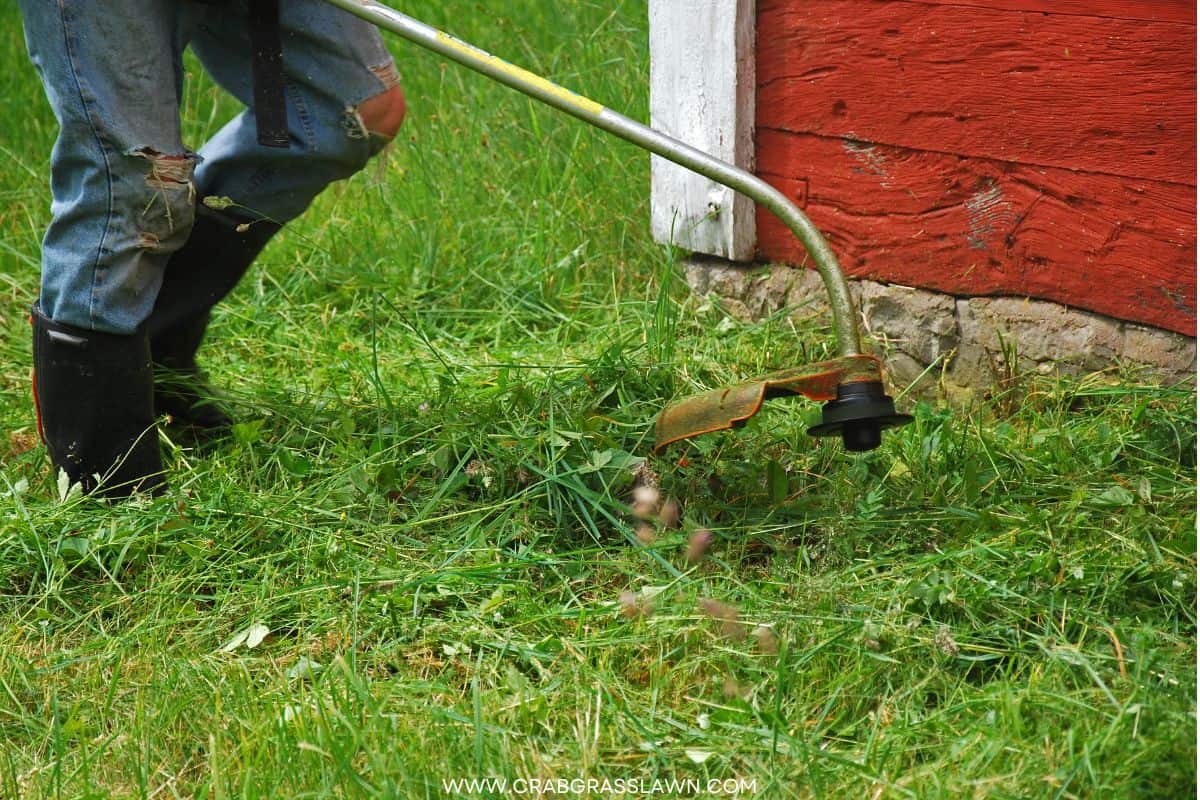 What to Do After Cutting Tall Grass?
There are a few things to do after cutting tall grass, starting with collecting the grass clippings. You can either bag the grass clippings or return them to the lawn, but the latter isn't recommended.
Grass clippings that measure an inch or less in length can be left on the lawn, but any longer should be removed as they may shade or smother the grass underneath and cause lawn damage.
Overgrown grass also means that you've not fertilized your lawn for a while so this is a good time to apply a nitrogen-rich fertilizer.
Before applying fertilizer, perform a soil test to see if your soil is lacking essential nutrients for healthy grass growth. You can either take soil samples and send them to a lab or buy a soil test kit and perform the test at home.
Once you get the results, you'll be able to determine if your soil is deficient in certain nutrients and buy an appropriate fertilizer.
Overgrown Grass Cutting Service
Given that cutting an overgrown lawn can be challenging, you can commission commercial services to get the job done.
However, it's worth mentioning that professional services will probably charge you more than their regular rate to cut an overgrown lawn since there's more work involved.
The rate will vary depending on the area you live in, but the high end is $500 for a sprawling overgrown lawn.
If you want to save on these high costs, use a string trimmer or shears to cut the overgrown grass and have a professional lawn mowing company take care of the rest.
You can even seek help from your neighborhood kids, who'd be more than happy to complete the task at a fraction of the cost of what a professional company would charge.
Prevention & Proper Maintenance – Proper Maintenance is Important After Mowing Tall Grass
As the saying goes "prevention is better than cure" and sticking to a mowing schedule is the key to preventing your grass from growing out of control.
When cutting grass, always follow the one-third rule, which entails cutting no more than one-third of the grass blade and keeping the grass height at the recommended level for your grass type.
Apart from mowing your lawn in a timely manner, it's important to edge the turf because straggly grass edges can give even the healthiest lawn a poor appearance.
FAQs
Q. Can Electric Mowers Cut Tall Grass?
A. Cutting tall grass puts extra pressure on an electric mower, which can wear out its engine and damage the motor. You can use an electric mower to cut tall grass, but it's best to trim the grass first with a string trimmer or scythe before running the mower on your lawn.
Q. Can a Reel Mower Cut Tall Grass?
A. Grass is considered tall if it's higher than 4 inches. Reel mowers are perfectly suited to cut tall grass as long as the blades are sharp and you've set the mower blades to the maximum height.
Q. How to Cut 3FT Tall Grass?
A. 3ft tall grass is regarded as extremely overgrown grass, for which you'll have to put tin the effort of trimming the grass first with a string trimmer, shears, or scythe before mowing the lawn with a lawnmower for an even cut.
3ft tall grass also implies that the lawn has been neglected for a while, so you'll have to perform a soil test to replenish any nutrient deficiencies.
Q. Do You Cut Tall Grass in Fall?
A. Many homeowners prefer to cut tall grass in the fall but it's often not a good idea as the tall foliage helps insulate the crown of the plants. Instead, wait until late winter or early winter to cut tall grass.
Q. What Happens to Grass if We Don't Cut It?
A. Many things, starting with the grass clippings clumping up over the turf, which blocks sunlight and causes stunted growth.
Adding to this, a well-manicured lawn often is a healthy lawn and an unhealthy lawn can be an inviting ground for pests and weeds.
Final Thoughts
If you let your grass grow wild, you may get a friendly reminder from the city to mow your lawn. And needless to say that most lawn care companies will charge a premium price to get your lawn back into shape by mowing tall grass if the long grass is over 10 inches in height.
Overgrown grass isn't just a blight on your neighborhood but also serves as a welcoming ground for bugs, insects, and snakes.
For overgrown grass, trim the top of the grass blades using a string trimmer, scythe, or shears, and mow the lawn to an appropriate grass height.
Hi, Alex Kuritz here. Growing up I remember that my family had one of the best lawns in the neighborhood. Richly green and lush. I did a lot as I grew up in terms of caring and tending for not only my family's lawn but also my neighbors. I can say I have years of experience, and I am here to share it with you.