My lawn care business has recently acquired a new client who's commissioned us for a few lawn care services, including lawn fertilization, weed control, and routine lawn mowing.
Careful inspection of his sprawling lawn indicates that the cost of lawn care services will be expensive due to the massive size of the lawn and its rough, hilly terrain.
Since a push lawn mower isn't going to cut it, I'm going to have to use a specialized riding lawn mower for hills for this job.
Riding lawn mowers come in different deck sizes and a variety of great features. This includes options like rear-wheel drive or front-wheel drive systems, excellent traction, soft-touch steering, and robust engines such as a Briggs & Stratton engine. Most riding lawn mowers do a remarkable job at leaving a cut lawn looking like velvet.
But that doesn't mean that all riding lawn mowers are suited to every yard and its owner. Some riding mowers are designed to handle extreme mowing conditions like tall grass, wet grass, and overgrown grass. Others work better for mowing grass on slopy and/or bumpy terrain.
I tested over 20 riding lawn mowers for hills to find out how they'd perform on slopes in terms of cutting ability, finish quality, and operator comfort. From all my research, here are the 10 best riding lawn mowers for hills.
In a rush? These are the ones I recommend. But keep reading if you want more info on each.
---
DIY Lawn Care, Simplified!
Crabgrass Lawn has partnered with Sunday to get your lawn exactly what it needs to thrive. Use the code "CGLAWN20" to get $20 off.
---
The Best Riding Lawn Mower for Hills
1. John Deere X500 Select Series
John Deere is a leading American manufacturer of agricultural machinery, forestry machinery, lawn care equipment, and a wide range of riding mowers.
Of all the John Deere riding lawn mowers, the X500 Select Series is the best. Why you ask? Well, for starters, the Series is available in several different deck sizes, including 48 inches and 58 inches.
Further, the X500 Series boast a 24 hp (17.9 kW) iTorque power system, and an FS730V engine. They also feature a V-twin air-cooled design that offers unmatched power and performance.
Regarding slopes, the X500 Select Series can climb steep inclines without any hiccups, making them one of the best riding lawn mowers for hills.
The John Deere X500 mower comes with 24×9.5-12 turf tires, which provide superior traction on rough and uneven terrain. They are equipped with a K72 hydrostatic transmission integrated with a transaxle.
For peace of mind, they are backed by a 4-year/500-hour bumper-to-bumper warranty.
Pros:
Cons:
---
2. Exmark Quest E-Series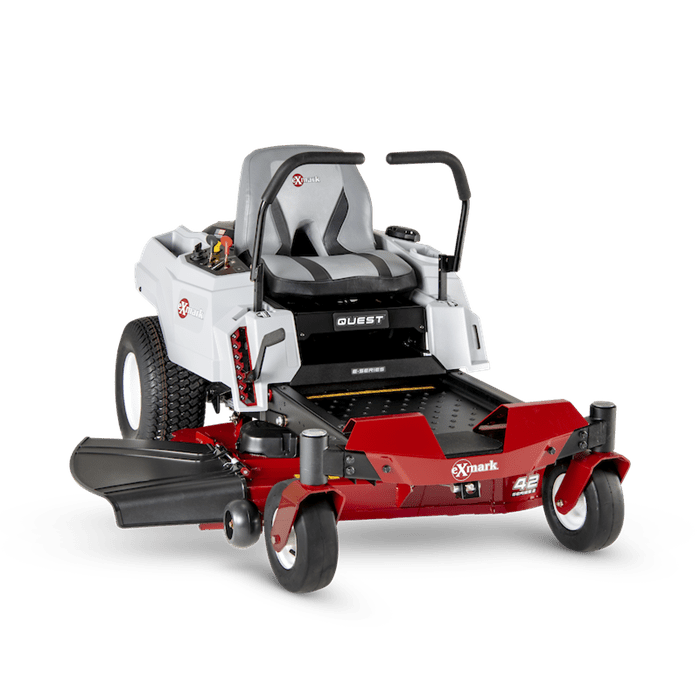 The Exmark Quest E-Series mowers are in a league of their own and come loaded with innovative features. They allow you to mow at a speed of 2.8 acres per hour, and travel at 7 mph.
Further, the Quest series riding lawn mowers feature zero-turn functionality. This means the turning radius is effectively zero.
Exmark lawn mowers are also more fuel efficient so you won't use much gas to cut your lawn. The Exmark Quest E-Series feature floating decks that are connected to the frame through a suspension system and respond well to bumps and inconsistencies on any terrain.
But that's not all – the Exmark Quest mowers can be ordered in 42-inch and 50-inch cutting decks and are powered by a robust 22-horsepower Kohler engine.
In terms of fuel tank capacity, the Exmark Quest lawn mower come with a large 3-gallon tank, so you won't have to waste time filling up frequently.
Adding to this, the Exmark Quest Series are equipped with commercial-grade tires that provide increased traction and superior handling.
These riding lawn mowers from Exmark come with two Hydro-Gear ZT-2100 hydrostatic transmissions and operator presence controls.
Pros:
---
3. Bad Boy Maverick Riding Lawn Mower for Hills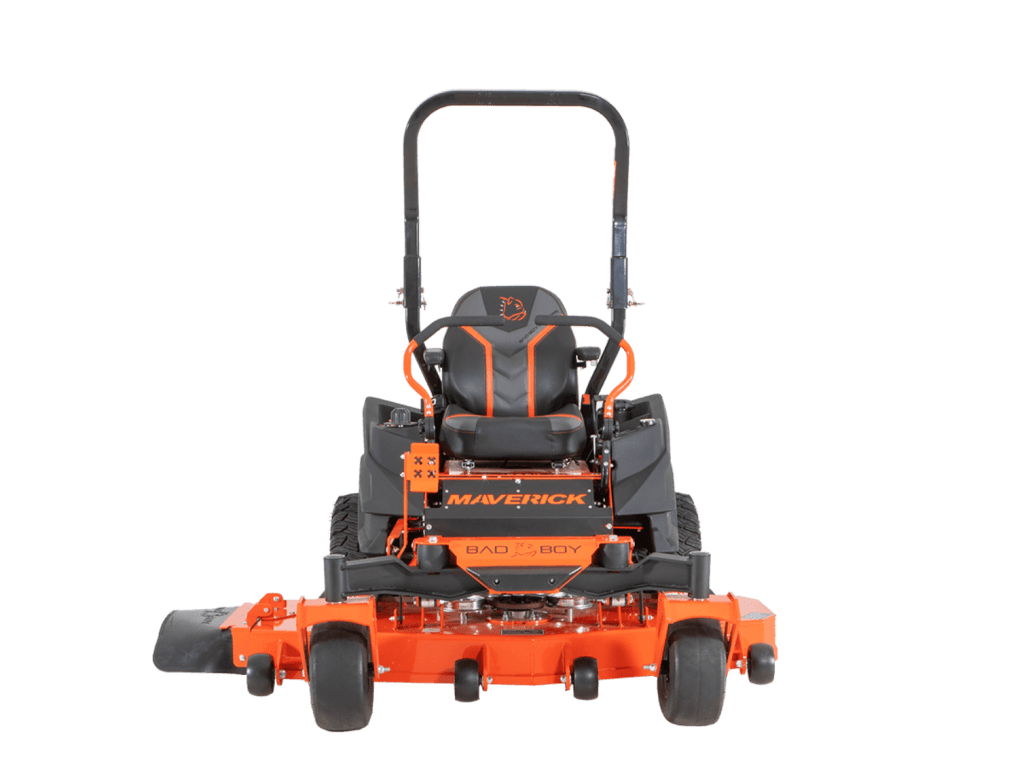 The Bad Boy Maverick riding lawn mower for hills is billed as the first commercial-grade mower with an integrated drive system and features the company's patented EZ-ride system.
It features a ton of improvements over its predecessor that collectively make for a comfortable ride and cleaner cut lawn.
These improvements include new front forks and a plush padded seat that make long mowing rides a joy. The Bay Boy Maverick riding lawn mower is equipped with a Hydro-Gear 3200 Series integrated drive system and rests sturdily on a heavy-duty, all-steel, all-welded frame.
It comes with an independent front and rear suspension system that makes it easy to cut on uneven terrain.
The Bad Boy Maverick lawn mower is powered by one of three engines:
Kohler Confidant ZT740 747cc – 25hp
Kawasaki FS730 726cc – 24hp, or
Briggs CXI27 810cc – 27hp.
In addition to all that, it comes with maintenance-free spindles and a deck lift pedal complete with a deck dial adjustment system. For a residential riding lawn mower for hills that showcases commercial-grade capabilities, the Bad Boy mower is hard to beat.
Pros:
Cons:
---
4. Cub Cadet Riding Mowers for Hills
Cub Cadet offers a massive range of riding lawn mowers. Most models do a remarkable job of cutting grass on hills and slopy terrain.
The Cub Cadet mowers feature a one-stacked deck that's made from stamped and fabricated material. They are built the latest electronic fuel-injected technology (EFI), which reduces fuel use by over 25 percent.
Cub Cadet lawn mowers are built for both great performance and total comfort and come with adjustable seating, comfort-grip steering, and excellent ergonomics.
They boast automotive-grade corrosion resistance that protects the machines against wear and tear, and responsive handling.
Most, if not all, Cub Cadet riding lawn mowers are powered by award-worthy KOHLER 7000 Series twin-cylinder engines, so you can expect nothing less than superior performance on the job site.
They are backed by a 3-year/no-hour limit warranty against any manufacturer defects.
Pros:
Cons:
---
5. Husqvarna Riding Mowers for Hills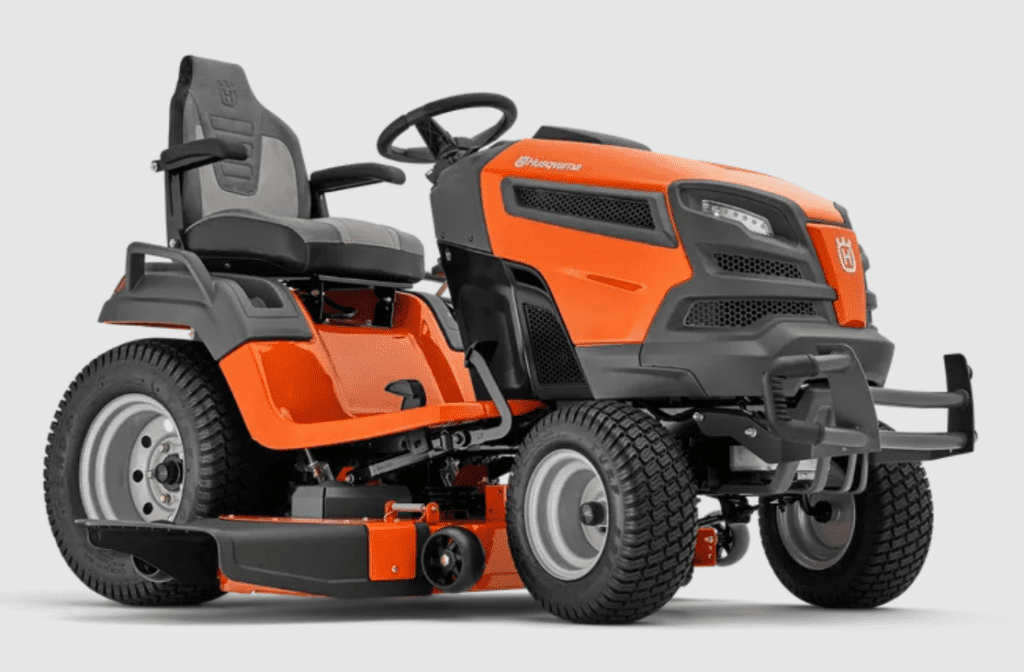 Husqvarna is another big name in the lawn and garden tool space and they offer a wide range of mowers. Their gas-powered models are equipped with great features, and some even come with 20-inch, heavy-duty tires and an automatic transmission system.
The Husqvarna TS 354XD riding lawn mower boasts power-packed performance and unbeatable capabilities in its class.
It's tucked away neatly in a heavy-duty frame that's made from 11-gauge bolted steel, topped with paint to prevent rust. The hood of the Husqvarna TS 354XD is also crated with solid steel, which greatly reduces the paint fade compared to plastic.
Unlike most other models in this segment, the Husqvarna TS 354XD lawn mower for hills is fitted with an oversized, extra-thick deluxe steering wheel. It features a soft touch inner surface for better ergonomics.
Adding to its long list of features is a handy cruise control system, which allows the user to maintain a consistent speed over uneven and hilly terrain. There's also a rugged brush guard located at the front and an easy-access fuel cap, so you don't have to open the engine hood to fuel up.
The Husqvarna TS 354XD lawn mower is factory-fitted with bright LED headlights that allow you to operate the machine in low-light conditions.
It comes with a ClearCut fabricated cutting deck with reinforced steel for maximum durability and a pressure-lubricated, two-cylinder Kawasaki engine with an oil pump and oil filter.
When it comes to comfort, the Husqvarna TS 354XD lawn mower doesn't disappoint with a high back seat and armrests for added support when mowing.
Other noteworthy features of the Husqvarna TS 354XD riding lawn mower include a deluxe gauge package that includes an ammeter and hour meter gauges and an electronic locking differential.
Pros:
Cons:
---
6. Craftsman Riding Mowers for Hills
My neighbor recently invested in a Craftsman lawn mower and after using it a couple of times, I can vouch for its excellent performance and durability. Craftsman lawn mowers are built tough, highly affordable, and do not scrimp on key features.
The Craftsman TURNTIGHT riding lawn mower is one of the company's top-selling models and provides a 42-inch cutting path. It is equipped with a 19.5 HP KOHLER, single-cylinder engine, and a foot pedal hydrostatic transmission for smooth riding.
The TurnTight lawn mower by Craftsman is engineered for optimized cuts, thanks to its 42-inch stamped steel deck that allows users to cut up to 1-1/2 acres of lawn.
The Craftsman TurnTight comes with a soft-touch steering wheel and a cut-and-sew high back seat that provides superior comfort. It also features shock-absorbing front-end protection with a brush guard to protect the machine against dents and scratches.
The Craftsman TurnTight lawn mower comes with a 3-gallon fuel tank and offers 12 mowing heights to choose from. It is backed by an impressive 3-year warranty against any manufacturer defects.
Cons:
---
7. Remington Riding Lawn Mowers
Remington offers two riding lawn mower models to choose from – a 38-inch riding mower and a 42-inch lawn tractor, both of which come with similar features like bagging and mulching capabilities.
The Remington 42-inch riding lawn tractor is fitted with a CVT – Continous Variable Transmission (aka automatic transmission) so you just have to pedal and go.
It features a powerful 420cc Remington engine and easy toolless deck removal. The 42-inch Remington riding lawn mower also features a deck wash and can be assembled in a few minutes.
The 38-inch Remington mower comes with user-friendly features such as a cup holder and bright LED headlights. It is equipped with a 7-speed transmission and is powered by a Remington 420cc engine.
Both the Remington 38-inch and 42-inch mowers are backed by a 2-year warranty against any manufacturer defects.
Cons:
---
8. Troy-Bilt Riding Lawn Mower for Hills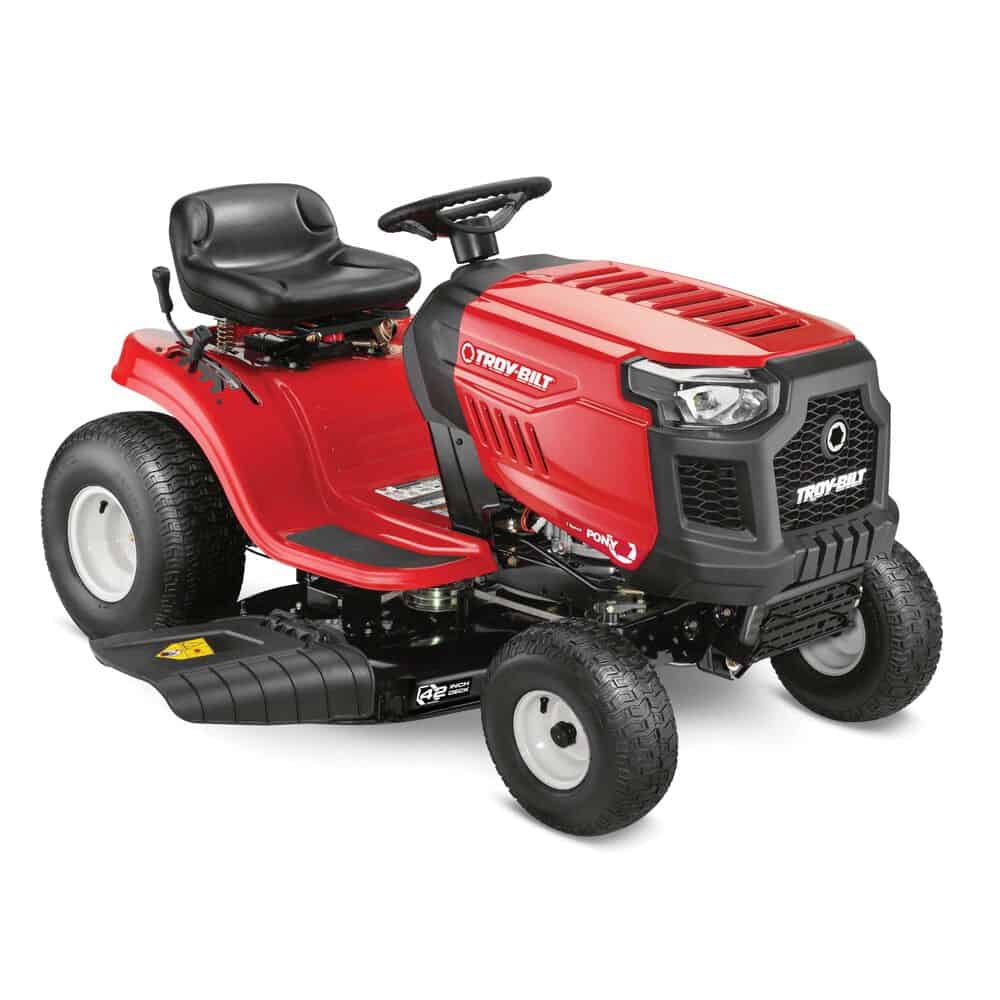 Troy-Bilt has a sizeable range of mowers for hills, but the Pony 42-inch hits the sweet spot. If you have a larger lawn, you can step it up a few notches to the 46-inch Bronco, which comes with a best-in-class 541cc Kohler engine. 
The Troy-Bilt Pony 42 isn't just a showstopper, it is also loaded with several premium features such as a rugged and reliable 42-inch steel deck.
It is one of the few riding lawn mowers that comes with a step-through frame – making it easy for users of all heights to get on and off the machine.
The Troy-Bilt Pony 42 lawn mower for hills is equipped with a robust 500cc Briggs & Stratton engine that is engineered to deliver plenty of power, making it easy to tackle overgrown grass.
It features the company's patented 7-speed Shift-on-the-Go transmission, which adjusts the speed automatically according to your needs.
The Pony 42 provides an 18-inch turning radius, allowing you to easily get around obstacles in your lawn. It is fitted with a dash panel control and is protected by a limited manufacturer warranty.
Cons:
---
9. Ryobi Electric Riding Lawnmower – Best Battery-Powered Mower for Hills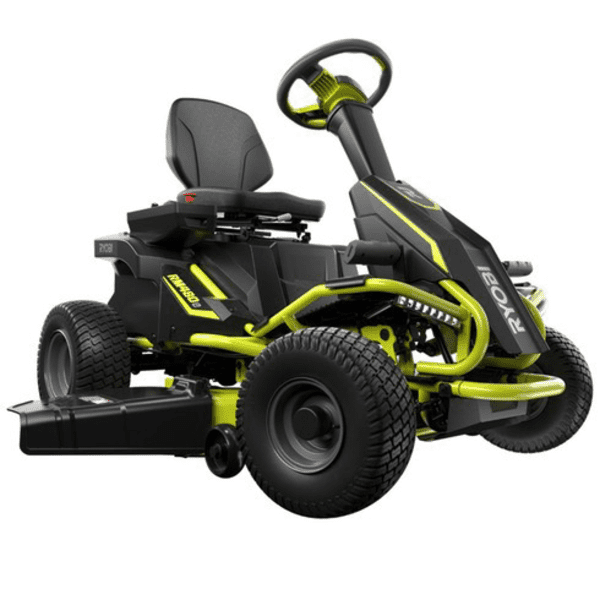 There are very few electric models available in the riding lawnmower segment such as the Ryobi battery-powered model. It showcases a sleek footprint and offers up to 2.5 hours of runtime/up to 2.5 acres per charge.
The Ryobi battery-powered mower is a low-maintenance model, given that there are no belts, spark plugs. filters or gas fill-ups to deal with. It is equipped with 3 powerful brushless motors that collectively deliver gas-like power.
Adding to this, the Ryobi electric riding mower comes with cruise control and doesn't do much more than whisper during operation. It is a multifaceted mower, in that it can mulch, discharge and bag, and comes with an adjustable 12-position manual deck.
Even though the Ryobi is a battery-operated mower, it can travel pretty quickly at 7 mph and provides a 38-inch cutting swath. This electric riding mower for hills comes with a 3-year manufacturer warranty.
Cons:
Check out my latest article on the best electric riding lawn mowers.
---
10. Toro Zero-Turn Mower – Best Zero-Turn Mower for Hills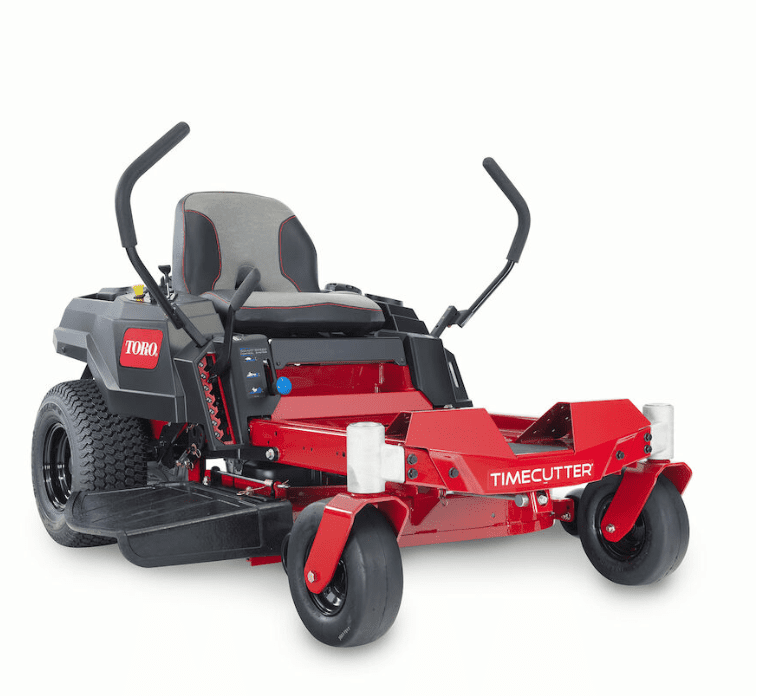 Zero-turn mowers are becoming increasingly popular among homeowners, and Toro offers a wide range of models. Toro zero-turn mowers are a great choice for hilly terrain, owing to the integrated MyRide comfort system. Make sure you know the best practices on how to use a zero turn mower on hills and slopes.
This suspension system is equipped with a suspended, full-floating rear and front shock adjustable operator platform that absorbs the bumps so your body doesn't have to.
Further, Toro zero-turn mowers come with IronForged decks that are crafted from 10-gauge high-strength steel and a reinforced deck shell. The deck shell is equipped with 6-inch spindles and belts that are made from bulletproof material.
Toro zero-turn mowers are designed for commercial use, yet are a perfect choice for residential lawns. The company offers a total of 33 riding mowers to choose from, so you can rest assured there's a model to suit your needs.
These mowers are available in up to 60-inch cutting widths. The Toro Titan Max is a big bad and powerful zero-turn mower and is built with commercial grade components such as G-force generating hydros.
It comes with integrated LED light bars and rugged hyper-styled two-toned aluminum alloy wheels. The Toro Titan zero-turn mower is fitted with a pro control damper system, storage areas, and cup holders.
Cons:
---
2 Riding Lawnmowers to Avoid
Not all riding lawnmowers are built the same, so there's no shortage of poor-quality mowers that you should steer clear of.
There are no specific mower brands to name but you should avoid mowers that are made from cheap quality components such as poor quality drive tires even if they come with an array of comfort features.
Engine power matters especially because you're going to be cutting grass on slopes, and most poor-quality models provide mediocre horsepower.
Check out my review of lawn mower brands to avoid depending on the situation.
Riding Mower For Hill Buying Guide – What I Looked for When Choosing the Best Riding Mower for Hills
Riding mowers are big-ticket items and here are a few factors to consider to help you buy a suitable model for your needs.
Cutting Width
Buying a riding mower with a wrong cutting width is one of the biggest mistakes homeowners make when buying a riding tractor for hills and even downhill paths.
The good news is when it comes to cutting widths, there's a wealth of choice in the market, which can be overwhelming trying to decide the right one for your lawn.
Many people tend to opt for the widest cutting width available such as a 46-inch cutting deck, but this is not always the right choice.
It is worth noting that the wider the cutting width, the fewer passes are needed to mow the lawn, but wider cutting decks aren't suited for small size lawns including hilly lawns, uneven lawns, and flat lawns.
In order to choose the appropriate cutting width, your first approach should be to measure the size of your lawn but here's what I recommend.
Small lawns – 34 inches
Medium lawns – 35 – 40 inches
Large lawns – 40+ inches
Type of Riding Mower for Hills
There are ideally two types of riding lawnmowers for hills to choose from:
Zero-turn mowers tend to be slightly more expensive than regular models due to the new technology but are a great choice for lawns with curves and/or lawns that are dotted with trees, bushes, and flower beds.
Power of Riding Mowers for Hills
Just like the type of mowers for hills, there are two power sources to choose from – a gas-powered lawn mower and a battery-powered mower. If you have a large lawn with hills (one-third of an acre or more), buying a gas-powered mower is your best bet.
Transmission of Riding Lawnmower for Hills
There are two types of transmissions for hills – manual and automatic transmissions. Both types of transmissions work similarly to the transmissions of a vehicle.
Engine of Riding Mower for Hills
The engine dictates the speed of the respective mower model and is represented in HP (horsepower), and the higher the number, the higher the power output of the mower.
Mulching and Bagging Capabilities of a Riding Lawn Mower
Most, if not all the mowers mentioned on my list of best riding mowers for hills come with mulching and bagging capabilities so you can either mulch and spread the grass pieces in your lawn or bag the grass clippings.
Comfort Features of Riding Lawn Mowers and Lawn Tractors
Riding mowers for hills come with several comfort features such as a cup holder, high back seat and armrests, rubber foot pedals, and much more.
Final Thoughts
When shopping for the best riding lawn mower for hills, you've got several options to choose from.  My top pick (#1 best riding lawn mower for hills) are the Johen Deere X500 Select Series mowers. I've also listed an electric lawn mower for hills and riding mowers for hills to avoid and a detailed buying guide to ease your decision. 
---
You may also like…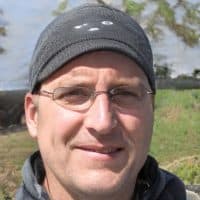 Hi, Alex Kuritz here. Growing up I remember that my family had one of the best lawns in the neighborhood. Richly green and lush. I did a lot as I grew up in terms of caring and tending for not only my family's lawn but also my neighbors. I can say I have years of experience, and I am here to share it with you.