Riding lawnmowers have been around for a while now, but if there was one thing that's stopped me from taking the plunge it would be the large size of these machines.
However, fast forward to today and I'm a proud owner of a fairly small riding lawnmower – yes, they do exist and surprisingly there's no shortage of small lawnmowers in the market.
There are many models that come with optimal power, robust engines, comfortable adjustable seats and offer top-notch performance and cutting power.
But, I'd have to admit, buying the smaller riding mower isn't an easy task, given there are several factors to consider including warranty, steering wheel performance, the type of grass being cut, and the size of your yard.
That was the bad news (sort of), and the good news is that I've narrowed down on 7 smallest riding mowers that are a great choice for homeowners owing to their small stance, remarkable features, and performance including Troy-Bilt mowers, and models with hydrostatic transmissions, and adjustable seat design for a smooth ride.
My #1 choice is the Snapper SPX110 riding mower owing to its superior capabilities and performance of commercial grade gas and electric mowers.
Benefits of Small Riding Lawnmower
Have you tried maneuvering or do you think you can use a bulky riding mower in a small size lawn and in a medium size lawn around obstacles in your lawn and garden?
Let's just say it's not easy and this is the biggest benefit of buying a small riding lawnmower! With a small riding lawnmower, you can not only zip through rugged and uneven terrain but is a convenient option for lawn maintenance and comes at fairly affordable prices.
Small riding lawnmowers are also easy to operate, given their lighter components like a smaller yet powerful Briggs & Stratton engine, making this type of residential riding mower a great choice for young and old and everyone in between.
But that's not all, electric gas-powered small-size riding mowers have a few moving parts, resulting in less wear and tear and, hence less maintenance.
Small riding lawnmowers feature smaller gas tanks, which can be a downside to some, but on a brighter note makes them more fuel efficient.
If you're in the professional landscaping business, small riding lawnmowers including a couple of models from the Cub Cadet hangar are a great option as they are lightweight and easy to transport across places.
What is the Smallest Riding Lawnmower?
While there is no definite answer to this question as the answer depends on individual choice, I've not seen any smaller riding lawnmower than the Snapper SPX110 lawn tractor.
Now you're probably thinking that a small lawnmower like the Snapper SPX110 lawn tractor must scrimp on key features to fit into this small package.
But surprisingly, it comes with a lot more premium features than many larger and more expensive models in the riding lawnmower space. Read my comprehensive review on the Snapper Snapper SPX110 lawnmower below.
Smallest Riding Lawn Mowers
Top 7 Smaller Riding Lawn Mowers
1. Snapper SPX110 Small Riding Lawnmower
The Snapper SPX110 is as small as they come but brings a ton of features to the table. This stylish side discharge mowing tractor is designed to deliver an enhanced mowing experience and offers superior cutting capabilities and powerful performance in a wide range of mowing conditions.
The Snapper SPX110 small riding mower doesn't do much more than whisper during operation, thanks to its Briggs & Stratton 7220 EXi V-Twin engine. It is fitted with powerful Tuff Torq K46 transmissions, which provide a hydrostatic drive that allows you to operate the machine at higher speeds.
Adding to this, the Snapper SPX110 comes with a well-padded mid-back seat so you stay comfortable even during long periods of mowing wet grass, tall grass, tough grass, or any other types of grass. It features high-powered LED headlights to mow in low-light conditions, and cruise control to speed up your task.
Unlike some cheap small riding lawnmowers, the Snapper SPX110 lawn tractor is equipped with a steel hood to withstand the rigors of regular use and to ensure you get the most out of your investment.
The Snapper SPX110 small riding mower can be adjusted to suit a wide range of grass heights, thanks to its 7 height cut positions from 34 to 86 mm.
The front of the Snapper SPX110 is fitted with a cast-iron axle for unmatched strength and steering control. Furthermore, this pivoting front axle makes it easy for the Snapper SPX110 mower to smoothly go over rough terrain and provides an even cut.
The Snapper SPX 110 comes with a good set of features including an ergonomic dashboard complete with cruise control.
Its compact mower deck measures 42 inches and is mated with four support wheels to protect the mower deck on any terrain. The Snapper SPX110 small riding mower is backed by a 3-year warranty against any manufacturer defects.
Pros:
Cons:
Personal Verdict
After using the Snapper STX110 mower extensively, I can say that it's a joy to use, making it an excellent option for small and large gated yards.
It is an ideal choice for novice and seasoned uses, offers great engine power, and powerful performance, and requires less maintenance requirements, saving you a fair amount of cash over long-term use.
2. Ryobi 30″ Small Electric Riding Mower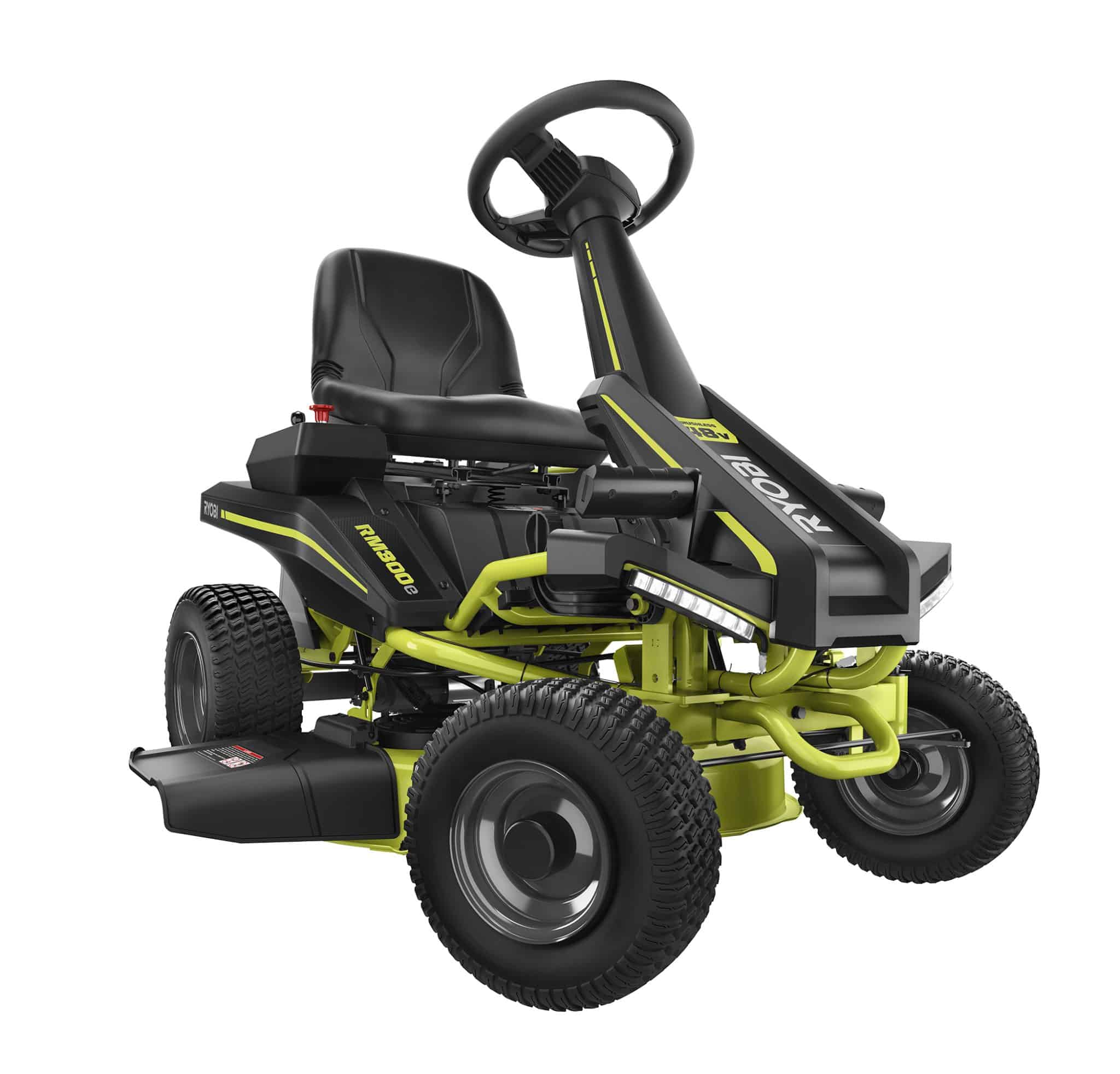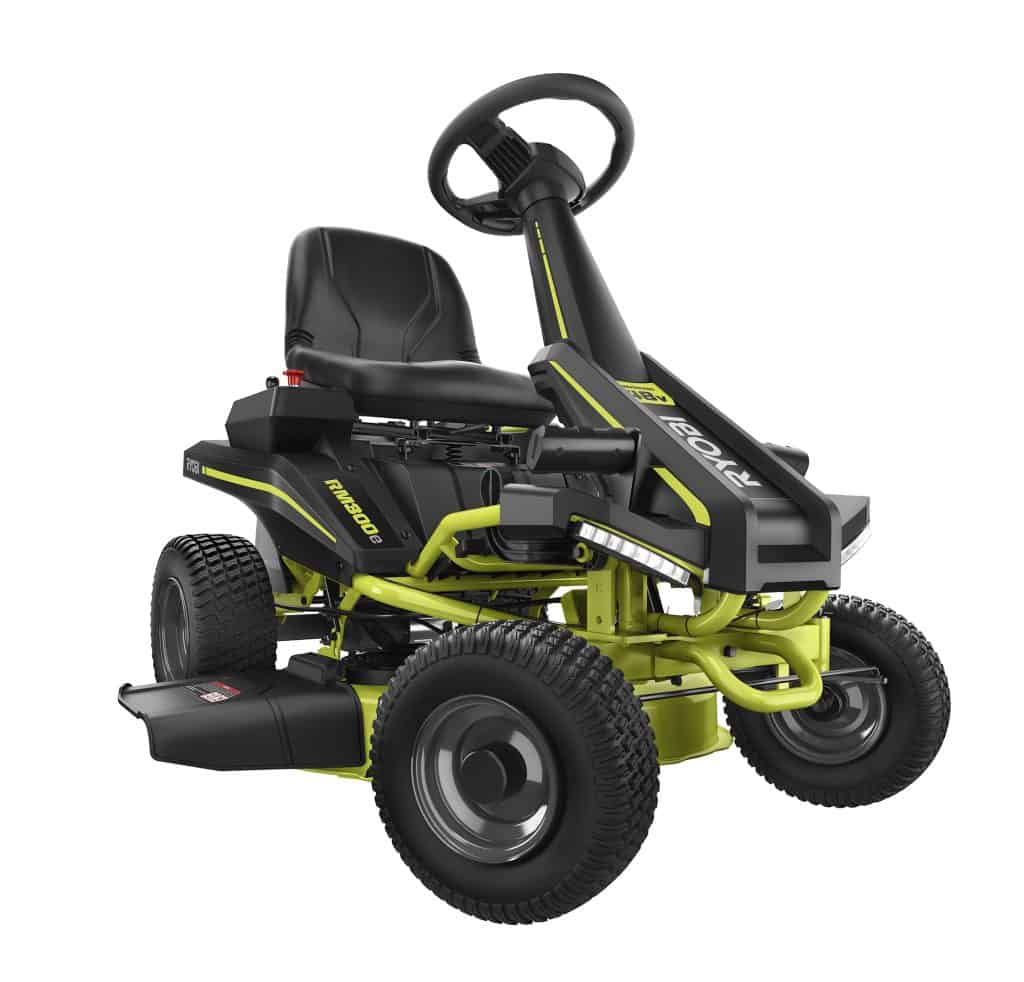 If you're tired of dealing with belts, spark plugs, and filters and want a low-maintenance small zero-turn mower, the Ryobi 30″ mower is worth a second look.
This battery-operated lawnmower doesn't require any gas or emit fumes – simply charge it and go. With a full charge, you can use the Ryobi 30″ battery-powered mower for up to an hour, which equates to cutting 1 acre per full charge.
The Ryobi 30″ battery-powered mower boasts a sleek design, but don't let that fool you into thinking it's low on power given it comes with three high-powered brushless electric motors that collectively deliver gas-like power.
With regard to features, the Ryobi battery-powered small riding lawnmower comes standard with cruise control, which allows you to dynamically set the speed and reduces fatigue. You get three cutting options to choose from – mulching, side discharge, and bagging, so you can do more with just one machine.
The Ryobi 30″ battery-powered mower fits through a standard 42″ fence gate and allows you to choose from 7 cutting deck heights.
It can travel at a 5 mph max speed and tips the scales at just 442 lbs. The Ryobi 30″ battery-powered small electric mower comes with a 3-year bumper warranty, so you can rest assured it will serve you well for many years to come.
Pros:
Cons:
Personal Verdict:
The Ryobi 30″ electric lawnmower looks more like a 4-wheeled electric scooter than it does a lawn tractor. It comes with basic features for an ideal mowing experience including cruise control, and is an ideal choice if you're looking to save on gas and maintenance charges.
3. John Deere S100 Small Riding Lawn Tractor
The John Deere S100 riding lawnmower isn't just a showstopper with its forest green and yellow finish, it arrives with plenty of features, all tucked away neatly in a compact frame.
For starters, the S100 riding lawnmower by John Deere is powered by a 17.5-hp (13.0-kW), single-cylinder engine, which provides the right amount of torque for mowing, mulching, and bagging with ease.
It features an electronic ignition for fast startups and an anti-vibration system for a smooth ride even on rugged terrain.
The solid one-piece frame of the John Deere S100 lawnmower is crafted from 12-gauge, 0.105-in. (2.66-mm) steel, and is robotically welded for added strength and long service life.
The front axle of the John Deere S100 is made from solid cast iron that refuses to bend even under extreme pressure. Adding to this, the front bumper of the John Deere S100 tractor can be had with an optional attachment that provides extra front-end protection and enhances its overall look.
The John Deere S100 is a multifaceted machine in that it can mow as well as be used for snow removal with an optional John Deere snow blower.
It features a wide 42″ Edge mower deck that comes factory-fitted with a manual PTO (power take-off) system. The John Deere S100 riding mower is equipped with a large 2.4 U.S. gal. 9.1 L fuel tank, which allows you to cut more grass without having to refuel frequently.
The Kanzaki Tuff Torq hydrostatic transmission of the S100 John Deere mower gives you an infinite number of speeds to choose from, combined with the side-by-side pedals for better control of the speed and direction of travel.
The operator station of the John Deere S100 riding lawnmower can be compared with an open-air cockpit complete with easy-to-reach controls, an angled steering wheel, wide footrest areas, and an adjustable (11-in. 28-cm back height) seat. The John Deere S100 comes with an impressive 2-year/120-hour bumper-to-bumper customer warranty.
Pros:
Cons:
Personal Verdict:
The John Deere S100 is a bit more expensive than other small riding mowers on this list but if you are serious about performance and durability, it's definitely worth the investment.
Although it does come with a rich set of features, I only wish it came with cruise control and at least a 3-year/120-hour limited residential warranty.
4. Troy-Bilt TB30B Small Riding Lawnmower
The Troy-Bilt TB30B is designed to help you save on storage space and fits into most standard-size gates. It packs a punch, to say the least, thanks to its onboard 10.5 HP/344cc Briggs & Stratton engine, and Shift-on-the-Go transmission.
This CVT is appointed with a dash panel control that makes it easy to adjust speeds. The Troy-Bilt is an excellent choice for people looking for an electric lawnmower that's not only compact but can save some cash on maintenance and gas.
It is equipped with an AGM battery that's engineered to provide reliable starting season after season. You've probably heard of lead-acid batteries and AGM batteries step it up a few notches with their advanced battery power performance.
The Troy-Bilt mower can cut the driest grass and a variety of grass conditions without any hiccups and easily in tight spaces. It offers a comfortable ride with its Soft Touch steering wheel that greatly minimizes vibration during operation.
This small riding mower from Troy-Bilt showcases quiet operation and is factory-equipped with a rear hitch to attach tow-behind attachments like spreaders, aerators, dump carts, and much more.
With regard to maneuverability, the Troy-Bilt TB30B is truly hard to beat with its 30-inch wide steel deck and 5 cutting heights to choose from. It is built in the USA with global parts and is backed by a 2-year limited warranty.
Pros:
Cons:
Personal Verdict:
The Troy-Bilt TB30B lawnmower offers long-lasting performance and is much better and easier to operate than larger models including commercial models. The Troy-Bilt mower is cute and compact and looks similar to a dune buggy when parked in my garage.
5. Cub Cadet CC30H Small Lawnmower
Another esteemed American company that manufactures a wide range of outdoor power equipment, Cub Cadet is no stranger to the riding lawnmower space.
Cub Cadet calls its small riding mowers "mini riding mowers" and that's what they really are – compact and stylish mowers.
Just like most small lawnmowers on this list, the Cub Cadet CC30H is equipped with a class-leading 10.5 HP/344cc Briggs & Stratton engine that is engineered to deliver superior power to tackle diverse lawn conditions.
Furthermore, the Cub Cadet CC30H small lawnmower features a best-in-class hydrostatic transmission and a large 1.3 gal. US (4.92 L ) fuel tank.
Adding to its long list of features is a 30-inch stamped solid 14-gauge steel cutting deck that offers 5 positions to choose from. In terms of comfort, the Cub Cadet CC30H small riding mower doesn't disappoint with a 15″ high back seat.
It arrives with 16″x 6.5″-8″ rear tires and 13″x 5″-6″ front tires, which together provide excellent traction in varying conditions. The Cub Cadet CC30H small mower comes with a mulch kit, cup holder, LED headlights, and a 3-year limited residential warranty.
Pros:
Cons:
Personal Verdict
The Cub Cadet CC30H is perhaps one of the smallest models in the mower industry. This type of mower works well for several situations, especially for me since I don't have a lot of ground to mow and have several obstacles in my yard.
6. EGO Power+ T6 Lawn Tractor Kit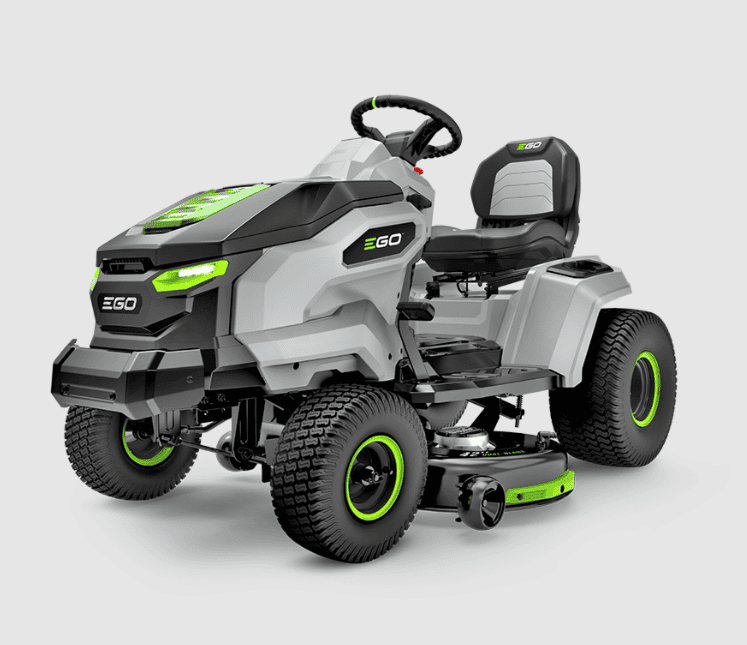 The EGO Power+ T6 is yet to be launched but I might as well tell you all about it because it fits in nicely in the small riding mower category. In fact, it is the smallest riding lawnmower in the Ego Power+ lineup.
Even though the EGO Power+ is billed as a small lawnmower, it features a wide 42″ cutting width, making it a great choice for small and larger yards. There are several features I like about this upcoming model including its 56V ARC lithium battery, which can be connected with all 80+ EGO tools.
I've only probably seen this in the EGO Power T6 small mower – dual brushless and belt-free motors, which deliver power similar to a 21-horsepower engine, albeit without the noise.
When it comes to performance, the EGO Power+ T6 isn't much different than other riding mowers in the company's portfolio and is backed by Peak Power technology, which uses the power of six EGO Power+ 56V ARC lithium batteries to deliver a total of a whopping 20, 000 watts of power and cut up to 1.5 acres of lawn on a single charge. Best of all, these six batteries are included in the package!
The EGO Power+ offers 12 adjustable deck height settings to choose from – 1.5 inches to 4.5 inches.
It sprints at a max speed of 6 mph and can be customized to suit your needs with a digital display including 3 drive speeds, 3 blade settings, and cruise control.
Pros:
Cons:
Personal Verdict:
It's too early to say anything about the EGO Power+ T6 since it has yet to be released. But from the features revealed by the company, it's definitely going to rival its competition.
7. Greenworks CrossoverT Riding Lawn Mower
Slotting in the #7 position on this list of best small riding mowers is a company that hasn't received enough recognition for its products.
But the Greenworks CrossoverT riding lawnmower stands out from the crowd for several reasons including its innate ability to cut grass 10X faster than gas-powered mowers, owing to its astounding 17,000 FT/min blade speed.
The Greenworks CrossoverT small lawnmower features the most advanced power-cutting system on the market that can sense extreme conditions and direct optimal power to the blade motors.
It comes with 6 batteries, which collectively allow you to cut up to 2.5 acres on a single charge. The company calls this technique Mow, Swap, and Go, meaning mowing all day with just three fully charged batteries while the other three are charging in the included dual-port turbocharger.
The batteries of the Greenworks CrossoverT lawnmower are engineered to last up to 2,000 charge cycles, so you won't have to replace them anytime soon.
The Greenworks CrossoverT contains fewer moving parts than gas mowers and boasts unmatched efficiency to save energy. It is a great option for homeowners with tall grass and can climb 15-degree hills and slopes with ease.
It features an active EMS system, which controls the charge, overcharge, and temperature, and is IPX 4 waterproof to thrive in the harshest weather. The Greenworks CrossoverT comes with a 4-year limited warranty against any manufacturer defects.
Pros:
Cons:
Personal Verdict:
The Greenworks CrossoverT is one of my favorite compact mowers to cut wet grass, tough grass, and all types of grass. It comes fully loaded including 6 super-efficient batteries, so you can bank on its excellent performance for years to come.
Buying Guide – How Should You Choose a Small Riding Lawn Mower?
Whether you're on the shopping trail for a small riding mower that can fit in tight spaces with its space-saving design or a large mower with a 42-inch deck size or more and a much more powerful engine including a gas engine, it is bound to be a big-ticket purchase. Therefore, here are a few factors to consider to ease your decision.
What is the Best Power Source for a Small Riding Mower?
Small riding mowers can either be powered by batteries (electric) or gas, both of which are great for maintaining a beautiful lawn.
For larger lawns, I recommend buying a gas-powered mower unless, of course, you buy a small riding mower that can be loaded with several batteries at a time.
Keep in mind however that even with their compact size, gas small riding mowers can be noisy machines so you can't really cut grass in the wee hours of the morning.
What is the Best Cutting Width of a Small Riding Lawnmower?
This is where you need to pay attention because no lawns are exactly alike. Small lawnmowers are available in several different cutting widths, which is the stripe of the lawn the mower will cut with each pass.
If you have a really small size lawn, you don't need a larger than 32″ cutting width but if you have a medium size lawn, buy a mower that offers a 42″ cutting width.
What is the Mowing Height of a Small Lawnmower?
Different types of grass generally should be cut at different mowing heights but the ideal height is between 3″ to 3.5″ grass lengths.
Small riding lawnmowers allow you to choose from several blade heights so you can cut grass at the right height.
What is the Best Transmission for a Small Riding Mower?
There are three types of transmissions to choose from – manual transmissions, automatic transmissions, and hydrostatic transmissions.
Both automatic and manual transmissions perform much like the transmission in a vehicle. A hydrostatic transmission works a bit differently where it uses fluid instead of belts to transfer power from the engine to the wheels.
Riding mowers with hydrostatic transmissions offer a much smoother ride and are less prone to damage than automatic and manual transmissions.
What Comfort Features Are Available with Small Riding Mowers?
Riding mowers not only showcase a compact design, but they also have a comfortable design complete with seats with ergonomic designs that are well-padded, and some even come with armrests to enhance the overall comfort quotient.
Most, if not all small riding lawnmowers feature an in-dash LCD panel that provides you with several important pieces of information about the machine, cup holders, and LED lights for great visibility in low-light conditions.
How Does a Small Lawnmower Handle Grass Clippings?
A small riding lawnmower gives you the option to choose what to do with your grass clippings. You can either side-discharge the clippings back onto your lawn collect the clippings in a bag or connect an add-on kit to convert the clippings into mulch.
What Attachments Are Available for Small Riding Lawnmowers?
Riding lawnmowers generally come with a tow hitch to attach other optional attachments such as the John Deere mower on this list that can be had with a snow blower attachment.
Although these attachments cost extra, they are worth the investment and are better than buying a new tool for the task.
Final Thoughts
Buying a small riding mower offers myriad benefits and is especially great for people with a small size lawn and/or limited storage space.
When shopping for the smaller lawnmower, there's a sea of options to choose from, but the Snapper SPX110 is my top choice as it delivers a commendable mowing experience and comes with a long list of advanced features to maintain a beautiful lawn. 
---
You may also like…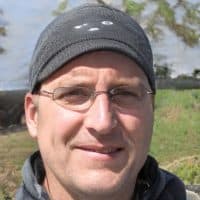 Hi, Alex Kuritz here. Growing up I remember that my family had one of the best lawns in the neighborhood. Richly green and lush. I did a lot as I grew up in terms of caring and tending for not only my family's lawn but also my neighbors. I can say I have years of experience, and I am here to share it with you.