Have you walked out to your lawn one sunny day, with intentions to give it a nice makeover only to find yourself accidentally mowing the electric cord? Hey, happens to the best of us. But Greenworks has come up with a solution to that problem. The Greenworks brand has made a series of battery-powered electric lawn mowers that promises to deliver the goods. No more having to juggle cords in one hand and the mower in another!
I'm going to be looking at 3 of the more popular battery powered options from Greenworks below.
Also see: Greenworks Corded Mower Reviews
GreenWorks 25302 Twin Force G-MAX Cordless Lawn Mower Review
Deal
Greenworks 25302 20-Inch 40V Twin Force Cordless Lawn Mower,...
Your purchase includes: G-max 25302 Lawn mower (push button start & dual blades), battery charger and a 5Ah Battery
Fully charged 5Ah lthium-ion battery gives it an approximate runtime of 60 minutes, option of extending this time with an extra battery port. Run-Time varies based on grass condition and operator technique
20-inch cutting deck offers a balance of maneuverability and cutting capacity making it ideal for mid-sized areas, while dual blades offer better cut quality, superior mulching and bagging capabilities
Affiliate links and images pulled from the Amazon Product Advertising API on: 2023-10-02
This new model comes equipped with goodies that could make a lawnmower enthusiast's head spin. What is great and unique about the Greenworks 25302 is its Twin Blades. The Twin Force G-MAX ensures that mowing your lawn is as efficient and time-saving as you can make it, running simultaneously for best results.
You'll probably be thinking, how efficient can this product be? Running on battery? It won't last long. Don't be too quick to dismiss it. The Greenworks 25302 runs for 70 minutes on a single charge, and it's pretty smart. 2 lithium-ion batteries are included in the package and this is more than enough to tackle your weeds. The batteries take a couple of hours to charge, and then they're ready to roll!
What is also great about the GreenWorks 25302 Twin Force G-MAX 40V Li-Ion 20-Inch Cordless Lawn Mower, is that you don't have to worry about changing batteries once the first one dies. There is an automatic battery switchover which starts drawing power from the second battery once the first one is depleted. A huge time saver. It's the attention to detail that makes the 25302 such a good product. The Innovative Smart Cut technology adjusts itself for power or runtime after sensing the thickness of the grass.
Having a 20" cutting deck is also an advantage. You wouldn't want to mow your lawn for longer than needed. This cuts down on the time you work, so you have more time to enjoy the benefits of your freshly mowed lawn. It is quite light as compared to gas powered mowers, and definitely easier to manoeuvre around your lawn. As with Greenworks products, the 25302 is without saying, an Eco-friendly product. The advantage of having an electric mower is that it is way quieter than its gas powered cousins, and you don't have to deal with gas emissions.
Another big draw to the GreenWorks 25302 Twin Force G-MAX 40V Li-Ion 20-Inch Cordless Lawn Mower is the one handle to adjust height settings. The product having 6 different height adjustment settings may make your lawn mowing a lot easier. You would have to observe that although there is no light indicator on the 25302 showing whether the bag is full, the flap will not move. This will indicate that there is no space for the air to move, and the bag will need to be emptied out.
Pros
Light weight and more manoeuvrability.
Twin 10" blades offer better cut quality.
Large rear wheels for easy handling and movement.
Cordless for hassle free movement.
Quieter than a gas powered mower, and Eco-Friendly.
Different height adjustments for various grass lengths.
Simple start process
Has a 4 year warranty which is double of most industry's standards.
20 inches of cutting deck.
Easy to fold for occupying minimal storage space
Cons
Lasts for 70 minutes. Large yards would need a break of 2 hours while batteries charge.
Slight Gap between twin blades causes the 25302 to pass over a small patch of grass which would require a second pass.
FAQs about the Greenworks 25302:
Is there an indicator on the unit indicating which battery is running & which is depleted?
Yes, there is a red Indicator on the battery showing that it's in use.
How long is the warranty on the mower? The batteries?
4 year repair warranty on the unit, 2 year warranty on the batteries.
Does lawnmower come fully assembled?
All you have to do is assemble the handles and charge the batteries, everything else is done

Final Say:
The Greenworks 25302 model definitely proves to be hassle-free as compared to other models due to the cordless feature. The idea of using a battery-powered lawn mower has mixed feelings though. I'm rather the type of person that requires a ready-to-use product if I'm in the mood to mow my lawn.
If you've forgotten to charge your batteries, however, you're in for a bit of delay. The Twin Blades of the 25302 has mixed reviews – as they don't seem to be living up to the reputation their earlier counterparts had for efficient cutting. I feel this is the right direction towards easier, cleaner, hassle-free mowing, but a few improvements could be done on the GreenWorks 25302 Twin Force G-MAX 40V Li-Ion 20-Inch Cordless Lawn Mower.
Greenworks Pro 21″ 80V Cordless Mower
Greenworks Pro 80V 21-Inch 80V Push Lawn Mower, Tool Only
Your purchase includes: 21-Inch 80V Push Lawn Mower (Battery and Charger Not Included).
Brushless motors are more reliable and delivers gas equivalent performance to a 160cc gas engine.
Innovative Smart Cut Technology automatically increases the speed of the blade when more power is needed for the best cut possible.
Affiliate links and images pulled from the Amazon Product Advertising API on: 2023-10-02
Greenworks 21″ 40V Self-Propelled Cordless Mower
Greenworks 40V 21 inch Self-Propelled Cordless Lawn Mower,...
Self- Propelled Drive System
Product dimensions – 65.35" L x 21.65" W x 33.07" H | Product weight – 21.65 lbs. | Height adjustments – 1 3/8" - 3 ¾"
Durable 21" steel deck allows you to handle large areas of grass quickly and easily. Brushless motor provides more torque, quiet operation, and longer life
Affiliate links and images pulled from the Amazon Product Advertising API on: 2023-10-02
Greenworks 17″ 40V Review
Greenworks 48V (2 x 24V) 17" Cordless (Push) Lawn Mower (125+...
CORDLESS LAWN MOWER – Get more done, faster, with Greenworks electric lawn mowers. This 2 x 24V (48V) push mower provides up to 45 minutes of run-time with (2) fully charged 4.0Ah batteries (varies based on grass condition and operator technique).Mower storage temperature range - 32°F (0°C) - 113°F (45°C), Mower operation temperaturerange - 32°F (0°C) - 113°F (45°C).
DURABLE / LIGHTWEIGHT 17" POLY DECK – 17 in. rust-resistant lightweight deck designed for easy maneuverability
VERSATILE – Single lever, 5-position height adjustment for the best cut in all environments. The 2-in-1 design allows you to mulch, and rear bag grass clippings
Affiliate links and images pulled from the Amazon Product Advertising API on: 2023-10-02
Related Posts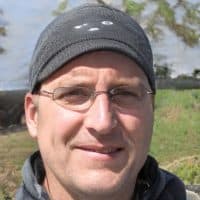 Hi, Alex Kuritz here. Growing up I remember that my family had one of the best lawns in the neighborhood. Richly green and lush. I did a lot as I grew up in terms of caring and tending for not only my family's lawn but also my neighbors. I can say I have years of experience, and I am here to share it with you.