Many people are looking to not only grow a green lawn this year, but also looking to go green in their yard. In other words, looking to ditch using gasoline powered lawn equipment. Enter the world of green technology for lawn care. Greenworks has been one of the leaders in corded and battery powered lawn mowers for a few years already. In this review I'll go over 2 of the more popular Greenworks Corded Lawn Mowers to give you an overview of what you can expect with using this type of mower.
Greenworks 25012 12 Amp 18-Inch Corded Electric Lawn Mower Review
Affiliate links and images pulled from the Amazon Product Advertising API on: 2023-10-03
The Greenworks 25012 12 Amp Corded 18-Inch Lawn Mower is stylish and powerful, with a zero-carbon footprint, producing no emissions. The 18-inch electric-powered lawn mower will efficiently trim your yard without putting out a cloud of emission that keeps your family from enjoying the outdoors while mowing. No more hauling your gas can to the station and back- the GreenWorks offers a no-gas, no-oil, and no-maintenance function.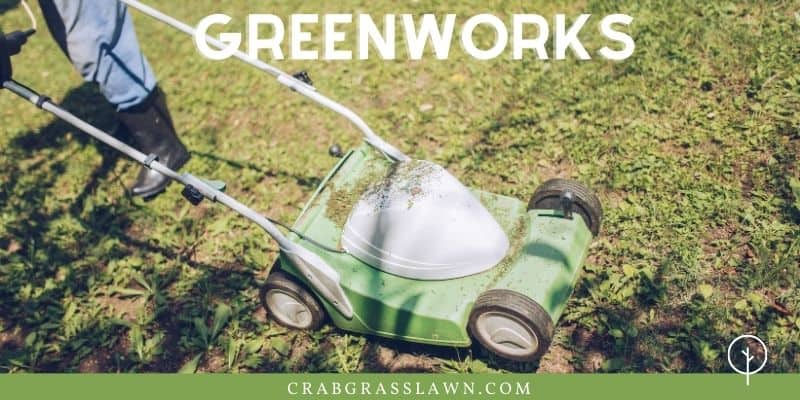 Mow greener with the Greenworks Electric Mower. Its durable steel cutting deck handles tough, unruly growth of more than just grass. With rear bagging and mulching capabilities, you'll appreciate the reduced cleanup time behind the mower. This electric-powered mower has 7-inch front wheels and 8-inch rear wheels leaving an 18-inch path. A seven-position lever lets you adjust the height of your lawn.
Fold up and store with a simple cam-lock, so you never have to work around the mower in your garage. The mower comes standard with a mulch plug and offers a 4-year manufacturer's warranty.
GREENWORKS 25012 FEATURES AND SPECIFICATIONS
No cord function
Battery-powered
Durable steel cutting deck
18-inch cutting path
Adjustable height in 7 positions
4-year manufacturer's warranty
No gas, oil or tune-ups
1440 Watts
QUICK ASSEMBLY
The Greenworks Electric Mower is quick and easy to assemble and is ready to take on your multi-terrain lawn. This model offers features that allow it to keep up with the big boys, offering great maneuverability and small storage.
QUIET FUNCTION
Compared to the roar of a gas-powered mower, the Greenworks Electric Mower practically hums its way across your yard, allowing your family to enjoy being outdoors while you're mowing. No more wearing earplugs while mowing your lawn.
STRUGGLE-FREE
This light weight mower can handle some of the toughest jobs you can throw at it and will not struggle through high or thick lawns. You'll get a lot of bang for your buck with the GreenWorks Electric Mower.
CUSTOMER REVIEWS OF THE GREENWORKS 25012 CORDED ELECTRIC LAWN MOWER
The reviews for the Greenworks 25012 12 Amp Corded 18-Inch Lawn Mower at Amazon.com have been very positive and it currently has a review rating of 4.5 stars.
THE NEGATIVE REVIEWS
The majority of the customer feedback for the Greenworks 25012 12 Amp Corded 18-Inch Lawn Mower has been very positive. There have also been a few complaints made by the reviewers and we will discuss some of them now for the benefit of our readers.
One of the most common complaints of this Greenworks Mower has been with regard to getting replacement parts, which many reviewers state is not easy. Customers express having to wait 21 days for parts to arrive in the mail, and then, arriving with no installation instructions or help for them to put the part in. Customer service did not seem to be very helpful for answering questions or for installing parts.
Another problem that buyers had with this Mower was the distance they had to drive to a repair center. Many buyers state that their repair center was 100 miles away and that to have their mower repaired or serviced required them to bring the mower to a service station that cost them a lot of gas- which they thought ironic since this mower is intended to be green.
Finally, some buyers were not happy to find they could not locate a collection bag to purchase for the mower. Some stated that they could not even get hold of customer service, even after calling many times.
THE POSITIVE REVIEWS
Despite the negative comments about the Greenworks 25012 12 Amp Corded 18-Inch Lawn Mower that we have just discussed the majority of the customer feedback has been very positive and 73% of the reviewers have given the product a 5-star rating.
What has impressed customers more than anything else about the GreenWorks 25012 12 Amp Corded 18-Inch Lawn Mower is the ease with which it mows, turning small town lots into a quick and easy job and larger yards into a simple afternoon task. Customers loved that its lightweight frame and oversized tires made it manoeuvrable over a lot of different terrains. A lot of buyers expressed that this was the best electric-powered mower they had even owned.
Buyers of this mower really loved its electric feature, especially those who had not owned an electric mower prior to this one. They appreciated being able to plug in the mower and not having to run to the gas station before every mowing job. The majority of buyers were in agreement that owning a mower that did not have to be serviced continuously, with spark plugs and oil changes was refreshing.
And of course, there is the green factor, which buyers absolutely loved. Many buyers actually purchased the mower for no reason other than it does not use gasoline, only to find that the GreenWorks does not compromise any power or function. Dads who mowed their lawns with the GreenWorks said that they really liked being able to mow while their family was out enjoying the yard at the same time- something they could never do with their gas-powered mower.
FINAL THOUGHTS
Would we recommend the Greenworks 25012 12 Amp Corded 18-Inch Lawn Mower to our readers?
Absolutely yes, and here is why:
The feedback for the Greenworks 25012 12 Amp Corded 18-Inch Lawn Mower was higher than we expected to see, and when we began reading stories from owners of this mower we could see why. With only a few exceptions, buyers overwhelmingly loved the product- for the price as well as for its function. Story after story from consumers told of the reasons why they were satisfied with their purchase. When we see a product that meets a need to this degree, we feel almost obligated to tell our readers about it.
The Greenworks 25022 3-in-1 Electric Lawn Mower Review
Greenworks 12 Amp 20-Inch 3-in-1Electric Corded Lawn Mower, 25022
Powerful Cutting: The 12 amp motor and 20-inch steel deck with a 3600 RPM work together to cut through the toughest grass with ease
Versatile Cutting Options: The 3-in-1 system allows for mulching, rear bagging, and side discharge, giving you the flexibility to handle clippings in various ways
Easy to Use: The easy push button start and single lever 7 position height adjustment make using the mower a breeze, while the cam lock handle allows for easy folding and storage
Affiliate links and images pulled from the Amazon Product Advertising API on: 2023-10-03
Do you like the idea of a well-manicured lawn that will be the envy of all your neighbors? Does the tall grass in your front yard bother you? Why pay for a service when you can get your money's worth in this product? Here's what the fuss over the Greenworks 25022 is all about:
Firstly, the Greenworks 25022 comes in a box, well packaged and easy to use the minute you receive it. All you have to do is unpack the box, unfold the handle, and voila! Ready to use. It has a 12 Amp engine – which is sufficient to get the job done, a 20" Steel cutting deck that permits you to mulch, use side discharge, or just bag. Now the advantage of the 20" instead of the 18" is that you are able to make fewer passes, so you end up saving your time! A grass collection bag and mulch plug are included in the 25022 package.
THE GREENWORKS 25022 FEATURES:
Being an electric lawn mower, it means it is Eco-friendly. The Greenworks 25022 has a ZERO carbon footprint, which means you'll be doing your bit towards saving the environment. Each year, American households use around 800 million gallons of gas. Another good point is that it is quiet as compared to gas mowers.
What probably sets the 25022 apart from other mowers is its rear wheel size. They are bigger, so there is an easy maneuverability. The front wheels of the Greenworks 25022 are 7" in diameter and the rear are 10". This means even harder-to-access areas of your lawn can be given a good manicure, without breaking your back to reach them.
For the people who get annoyed with too many buttons to press, the Greenworks 25022 is very easy to use. Just press the control handle down and the start button and it's ready to chomp the grass away. Another great feature of the 25022 is that the body is made of metal as compared to other lawn mowers that are constructed from plastic. Therefore, you have durability on your side too. This metal body removes the bulkiness that exists in other plastic models, making it easy to manoeuvre around your lawn.
If you haven't been trimming the grass on your lawn, there are various height settings to tackle that problem. The Greenworks 25022 has 7 different height adjustments ranging from 1.5" to 3.75 inches. You have unkempt grass growing? No problem, the Greenworks 25022 can handle mostly everything. But you will have to remember to change your settings accordingly. You wouldn't want a bald patch on your lawn!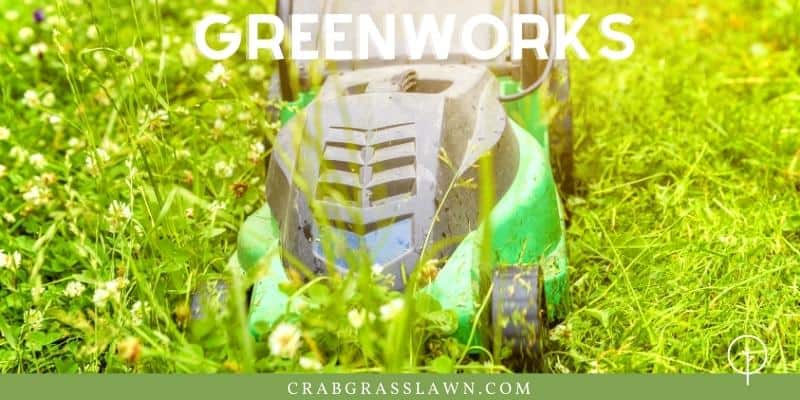 Of course, with everything looking so nice and rosy, I should warn you that you will need to buy a cord to actually use this product. The Greenworks 25022 comes with a cord that is only 10 to 12 inches in length. Depending upon the size of your yard, you will have to decide upon the length of the cord you will need to purchase for the 25022. For example, if you have a yard of small to medium size, let's say around 40 feet, you could choose to buy a 16 gauge extension cord. Even a 14 gauge cord would work, but you should check that your selection is outdoor rated.
Pros
Metal body instead of plastic – so lighter and more manoeuvrability.
Large rear wheels for easy handling and movement.
Quieter than a gas powered mower, and Eco-Friendly.
Different height adjustments for various grass lengths.
Easy to handle with the Start button & unlock Control handle.
Has a 4 year warranty which is double of most industry's standards.
20 inches of cutting deck.
Easy to fold for occupying minimal storage space
Cons
Suited for only small to medium-sized yards.
Need to buy an extension cord to use the product.
FAQS ABOUT THE GREENWORKS 25022:
What type of extension cord is recommended for the 25022?
UL approved extension cord, 16 gauge for a 50 foot extension cord, 14 gauge for 100 feet.
Does this mower require a 3 or 2 conductor extension cord?
Even though the mower is double insulated and does not require the ground, the only extension cords of sufficient gauge that are available are 3 core, and we would always advise to use these
How would you factor the cost of the 25022 Electric mower?
If you run this mower for an hour, it will, more or less cost you 25 cents.
FINAL VERDICT:
Overall, the Greenworks 25022 model promises to deliver its money's worth. A little more expensive than a gas-powered mower, this proves to be an excellent choice for the small-medium lawn category. The warranty proves that the company has faith in its product, and with great discounts available online – you are guaranteed to get a steal deal anytime you decide to purchase the Greenworks 25022.
Related Posts
What are the Best Cordless Leaf Blowers? Reviews & Buyer's Guide
Rob started his passion for lawn care before he was 10 years old when we would regularly help his grandfather tend to his yard in Jupiter, FL which got him involved with learning all about St. Augustine and Floratam grasses.