The best herbicides to kill Yellow and Purple Nutsedge weed are products that contain halosulfuron  or sulfentrazone such as Sedgehammer and Certainty. These products are specifically targeted to kill Nutgrass weed.
Java grass, Nutsedge, Cyperus Rotundus, and Nutgrass — different names for the same perennial (long-lived that come back every year) grass-like plant that is native to Africa, Southern USA, Central Europe, and Southern Asia. Regardless of what you call it, it is invasive to your lawn and makes it an eyesore. So this post will go over the best ways to control and kill nutgrass in all types of grasses so that you don't have to deal with this pesky invader every year.
Contrary to what the name may suggest, Nutgrass has nothing to do with nuts, and is not technically a grass, but is a Sedge weed that is typically found in warmer climates, but a couple is also common in northern climates.
In case you were wondering, Nutgrass is a tenacious, aggressive weed that infests over 50 crops worldwide, which is why it is often billed as "the world's worst weed". Nutsedge (Nutgrass) thrives in moist soil, but sometimes also flourishes in dry soil, especially in poorly drained sections of your yard.
The 2 best Nutgrass control herbicides on the market are SedgeHammer & Certainty, I use them all the time. Get some below and be sure to use a Surfactant and Blue Lazer and make a mixture to last all spring/summer.
Affiliate links and images pulled from the Amazon Product Advertising API on: 2023-12-08
Affiliate links and images pulled from the Amazon Product Advertising API on: 2023-12-08
What does Nutgrass (Nutsedge) Look Like?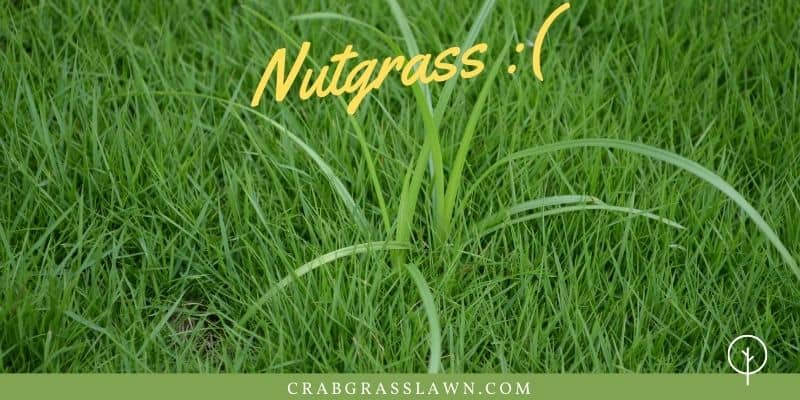 Even though Nutgrass looks like long grass blades or tiny palm like tree, it can be easily distinguished by its V-shaped stem. This colonial, herbaceous weed's leaves are yellowish green, whereas the spiky head is purple (dark red) or yellow in color.
Nutgrass is identified by its fibrous root system, and has roots known as creeping rootstalks or Rhizomes, which generally grow horizontally under the soil, and can reach 8 – 14 inches below ground. This network of plant roots is initially white and fleshy with scaly leaves, which later transforms into very dark brown color with age.
Why is Nutgrass Tough to Control?
Rhizomes form tubers or a bunch of tubers, which are starchy structures also known as nutlets that are roughly 12 mm thick, and between 10-35 mm long. This complex underground system of rhizomes, tubers, and nutlets spread and reproduce like wildfire, making Nutgrass a tough weed to control.
Nutgrass grows during the frost-free season, and can inflict several losses on vegetable and row crops many times its height. This hardy and resilient weed can grow up to 4½ feet high if left unattended, and grows much faster than grass.
You can try and control Nutsedge by mowing your lawn at a proper height, or you can pull it out before the tubers begin forming if it has less than six leaves. Nutgrass is actually a treat and a highly nutritious meal for pigs, but since most people don't have pigs, you can explore some of the natural solutions below to get rid of this pesky weed.
3 Best Natural Nutgrass Weed Killers
1. Dr. Earth Organic & Natural Final Stop Weed & Grass Killer
Dr. Earth Final Stop Weed & Grass Killer

Glyphosate free, non-selective herbicide weed & grass killer that kills naturally using essential oils.
OMRI Listed for use in organic gardening.
No synthetic ingredients.
Non-selective weed and grass killer.
Concentrate covers 2000 square feet with a dilution rate of 16oz. per gallon of water.
The Dr. Earth Organic & Natural Final Stop Weed & Grass Killer delivers remarkable results when used on Nutgrass, and an array of different unwanted garden weeds and vegetation.
Listed by the OMRI (Organic Materials Review Institute) for organic use, this all-natural herbicide is formulated to perform a wide range of tasks synergistically, and in a controlled manner. When sprayed properly in the Nutsedge affected areas, the Dr. Earth natural weed killer works quickly to kill Nutgrass in its roots using essential oils.
Made in the USA using high quality ingredients, the Dr. Earth Nutgrass killer is free from toxic chemicals or toxic ingredients, making it safe to use around pets. Adding to this, it is a non-selective weed killer, meaning it can be used effectively against both broadleaf and grass weeds.
The active ingredients in the Dr. Earth natural Nutgrass weed killer include cinnamon oil, citric acid, clove oil, rosemary oil, sesame oil, and thyme oil. It works quickly, somewhere between a few minutes to hours, so you will be able to eradicate Nutgrass growth in no time.
How to use Dr. Earth Nutgrass Killer?
Before getting started with the Dr. Earth natural Nutsedge killer, you should shake the bottle well. Next, grab the red connector end, and pull the coiled tube out of the end of the sprayer until fully extended.
Do not remove the cap from the bottle, but remove the sticker from the top of the closure, and open the flip cap. Lastly, push the red connector end of the tube into the opening in the cap until it snaps tight.
Once you've assembled the sprayer, adjust the nozzle according to the type of spray you need whether stream or spray, direct the nozzle towards the area you would like to treat, and then squeeze the trigger. Make sure to turn the nozzle in the "off" position after use.
2. Using Vinegar To Kill Nutsedge with Green Gobbler Vinegar Weed & Grass Killer
Affiliate links and images pulled from the Amazon Product Advertising API on: 2023-12-08
The Green Gobbler Vinegar-based Nutgrass weed and grass killer is formulated to work quickly within a matter of hours and can be used to eradicate other types of weed as well including clover, dandelions, white clover, moss, and much more.
Apart from your lawn, Green Gobbler can be safely used in several different areas such for residential, commercial, industrial, and agricultural applications. Adding to this, it can be sprayed on mulch beds, concrete, flower beds, parking lots, barns, farmlands, and driveways, and is OMRI listed for organic use.
The Green Gobbler vinegar-based natural Nutgrass herbicide is a powerful solution that contains absolutely no cancer-causing chemicals, and is Glyphosate-free, yet is 4x stronger than table vinegar.
It is made from ethanol distilled from corn grain, and is a non-selective herbicide, so you can use it for broadleaf and grass weeds, but not on healthy plants and desired grass. To increase the effectiveness of the Green Gobbler herbicide, you can mix it with a high quality surfactant, and spray it on a calm, sunny day (above 65°F).
How to use Green Gobbler Vinegar Natural Nutgrass Killer to kill Nutgrass
Using the Green Gobbler herbicide is easy, where you pour it into a pump sprayer or you can attach the included trigger sprayer and spray evenly over the affected area. It is a ready to use product, with no dilution needed.
Pros:
No dilution needed
4x stronger than table vinegar
Chemical and Glyphosate-free
OMRI certified for organic use
Includes trigger sprayer
Cons:
Does not come mixed with surfactant
3. Bonide Burnout Weed Killer
Affiliate links and images pulled from the Amazon Product Advertising API on: 2023-12-08
Burnout Bonide is a fast-acting organic herbicide that is geared towards eliminating myriad different weeds including Nutgrass, moss, and algae. Even though it can be used at any time of day, it is recommended that you spray the Burnout weed killer on visible Nutgrass areas during warm and dry conditions.
Bonide Burnout weed killer can be used on several different areas of your property including driveways, bark mulch, sidewalks, patios, and gravel. You can apply it during winter/cold weather conditions too, but it may take longer to kill the Nutsedge growing in your lawn.
How to use Bonide Burnout natural Nutgrass killer?
Bonide Burnout is a ready to use product right out of the box. Mix a cup of Burnout with water, mix well, add to your sprayer, and spray across the Nutgrass infested area.
Pros:
OMRI certified for organic use
Can be used to get rid of many types of unwanted weeds
Easy to use
Cons:
Does not come with sprayer
Natural Nutgrass Killer Buying Guide
The surge of appeal for natural or organic Nutgrass weed killers has increased over the years for several reasons, most notably the desire to use products that are more environmentally friendly, and 100 percent safe to use in residential environments.
Active ingredients in organic Nutgrass killers
First thing to note is that just because the active ingredients contained in these products are natural, doesn't mean that that they aren't harmful. A few examples include acetic acid — the primary active ingredient in vinegar, and capric acid — saturated fatty acids found in certain milks and vegetable oils.
So, what this means is that you can spray them on the weeds, but can't consume them orally! The way natural Nutgrass killers work is by destroying the top layer of the stems of the plants, which then dries out the entire plant down to the roots, eventually killing them within a short period of time.
This is why it is recommended that you spray organic weed killers during dry, sunny weather, when temperatures are at least 75°F, and all over the Nutgrass blades. If you have larger size Nutgrass weeds, you will probably need a second application in a couple of weeks after the first treatment.
Non residual
One of the other key traits of natural Nutgrass killers is that they don't linger in the soil once sprayed, so you can replant in that area fairly quickly. However, it is worth mentioning that they might not be a permanent solution, and won't prevent the weeds from cropping up in the near future after application.
Concentrated vs. ready-mixed Nutsedge weed killers
Many organic Nutgrass weed killers arrive factory-mixed, meaning all you have to do is load up your sprayer, and get to work. Ready-mixed weed killers are an ideal choice for smaller areas or to direct the herbicide towards a specific, targeted area.
Dr. Earth Final Stop Weed & Grass Killer

Glyphosate free, non-selective herbicide weed & grass killer that kills naturally using essential oils.
OMRI Listed for use in organic gardening.
No synthetic ingredients.
Non-selective weed and grass killer.
Concentrate covers 2000 square feet with a dilution rate of 16oz. per gallon of water.
If you have a larger area to tackle, anything over 30 square feet, then opt for a ready-mixed natural Nutgrass killer. But if you have a larger area to deal with, then it's best to use a concentrate, dilute it, and spray over the affected area. The effectiveness and strength of most weed killers can be increased by mixing them with a surfactant.
It is highly important to read the manufacturer instructions before using any herbicide whether organic or chemical solutions.
How to Kill Nutgrass with Heat?
If you're still on the fence about using any of the aforementioned organic Nutgrass killers, then using heat is another natural and affordable solution to kill Nutsedge. In fact, heat treatment for Nutgrass can show faster results, and you won't have to worry about harming your pets.
For this solution, you will need a good weed burner device such as the AUSAIL Weed Torch Propane Burner. Flame weeding is the process of using heat to kill weeds by passing a flame over the Nutgrass plants briefly to heat their tissues just enough to kill them. This process kills the above-ground portion of the Nutgrass but doesn't kill the roots.
Affiliate links and images pulled from the Amazon Product Advertising API on: 2023-12-08
Flaming weeds can kill some types of annual weeds permanently, but remember Nutgrass is a perennial weed, so it grows back year after year from the roots left in the soil. Even when trying to flame Nutgrass, you will probably have to apply a couple or more treatments every two weeks or so.
The AUSAIL weed torch is one of the best Nutgrass weed flamers you can get your hands on and is equipped with a propane burner that can shoot out high-temperature flames. It is built tough from high strength stainless steel, yet is lightweight at just 13 ounces, making it easy to flame a large area of Nutgrass without causing strain on your hands.
To use the AUSAIL weed torch, screw the grill torch head into a standard 14 or 16 ounce propane canister, and then squeeze the trigger to fire it up. With regards to capacity, the torch burns for roughly an hour when connected with a full 14-ounce propane canister.
The AUSAIL weed torch isn't limited to just flaming weed, but can be used for several other tasks around your home as well such as lighting up your fire pit, blacktop repair, de-icing your driveway and pavement.
Pros:
Made from high quality material
Shows faster results
Can shoot high temperature flames
Weighs just 13 ounces
Can be used for other household tasks
Cons:
Does not come with propane canister
How to use a flame weeder to kill Nutgrass?
First thing to understand before you use a flame weeder is that you are dealing with fire, hence need to be extra careful when using the tool. Once you get the get the hang of it, you can use your weed flamer to kill all kinds of weeds, so it's a handy tool to have in your gardening arsenal.
1. Clean your lawn
You need to ensure that your lawn is free from any flammable materials, because you will be using an open flame.
2. Turn on the weed flamer
Not all weed flamers are built alike, so refer to your owner's manual to check how to turn on the weed burner if you're using it for the first time. After you turn it on, you should adjust the flame if the option is available, where a smaller flame is great for smaller areas of Nutgrass.
3. Burn the Nutgrass
Nutgrass only needs a 1/10 second exposure to the powerful flame, so start by aiming towards the roots, and direct the torch towards the top of the plants. Be sure to keep the hose connected to the propane tank away from the wand, and clean your yard once again after each flaming weed session.
How to Remove Nutgrass Manually?
Okay, using fire to kill nutgrass may be overkill but it was important to note. So, nutgrass can also be removed manually with a few tools, but with a considerable amount of effort. The manual removal process is not to be confused with controlling Nutgrass, because the former gets rid of the weed plants temporarily, given that the tubers may be present up to one foot or more below the soil's surface.
Controlling Nutgrass entails using herbicide treatment, whether organic or chemical applications a few times to remove all the plants, and its parts from the soil. But if you're ready to pull the Nutgrass out manually, you can use the AMES Steel Stand Up Weeder to get the job done rather than using your hands.
Affiliate links and images pulled from the Amazon Product Advertising API on: 2023-12-08
The AMES weeder is a great choice for pulling out all types of weeds and comes in handy for a wide range of gardening tasks as well. It is designed to eliminate Nutgrass at its roots quickly and easily and without the use of chemicals. Adding to this, it boasts a durable and lightweight construction at just 3.6 lbs, making it convenient to use.
The AMES weeder features a unique, standup design, which allows you to pluck Nutgrass, without bending your back. It comes with a T-grip, which is comfort padded for enhanced comfort and control. Further, it is fitted with an ejection slide handle, which allows to release the Nutgrass, while standing upright.
But that's not all, the bottom of the AMES weeder is equipped with a plunger, which does two things – clears the weed, and aerates the soil simultaneously. Aerating your soil is important when trying to control and eradicate Nutsedge, because it improves soil drainage.
Pros:
Durable and lightweight
T-grip for comfortable use
Ejection slide handle
Integrated plunger to aerate the soil
Cons:
Limited to 1 color option
How to use a weeder to control Nutgrass?
Using the AMES Steel Stand Up Weeder is literally a no-brainer, and can be done right out of the box. Adding to this, it is extremely safe to use, but here are the basics on how to use a weeder to get rid of Nutgrass.
1. Decide where you want to use the weeder
Place the AMES weeder exactly over the Nutgrass weed you'd like to get rid of. If it's your first time using a weeder, you may find it easier to work your way through the smaller Nutgrass weeds, and then move on to the larger plants.
2. Maintain good posture with a straight back.
Place your foot on the bottom of the weeder in order to push the tool into the ground over the Nutgrass plant. Try to push as deep as possible to try and reach the root of the plant. You do not need to bend when using the AMES weeder, but just apply force with your leg.
3. Pull the Nutgrass out
Once you're in a good position, twist the handle of the AMES weeder to pull the Nutgrass out along with its roots.
How to Control Nutsedge with Landscape Fabric?
If you don't want to deal with natural Nutgrass killers and weeders, then laying out some landscape fabric is another great option to control Nutgrass and other weeds. By laying out synthetic landscape fabric, you basically create a barrier to Nutgrass yet allow air, water, and nutrients to desirable plant roots.
When choosing the best fabric, you will be spoilt for choice, given the many options available. But the HOOPLE Premium Pro Garden Weed Barrier Landscape Fabric scores well in this segment, most notably for its 3x thickness compared to its competition. It is easy to install and can be used to keep your lawn and garden weed-free for a while.
Affiliate links and images pulled from the Amazon Product Advertising API on: 2023-12-08
Plus, it is environmentally friendly, and free of any chemicals, so you can rest assured it won't cause any damage to your desired plants, and yard. Adding to this, the HOOPLE landscape fabric is UV stabilized, and permeable to air and water, so it will block the Nutgrass, but not the essential resources from reaching your other plants.
Pros:
Extremely thick
Environmentally friendly, and chemical free
Easy to install
Great longevity
5-year manufacturer warranty
Cons:
Might not work well in all weather conditions
How to use landscape fabric to kill & control Nutgrass
Installing landscape fabric to control Nutgrass is easy for the most part, and is even easier if you have a pair of extra hands to help. Once you install the HOOPLE landscape fabric properly, it will considerably lower your time and energy by reducing Nutgrass and other weeds in your lawn without having to pull them.
1. Clean up the area
It is a good practice to clean up the area where you're going to be installing the landscape fabric to prevent causing damage to the sheet. Things you need to get rid of include plants, sticks or stones, and pieces of wood. These things if not removed are sharp enough to poke holes in the landscape fabric, which will make way for weeds to grow.
2. You should also remove the Nutgrass present, and rake the soil to smooth the area. Next, unwrap and unroll the fabric lengthwise across the entire area that needs to be covered for Nutgrass weed control. Remember, this solution will not be effective against Nutgrass weed control if the landscape fabric doesn't cover the entire area completely.
3. Get a pair of sharp garden scissors or utility knife, and cut the fabric to fit the entire area. If you have a large area to cover, cut more pieces of the fabric, and overlap the existing installed pieces by approximately 10 inches to prevent the Nutgrass from cropping up between the gaps.
4. If you have desired plants in the area where you've laid out the landscape fabric, you will have to cut holes in it to accommodate the plants. You can do this by using your garden scissors or utility knife to cut a slit around the stem of the plant.
5. Now that you've almost installed the fabric, one last thing to take care of is securing it to the ground, so that it doesn't move or fly away with the wind. You can do this by ripping holes in the fabric or use bricks, but the best way to prevent causing any damage to the fabric is with landscape staples.
How to Kill Nutgrass Naturally with Mulch?
Mulch is a loose substance or material that offers a plethora of uses including suppressing weeds, retaining moisture in the soil, preventing frost heaving in the winter, keeping soil cool, and increasing the overall appeal of your lawn and garden.
Mulch is available in two different types — organic and inorganic, where the former is made from formerly living material such as chopped grass clippings, leaves, straw, compost, pine needles, sawdust, etc. Inorganic mulch is typically made from geotextiles (landscape fabrics) or black plastic.
Choosing between the two types depends on personal preference, but both offer twofold benefits — discourage weeds, and improve the soil as they decompose. You can find mulch easily around your household, or you can buy any of these mulches for Nutgrass control.
FibreDust CoCo Mulch
Affiliate links and images pulled from the Amazon Product Advertising API on: 2023-12-08
The FibreDust CoCo mulch is made from 100 percent coconut husk, and does not contain any additives. It is made by crushing coconut husks, and offers several advantages over bark mulch including the fact that it does not float, hence can be used on sloped surfaces.
Further, owing to the high content of lignin in coconuts, FibreDust CoCo mulch provides better longevity of roughly three years without needing replenishment. Additionally, it offers great performance of two cubic feet per block when expanded with four gallons of water, and keeps Nutgrass under control, while providing a rust look for your lawn.
Wood Smith USA Natural Cedar Chips Mulch
Affiliate links and images pulled from the Amazon Product Advertising API on: 2023-12-08
The Wood Smith USA Natural Cedar Chips mulch is a great way to combat Nutgrass, and is made from 100 percent natural cedar. As such, it can be used as mulch for Nutgrass, to refill your cedar sachet bags, or placed in areas to absorb odors including in animal bedding and kitty litter.
Made in the USA, the Wood Smith USA Natural Cedar mulch can be ordered in a choice of four different variants including four-quart shavings, and can be used to control many types of weeds, and retain moisture in soil.
Red Cedar Mulch
Affiliate links and images pulled from the Amazon Product Advertising API on: 2023-12-08
The Terrafirma in a Bucket Red Cedar mulch provides a multitude of uses in your lawn and garden including weed protection and water retention. When installed right, it offers an eye-catching natural red color topped with a great aroma. It comes in a bucket for ease of use, easy storage, and fragrance retention.
How to use mulch to control Nutgrass?
One of the biggest mistakes people make when applying mulch is that they don't apply it generously. To retain moisture and smother the Nutgrass, you have to apply at least a two to three-inch layer of mulch, because anything less that will allow sunlight to seep through, and cause the Nutgrass or other weeds to germinate.
Apart from applying a good amount of mulch, there are other things you need to pay attention to when applying mulch including making sure it isn't pushed against your desired plants. When mulch is stacked tight against your annuals, perennials and vegetables, it can retain moisture, consequently causing the plants to rot.
Homemade Natural Nutgrass Control Remedies
There are a few natural home remedies to kill Nutgrass, but you will probably have to try more than one until you find the remedy that works best for you.
Control Nutgrass with sugar
Refined sugar does a great job at significantly lowering nutrient levels in the soil, and starves out the Nutgrass, but allows your lawn grasses to grow. To kill Nutgrass with sugar, you will need a lawn spreader. A handheld lawn spreader is possibly your best option, as it allows you to reach restrained areas where Nutgrass is present.
The Scotts Wizz Hand-Held Spreader is a battery-powered device that is designed to spread sugar, lawn fertilizer, and weed control products around your lawn. It features a five-foot broadcast and can cover up to 2500 square feet.
1. Start by loading the spreader with sugar, and spread at the rate of 1 lb per 10-1/2 square feet on dry grass. Repeat this process lengthwise or crosswise until you cover the entire Nutgrass area with sugar. The best time to apply sugar to kill Nutgrass is in the morning when there is no dew.
2. Once you've spread the sugar, use a hose or sprinkler to water the lawn at roughly one inch deep to soak the sugar, but not wash it away. 
3. Depending on the initial results, you may have to perform a few more applications every three months or so to keep the nitrate level low. You can stop applying sugar once your lawn is visibly free from Nutgrass, and other weeds.
Control Nutgrass with Borax
Affiliate links and images pulled from the Amazon Product Advertising API on: 2023-12-08
Borax is billed as a green product, because it is free from phosphates and chlorine, but contains sodium tetraborate — a naturally occurring mineral. But even though borax is natural, it is not 100 percent safe, and can cause damage to desirable plants.
Homemade Borax Nutgrass killer is however a much less toxic solution than commercial and chemical based weed killers for Nutgrass. Plus, Borax is readily available at your local grocery store, so grab a bottle, and dissolve 10 ounces of it in 4 ounces of warm water.
1. Mix the Borax well until it fully dissolves, then add 2 1/2 gallons of water to the mixture, which should cover up to 1000 square feet. You can however increase or decrease the aforementioned numbers to suit your needs i.e. example — more Borax and more water for a larger area.
2. Pour the mixture over into a garden sprayer for uniform spraying, and then spread evenly over the Nutgrass plants.
Control Nutgrass with dish soap
Affiliate links and images pulled from the Amazon Product Advertising API on: 2023-12-08
Dish soap isn't just a good solution to clean greasy dishes but can be used to kill bugs, and alongside vinegar and salt to kill Nutgrass. Dish soap basically serves as a binding agent and allows the salt and vinegar to stick to the Nutgrass leaves.
When this happens, the acetic acid and the salt dries out the Nutgrass leaves, which hinders its ability to make food, eventually killing it.
1. Start by adding one cup of salt and one tablespoon of dish soap to one gallon of vinegar, and mix thoroughly.
2. You will need to pour this mixture through a funnel into a spray bottle, without spilling it all over the place.
3. Even though you can use any vinegar to kill Nutgrass, it is best to choose one with at least 10 percent to 20 percent level of acetic acid, and use dish soap that is not antibacterial. Given that vinegar can sting, you should throw on a pair of safety gloves and glasses when working with this mixture.
4. Spray the Nutgrass with dish soap on a hot, preferably dry day, and repeat application if necessary within a couple weeks or so.
Kill Nutgrass with boiling water
If you've never used boiling water to kill Nutgrass, it works by collapsing the weed's cell structure, and kills it. Nutgrass being a stubborn weed may need more than one or two treatments, but once done makes it easy to pull and remove the Nutgrass from your lawn.
Since any plant will probably die when scalded with boiling water, it is highly recommended that you not use this Nutgrass killing solution near valuable plants. Boiling water can also be used to disinfect the soil prior to planting new seeds.
The easiest way to use boiling water to kill Nutgrass is with a tea kettle with a spout, and a heatproof handle. The spout will allow you to pour a nice flow of water right over the weeds, whereas the kettle will retain most of the heat. Remember to pour slowly to ensure that you don't damage any ornamental plants or grass nearby.
Control nutgrass with corn gluten
No products found.
First thing to understand is that corn gluten meal is different than the corn meal found in grocery stores, but is derived from the corn wet-milling process. Corn gluten was originally used as a supplement in pig feed, but has now become a great Nutgrass killing solution compared to synthetic chemical herbicides.
A noteworthy benefit of using corn gluten meal to kill Nutgrass is that it can control Nutsedge and other weeds, and does possess nutritional properties as well. It contains 60 percent protein, and 10 percent nitrogen by weight. Corn gluten meals may vary in content, but the one that works to kill Nutgrass contains 60 percent protein.
Corn gluten meal does not prevent Nutgrass from germination, but rather prevents those seeds from establishing roots after germination. So, when applied in a timely manner, Nutgrass seeds will form shoots, and not roots, and will therefore die.
Corn gluten will only work as a pre-emergent herbicide, hence will only serve as a fertilizer if the Nutgrass has already germinated and taken root. With regards to application times, it is important to water the corn gluten right after application, which should suppress 60 percent of the Nutgrass seeds.
Control Nutgrass with lemons
Affiliate links and images pulled from the Amazon Product Advertising API on: 2023-12-08
When life gives you lemons, use them to kill Nutgrass, and other weeds in your lawn. Lemon juice has the essential innate properties to kill Nutgrass, and is perhaps as close to as you can get to a natural Nutgrass killing solution.
Start by making some lemon juice with little or no water. Next, douse the Nutgrass with the lemon juice, and it should shrivel the weed within a few days. Lemon juice will actually kill any plant, so use with caution, and only on Nutgrass, other weeds, and undesirable plants.
Rubbing alcohol to kill Nutgrass
Affiliate links and images pulled from the Amazon Product Advertising API on: 2023-12-08
Using rubbing alcohol to kill Nutgrass is becoming an increasingly popular homemade remedy to kill weeds. To create the mixture, you will need two tablespoons of rubbing alcohol, one-quart water, and a one-quart measuring cup.
Mix two tablespoons of rubbing alcohol with water, and pour into a spray bottle. Use the spray bottle to spray the rubbing alcohol over the Nutgrass gently, without allowing the solution to come in contact with the desirable plants.
Final Thoughts
Nutgrass can be a challenging nut to crack, but the solutions mentioned in this list should help you control the issue, and hopefully eradicate future instances of Nutsedge. This weed is an issue for avid gardeners across the globe, but goes by different names such as Motha in India and Teki in Indonesia.
Nutsedge is a persistent weed, but its growth is severely restricted by shade. Even though most of your landscape plants or larger crops may dominate Nutgrass eventually, they may never be able to suppress it completely. Therefore, it will always grow if not controlled, owing to its complex interconnected network of underground stems.
Nutgrass will only establish and grow well in perfect growing conditions, so it is a good practice to perform periodical maintenance on your lawn. This includes fluffing up or improving the soil, weeding, importing new, rich fertile soil, and removing old plants.
The best way to kill Nutgrass naturally is to avoid the issue, to begin with, and you can prevent the establishment of Nutgrass by applying fabric mulch in garden beds, and eliminating wet conditions.
Also see: What Weeds Look Like Grass
Sources:
Yellow Nutsedge Control Purdue University