Winter is one of the seasons no one looks forward to (except for Christmas), and is perhaps the only season where lawn care is the last thing on your mind!
But now that the harsh winter is coming to an end, and spring is right around the corner, it's time to tackle a few simple chores to help your lawn bounce back from the chilly climate, and thrive for years to come.
There are several ways to prepare your lawn after the end of winter including raking up the leaves and grass blades that didn't survive the winter months, overseeding thin, bare spots in the yard, aerating, dethatching, mowing the grass to the right height, and checking and bringing nutrient deficiency under control by applying slow-release fertilizer or quick-release fertilizer.
Key Takeaways: End of Winter Lawn Care
Grass goes dormant in the winter and doesn't die when cared for properly during the cooler months and warmer months
Key signs of winterkill include pink or grey grass mold, grass winter desiccation, and ice damage to grass
Keep your yard clean throughout the winter, and overseed in the spring to encourage new growth
Assess the soil and aerate if necessary in the spring
Apply winter fertilizer in the fall, and a good fertilizer in the spring
Does Grass Die in the Winter?
This is a question that frequently crops up among homeowners and the answer is a bit more complex than a simple yes or no.
It's important to note that healthy grass requires your attention in all seasons, or else it can die. Cool-season grasses and warm-season grasses generally go dormant in the winter, which is essentially a period when your lawn goes to sleep.
But here's what's tricky; dead grass is difficult to detect in the middle of the winter because dormant grass turns brown to conserve water and nutrients, making it seem as though it's dead.
To avoid guesswork, there are a few signs of winterkill – an umbrella term for the effects winter can have on your lawn.
3 Signs of Winterkill
While these issues cannot be avoided completely, there are a few things you can do to get your gorgeous lawn back. Here are some signs of winterkill, and what you can do in the spring to revive your lawn.
Pink or grey grass mold
Snow mold is a type of fungus that looks like snow and tends to damage or kill grass after the snow melts, typically in late winter.
There are two types of snow mold-pink snow mold and grey snow mold, and both types can trigger allergies in people and cause your grass to die.
The bad news is that when you notice snow mold in your lawn, the damage has already been done, and even applying fungicides that kill mold at this point won't do any good.
You'll have to wait until the weather warms up and the soil dries to get a better idea of the area of grass that's been affected. Remember, pink snow mold can kill grass roots as well as the blades, but your lawn may be able to bounce back if affected by grey snow mold, given that it doesn't kill the roots.
The only way to remove snow mold is to take the necessary steps to prevent it in the first place. These steps include mowing after the snow, treating your lawn with a preventative fungicide before the heavy snow sets in, dethatching your lawn at least twice a year, and raking leaf piles in the early fall.
Grass winter desiccation
Desiccation is a form of abiotic stress that causes extreme dryness when water in your grass is lost faster than water is replenished.
Winter winds and cold weather can take a toll on your grass and soil by excessively drying them out. The damage of desiccation can range from minor to severe, and your grass should recover on its own during the spring if minor damage occurs, but aggressive renovation practices may be required in the event of major damage.
Ice damage to grass
Ice damage to grass can affect the blades and hinder root growth, and generally occurs during fluctuating temperatures such as periods of snowfall, followed by warm temperatures, and then freezing temperatures.
The best way to prevent ice damage to grass is by ensuring you have proper drainage on your lawn. A lawn that isn't collecting excess water is less likely to suffer from ice damage to the grass.
8 End of Winter Lawn Care Tips
1. Make Sure the Yard is Clear Throughout the Winter
As you're wrapping up yard work in the fall, clear any unwanted items on the surface such as garden furniture, sprinklers, hoses, and any dirt and debris. If left behind, these items can get matted down during the winter months, and can serve as a breeding ground for pests and mold.
2. Protect the Yard During the Last Weeks of Winter
Maintaining a healthy lawn is a year-round task, so protect your grass from foot traffic and piles of snow through the last stretch of the winter season.
When shoveling snow, avoid getting it onto your lawn and break up snow piles at the end of the winter so that it melts away easily and quickly.
3. Spruce the Grass at the Beginning of the Season
Your grass isn't going to look pretty when the snow clears due to the harsh winter. In the early spring, a little TLC goes a long way, so start by clearing leaves and dead grass after the soil dries, rake the lawn to break up any matted areas, and improve airflow on the surface.
Be gentle when raking the lawn because the blades will easily come out of the ground when the soil is moist.
4. Overseed in the Spring to Encourage New Growth
Even though it's recommended that you aerate the lawn with an aerator or similar tool before spreading grass seeds, you can follow these steps to overseed without aerating.
The first week of April is the ideal time to overseed your lawn or you can do it in the winter too for a head start.
5. Aerate if Necessary
The ground is hard and the grass won't recover quickly if you aerate in the winter, so aerate the soil in the early spring or fall for cool-season grasses, and late spring through early summer for warm-season grasses.
You may have to aerate your lawn in the spring if you have compacted soil, but spring aeration is mostly discouraged during this time because the aeration holes provide a perfect spot for weeds to germinate.
6. Assess the Soil
Winter temperatures can significantly increase the pH level of the soil. so either send a sample to your local cooperative extension office to determine your soil's acidity or use a soil pH kit to check the alkalinity of soil.
Grass requires a neutral pH (7.0) during the active growth period and for continual growth, and there are a variety of soil amendments you can make if your current soil pH is below or above this number (alkaline soils).
7. Fertilize
Apply fertilizer with a rich mix of nutrients in the fall and in the spring. It's a good idea to apply a dose of fertilizer to prepare your lawn for the cold climate.
The term "winter fertilizer" can be confusing for many homeowners, given that most believe that it should be applied in the winter.
However, winter fertilizer aka fall lawn fertilizer should be applied in the fall to prepare your lawn for what could be a nasty winter ahead.
When shopping for the best winter fertilizer, you'll be spoilt for choice due to the myriad options available. But apart from a good dose of nitrogen, buy a winter fertilizer with a 2:1 to 1:2 ratio of nitrogen to potassium.
Two good options in the winter fertilizer space are Scotts Turf Builder fall lawn food, and Jonathan Green fall lawn fertilizer.
Affiliate links and images pulled from the Amazon Product Advertising API on: 2023-10-03
Jonathan Green (12400) Winter Survival Fall Lawn Food - 10-0-20...
PERFECT FOR FALL USE - This fall lawn fertilizer has an analysis of 10-0-20. The high potassium formula promotes deep rooting and stores nutrients for spring. It also contains slow-release nitrogen that keeps your grass greener later into the year.
REPAIRS & PROTECTS - Winter Survival is the ideal fall fertilizer to use when repairing summer lawn damage. It also sets your lawn up for success throughout winter. A thick, healthy lawn in fall can ward off winter stress better.
PROMOTES EARLY SPRING GREEN-UP - If Winter Survival is spread early in the fall, a second application in the first week of November will safeguard your lawn over the winter resulting in a greener grass early next spring.
Affiliate links and images pulled from the Amazon Product Advertising API on: 2023-10-03
The best time to apply fall fertilizer is between September 1st and October 15th, but the general rule of thumb is that the farther north you live, the earlier you should apply winter fertilizer.
I also apply a dose of fertilizer in the spring, followed by a couple more applications during the growing season. The best time to fertilize your lawn is in the late spring and not early spring.
For more clarification on fertilizers, read my detailed guide on if and when you should fertilize your lawn every year.
8. Mowing
There is no exact date to start mowing your lawn, and often it depends on the conditions of your lawn and the weather.
Refrain from mowing when the ground is frosty or if frost is due within 24 hours because it may damage your lawn. You can start spring mowing in march with a high mowing height on grass.
Once April comes around, the growth rate of grass increases, so you will have to use sharp mower blades to cut the grass more frequently. 
Final Thoughts – How to Make My Grass Greener After Winter?
Regardless of the type of winter you've experienced, there are certain things you can do to revive your lawn from winter yard damage and get your yard ready for the spring and summer months.
Once the fall kicks in, get ready to step on the gears by watering in the fall until the ground freezes, applying a quality winter (fall) fertilizer, and getting rid of the weeds by removing them at the root level.
You can apply a pre-emergent weed killer after the last freeze, and before your grass begins to grow and weeds become established.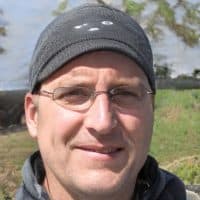 Hi, Alex Kuritz here. Growing up I remember that my family had one of the best lawns in the neighborhood. Richly green and lush. I did a lot as I grew up in terms of caring and tending for not only my family's lawn but also my neighbors. I can say I have years of experience, and I am here to share it with you.