A sprinkler is a no-frills device – all it does is shoot out water right? However, not all sprinklers are built the same, and each type of sprinkler has different watering rates.
So, the big question is how long to run a sprinkler and water your lawn? Well, the answer depends on several factors such as the type of sprinkler, the size of your yard, and most importantly the pressure and flow rate of water in your home.
Most sprinkler systems should be set to run for roughly 40 minutes per week, divided between 2 sessions to provide your grass blades and grass roots with good hydration.
When Is the Best Time to Run Your Sprinkler System?
The best time to run your sprinkler system is early in the morning because the water is less likely to evaporate during the early morning hours.
Running your sprinkler system at sunrise and not during the afternoon heat ensures optimal water absorption, so you waste less water.
As a general rule of thumb, especially during hot weather, set your sprinklers to run between 4 am and 6 am in the morning.
Running your sprinkler system in the middle of the day can actually fry your grass in your entire lawn especially when the summer temperatures are insanely hot.
What is the Best Time (s) to Run Sprinklers During a Heatwave?
Setting sprinkler runtimes during summer heat waves can be challenging to plan because the sunshine can be detrimental to your grass that's wet.
Set your irrigation watering schedule to early in the morning to ensure your turf has time to absorb the water before the heat wave sets in around noon.
Watering during the middle of the night to avoid troublesome heat is not recommended, given that the late dark, damp hours of the summer night present the problem of fungi and can increase the chance of lawn diseases. 
Check out my article on the best time to water your lawn in summer for more details.
How Long to Run your Sprinkler For – General Recommendation
The amount of time you should run your sprinkler mostly depends on the type of sprinkler you are using.
Typical pop-up sprinklers should be run for 10 – 15 minutes and roughly use 9 liters of water per minute.
Rotator-type sprinklers need to run for approximately 40 minutes and use 2.5 liters of water per minute.
Sprinkler manufacturers generally publish precipitation rates and flow rates for their products, and the rates can vary by model and nozzle selected.
Short, frequent watering can stop root development due to the lack of moisture at deeper depths, so the roots become concentrated in the few top inches of soil.
Factors that Affect Sprinkler Watering Time
Far too often, I've come across folks who've run up a water bill due to incorrect sprinkler timings. And then there are other people who've overwatered their lawns and/or at the wrong time, resulting in a soggy type of soil and fungal growth.
That said, here are 8 factors that affect sprinkler watering time
1 – Size of the area being watered
It goes without saying that larger lawns require more water per week than small and medium size lawns. If you have a sprawling, lawn, set your sprinkler system to deliver more water per week.
Impact sprinklers with a tripod are great and more versatile for larger lawns due to the extra height they provide. The Twinkle Star impact sprinkler comes with a tripod base for lawn irrigation.
Twinkle Star Impact Sprinkler on Tripod Base, Quick Connector and...
Yard Impact Sprinkler with Tripod Base: Comes with durable lawn impact sprinkler with tripod base for yard, lawn and grass Irrigation. Free rotation of the sprinkler head around in a 360 degree radius. Adjust the range and arc of the water, and change the spread of water. Make irrigation in your garden fun!
High Quality: The sprinkler is made of heavy duty brass and solid alloy metal. The upgraded design not only looks polished but is robust much more sturdy and durable than other plastic sprinkler. Durable, strong, water resistant and corrosion resistant, can be used for a long time.
Coverage Pattern: Heavy duty sprinkler, the coverage area is up to 40-70ft diameter. Low pressure lawn sprinkler, the distance of water jet is related to the water pressure. Maximum pressure up to 80psi.
Affiliate links and images pulled from the Amazon Product Advertising API on: 2023-10-03
It is crafted from heavy-duty brass and solid alloy metal and can cover up to 40 ft to 70 ft in diameter. The tripod base can be extended up to 70 inches high and easily using the integrated quick-release leg clips.
There are several sprinklers available for small to medium size yards but the Eden oscillating sprinkler is my all-time favorite for several reasons, starting with its 16 precision nozzles.
Affiliate links and images pulled from the Amazon Product Advertising API on: 2023-10-03
Further, it is easy to use with its sliding tab range controls, which collectively make it easy to adjust the water coverage.
2 – Type of sprinkler being used
There are myriad different types of sprinklers for lawns and watering times vary with each type. Stationary sprinklers are one of the most common types of lawn sprinklers and as the name suggests are fixed in a single place in your lawn.
Stationary sprinklers are ideal for casting water in areas where other sprinklers can't reach and provide precise watering quickly.
Stationary sprinklers feature fixed spray nozzles and should be used for 10 – 19 minutes per day. The Nelson stationary sprinkler features 8 pre-set patterns and rests on a durable decorative metal base.
Affiliate links and images pulled from the Amazon Product Advertising API on: 2023-10-03
Next up are traveling sprinklers, which as you might have guessed move around in a pre-set pattern in your lawn. Traveling sprinklers do require supervision and are great for watering large-size lawns.
Traveling sprinklers are fitted with rotary nozzles, therefore their watering time varies between 27 and 45 minutes per day.
The Nelson Rain Train traveling sprinkler boasts a rust-proof cast iron construction and can water up to 13,500 square feet. It features an adjustable arm for varying spraying patterns and a front wheel that runs on the hose.
Affiliate links and images pulled from the Amazon Product Advertising API on: 2023-10-03
Impact sprinklers are aptly named because they generate powerful jet streams or showers. This type of lawn care sprinkler comes with an adjustable head that can be set to stay stationary, and rotate left and right to cover a pie-shaped area.
Impact sprinklers are fitted with a rotary head, hence the water time is the same as traveling sprinklers – between 27 and 45 minutes per day.
Oscillating sprinklers use the force of moving water to create linear or rotational motion. They work well for a small-sized lawn and provide a nice rain-like effect.
Oscillating sprinklers are fitted with a fixed spray head that contains several nozzles, and their watering time is between 10 and 19 minutes per day. The Melnor oscillating sprinkler is perhaps the best product in its segment and features 20 precision rubber nozzles for maximum coverage.
Adding to this, the Melnor automatic sprinkler features twin touch adjustment controls and is powered by an Infinity turbo drive system.
3 – Pressure and flow rate of the water
Both high and low water pressure and the flow rate of water can affect watering times in a healthy lawn. High water pressure and a high flow of water can lead to over-watering, meaning shooting water beyond the desired area.
Often this may result in puddles on the streets and a wet house. This also leads to wasted water that was intended to irrigate a beautiful lawn.
4 – Desired level of watering
If you'd like to provide more water for your lawn at a certain time of day, you'll have to run the sprinkler watering system for longer to keep your lawn alive and avoid dead grass.
Contrarily, if you have excellent drainage and your lawn doesn't suffer from poor soil conditions, you may want to tone down the watering down by a few notches.
5 – Cool-season grasses vs. warm-season grasses
Both cool-season and warm-season grasses need summer water. However, cool-season lawns require 20 percent more water than warm-season lawns, so the output and watering times are different for each grass type.
6 – Dormant lawns
Once your lawn goes brown and dormant, it's hard to tell whether it's dying unless you water it and wait for a response. It's recommended that you run your sprinklers infrequently, about once a week, for 20-30 minutes.
7 – Weather
The weather plays a vital role in watering times. Cold weather doesn't evaporate moisture from a turf as quickly as it does in warmer weather, leading to less sprinkler watering time.
8 – Soil Type
There are three primary types of soil – sandy soil, silt soil, and clay soil. Loamy soil is a blend of all three types. The ability to retain water is partly determined by the size of the soil type's particles.
The smaller the particle, the more water the soil retains. For example, sandy soil has larger particles than clay soil so it retains less water, therefore should get 1/3 of an inch of water three times a week.
9 – New Grass
If you've just established a newly planted grass in your yard, you'll need to adjust the watering schedule. The best time to water grass seed is also in the morning, but you'll need to consider a few aspects, such as using hard or soft water, how long to water the seeds, and what is the right amount of water to use up until germination.
How to Calculate Watering Time for Watering Lawns?
Step 1: Calculate the total square footage of the area being watered
To calculate sprinkler watering time and water the lawn evenly and avoid brown grass, the first thing to do is calculate the total square footage of your yard.
You can calculate the square footage of your yard by simply walking the length of your lawn, keeping in mind that one pace equals 3 feet. Then multiply the length by the width to get the grand total.
Step 2: Determine the flow rate of your sprinkler.
Use the tuna can method or a flow timer if you're unsure of your system's output.
If you aren't sure about the flow rate of your sprinkler, you can determine this number by using the tuna method or a flow timer.
The tuna test basically uses two tuna cans to determine the flow rate of your sprinkler. For the tuna method, you will need:
2 tuna cans
A ruler
15 minutes
Basic math skills
Steps of the Tuna Cans method:
Place 2 tuna cans in 2 different areas of your yard within your sprinkler's spray range.
Run the sprinkler water system for 15 minutes
Use the ruler to measure the depth of water in the tuna cans
Take the average between the two
After determining the average amount of water that your sprinkler system puts out in 15 minutes, refer to the chart below to see how much time it will take to water one inch.
| | | |
| --- | --- | --- |
| Average water depth after 15 minutes | = | Total time needed to water 1 inch |
| 1/8″ | = | 120 |
| 1/4″ | = | 60 |
| 1/2″ | = | 30 |
| 3/4″ | = | 20 |
| 1″ | = | 15 |
Table Credit – https://www.regionalh2o.org/water-conservation/outdoor-water-conservation/measure-your-sprinklers-water-use
Step 3: Determine the watering rate for your soil
The water-holding capacity of saturated soils is between 400 – 600 mm of water per meter of soil depth. However, these numbers could vary depending on the clay content and soil texture.
For a healthy green color lawn, provide 1 inch of water per week, which equates to running your sprinklers for 20 minutes, three times per week.
Step 4: Calculate the watering time by dividing the total square footage by the watering rate
Once you have the total square footage and the watering rate, divide the two to find out the watering time. Remember, the result is an approximate watering time because it varies according to the type of sprinkler you're using.
Tips for watering efficiently
Check the weather forecast and adjust watering accordingly
Checking the weather forecast before watering your turf is a good way to gauge the amount of water your lawn will need. If rainfall is in the forecast, great chances are that you won't have to water your lawn at all.
Water early in the morning or late in the evening to minimize evaporation
The best time to water your lawn is before 10 am in the morning. At this time, it's cooler and winds tend to be calmer the water you spread will stay on your turf and not evaporate under the sun's afternoon heat.
If it's not convenient to water your lawn in the early morning, late afternoon is the next best time. However, don't wait until night when the temperatures are cooler because lawns kept wet overnight are susceptible to disease.
Check the soil moisture level regularly to ensure that your lawn is getting the right amount of water
Testing the moisture levels in your lawn ensures that you aren't over-watering or under-watering your turf. To test the moisture levels, insert a screwdriver into the soil, and check if the soil is dry to the touch. If it is, then your lawn needs watering.
How Often Should You Be Watering Your Lawn?
The answer depends on if you've been watering your lawn regularly, but most turfs need between 1 to 1.5 inches of water per week—either from rain or watering.
The amount of water you provide should ideally be divided between two to three watering sessions per week. Just make sure that you don't get carried away and overwater your lawn.
Sprinkler Tips to Stop Wasting Water and Money
Set Your Sprinkler System to Proper Schedules
Sprinkler system scheduling is important because it enables the sprinklers to apply the same amount of water to achieve the goal and increase irrigation efficiency.
Set your sprinklers to run for roughly 30 – 35 minutes at a time twice a week. This sprinkler watering schedule provides the required 1 inch of water a week for your lawn.
Fine Tune Your Sprinkler System
There are several steps you can take to fine-tune your sprinkler system. Since each sprinkler system is different, start by familiarizing yourself with the settings on your sprinkler controller and adjusting the watering schedules regularly.
You may have to water each zone of your lawn separately depending on the sun or shade exposure, soil type, and plant requirements.
It is recommended that you get your sprinkler system audited by a professional to ensure each zone is being watered uniformly.
If a professional audit isn't in your budget, inspect the sprinkler system yourself and check for leaks, broken or clogged heads, and any other problems that arise from normal wear and tear.
Installing an inexpensive rain shutoff switch can prevent watering in rainy weather when you forget to shut off your sprinkler system or when you're not around to do it.
Perform Annual Sprinkler System Maintenance
Performing annual sprinkler maintenance ensures your turf gets the right amount of water and stays green and lush. Your annual sprinkler maintenance checklist should include:
Cleaning your Sprinkler System
Lawn irrigation systems should be cleaned at least twice a year, especially to get rid of clogs before storing the sprinkler system for the winter.
The best time to clean your sprinkler system is in the late fall and late spring. When cleaning your sprinkler system, be sure to clean the sprinkler filters, sprinkler valves, and sprinkler heads. Lastly, wipe the sprinkler control box to avoid pests making a home in there.
Look for Problems
I and many homeowners set the sprinkler system to run early in the morning, which is the right time of day to water your lawn. However, it's easy to miss any malfunctions with the sprinkler system when watering early in the day.
Periodically turn the sprinkler system later in the day and assess the spray pattern. If there are any sprinkler heads that are spraying unevenly, check the sprinkler filter and head, and remove any dense grass or weed growth around them if present.
Adjust the Sprinkler Heads
Some of the sprinkler heads may lose direction over time, so you'll need to readjust them. Given that adjusting each type of sprinkler requires different steps, refer to your owner's manual for making the necessary adjustments.
How to Take Care of Your Sprinkler System
Signs that your sprinkler is not being properly maintained:
1. Water Pressure
Low water pressure is a common sign of a non-maintained sprinkler system and can be caused by several reasons such as issues with a backflow preventer valve, water line leak or break, and clogged and dirty filter heads. Read more on why sprinklers have low water pressure.
2. Broken Sprinkler Heads
Sprinkler heads are prone to wear and tear over time, which can cause issues like uneven watering. A lawn that is not watered evenly can appear bright green in certain areas and light green in other areas.
Furthermore, if your water bill has gone up, you probably have a sprinkler system leak caused by one or more broken sprinkler heads.
3. Tilted Sprinkler Heads
Kids, pets, and heavy wind conditions can tilt sprinkler heads, for which you'll have to refer to your user guide to make the necessary adjustments.
4. Clogged Sprinkler Heads
Sprinkler heads can get clogged with dirt and debris and cleaning them is part of routine sprinkler maintenance.
Tips to Care for Your Sprinklers
1. Monitor the water pressure in your irrigation system.
If you suspect a pressure problem with your irrigation system, the easiest way to troubleshoot the issue is with a pressure gauge.
Get in touch with your local municipal company to check for any area-related water pressure problems if the pressure gauge reading is correct.
2. Verify that your sprinkler settings are correct.
Again, refer to your owner's manual to ensure that your sprinkler system settings are correct.
3. Look for areas on your lawn that are unusually wet.
If there are areas in your lawn that aren't supposed to be watered, great chances are that your sprinkler heads are tuned in the wrong direction and/or are clogged.
4. Inspect your sprinkler heads for any issues.
Check the sprinkler spray heads from time to time for any issues. Sprinklers can get dirty and clogged, which can cause them to malfunction.
FAQs
Q. Is a Hose or Sprinkler Better for Watering?
A. Garden sprinklers and hoses are cheaper and easier to install than most garden watering tools and can be installed without any professional help.
However, a garden hose uses less water than a sprinkler system. On a brighter note, sprinklers cover more ground evenly than a garden hose.
Q. How Can You Tell if You've Watered Your Lawn Enough?
A. There are plenty of ways of determining if your lawn is getting adequate water, starting with the screwdriver test.
Stick a screwdriver approximately 6 inches into the soil and check if goes down easily all the way. If it's difficult to push all the way, your lawn should be watered adequately. 
Q. Should you Water Grass Everyday?
A. Many homeowners believe that watering their lawns a little every day is a smart approach but it's better to water deeply and infrequently. Your watering goal should be to provide about a third of an inch of water every two to three days. 
Q. How Long to Run Rotary Sprinklers?
A. Rotary sprinklers have rotating nozzle heads and spray water droplets that are heavier and fall on the ground rather than blowing away in windy conditions. They should be used for roughly 30 to 40 minutes per zone. 
Q. How Long to Run Rain Bird Sprinkler System?
A. Rotary sprinklers have rotating nozzle heads and spray water droplets that are heavier and fall on the ground rather than blowing away in windy conditions. They should be used for roughly 30 to 40 minutes per zone. 
Here's an informative video of lawn watering tips:
Final Thoughts
The amount of time to run your sprinklers and water your lawn for a green lawn depends on several factors such as the size of your lawn, the type of grass, and weather conditions.
Key Takeaways
Most lawns require 1 to 1.5 inches of water per week
Check the forecast for rain before turning on the sprinkler system
Check the moisture level of your soil
Clean and maintain the sprinkler system including the sprinkler head
Do not water your grass every day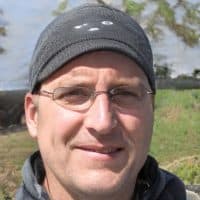 Hi, Alex Kuritz here. Growing up I remember that my family had one of the best lawns in the neighborhood. Richly green and lush. I did a lot as I grew up in terms of caring and tending for not only my family's lawn but also my neighbors. I can say I have years of experience, and I am here to share it with you.