When I was growing up, I always fantasized about one day owning a house with a nice big yard. What a dream, I thought. I could plant all my favorite flowers, grow my own seasonal vegetables, and my future pooch would have plenty of space for zoomies.
Well, now I do own a house with a big garden, and is it all I hoped it would be? Absolutely not… It's a total pain in the grass!
Nobody tells you just how challenging gardening can be. It's time-consuming, physically demanding, requires tons of specialist knowledge, and you're constantly battling to keep the weeds in check and the pests at bay. Here's a list of common lawn pests and diseases.
If you're not dedicated to the cause, before you know it, that dream garden becomes a nightmare jungle, that is, unless TruGreen has anything to say about it.
---
DIY Lawn Care, Simplified!
Crabgrass Lawn has partnered with Sunday to get your lawn exactly what it needs to thrive. Use the code "CGLAWN20" to get $20 off.
---
Affiliate Disclaimer: My content may contain links to products I use. As an Amazon Associate and participant in various other affiliate programs, I earn a small commission at no extra cost to you from qualifying purchases.
What Does TruGreen Do?
TruGreen is a vast gardening company headquartered in Memphis, Tennessee, dedicated to giving the neglected lawns of America the TLC they both need and deserve.
With operations spread across the nation, they can have a specialist at your door in a snap, which sounds mighty fine, but also mighty expensive, bringing us to the topic of today's article… How much does TruGreen actually cost?
TruGreen Plans
TruGreen offers 5 packages, each one geared towards solving a slightly different set of wild yard woes, and, if need be, you can tack on some additional services, such as lawn aeration, pH balancing, overseeding, and tree trimming.
No matter which package you settle on, you can rest assured knowing that it's backed by TruGreen's Healthy Lawn Guarantee, which is essentially their pinky promise that, no matter what goes down, they'll give your lawn the care it needs to thrive. Now let's put those packages under the microscope, shall we?
What Does TruGreen Have to Offer?
TruGreen's 5 packages are as follows…
TruMaintenance
TruHealth
TruComplete
TruSignature
TruNatural
The names don't exactly give much away, do they? In fact, they're almost completely meaningless, but luckily, I managed to find out some specifics.
| | |
| --- | --- |
| Package Name | What the Package Entails |
| TruMaintenance | Here we have the no-nonsense subscription covering such basics as de-weeding, grass fertilization, and lime soil stabilization. |
| TruHealth | TruHealth is considered a middle-of-the-road plan encompassing everything you get with TruMaintenance, as well as an additional insect control service and 8 visits a year from their "TruExperts". |
| TruComplete | This comprehensive package includes all of the above, plus overseeding and soil aeration. |
| TruSignature | This all-singing-all-dancing lawn care package includes fertilization, lime soil stabilization and aeration, weed and insect control, overseeding, tree and shrub maintenance, and a whopping 12 annual visits from their specialist green thumbs. |
| TruNatural | This one's for the eco-warriors out there who'd rather avoid the use of chemicals and anything other than organic fertilizer in their yards. |
Additional TruGreen Services
As mentioned earlier, if you'd like to add an extra one-time service to your plan, you absolutely can, but it won't come for free.
Pest Prevention — If your grass is infested with creepy crawlies such as ants, fleas, ticks, mosquitoes, or all of the above, TruGreen can take care of it for you.
Grub Prevention — Grubs and beetle larvae burrow down beneath the earth and feed on the routes of your grass, potentially causing widespread damage, but TruGreen is equipped to evict these little nasties before it's too late.
Soil Amendments — Sometimes soil is too acidic to support healthy greenery, but a lime treatment can balance things out in no time.
Core Aeration — Compacted soil can lead to unsightly discolorations across your lawn, but core aeration loosens it up, increasing nutrient content, enhancing water flow, and facilitating greater soil/air exchange.
How Much Does Trugreen Cost? — Cold, Hard Figures
With so many contributing factors to consider, it's difficult to give you a clear-cut answer about TruGreen's pricing, but generally speaking, you're looking at paying something to the tune of $400–$1500 depending on the plan you choose.
That's a pretty wide range, I know, but luckily I stumbled across some recent estimates shared by a few of TruGreen's customers, so I've recorded them below to provide a more specific insight into this lawn care company's costs.
Estimates For 5000 Square Foot Lawn
The following quotes were given to a customer with a 5000 square foot lawn situated in Oklahoma City.
| | | |
| --- | --- | --- |
| TruGreen Service | First Treatment | Annual Service Cost |
| TruMaintenance | $30 | $486 |
| TruComplete | $30 | $778 |
| TruHealth | $30 | $569 |
| Tree and Shrub care | $50 | $710 |
| TruCare Mosquito Defense | $40 | $465 |
| TruShield Tick and Flea Control | $81 | $405 |
Estimates For 22,000 Square Foot Lawn
The only info I could dig up about the following quotes is that they were given to a customer in a southern state for a half-acre yard.
| | |
| --- | --- |
| TruGreen Service | Annual Service Cost |
| TruMaintenance | $640 |
| TruComplete | $1000 |
| TruComplete & Overseeding | $1200 |
| TruHealth | $730 |
| TruSignature | $1300 |
| TruSignature & Overseeding | $1500 |
| TryNatural | $1300 |
Of course, these estimates should be taken with a pinch of salt, as we have no idea what kind of state the yards were in before TruGreen got involved.
Variables That Affect TruGreen's Prices
Now, I'm not saying that TruGreen engages in any… seedy behavior (pun definitely intended), but they do keep their price lists pretty dang close to the chest, so I did some digging, and here's what I uncovered.
They aren't trying to pull the wool over our eyes by not disclosing the price of their services and care plans. The only reason they don't tell us is that they don't know themselves.
Before they can provide an accurate quote, TruGreen needs to know some key information about your property and, of course, which services you're interested in booking. The four main factors that influence the overall cost of their services are…
The care plan of your choosing — As we'll discuss in greater detail in a moment, some TruGreen plans are more expansive than others. If you want all the bells and whistles, it's gonna cost ya!
Your location — The harder it is to reach you, the more you'll end up paying to cover travel costs.
The size of your lawn — More lawn means more work and more materials, so if you've got a few acres out back, you may have to smash your piggy bank to afford the TruGreen treatment.
Lawn condition — If your lawn is already in pretty good shape, it won't take as much effort to maintain, and prices will be reasonable. On the other hand, if your lawn is riddled with dog damage, invasive weeds, mold, and imbalanced soil, it's going to cost a pretty penny to remedy.
How Can I Get A Quote For My Yard From TruGreen?
As I'm sure you've guessed by now, the only real way to find out how much a TruGreen service will cost you is to head on over to their website and request quotes tailored to your yard.
Hats off to TruGreen, they do make the process incredibly easy. All you have to do is select the issues you're having with your yard, fill in some personal details, and within 30 minutes, a representative will call you up to discuss your options.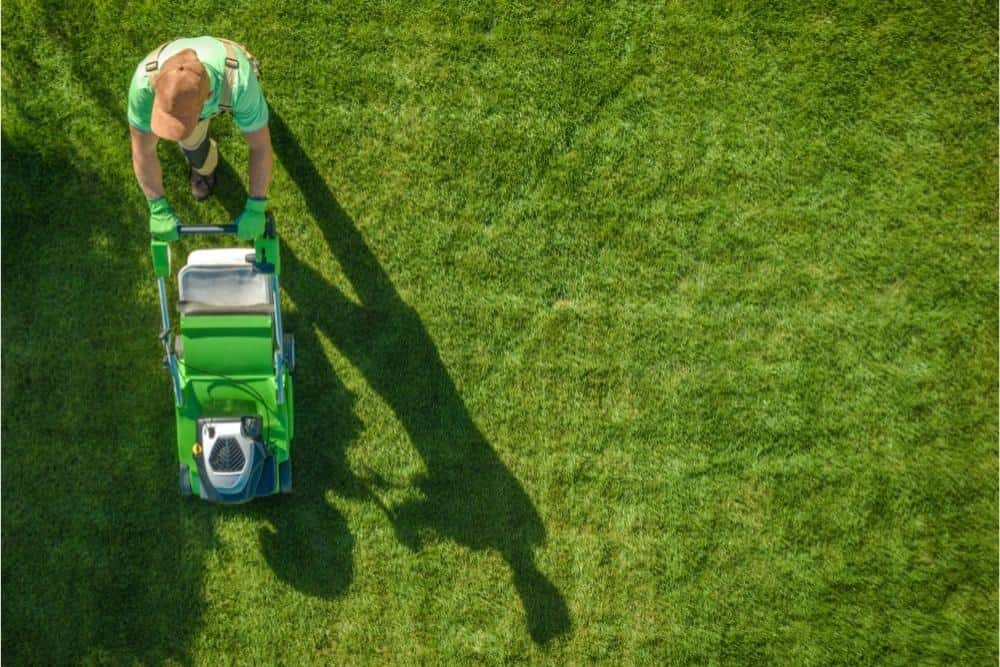 They'll ask for some more information about your yard, such as measurements and what state it's currently in, and once they have a clear idea of what they're up against, they'll give you some pricing estimates.
TruGreen understands that you may not want to dedicate to a purchase over the phone, so to move things forward, they'll send out an expert to assess your property, and after a thorough inspection, this certified pro will recommend the best package or service for you.
You're by no means obliged to take their advice, and the final decision is always yours to make, so if their suggestion is outside your price range, or you feel that such an extensive package is unnecessary, take this opportunity to pick their brain about alternatives.
TruGreen Lawn Care Reviews
With over 300 branches stretching across the United States, Canada, and the UK, TruGreen is one of the largest lawn care and yard maintenance companies on the planet, and they didn't get to where they are by accident.
Success like this is earned through years of dedication and quality service. However, you can't please everyone, and TruGreen has left some pretty disgruntled customers in its wake.
TruGreen Lawn Care Service
The good news for you is that, by all accounts, the services they provide do seem to be phenomenal.
Past customers rave about the efficacy of their pest control methods, the professionalism and friendliness of employees, and how lush and healthy their lawns look after the TruGreen experts worked their magic.
It's only when we look at the more practical and administrative side of things that some cracks start to show.
TruGreen Customer Service
Many were less than satisfied by TruGreen's customer service, claiming that there just isn't a clear enough line of communication to help resolve issues when they arise.
More still were irked by the fact that, unless you contact them to cancel, TruGreen packages are renewed automatically once the first year's treatment comes to an end.
Some unfortunate customers also discovered that TruGreen had erroneously added additional services to their bill that they had neither ordered nor received.
The truth of the matter is, TruGreen has grown into such an expansive operation that there are bound to be some weak links, so you should approach each branch as a discrete business.
Before purchasing any of their packages, I'd recommend looking into client feedback for your local TruGreen operation, specifically. If people report good things, then, by all means, give them a go.
Is TruGreen Worth The Money?
If you have a large(ish) yard, but you find gardening a total drag, then I feel that TruGreen is worth every cent. Sure, people may have experienced some minor issues with the company, but for the most part, customer satisfaction rates are through the roof.
Furthermore, compared with competing companies, such as BrightView and Lawn Doctor, TruGreen's pricing is actually quite reasonable for the services they provide, so if you're looking for lawn care on a budget, they're one of the better options out there.
However, and this isn't so much a criticism of TruGreen as it is of all lawn care companies, nobody is more invested in your yard than you are, which usually means you're the best person for the job.
As such, if you have guts, the gumption, the time, and the know-how to tend to your own lawn, you'll likely get the best results.
Is It Best To Invest In One Off Or Annual TruGreen Services?
TruGreen tends to knock around 10–20% off their overall price when you go big and purchase an annual lawn care plan, so if you're looking to save some money, an inclusive deal is definitely the way to go about it.
Still, it's nice knowing that you can tack on additional services as and when you need them. It means you can truly tailor TruGreen's services to your lawn maintenance requirements.
---
FAQs
How Do I Cancel True Green?
Cancelling TruGreen is as easy as signing up for the service. The first and most important thing to do is cancelling any recurring payments you may have set up with your bank.
Read the terms and conditions on the TrueGreen website to understand the cancellation terms including refund eligibility, cancellation fees, and penalties involved if any.
Fill out the cancellation form on the TrueGreen website or you can call the company's customer support.
Can I Get a Refund from TruGreen?
TrueGreen does provide a refund if the value of services rendered like healthy lawn analysis, pest control services, weed control and other lawn and garden services is less than the total payments received by the company.
This amount is refunded to you within 30 days. Your refund payment is generally processed back to your payment methods such as check, AVH at the company's discretion.
Who Are The TruGreen Competitors?
When it comes to providing professional lawn care services, TruGreen isn't alone but has plenty of fierce competitors. These include Lawn Love, Weed Man, Lawn Doctor, and DIY companies including Sunday, and Lawnbright.
---
Summing Up — TruGreen Or Not-TruGreen… That Is the Question
Juggling kids, a full-time job, a social life, and any other pursuits can be overwhelming as it is. Throw gardening into the mix, and life can be very difficult indeed. TruGreen can offer some much-needed respite by taking on the burden of your outdoor maintenance duties.
With their help, you can focus on what matters to you most, live your life to the fullest, and enjoy some quality time outdoors in a nice, neat yard — hooray!
Although there are no comprehensive TruGreen price lists, you should now have some sort of idea what their services will set you back. The exact fee will always be determined by four factors: package details, lawn size, location, and lawn condition, and you can contact them via their website for estimates.
As long as you can afford TruGreen and still put food on the table and pay the bills, I see no reason why you shouldn't give them a chance. And, hey, if you're not happy with their services, you don't have to keep using them.
Let them finish up what you've paid for, then move on to another company, take on some duties yourself, or perhaps look into a smaller, local gardening outfit that, due to its size, places more value on its customers.
Hi, Alex Kuritz here. Growing up I remember that my family had one of the best lawns in the neighborhood. Richly green and lush. I did a lot as I grew up in terms of caring and tending for not only my family's lawn but also my neighbors. I can say I have years of experience, and I am here to share it with you.