Just like choosing the best fuel for your lawnmower, it's highly important to top your mower with the right engine oil to keep it running efficiently and effectively.
But selecting the best mower engine oil can be a bit overwhelming because there are several factors to consider such as operating conditions, viscosity, type of engine, and most importantly the type of mower oil such as SAE 30, 5W-30, and 10W-30.
Even though SAE 30 and 5W 30 are the two most commonly used oils in mowers, they aren't the same and in this article, I'll highlight the key differences and when to use each oil. But SAE 30 oil is commonly used in lawnmowers.
What is Oil Viscosity and Why Does it Matter?
Before moving further, it's important to understand what is oil viscosity and the role it plays in lawn mower engine oils.
The viscosity of oil affects the performance of your mower in several ways. For starters, the viscosity rating determines film thickness and film strength, which does two things – separates two metal pieces and prevents metal-on-metal contact, and allows the oil to minimize friction and mitigate wear.
Adding to this, the viscosity of lawn mower engine oil also impacts:
Lubricant life expectancy
Energy consumption
Mower operation during extreme temperatures
The fluidity of the oil
Think of viscosity as weight where a low rating means thinner and a high rating means thicker oil.
What is SAE 30 Oil?
The first three letters – SAE is an acronym for the Society of Automobile Engineers – a society that's responsible for establishing a classification system based solely on oil viscosity.
To classify the oils, the viscosity of oils is measured in hot conditions at 100ºC and in cold weather conditions at different temperatures below zero.
Take SAE 30 as an example; it is a monograde (single-grade) oil that has been assigned a viscosity rating of 30 by the Society of Automobile Engineers.
The reason SAE 30 is a single-grade oil because it has just one viscosity grade compared to a muti-grade like 5W-30, which is rated for both SAE 5 W and SAE 30.
What is SAE 30 Oil Used For?
SAE 30 oil is equivalent to ISO VG 100, ISO VG 46 and 68, and ISO VG 32, where ISO is short for International Standards Organization Viscosity Grade.
It's usually used in small engines like a lawn mower, tractor, or snow blower. Some four-stroke gas engines also call for SAE-30 oil.
Small engine oil sae 30 oil doesn't possess any good cold flow properties but is a good choice if using lawn mowers in warmer weather in the summer spring and autumn. SAE 30 is also a good choice for higher operating temperatures of air-cooled engines.
What is 5W 30 Oil?
5W 30 oil is a multi-grade oil that's widely used in light-duty petrol and diesel engines. The W in muti-grade oil such as 5W 30 stands for "winter" and has two numbers preceding and succeeding it.
In 5W-30, the number before the W represents the viscosity grade at low temperatures therefore the lower the number, the thinner the oil the better the respective oil's cold temperature/cold start performance.
The number after the W describes the thickness of the oil at the engine's normal temperature, where the smaller the number, the better it will flow.
The scale ranges from 0W (the thinnest type of oil) to 60 (the thickest oil). 5W 30 is available as both conventional motor oil as well as synthetic oil, which tends to protect the engine over time.
What is 5W30 Oil Used For?
5W-30 oil is one of the most popular oils in the market today and is recommended for use in passenger cars, SUVs, and light trucks.
While 5W 30 does perform fairly well at higher temperatures, it is best used for people who drive in cold conditions.
Apart from petrol vehicles or light-duty diesel engines, 5W 30 multi grade oils are a good choice for:
Engines that aren't under too much pressure (according to automotive engineers)
5W30 is a proper fit for people who drive under a lot of fluctuating temperatures or cold temperature range
People who'd like to switch to 5W 30 oil during winter since it provides unmatched engine protection and aids with engine deposits at cold climatic conditions
SAE 30 vs. 5W 30 Multigrade Engine Oil – Which Oil is Good for Lawnmower Engines
SAE 30 and 5W 30 have the same viscosity but serve different functions. This means that although they have the same viscosity rating of 30, their cold ratings differ.
SAE 30 is also billed as non-detergent oil, which acts as a magnet for contaminants. These contaminants can stick to the open cracks and walls of your lawn mower engine and cause damage to bearing surfaces and cause sludge formation, which is a thick gel that's formed when the engine oil is oxidized and contaminated.
On a brighter note, these contaminants help stabilize the oil and prevent it from thinning when exposed to higher temperatures.
Contrarily, 5W 30 engine oil contains additives such as corrosion preventers, detergents, and other chemicals that break down the sludge, prevent rust and help extend the service life of your mower.
SAE-30 oil is often a safe bet for your mower, but it's still worth referring to your owner's manual since a lawnmower is no small investment.
Since you won't be mowing in the wintertime unless you have a landscaping emergency in colder temperatures, there's no reason to use a multi-grade motor oil such as 5W-30.
There are however a few things to consider when selecting the best oil for your mower because there are some new mowers that ask for 5W 30 instead of SAE 30 oil.
Leading mower manufacturer Briggs & Stratton offers a handy oil finder tool that you can use even if you don't have one of their engines.
Can I Use 5W 30 Oil Instead of SAE 30 Oil in My Lawnmower?
As mentioned earlier, there are some lawnmower manufacturers such as Briggs & Stratton who now say that you can use 5W30 or 10W30 oil in all temperature ranges.
In fact, Briggs & Straton also states that using the Briggs & Stratton SAE 5W 30 oil assures compliance with their warranty requirements regarding the appropriate use of oil. 
---
You may be interested in…
---
3 Best Oils for Lawnmowers with 2-Stroke Engines
1. Quaker State SAE-30 Mower Oil
Quaker State is my go-to oil for all my gas-powered lawnmowers and is a heavy-duty motor oil that surpasses industry standards. It contains acid-neutralizing additives that prevent corroding acids from corroding your engine.
Plus, Quaker State lawnmower engine oil meets or exceeds API SN and prior API SM, SL, and SJ service categories and is engineered to greatly reduce wear and tear and protect the engine of your mower against high temperatures and severe service operation.
It maintains its viscosity grade from start to finish to give your lawnmower engine optimal protection.
Quaker State (550035190-6PK SAE 30 Heavy Duty Motor Oil - 1...
Wear is one of the toughest enemies your engine faces; it can reduce engine life and rob your engine power; Quaker State heavy duty motor oils are engineered to reduce wear and protect against high temperature and severe service operation
Quaker State heavy duty motor oils meet or exceed API SN and prior API SM, SL, SJ service categories
Heavy duty motor oil contains acid neutralizing additives to stop combustion acids from corroding your engine
Affiliate links and images pulled from the Amazon Product Advertising API on: 2023-10-02
---
2. Triax Power SAE-30 Lawnmower Engine Oil
Triax Power mower engine oil offers excellent anti-wear properties and allows your engine to run quietly. Further, it makes the engine emit little or no smoke and protects it under high loads.
Triax Power has a very low pour point of -45F so you can use it in both warmer temperatures and colder operating temperatures. Unlike cheap lawnmower engine oil, Triax Power prevents sludge and features high thermal resistance.
TRIAX Power 4-Stroke 30W Full Synthetic, 4 Stroke Full Synthetic...
Full synthetic high zinc formulation for superb anti-wear properties. Quiet engine operation, low or no smoke, excellent protection under high loads.
Wide application range for small engines. Small 4 stroke engines - Gardening equipment, lawn mowers and small tractors
True all-season oil, very low pour point of -45F. Allow use in very cold temperatures and hot summers.
Affiliate links and images pulled from the Amazon Product Advertising API on: 2023-10-02
---
3. Valvoline VR1 SAE 30 Mower Engine Oil
Valvoline VR1 is billed as the bestselling racing motor oil and offers the same performance for your mower. This high zinc and phosphorous formula provide extreme anti-wear protection and can be used for your mower as well as a wide range of vehicles.
Valvoline VR1 Racing SAE 30 Motor Oil 1 QT
AMERICA'S #1 RACING OIL is recommended for high-performance gasoline engines as well as those burning full or partial alcohol fuels
SPECIAL FRICTION MODIFIERS DELIVER MAXIMUM HORSEPOWER and torque at high RPMs.
2X MORE ZINC FOR EXTREME WEAR PROTECTION for even greater film strength and anti-wear protection on critical engine components such as pistons, cams and bearings
Affiliate links and images pulled from the Amazon Product Advertising API on: 2023-10-02
---
FAQ's
Q. How Often Should I Change the Oil in My Mower? 
A. You should ideally change the oil in your mower once every season or after 50 hours of runtime, whichever comes first. 
Q. How to Know When to Change the Oil in My Mower? 
A. There are a few telltale signs that it's time to change the oil in your mower, starting with a huge dip in performance.
Using a dipstick is a quick way to check the quality of your mower oil. Good quality oil should be amber in color and free from debris. A dipstick is also a good way to check if the oil level is low or high and then adjust the level accordingly. 
Q. What Happens if I Skip Lawnmower Oil Changes? 
A. There are several things that can happen if you skip mower oil changes including engine failure. Just like a vehicle, the oil in your mower gets dirty and breaks down after a period of use. 
This thick and black oil will bake onto the internal parts of your lawnmower's engine and eventually cause damage to the components of the mower. 
Remember, the engine is perhaps the most important and expensive part of your mower, so it's best to change the oil periodically instead of fixing or replacing the engine. 
---
Final Thoughts
SAE 30 and 5W 30 are two different types of oils designed for different purposes. SAE 30 oil is commonly used for mowers but you can use 5W 30 oil with some recently launched mowers.
To avoid the guesswork, and to void the mower warranty including a Briggs & Stratton warranty, it's best to refer to your owner's manual for the best oil for your model.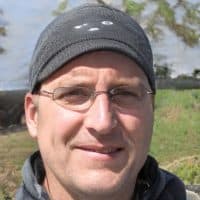 Hi, Alex Kuritz here. Growing up I remember that my family had one of the best lawns in the neighborhood. Richly green and lush. I did a lot as I grew up in terms of caring and tending for not only my family's lawn but also my neighbors. I can say I have years of experience, and I am here to share it with you.