If you catch urine spots before the grass completely dies, leaving bare earth behind, you can use something like Scotts EZ Seed Dog Spot Repair to revitalize the problem areas.
Deal
Scotts EZ Seed Dog Spot Repair Sun and Shade - 2 Lb., Mulch, Seed...
Scotts EZ Seed Dog Spot Repair Sun and Shade has a special salt neutralizer formula that minimizes the effects of salts from dog urine and repairs damage
Consists of a combination of high performance grass seed, mulch that expands to surround the seed, a soil amendment that helps repair areas burned by dog urine, tackifier to help keep seeds from washing away and a protectant to help keep seed safe
Dog Spot Repair is ideal for urine spots, high traffic areas and damage from digging
Affiliate links and images pulled from the Amazon Product Advertising API on: 2023-10-02
However, if the grass is gone, and you've already seen a fair amount of erosion, you'll need to…
Step 1. Bring the depressions to level using topsoil or a quality topdressing.
Step 2. Sprinkle some hardy grass seed over the bare spot.
Step 3. Rake the area to sow the seeds.
Step 4. Water lightly every morning for the first week or so. Within 10 days, you should see significant sprouting.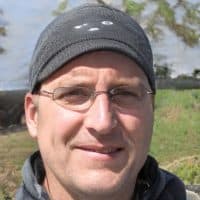 Hi, Alex Kuritz here. Growing up I remember that my family had one of the best lawns in the neighborhood. Richly green and lush. I did a lot as I grew up in terms of caring and tending for not only my family's lawn but also my neighbors. I can say I have years of experience, and I am here to share it with you.