Ever wonder why the grass is "always" greener on the other side? It's probably because the lawn has been painted?
Yes, you read that correct, because any seasoned gardener would agree that growing an uncharacteristically green lawn requires a fair bit of effort, and is often times a distant dream.
But what exactly is lawn painting? How to paint a lawn? What are the best lawn paints available, and effective ways to apply them? Read on to find out how to paint a lawn like a pro, and with amazing natural looking results.
What is Lawn Painting?
Lawn painting, just as the name suggests is the process of painting your lawn for a livening grass look.
This technique of instantly improving the color of lawns isn't new, but has been a part of a landscaper's secret arsenal for decades.
Lawn paint is used to touch up brown grass spots in golf courses, football fields for a pristine field aesthetic, without causing any damage to the turfgrass.
Until a few years ago, lawn paint was only used for commercial applications, but has recently become a popular alternative for home owners looking to add an instant, bright, emerald-like green appeal to their lawn.
If you're grappling with the idea of spraying green paint in areas where your turfgrass appears dry, crippled and unhealthy, lawn painting is perhaps your best and safest option to restore the natural color of your grass while reducing watering needs.
What is Lawn Paint Made From?
Lawn made is not the traditional paint you apply on your walls, but is made from non-toxic and bio-degradable ingredients such as pulverized kaolin that cling to your grass blades, and anything else it comes in contact with.
But what exactly is the bio-degradable formula? Lawn paint is a water-based formula that contains natural pigments, coloring dyes and binders. There are myriad different lawn paint brands to choose from, each with a different water to dye ratio.
Even though artificial dyes will not damage your turfgrass, there's also several natural lawn paint solutions available, which basically are the ones that contain plant pigments.
Regardless of whether you opt for natural or artificial products, lawn paint will not harm your lawn, except in some instances such as when not using the product as recommended.
Oversaturating a particular spot can cause restrictive grass growth, owing to the inability of the grass to absorb UV rays.
Is Lawn Paint Safe for Kids and Pets?
However, just like any other product, there's no shortage of cheap lawn paints in the market. Lower quality lawn paint might not be bio-degradable, hence may not be safe for you, your pets, kids and the environment.
Further, poor quality lawn paint can make your lawn prone to staining clothing, feet and fixtures. But if you buy high quality lawn paint, then you can expect a glowing, green lawn that is bound to leave your neighbors in awe.
Lawn paint will not harm you, your grass, kids, pets or anyone that comes in contact with it. In fact, you can host backyard parties, BBQ's, and your kids can even play ball in your lush green lawn as soon as the paint has dried.
How Much Does Lawn Paint Cost?
The cost of lawn painting your lawn depends on its size, and whether you choose to use professional services or do it yourself.
Painting a lawn requires a fairly different approach than painting the interior of your home, because if done incorrectly or hastily will stain your fence posts, driveways, garden mulch, so it's important to protect these areas before the applying lawn paint.
With regards to cost, a couple professional applications of lawn paint can cost anywhere between $200 to $500 for a 2000 square feet area.
You can save a serious amount of cash by painting the lawn yourself, given that a quarter gallon of paint can cover between 500 square feet to 1000 square feet of lawn, and costs under $30.
And since most lawn paint lasts up to three months, you'll pay roughly $120 annually for four applications.
How to Paint Your Lawn?
There are a few important things to take care off before you apply paint to your lawn, starting with cutting the grass, and raking out most if not all the dead grass.
This is an extremely crucial step for two reasons —first because cutting the grass too soon after you apply the paint will accelerate fading, and second taking out the dead grass ensures that the spray is targeted towards the rooted, living grass.
You should also refrain from painting the grass when its wet, as it will take longer to dry, and on windy days because the wind will blow the spray away, and prevent the paint from clinging to the grass.
The best time to apply lawn paint is on a sunny day, and by going back and forth with the spray nozzle. You can apply a second coat if you feel you've missed a few spots, but this time in an up and down direction with the nozzle.
As mentioned earlier, the paint can easily get all over the place if you're not careful with it, so it's a good idea to cover things such as driveways, fences, garden decorations, etc. with plastic wrap.
If you do happen to accidently spray lawn paint on certain areas, use an ammonia-based window spray or cleaning spray along with a wire brush to get rid of the unwanted painted spots.
4 Popular Lawn Paint Options
1. Covington Green Grass Paint for Lawn
The Covington green gras lawn paint is a non-toxic solution to filling up brown patches in your lawn such as those caused by drought or your paw friend's urine.
Made in the USA, this lawn paint by Covington is a water-based remedy that dries rather quickly after application, so can enjoy a lush green lawn in no time.
It can be used to restore the natural color of almost any lawn, and is compatible with any grass type, regardless of its condition.
Once dry, the Covington green grass paint for your lawn will last for weeks without any consistent rain. This means that you also have to be careful when spraying the paint, as it is near impossible to remove from your shoes or feet.
How to apply Covington green lawn paint?
The Covington green lawn paint is easy to apply with a pump sprayer. Before you apply the paint, the concentrate should be mixed in the right quantities, which depends on the grass type, and shade of green you're looking to achieve.
It is recommended that you start with a less concentrated mixture, and perform a spot test to determine the right color for your lawn.
To give you a rough idea, mix roughly four to six ounces of concentrate per gallon of water for dull, light green grass, and increase to eight to ten ounces per gallon for brown, dormant grass.
Affiliate links and images pulled from the Amazon Product Advertising API on: 2023-10-03
---
2. Endurant Turf Colorant
If you have a larger yard to spray green, then the Endurant turf colorant is your best bet. A single gallon jug of this colorant can be mixed with roughly 15 gallons of water to cover up to 5000 square feet of lawn real estate, so you get more bang for your buck.
The Endurant turf paint features a classic green color, which is the same as lush lawns, and healthy plants. This non-toxic formula is safe to use around kids and pets, and is a great choice for restoring patchy areas caused by dog urine.
It lasts up to three months, depending on the weather, growth rate and mowing frequency, and dries in an hour or so after application.
How to apply Endurant turf colorant?
The best way to apply Endurant turf paint is with a garden sprayer. But if you have a large yard to paint, it's recommended that you use a larger backpack sprayer. Set the sprayer to fine mist mode to prevent wastage, and for even coverage.
Endurant Green Grass Paint for Lawn and Fairway Treats Dry or...
REPAIR AND REVIVE drought-stricken or urine-damaged lawns and fairways with Endurant Concentrated Green Lawn Dye. Yards have the rich, lush look of summertime in any season with our green grass spray.
CONCENTRATED FORMULA grass spray paint for lawn, fairway and sports field mix 8 oz to 1 gallon of water. This 1-gallon jug and 32 oz bottle are ideal for home and commercial lawn care.
ECO-FRIENDLY lawn paint green spray is non-toxic to pets. Endurant Colorant Green Paint for grass dries in about 60 minutes so you can cook out or entertain guests in your yard the same day.
Affiliate links and images pulled from the Amazon Product Advertising API on: 2023-10-03
---
3. Lawnlift Grass and Mulch Paint
Lawnlift bills itself as one of the leading producers of lawn paint. It offers several different products to choose from in this segment including the instant grass paint.
This highly concentrated lawn paint can make up to four gallons when mixed with water, and covers up to 4000 square feet of yard real estate.
After application, Lawnlift grass paint lasts for months on end, and does not run off when wet or stain clothing. Made in the USA, this Lawnlift grass paint formula is safe to use around kids and pets, and doesn't cause any harm to your grass, bushes and trees.
How to Apply Lawnlift grass and mulch paint?
Lawnlift gras and mulch paint can be applied easily with a garden or backpack sprayer. It is recommended that you mix one part paint with six parts water, and test the mixture to determine whether you'd like a lighter or darker color for your grass.
Deal
Affiliate links and images pulled from the Amazon Product Advertising API on: 2023-10-03
---
4. Lawnlift Ultra Concentrated (Green) Grass Paint
Another hit product from Lawnlift, the ultra-concentrated grass paint is a non-toxic formula that lasts up to 90 days after application. Once dry, it is not affected by rain, and is an ideal choice for dormant or dead turfgrass to pet urine spots.
It is made from all-natural true color pigments, and makes approximately 1.375 gallons of rich green lawn paint.
How to use Lawnlift ultra concentrated green grass paint?
The Lawnlift ultra concentrated formula should be diluted with water before use, and sprayed with either a garden or backpack sprayer.
All the four lawn paint options mentioned on this list are a great choice to color in brown patches and add refreshing green color to your lawn.
They are easy to use with either a garden or backpack sprayer, and are non-toxic, kid and pet friendly, and won't cause any damage to your turfgrass.
Affiliate links and images pulled from the Amazon Product Advertising API on: 2023-10-03
---
Final Thoughts
No matter how well you maintain your lawn, it will never be perfect at all times. One of the biggest benefits of spraying lawn paint is its instant regreening effect, and the other is cost-efficiency.
Fixing issues in your lawn especially brown patches can take months, and in most cases will require professional help to get the job done right.
With grass paint, you can achieve that popping-green color you desire without having to spend hundreds or even thousands of dollars on professional lawn care services.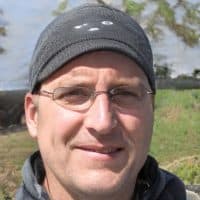 Hi, Alex Kuritz here. Growing up I remember that my family had one of the best lawns in the neighborhood. Richly green and lush. I did a lot as I grew up in terms of caring and tending for not only my family's lawn but also my neighbors. I can say I have years of experience, and I am here to share it with you.