Maintaining a healthy lawn is no easy task and requires a fair amount of effort and maintenance. And when unwanted plants like weeds invade your turf and nearby plants, these pesky plants compete with desirable grasses for air, water, and nutrients.
So for example, the nutrients from the fertilizer you apply are first soaked up by weeds that would otherwise fuel your lawn's growth.
Even though there's no shortage of commercial herbicides available to tackle weeds, some chemical options can do more harm than good.
Given the damage that herbicides with toxic chemicals can do to your lawn, many avid gardeners opt for natural weed killers – a great alternative to herbicides.
Reasons to Avoid Chemical Herbicides
Overapplication of herbicides can lead to runoff in lakes, streams, and groundwater
Lawn chemicals can be absorbed by the skin, swallowed, or inhaled, putting you, your children, and your pets at risk
Chemical herbicides release harmful chemical toxins into the environment
Reasons to Use Natural Weed Killers
Promotes soil health
You can DIY natural weed killers like a simple vinegar solution using household vinegars
Natural weed control methods including homemade weed killers are safer
20 Natural Weed Killer Recipes
1. Vinegar/Epsom Salt/Dish Soap Combo
The vinegar/Epsom salt/soap combo is perhaps the most effective natural weed-killer recipe that can be used to kill several different types of weeds including garden weeds.
This vinegar weed-killer recipe can be applied easily with a spray bottle and kills the entire plant down to the roots. However, note that adding salt to soil can alter the soil's pH and make it harder for grass and plants to grow in the future.
Ingredients:
4 liters of white vinegar
2 cups Epsom salt
1/4 cup liquid dishwashing soap
How to Make the Vinegar, Epsom salt, and Dish Soap Natural Weed Killer Recipe
Mix the vinegar, dish soap, and Epsom salt in a spray bottle.
Let it sit for approximately 2 minutes.
Spray the weeds with the mixture, making sure to soak up the entire weed.
Pro Tip: Spray the weeds on a sunny day when they are dry.
2. Boiling Water
Pouring boiling water is a non-selective natural approach to killing weeds in your lawn, meaning that it will kill weeds and all other plants it gets in contact with.
It may not be an ideal way to eliminate weeds on your own but works well to kill weeds in driveways and sideway cracks.
How to Kill Weeds with Boiling Water
Boil a pot of water
Using caution, pour it over the weeds
Boiling water is the quickest natural weed-killing solution and will kill weeds right away. However, it may not kill the roots in one go, so you may have to repeat the process every few days.
3. Vinegar and Castile Soup Natural Weed Killer Recipe
Vinegar combined with Bronner's Castile Soap is an effective mixture to get rid of weeds on your property. Again, this is a non-selective approach that will eventually kill all broadleaf weeds.
Dr. Bronner's - Pure-Castile Liquid Soap (Lavender, 1 Gallon) -...
MADE WITH ORGANIC OILS and CERTIFIED FAIR TRADE INGREDIENTS: Dr. Bronner's Pure-Castile Liquid Soaps are made with over 90% organic ingredients. Over 70% of ingredients are certified fair trade, meaning ethical working conditions and fair prices.
GOOD FOR YOUR BODY and THE PLANET: Dr. Bronner's liquid soaps are fully biodegradable and use all-natural, vegan ingredients that pose no threat to the environment. Our products and ingredients are never tested on animals and are cruelty-free.
NO SYNTHETIC PRESERVATIVES, DETERGENTS, OR FOAMING AGENTS: Our liquid soaps are made with plant-based ingredients you can pronounce—no synthetic preservatives, thickeners, or foaming agents—which is good for the environment and great for your skin!
Affiliate links and images pulled from the Amazon Product Advertising API on: 2023-10-02
This method works better for weeds that aren't established than established weeds, for which a second or third application is needed.
Ingredients:
1 gallon 5% vinegar
1 cup castile soap
A garden sprayer
How to Make Vinegar and Castile Soap Natural Weed Killer Recipe
The best time to apply the vinegar and castile soap solution is on sunny, warm days with little or more wind.
Even though the vinegar can kills weeds on its own, the castile dish soap helps the vinegar to stick to the plant. It's best to apply this mixture generously for it to work.
A garden sprayer provides much better coverage than a spray bottle.
4. Hydrogen Peroxide Natural Weed Killer Recipe
Hydrogen peroxide can be used as an effective weed killer instead of commercially available herbicides that contain toxic chemicals.
A roughly 10 percent concentration of hydrogen peroxide can be poured between concrete or flagstone pavers and on moss or brick sidewalks.
Ingredients:
How to Make a Hydrogen Peroxide Natural Weed Killer Recipe
Mix 1 ounce of 10 percent concentrated hydrogen peroxide in a spray bottle.
Spray the weeds and let the mix rest for approximately 15 minutes.
Lastly, rinse the weeds with water.
5. Orange Oil Natural Weed Killer Recipe
Orange oil makes a potent natural weed killer. Orange oil combined with 20 percent horticultural vinegar and everyday dishwashing liquid can be used to kill several different types of weeds.
Ingredients:
20 percent horticultural vinegar
Dishwashing liquid
Tank or handheld sprayer
How to Make an Orange Natural Weed Killer Recipe
Mix 1 gallon 20 percent horticultural vinegar, 1 ounce of orange oil, and 2 to 3 drops of dishwashing liquid in a tank sprayer.
Shake well.
Spray the crown of each weed until saturated.
6. Table Salt Natural Weed Killer Recipe
Good ol' table salt is a common DIY weed-killing solution. Once the salt is absorbed by the plant's root systems, it affects the water balance and causes the weeds to eventually wilt and die.
However, salt on its own isn't an effective weed killer but should be mixed with water to increase its effectiveness.
Ingredients:
3:1 ratio of water to salt
How to Make a Table Salt Weed Killer Recipe
Mix the table salt with water in a spray bottle.
Apply the mixture carefully over the weeds only because this formula can kill nearby vegetation.
After applying the salt mixture water the nearby plants well.
Make sure you wear safety gloves and safety eyewear when spraying the salt mixture.
7. Spray White Vinegar Directly
Vinegar is a crucial ingredient used in many natural weed-killer recipes, so spraying vinegar on its own will kill weeds too.
Household vinegar may not be as effective at killing weeds as vinegar with 20 percent acetic acid. And remember, vinegar will kill any plants it comes in contact with so apply with caution.
8. Lemon Juice Natural Weed Killer Recipe
Lemon juice is billed as one of the best natural weed killers available. The acid in lemon juice dries out the weeds, after which they shrivel and die in a day or two. You can mix white vinegar with lemon juice to make the juice more potent.
9. Vodka Natural Weed Killer Recipe
Yes, you heard right – vodka makes an effective and cost-efficient natural weed killer. In fact, many expert gardeners say that vodka can be a great substitute for many harsh chemical herbicides.
Adding to this, vodka is natural, accessible, and easy to use. When vodka comes in contact with weeds, it draws moisture away from the plant's foliage, resulting in low growth, decrease in leaf photosynthesis areas, and reduced yield.
Ingredients:
Spray bottle
6 cups vodka
Four spoons of laundry detergent
How to Make the Vodka Natural Weed Killer Recipe
Mix the vodka and laundry detergent in the spray bottle.
The laundry detergent acts as a binder and allows the vodka to stick to the weeds.
For best results, spray the mixture when the ground temperature is at least 15 degrees.
10. Mulch Natural Weed Killer Recipe
Smothering the weeds with a thick layer of mulch will prevent the weeds from reseeding or emerging again. However, for this process to be effective, you first have to hand-pull the weeds.
Mulch will kill shallow-rooted weeds and their roots without having to hand-pull the weeds first. Mulch can be applied at 4 to 8 inches in depth. The best mulches for weed control include wood chips, leaves, straw, and grass clippings.
11. Cover the Weeds with Landscape Fabric
Also referred to as weed fabric, garden fabric, and landscape cloth, landscape fabric is made from woven fibers and is available in rolls that are at least 3 feet wide.
Landscape fabric is generally used to prevent weed seeds buried in the soil from sprouting, consequently eliminating the need to use chemical herbicides.
Furthermore, weed fabric is cost-effective compared to paying for ongoing weed control. One of the downsides of landscape fabric is that it is not attractive to look at, so you'll have to place it under a layer of organic mulch.
12. Rubbing Alcohol Natural Weed Killer Recipe
Rubbing alcohol draws moisture away from the weed foliage, which becomes weaker and eventually dies as they dry out.
To make a weed-killer solution using rubbing alcohol, mix two tablespoons of rubbing alcohol with a quart of plain water.
Put the mixture in a spray bottle and apply the mixture on sunny days over the weeds. Try and avoid spraying in favorable plants and vegetation.
13. Do Not Disturb the Soil
The less you disturb the soil, the less likely weeds will have a chance to reseed in your garden. Weed seeds that are left underground remain dormant for years so the less you disturb the soil, the less the weed seed will germinate.
14. Plant Ground Covers
Ground cover plants prevent weeds from choking out other plants, and can also add new colors and textures to your landscape. There are several ground cover plants to choose from but mondo tops the list given that it kills weeds thanks to its vigorous growth habit and spreads easily.
This dwarf shrub prefers part shade to full shade for best results and is commonly referred to as monkey grass owing to its growth pattern.
15. Cover the Weeds with Newspaper
If you'd like to eliminate weeds without endless pulling, you can smother the weeds with newspaper. A noteworthy benefit of using newspaper is that it makes weeds disappear instantly and prevents them from re-emerging for an entire season.
Before getting started with smothering weeds with newspaper, water the area deeply. Next, lay the newspaper directly over the weeds. Spray the newspaper with water to prevent the wind from blowing them away. Finally, add mulch such as shredded leaves atop the newspaper.
16. Let the Grass Grow
Tall grass cuts down on the number of weeds in your lawn. Make sure that you're not cutting your grass too short and the right cutting height for most grasses is two to three and a half inches.
17. Get Your Hands Dirty
Sometimes the best way to prevent weeds is by digging up the weeds manually. Even though this is a labor-intensive technique, it is probably the most effective way of killing weeds in your lawn.
18. Install Retaining Walls
Installing retaining walls is a long-lasting solution to eliminating weeds in your lawn. Additionally, it doesn't require any ongoing maintenance, and best of all you can use scraps or decking boards to create the retaining walls.
19. Sprinkle Baking Soda
Baking soda is a remarkable natural weed killer especially when it is mixed with other kitchen staples such as lemon juice or vinegar.
Simply dissolve roughly one and a half cups of baking soda and a tablespoon of vinegar in a spray bottle in a gallon of water, transfer the mixture to a spray bottle and spray away.
20. Keep Your Lawn Healthy
A healthy lawn is less susceptible to weeds than an unhealthy turf. First things first, plant grass seeds that grow well in your area, and ensure that your lawn is receiving the right dose of nutrients.
2 Natural Weed Killers to Avoid
There are certain natural weed killers that just don't work and applying them is truly a waste of effort.
1. Cornmeal
There is absolutely no evidence that cornmeal kills weeds. Cornmeal may not prevent weeds but does make an effective fertilizer and causes the lush, dense growth of turfgrass.
2. Dish Soap
Dish soap on its own will not kill weeds but a cocktail of liquid dish soap, salt, and vinegar will do the job. Dish soap is a surfactant that allows the salt and vinegar to stick to the weeds, but is useless when used on its own.
---
FAQs
Q. What Is the Strongest Homemade Weed-killer Recipe
A. The strongest homemade weed killer for pesky weeds is a mixture of salt, white vinegar, and liquid dish soap, which possess certain properties that work collectively to kill weeds.
Q. Does Vinegar Kill Weeds Permanently
A. Vinegar will eventually kill weeds but the acid kills the leaves first before the root system so the weeds might grow back quickly.  
Q. What Kind of Salt Kills Weeds
A. You can use either regular iodized salt or non-iodized table salt to kill weeds. Salt disrupts the water balance in the weeds, causing the weeds to eventually wilt and die.
---
Here's an informative video on how to make a DIY homemade weed killer recipes:
Final Thoughts
Natural weed killers are a more sustainable way to tackle troublesome weeds in your lawn. The 20 natural weed killers on this list are tried and tested weed killer recipes that should help you bid adieu to weeds for good.
---
You may be interested in…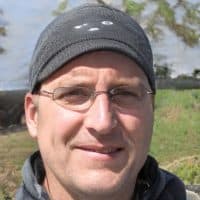 Hi, Alex Kuritz here. Growing up I remember that my family had one of the best lawns in the neighborhood. Richly green and lush. I did a lot as I grew up in terms of caring and tending for not only my family's lawn but also my neighbors. I can say I have years of experience, and I am here to share it with you.