When you think about lawnmowers, the first thing that comes to mind are walk-behind mowers and riding models such as Cub Cadet mowers.
There are two types of walk-behind mowers:
Push-powered and
Self-propelled mowers.
Both styles are great for small to medium-sized lawns and yards with tight spaces.
If, however, you have a large lawn with several acres of grass, using a walk-behind lawn mower (even models with large rear wheels and broad mowing deck) can be a tiresome task. 
Instead, you'd likely step it up to a more powerful riding lawnmower with an adjustable suspension and at least a 48-inch mowing deck such as models from John Deere. 
But there is a 3rd option for lawnmowers!
If you are like me and don't like sitting on a noisy, vibrating riding lawn mower for hours, it may be time to consider stand-on lawn mowers. 
Billed as the new kid on the block, a standing mower is a commercial lawn mower that has become increasingly popular among both novice and seasoned gardeners.
While not a good choice for small yards, standing mowers are great for large lawns. They are also great for any terrain, including rough terrain. Learn about how to mow on rough and slopy terrain.
Standing mowers are available in several sizes with different cutting speeds and engine options and with accessible steering controls similar to riding mowers. With so many options available, buying a stander mower can be overwhelming. 
They are also considered a big-ticket purchase, with some models costing upwards of $10,000. This makes it difficult to choose the best stand-on mower. 
After testing a few models, I've narrowed down my list to help you find the best stand-on lawn mower based on performance, features, and durability.
I've also crafted a detailed stander mower buying guide to ease your decision and help you make the right investment.
| | | | | | |
| --- | --- | --- | --- | --- | --- |
| Mower | Deck | Engine | Transmission | Speed | Fuel Tank |
| John Deere 652R QuikTrak | 52″ | 23.5-hp (17.5-kW) at 3600 rpm, air-cooled engine | Hydrostatic drive system | 0-9.6 mph | 5.6 gallons |
| Cub Cadet PRO X 654 | 48″, 54″, and 60″ | Kawasaki FX Series | Hydro-Gear PK 12cc pumps/240cc Parker | 10 mph | 7.5 gallons |
| Toro GrandStand | 48″, 52″, and 60″ | 25 hp Kohler Command EFI 747cc22 hp Kawasaki FX 726cc | Hydro-Gear 10 cc Pump and 10 ci Wheel motor | 10 mph | 10.5 gallons |
| Exmark Vertex S-Series | 48″, 52″, and 60″ | Kawasaki FX730V orKohler Command EFI ECV740 | 12 cc Hydro-Gear pumps and14.5 ci Parker motors | 8.5 mph | 8 gallons |
| DeWalt X548 | 48″ | 26 HP Kawasaki FT EFI Engine | Hydrostatic transmission | N/A | N/A |
| Husqvarna | 48″ and 54″ | Two-cylinder Kawasaki engine | Hydraulic transmission | 11 mph | 7 gallons |
| Gravely Pro-Stance | 32″ to 60″ | Kawasaki | Hydro-Gear | N/A | 6 gallons to 9 gallons |
| Hustler Turf SS | 36", 48", 52″ & 60" | 15hp – 29.5hp Kawasaki Engine | Hydro-Gear 10cc | 9 mph | 6.5 gallons |
| Ferris | 52", 61" and 72" | Kawasaki FX850V | Dual commercial Hydro-Gear ZT-4400 | 12 mph | 11 gallons |
| Wright | 52″, 61″, and 72″ | Vanguard w/ oil guard or Kawasaki FX850V | Hydro-Gear 15 cu in.16cc with fans | 12.5 mph | 15.5 gallons |
Affiliate Disclaimer: My content may contain links to products I use. As an Amazon Associate and participant in various other affiliate programs, I earn a small commission at no extra cost to you from qualifying purchases.
The Best Stand-On Mower [Top 10]
1. John Deere 652R QuikTrak Stand-On Mower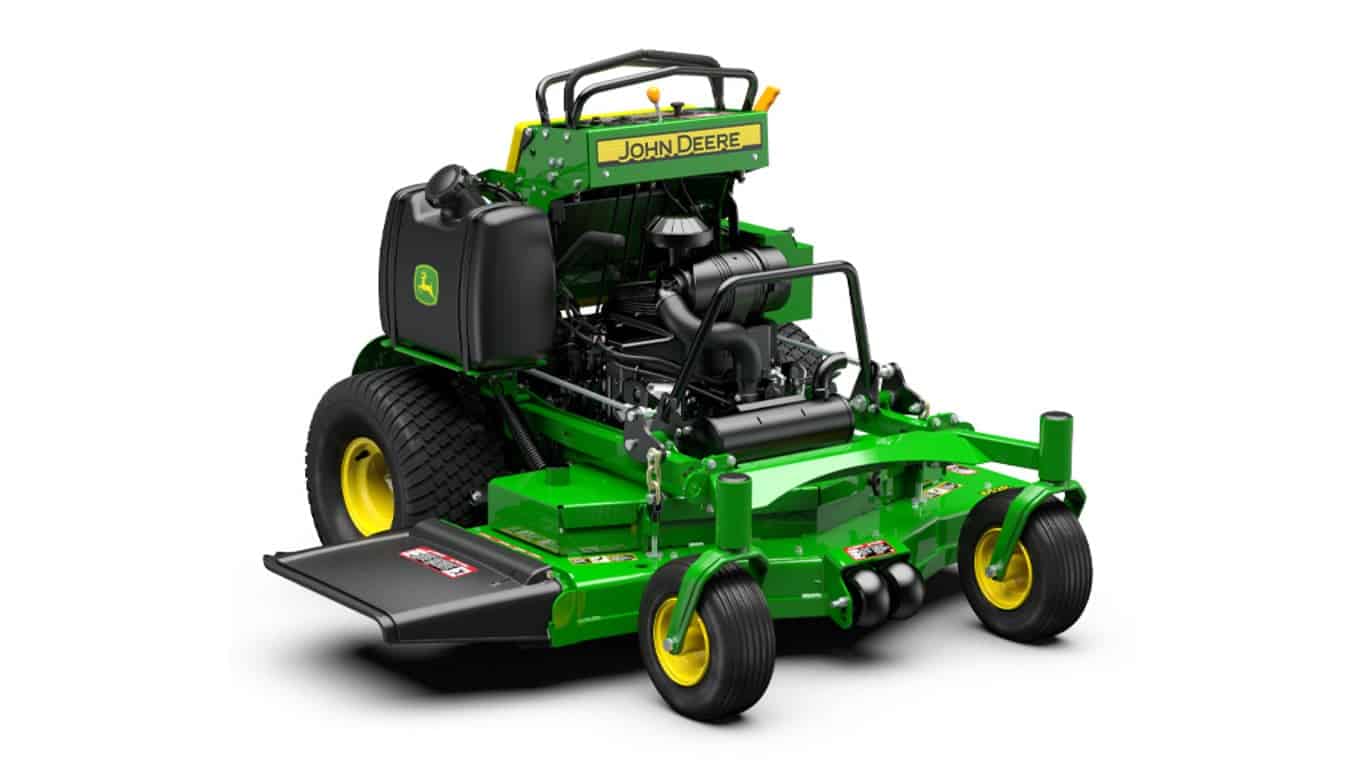 One of the biggest names in the lawn care space, John Deere offers a range of stand-on lawn mowers called the QuikTrak series. The 652R QuikTrak stand-on mower is the company's best-selling standing mower for several reasons, starting with its power-packed performance. 
It boasts a compact design, making it easy to fit into tight spaces and haul around, and is fitted with an industry-leading hydrostatic drive system. The QuikTrak 652R comes with a commercial-grade FX730V engine and a large 21.2 L fuel tank.
This air-cooled engine offers more horsepower and torque per cubic inch of displacement and features a V-twin design for fast startup and smooth operation. Do you know about the advantages and disadvantages of an air-cooled engine?
The engine requires minimal maintenance and comes with a heavy-duty air cleaner with a secondary safety element.
The John Deere QuickTrak stand-on model features a wide and well-designed 52-inch fabricated mower deck, which is crafted from premium grade 7-gauge, 0.179-in. (4.6-mm) steel.
The deep-deck design of the mowing deck provides efficient airflow so the material is processed quickly. Unlike cheap stand-on mowers, the John Deere 652R QuikTrak stand-on model comes with a large operator platform with three suspension springs to absorb shock.
These springs are adjustable according to the operator's weight and preference, so you can expect nothing less than a smooth and comfortable ride.
The controls of the John Deere 653R QuikTrak mower are color-coded, making them easy to locate, and include ground speed and direction control. For a stand-on mower that's built tough and can handle literally anything you throw at it, the John Deere 652R QuickTrak stand-on mower is worth a second look.
Pros:
Cons:
---
2. Cub Cadet PRO X 654 Stand-On Mower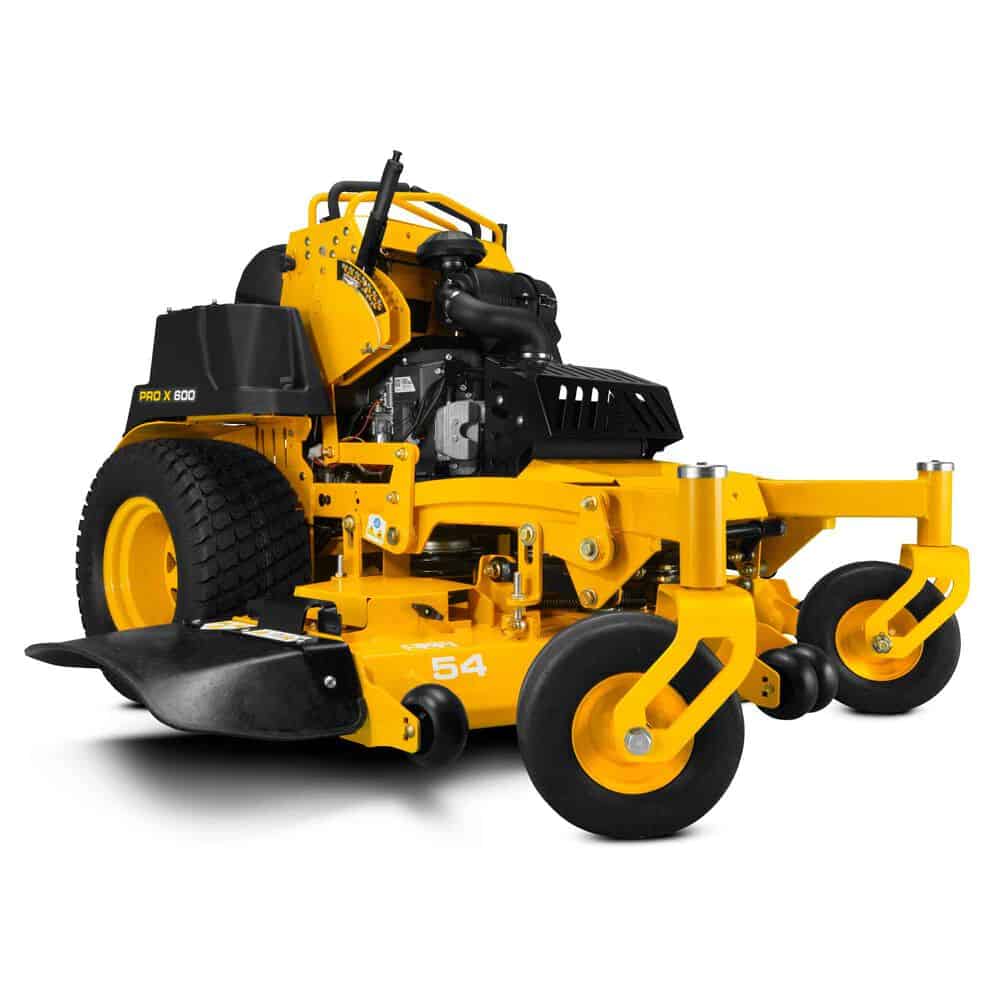 The Cub Cadet Pro X 654 is truly in a league of its own with its powerful Kawasaki engine that provides a 25.5 HP engine output. Further, it is equipped with a 12cc Hydro-Gear transmission that allows it to sprint at 10 mph.
The Pro X 654 features a 10-gauge steel deck that cuts up to 54 inches wide, so you mow more in less time. It cuts using three super-sharp 19-inch long Marbain blades, which feature a 1-1/2″ overlap.
The Cub Cadet Pro C654 stand-on mower offers a cutting range between 1.5″ and 4.5″ and is fitted with 2 front deck gauge wheels. With regards to controls, the Pro X 654 stand-on mower comes with a hand lever control, and a lap bar steering wheel control.
It comes with 24×12″-12″ rear larger tires and 13×5-6″ front tires, which collectively provide superior traction on uneven and rougher terrain. The Cub Cadet Pro X 654 stand-on mower is backed by a 3-year warranty against manufacturer defects.
Pros:
Cons:
---
3. Toro GrandStand Stand-On Mower
The Toro GrandStand is a versatile lawn mower that can be converted from a stand-on mower to a walk-behind mower by simply folding the operator platform. This saves you time, money, and trailer space.
It is fitted with solid cast iron spindles including maintenance-free bearings and offers smooth operation on rough bumps and challenging terrain. The Toro GrandStand stand-on mower is fitted with a 15 HP (11 kW) Kawasaki engine, and a 36″ (91 cm) TURBO FORCE cutting deck.
This deck delivers unsurpassed strength, a superior cut, and increased productivity. This stand-on mower model from Toro is fitted with a patented adjustable baffle, which can be fine-tuned to take on challenging turf conditions.
The baffle can also be opened to conserve power and achieve faster mowing speeds. The Toro GrandStand stand-on mower features .250 thick precision blades that provide a flat, crisp cut for all types of grass including clumped grass.
It boasts a smart design, owing to its 7-gauge bullnose bumper that protects against impacts and minimizes blowout of debris and dust.
The GrandStand also comes with a heavy-duty 7-gauge muffler guard that protects the muffler against damage. To top things off, the Toro GrandStand mower features flat-free, semi-pneumatic caster tires.
Pros:
Cons:
---
4. Exmark Vertex S-Series
Exmark is a leading manufacturer of a massive range of lawn care products and the Vertex S-Series is a best-selling product in the company's lineup. 
It can be ordered in a choice of three mower deck widths – 48″ 52″ 60″ and either with a Kawasaki V-Twin or Kohler EFI engine. The Exmark Vertex S-Series stand-on mower is extremely easy to maneuver, stable, and easy to control, making it an ideal choice for all ages.
Furthermore, it comes with an ergonomically designed control panel that's located in the center to increase operator comfort. The Vertex S-Series stand-on mowers are powered by Exmark's proven hydro drive system and offer unmatched fuel efficiency.
They come with the company's UltraCut Series 4-side-discharge cutting deck, which is fitted with flow control baffles, a rod-style floating deck design, and anti-scalp rollers, so you can expect nothing less than a high-quality cut each time.
The deck height of the Exmark Vertex S-Series can be accurately set without using any tools, which enables the operator to adjust the cut height by simply raising and lowering the deck.
The Exmark Vertex S-Series mowers come with a large 8-gallon fuel tank and myriad safety features including operator presence controls (OPC).
Pros:
Cons:
---
5. DeWalt X548 Commercial Stand-On Mower
I used to think that DeWalt was just a manufacturer of power tools and hand tools for the construction, woodworking, and manufacturing industries until I came across the X548 commercial stand-on mower.
The DeWalt X548 is a showstopper with its bright yellow finish. It offers a ton of power under its hood, thanks to the onboard commercial-grade 26 HP Kawasaki FT EFI Engine with electronic throttle.
Unlike most models on this list of best stand-on mowers, the DeWalt X548 model is equipped with a hydrostatic transmission. This gives it a high power-to-weight ratio – resulting in greater power, maneuverability, and responsiveness – and outweighs conventional drive systems. 
The DeWalt X548 mower is an ideal choice for demanding landscaping work and features easy-to-steer and engage controls with an ergonomic operator panel.
Further, you get a large adjustable hip pad for all-day comfort and to match different heights and preferences. The DeWalt X548 commercial stand-on mower comes with a 2-year, no-hour warranty against any manufacturer defects.
Pros:
Cons:
---
6. Husqvarna Stand-On Mower
Husqvarna has two stand-on mower models to choose from – the V548 and V554. The V548 has a 48-inch cutting width and the V554 has a 54-inch cutting width.
Both Husqvarna stand-on mowers feature a compact footprint and provide a great position to handle body weight.
Husqvarna mowers come with a solid 7-gauge fabricated deck and an electric clutch blade engagement system. They also offer multifaceted operations in that they can collect, mulch, and side discharge.
The Husqvarna stand-on mowers are fitted with 3-piece blades and are powered by a robust FX series Kawasaki engine. Adding to their long list of features is an air-based engine cooling system, a full pressure with oil filter engine lubrication, and an impressive 5-year or 1,500-hour warranty (whichever occurs first).
Pros:
Cons:
---
7. Gravely Pro-Stance Stand-On Mower
Gravely offers a wide range of stand-on mowers ranging from a 32-inch deck size to a 60-inch wide deck size. These are equipped with a Hydro-Gear ZT-3100 drive system, which is one of the best you can get in this segment.
They come with different fuel capacity tanks, from 6 to 9 gallons, so there's no time wasted in frequent fuel-ups. The Gravely stand-on mowers can travel at speeds between 3 mph to 4 mph, and come with a height-cutting system that is easy to use with a vertical pin and thumb release to make the necessary adjustments.
Furthermore, the Gravely stand-on mowers are fitted with an adjustable cruise bar, which allows the operator to set the maximum speed in tight working environments. The Gravely stand-on mowers can be ordered with several optional accessories such as a mulching kit, LED headlight kit, and LaserEdge blades.
Pros:
Cons:
---
8. Hustler Turf SS Stand-on Mower
Hustler Turf is a company that's synonymous with American know-how and innovation. The SS stand-on mower is another best-selling model in the company's portfolio. 
The Hustler Turf's range of stand-on mowers is equipped with Kawasaki engines and deck sizes ranging from 36″ to 60″. They feature operator-friendly controls and a compact footprint that makes them easy to navigate in tight spaces.
The Hustler Turf SS series of stand-on mowers are fitted with an adjustable spring-loaded suspension foot platform that provides all-day comfort. The ergonomic controls of the SS stand-on mowers make the machines easy to handle and provide less operator fatigue.
Plus, you get a fabricated 7 gauge steel deck that is engineered for enhanced performance and cut quality. The Hustler Turf range of stand-on mowers comes with 11 x 4-5 to 13 x 5-6 semi-pneumatic tires, which provide excellent traction on rugged terrain.
These stand-on mowers from Hustler SS are backed by a 5 Year/1,200 hour warranty against any manufacturer defects.
Pros:
Cons:
---
9. Ferris Stand-On Mowers
The Ferris range of stand-on mowers is engineered to deliver unmatched traction and performance and sets the gold standard for stand-on productivity.
They can be ordered in several deck options including 52-inches and 72-inches and offer superior cut quality. The Ferris stand-on mowers come with a pivoting front axle that allows them to get a good grip on steep inclines.
Adding to this, the Ferris range of stand-on mowers features an adjustable suspension system that can handle a large range of weights and operating conditions. Ferris mowers are equipped with Vanguard engines that require an oil change after a whopping 500 hours of use.
In terms of fuel capacity, they leave no room for disappointment with a generous 11-gallon fuel tank. This is located in the center for consistent balance and the fuel filter neck is tucked away on the side for easy filling.
The Ferris stand-on mowers come with an iCD cutting system, which consist of two layers of 12-gauge steel that are welded together to reinforce the top center of the cutting deck. They are equipped with a commercial Hydro-Gear ZT-4400 transmission, a dual-function hour meter, and a fuel level gauge.
Pros:
Cons:
---
10. Wright Stand-On Mowers
Wright offers several reasons to choose their stand-on mowers including reduced strain on the lower back, easy-to-cut in hard-to-reach spots, and high productivity. 
These standers are available in several different variants including machines for novice landscapers to professional landscapers. With regards to features, the list is long and includes a floating deck design complete with an easy-to-use height selector.
The Wright stand-on mowers come with an 11 ga laminated deck complete with a reinforced nose, so you can rest assured that these machines will serve you well for many years to come. 
Further, the Wright range of stand-on mowers comes with a heavy-duty suspension platform, and an easy-to-service hinged pad and rear shield. There's also a rubber chute deflector, which prevents debris from flying all over the place. 
The Wright stand-on mowers also come with a handy storage bin and are easy to use and best of all low maintenance.
Pros:
Cons:
---
Who are Stand-On Mowers For?
There are three things to consider when deciding whether a stand-on mower is right for you – the size of your yard, obstacles in it, and/or if you suffer from back pain or similar ailments.
Size of your yard
I'm not going to sugarcoat this – stand-on mowers are big-ticket items usually reserved for landscaping companies and commercial properties. They are a great choice for homeowners with large lawns, not small yards (even if you have the cash to splurge).
Obstacles
Stand-on mowers are appropriate for yards with obstacles as they are easy to maneuver in tight spaces and or areas with obstacles.
Unable to sit
If you suffer from back pain or similar ailments and are unable to sit for extended periods of time then a stand-on mower is an ideal choice.
If, however, you can't stand and mow as there is no other way to use the machines. In this case, you can explore the best riding lawnmower for hills.
Stand-On Mower Buying Guide
Sitting Mowers (Riding Lawn Mowers) vs. Standing Mowers
Apart from the body position, there are a few key differences to consider between sitting and standing mowers.
Although stand-on, zero-turn mowers, and even some self-propelled mower models move at similar speeds, it's easier to hop on and off a stand-on mower to open gates or move obstacles.
A stand-on mower accommodates your entire body and distributes your weight evenly, making it easier to maneuver the machine more quickly than a riding model.
Stand-on mowers provide better visibility of the surroundings. Additionally, some models even come with a flip-up platform that lets you convert a stander into a walk-behind mower.
Yard Size
Stand-on mowers offer cutting widths between 32 inches and 70 inches or more, which is basically how wide a mower can cut with each pass. If you have a really small yard, a stand-mower with a small cutting deck will be hard to maneuver. A large deck size for a yard with trees and obstacles will provide a similar experience. 
Maneuverability
Most of the stand-on mowers mentioned on this list of best stand-on mowers showcase compact footprints, making it easy to get around obstacles such as trees and landscaping beds.
Speed Range
Speed is one of the key selling points of stand-on mowers, which can travel as fast as 15 mph. This means that you can cut a lot of lawns in a short amount of time.
Blades
The number of blades in stander mowers varies across models, where some models are fitted with two blades, and others with three or four blades. Some stand-on mowers also have the ability to mulch and bag or discharge the grass clippings on your yard.
Final Thoughts
Standing mowers were once only utilized by professional lawn care companies but are now popular grass-cutting machines in residential yards.
The 10 models on this best stand-on mowers list come loaded with features and provide a great standing mowing experience. Additionally, they are backed by impressive manufacturer warranties.
---
You may also like…
Hi, Alex Kuritz here. Growing up I remember that my family had one of the best lawns in the neighborhood. Richly green and lush. I did a lot as I grew up in terms of caring and tending for not only my family's lawn but also my neighbors. I can say I have years of experience, and I am here to share it with you.